Do your garden tools tumble out of your shed or garage when you open the door? Perhaps they are scattered all over? Well, in this article we'll look at over 21 garden tool storage ideas for garden hand tools that should help you out.
We will cover:
storage for long-handled tools like rakes, hoes and shovels
storage for short-handled garden tools too, such as trowels, pruners, etc…
By the end of this article hopefully you'll have a way to get your garden tools organized and tidied up.
This article contains affiliate links. If you click a link and buy something I may receive a small commission at no extra cost to you. As an Amazon Associate I earn from qualifying purchases. For more information please see the Disclosure page.
List of Garden Tool Storage Ideas for Garden Hand Tools
If you want your garden tools to last for years then it is important to store them properly.
You should clean your tools and ensure they are dry prior to storing them. If you are in a rush and have to put a tool away wet, make sure there is air flow around it so it'll dry off.
Ideally you'll store your tools inside your garden shed or garage, or at least out of the elements as much as possible.
Your plastic garden tools can degrade over time when exposed to UV rays and metal tools can rust if left outside in the rain and snow.
And make sure you store your power tools like hedge trimmers and weed whackers out of the weather.
Let's start the list of ways to store your garden tools.
1) The BLAT Wall-mounted tool rack by Store Your Board
The company Store your Board makes a lot of quality organizers.
This is their well-rated tool rack called the BLAT garden tool organizer. It is designed to hold long-handled tools on the hooks.
It is made of powder-coated, heavy duty steel and measures 3-feet across.
They claim it can hold up to 325 pounds if it is properly screwed into wall studs. (The holes are spaced 16-inches apart to fit the standard 16-inch on center wall stud spacing, and it includes 3 lag screws for mounting.)
Will this simple tool rack work in your garage or shed?
2) Storage inside your outdoor furniture (such as deck boxes)
Does your outdoor furniture have a weatherproof storage compartment?
If so, you could place your tool bucket or basket inside the compartment.
This particular Westwood deck box from Keter has a 150 gallon interior storage capacity under the piston-assisted flip-up lid.
This can work well if you have a patio garden or deck garden: your small garden tools will be close at hand. And you can sit on it if you need a break from gardening.
Some people will store their flower pots inside compartments like this during the winter or off-season.
Just note, this particular deck box is weatherproof, but not 100% waterproof. It features some holes that could allow water to get in, but most reviewers say this isn't a problem. These same holes will allow some ventilation to help reduce moisture build-up in the compartment. (You can buy a cover for this deck box it if you need to.)
Click here to see more details.
3) Storage Totes and Baskets for Smaller Garden Tools
Storing your small garden tools doesn't have to be fancy or complicated.
You can create a basic tool basket out of wicker basket, or you could use an old tote to store your tools and smaller items like garden labels and pens.
In the picture above you see the metal bucket that I put most of my small garden tools in.
(I do store it in a covered shed so rain doesn't pool in the bucket and rust the tools.)
4) Get a Gardening Tote Bag to store small gardening hand tools
The company Burpee makes this waxed canvas tote bag with a variety of pockets so you can store and carry your small gardening tools and accessories like seed packets and labels.
Doesn't this look awesome. (I think it would make a great gift for a gardener.)
The downside to this option is that it only works for smaller items so you'll need a different option for storing long-handled garden tools. (But the option below is perfect for that.)
5) Rubbermaid Tool Tower Rack (freestanding tool rack)
This is a good option to store long-handled tools if you have the floor space to put it in your garage, shed, or under a covered deck (out of the elements).
The good thing about this is that you should be able to store most of your long tools together.
The downside to this option is that it takes up floor space – so it may not work in small sheds – and that it isn't great for storing small tools. (Unless, you hung a mesh bag or other hanging organizer off the side of this unit for your small tools.)
The other downside is that it won't work as well in a shed with a low ceiling. Your long-handled tool will hit the short ceiling when you lift it up to insert or remove the tool from the circular holes in the rack. You'll still be able to use the clips to store your tools though…those don't require lifting.
Above is a picture of the freestanding tool rack that was at our house when we moved in. I still use it to this day. I don't know what brand it is, but it is a similar idea to the Rubbermaid Tool Tower Rack mentioned earlier.
Ours isn't the prettiest Belle at the ball, but it works well for most of our tools and even extension cords.
Do you see the handles stuffed into the holes at each of the corners?
These are to support the unit. The plastic legs can break over time, so the wooden handles (from broken garden tools and broom handles) provides support.
6) Wall Tool Rack and Organizer (by Koova)
It can be difficult finding enough space for larger garden tools like rakes, hoes and shovels.
Hanging them from a tool rack like this makes it easy to find your tools and helps get them off the floor of your garage. (No more excuses for a messy garage now 🙂
This is a Koova product: it is well-rated on Amazon though it doesn't have tons of reviews yet.
If you mount it high enough off the floor it can work well to hold:
rakes
hoes
shovels
snow shovels
and other long tools.
I like how it has some small hooks to hold wrenches. So you could keep the wrenches required for your lawn mower or chainsaw maintenance right there: close at hand.
What if I don't have that much wall space to mount the rack?
It comes with 2 of the 32-inch long wall brackets that can be mounted side-by-side to create over 5-feet of wall storage, or each bracket can be mounted individually in different spots.
So if you don't have 5 consecutive feet of wall space, don't worry, you can mount the two sections on different walls.
7) Pegboard Storage Hooks for Garden Tools
Pegboard storage racks are convenient, and allow you to store a variety of household items and tools.
You can install a pegboard in your shed or garage and then get accessories to hold a variety of garden tools.
These movable hooks and holders are great because they allow you to customize the pegboard to suit your needs.
This is a 10-pack of pegboard holders – the pegboard itself is not included. But you should be able to find some at a Lowe's, Home Depot or another local hardware store.
I went to my local hardware store and bought a double pegboard hook that is marketed as a "Power Drill Holder."
It worked well to hold both long-handled garden tools (like my rake) and shorter-handled tools like my medium-sized pruners. Plus the hook worked well to hold a D-handle shovel.

8) Wall Tool Organizer (from Harbor Freight)
Here is another wall-mounted organizer that works well for long-handled garden tools. It comes with a variety of hooks and pegs so you can modify it to suit your needs.
This one is available from Harbor Freight (and at a darn good price!).
The wall bracket section actually comes as 4 separate pieces. So you can mount them together (as shown above) or put them in different spots on different walls if you need to.
9) Store garden tools using simple double wall hooks
Double hooks that screw into a wall are a simple way to hang up garden tools and to get them off the floor or ground.
I bought some double hooks from my local hardware store and had them up in just a couple of minutes.
They work well to store my pitchfork (which doesn't fit in our freestanding tool rack), and it'll hold rakes by the rake head, and shovels by the blade or D-handle. (I'll just have to be careful I don't bump these and have the pitchfork come down on my foot.)
Double hooks are a quick and simple way to help organize and store garden tools.
10) Outdoor Storage Locker
If you don't have room in your garage, and you don't have a large outdoor storage shed, you could look into getting an outdoor storage locker like this one from Rubbermaid.
It is a great way to protect your tools from the weather yet still have easy access to them when you need 'em.
This one is 6-feet tall so it should work well to store your rakes, shovels and other long tools.
And you can put shelves into it – to store flower pots and baskets of tools, etc… – but the shelves are not included. (You have to build or buy those if you want them.)
Check current price of this outdoor locker.
11) DIY Garden Tool Wall Rack using PVC Pipe
This is a cool DIY garden tool organizer from the Canadian hardware store Rona.
They use 3-inch PVC pipe and cut it at 45-degree angle then screw the sections onto a wood backing board.
The angled cuts are made so that you can screw the pipe into the boards.
I haven't tried this yet but it looks like a fairly simple DIY project.
12) Repurpose an Old Mailbox for Garden Tool Storage
Storing short-handled tools and other small gardening tools in an old mailbox is a clever way to organize your hand tools and add some charming décor to your yard.
You could put it near your garden so you'll have quick access to the tools you need.
13) Designate a Tool Drawer
If you already have a large tool box, a tool storage chest, a tool cabinet or workshop, then perhaps there is a drawer you could dedicate to storing smaller garden tools?
This is a handy way to keep them all together.
14) Repurpose an old file cabinet
If you don't have a big tool box, you could repurpose an old filing cabinet to be your tool cabinet!
You can often find second-hand filing cabinets on Facebook Marketplace or at garage sales.
Clean out a section of your shed or garage, plunk the filing cabinet down, and you've got yourself a cool storage solution.
But there are a couple of drawbacks with this idea:
you'll need to ensure the garden tools are dry before they go in a drawer (to prevent the cabinet and metal tools from rusting)
it will only work for small tools
15) Use a Bucket Tool Organizer for Small Garden Tools
There are a lot of bucket tool organizers on the market. This one from Bucket Boss is their Garden Boss model, designed with a gardener in mind.
There are a variety of pockets for storing hand trowels, narrow tools like weeding tools, pruners, and more.
Plus, inside the bucket you could carry other stuff like potting soil, a coiled hose, etc…
A bucket organizer like this is a good option if you're looking for portable tool storage so you can carry your tools to where you need them.
16) Garden Storage Bench / Kneeler
It's fantastic when one item has multiple uses.
This garden bench is:
a convenient place to sit and rest while gardening
works as a cushioned kneeling pad
and it also has some storage for small hand tools
Admittedly, this doesn't store a lot of tools…and most people likely just put the tools in the storage pockets each time they use the bench.
But if you only need to store a few basic tools, and you need a bench or kneeler. Check this out.
17) Use a Shower Caddy to hold small tools
Portable shower caddies – like the ones college students use in public dorm showers – can also work well to hold small garden tools.
And since shower caddies already have drainage holes in the bottom you won't have to worry about rainwater accumulating in the caddy.
If you get one made of the plastic you'll want to keep it out of the sunlight though because UV rays can make plastic brittle over time.
18) Use a toolbox for your small garden tools
We usually think of storing household tools in a portable toolbox like the one above, but you can store small garden tools in a toolbox too.
If all your short-handled tools like pruners, sharp-edged weeders, and hand trowels are in here, you can grab the toolbox by the handle and carry it to wherever you need it.
You May Also Like: My review of the Flexi Hose garden hose
19) Garden Potting Bench with storage
If you have the space for it, a garden potting bench like this can be a great way to do your potting and transplanting in one spot.
This particular potting bench has a metal work surface which will be easy to wipe soil off. Just be careful, it may get hot if it's in the direct sun.
It also has a sliding drawer, a cabinet door, and some storage shelves. So it has various places to store your small garden hand tools.
The potential drawback to this product is that it doesn't have a little tub or sink to put your soil. You could get a plastic wash basin and put it on the countertop though.
You may be able to find similar products at your local gardening stores or hardware stores.
If not, you can click here to check this one out on Amazon.
20) DIY Potting Bench
If you're somewhat handy and have some basic tools like a circular saw and cordless drill, you could make your own garden potting bench with storage shelves similar to product above.
It would be cool to make it with a cabinet underneath too. A cabinet with doors under the planting surface would allow you to store tools and spray bottles out of the elements and UV rays.
And because you're building it yourself you could design or decorate it any way you want. You could go for a rustic look or a modern look. The choice is yours.
I came across this YouTube video where the YouTuber made a potting bench with some hidden storage underneath the removable counter top. Pretty cool. Check it out for some inspiration.
21) DIY Garden Tool Holder made from Plastic Barrel and Lid (YouTube idea)
The YouTuber "Arkansas Prepper" made this long-handled garden tool holder out of a large plastic barrel (I believe a 55 gallon barrel) and drilling 2-inch holes in the barrel lid to insert the handles.
He put small rocks in the bottom of the barrel to help stabilize the barrel.
I would probably drill some drainage holes in the bottom to allow rainwater to drain out. Without them, over time the water could accumulate and be a breeding ground for mosquitoes.
The good thing about this option is that you can store a lot of long-handled tools in a small space. (A 55-gallon barrel generally has a diameter of only 24-inches. So it won't take up much floor space.)
The downside to this option is that it wouldn't work in a shed or garage with a low ceiling. You wouldn't be able to lift the long-handled tools straight up and out of the barrel without hitting the ceiling. Keep this mind.
This DIY option should work well for storing tools outside or in a shed or barn with tall ceilings.
22) Repurpose an old golf bag and cart to be your garden tool caddy
Sorry I don't have a picture of this in action, but I initially read about it in a past issue of the Family Handyman magazine.
You place an old golf bag on a golf bag cart, and then put your long-handled tools into the main compartment where golf clubs used to go.
Many golf bags also have separate compartments and pockets that you can use to store small tools.
Someone with a small yard may not need this, but if you have a larger yard or acreage, you can wheel your garden tools over to where you need them. (Nice and easy mobility.)
Then when you're done, just wheel the tool cart back into your shed.
Clever.
23. Horizontal Yard Tool Rack
I realized I didn't have any horizontal storage options in this article yet, so I thought I better add one.
This wall rack is made by the Etsy seller GoodwoodDesignCoWI. You can get it in sizes varying from 2-feet high to 6-feet high.
Mounting your long-handled yard tools sideways like this means it will work even in garages and sheds with low ceilings.
If you have the space space for this in your garage or shed, I suggest you check it out.
24. Use a Pallet to store yard tools
Another easy and simple way to store yard tools is by using a pallet. Screw the pallet to a wall or fence then place the long-handled tools inside the opening between the top and bottom of the pallet.
In the photo above, I quickly placed the pallet next to my fence so I could grab a picture of this yard tool storage ideas "in action", and I was surprised how well it worked.
If I was to continue using this option, I would place bricks or rocks under the pallet to ensure the wooden handles of my tools weren't resting on the ground wicking up moisture.
25. Simple Yard Tool Holder screwed to wall studs
Do you have exposed wall studs in your garage, shed or barn?
If so, you can screw some 1×2's on each side of the stud extending upward at a slight angle to store long-handled yard tools.
When we moved into our house, the previous owner had this in our carport. He didn't have the 1×2's screwed into the studs though, he had a board in front of the studs as you can see in the picture above. I'm not really sure why he did this. (?)
If you want to make an easy DIY yard tool holder, you could give this a try.
26. Easy DIY Yard Tool Holder – the Nail Rail
Some nails nailed into a horizontal board or header is a super simple way to hang your yard tools.
You can hang rakes by the rake head, shovels by the blade or D-handle if they have one.
Place the two nails wide enough apart that the handle of your rakes and shovels will fit between the space.
General Tips for Storing Garden Tools
Below are general tips on storing and organizing your garden tools.
Store your garden tools together in a handy location
Make it easy to find your tools by having your garden tools accessible and stored together. Then you'll know exactly where to go to get what you need.
I realize this isn't always possible so at least try to do the tip below (group tools together).
Group similar tools together
For yard and garden tools, a popular way to group tools together is by length of their handle.
Store the long-handled tools together, and store the short-handled tools together.
This works for most people. If you need a rake or a spade shovel, you'll know where to look.
If you need hand pruners or a hand trowel, you'll know those are kept with the other small items.


Another way to group tools is by use. For instance, storing a pick-axe and spade shovel together because they're both involved with digging.
Or storing your different-sized pruners together so you can tackle different pruning jobs.
Put your tools away when you're done
You've probably been told this since you were a little kid, but it is important to clean up after yourself.
Whichever storage idea you use for your garden tools, remember to put your tools away when you're finished with them.
How to care for wooden handles on garden tools
To care for wooden handles of garden tools you should clean the handles regularly, give them a light sanding to remove splinters and rough spots when needed, then apply a coat of wood-protecting oil like boiled linseed oil to the handle at least once a year to help prevent cracking.
On the University of California website they suggest to liberally rub the linseed oil onto the wooden handle, let it soak into the wood for about an hour, then wipe off the excess oil.
Boiled linseed oil is generally preferred as a wood-protecting oil over raw linseed oil because the boiled form of this flax seed-derived oil dries faster than the raw version.
And store your wooden-handled garden tools in a dry spot to prevent moisture from causing the wood to expand and crack. (Reference)
I hope you've enjoyed this list of various garden tool storage ideas.
Will one of these ideas work for you?
You May Also Like:
Some of these outdoor shelves can be super handy to store your small gardening tools.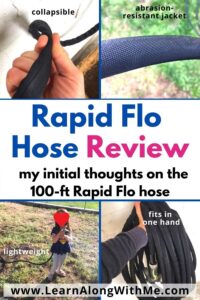 Check out my review of the Rapid Flo Hose … there are a lot of good things about this hose, but one thing you may not like.
Do you want to see some great low maintenance perennial flowers to add to your yard?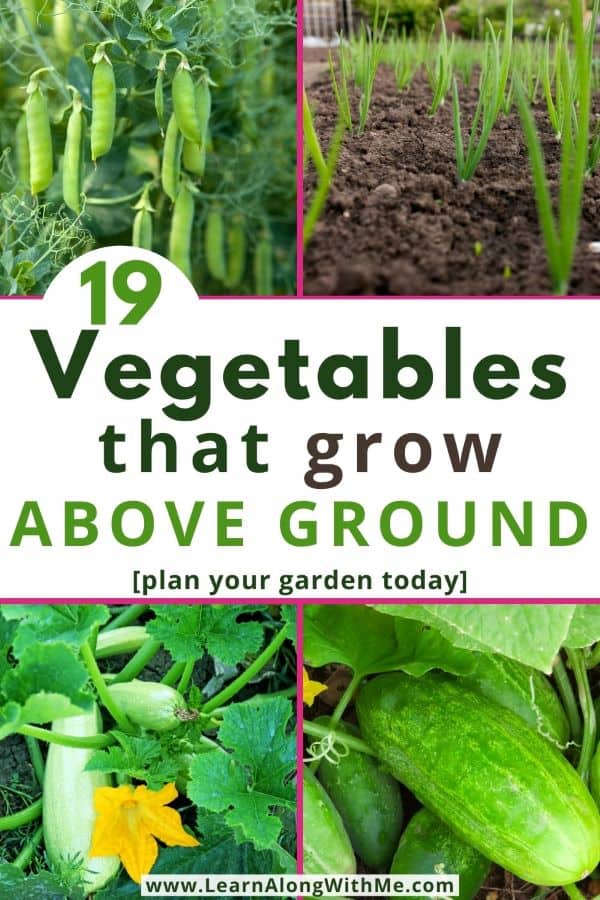 Need some help planning your garden? Check out these 19 vegetables that grow above ground to help make the most of your gardening space.
Vegetables that grow underground. (Another fun one to help plan your garden.)