Do you have an avid RV'er on your gift list? Are you stumped on what to buy them? I have compiled a list of great Christmas gift ideas for RV owners that are sure create smiles on Christmas morning.
This article contains some affiliate links. This means if you click a link and buy a product I'll receive a small commission at no extra cost to you. The money helps support the website and my family. 🙂 Thank you. For more information please see my Disclosure page.

1) Give the Gift of Documented Memories
Camping provides many memories – some good, but some not-so-good (such as how terrible that last sani-dump station was).
And without writing the details down, the memories may slip away and are forgotten by the next camping trip. ("Oh jeez, NOW I remember how smelly this place was!")
Document your camping and RV'ing trips in a dedicated RV journal. This is a RV journal that I created – so I'm a little biased – but I think the RV'er in your life will like it. 🙂
2) Give the Gift of Less Fights 🙂 – A wireless backup camera
All the great laughs and memories from a camping trip can be erased by a fight while packing up and trying to hook up the camper.
If this sounds familiar, consider a wireless backup camera.
They are marketed as a way to make hooking up your trailer easier, but really they're a way to decrease arguments.
3) Customized RV Mat (from Etsy)
There are a ton of cute RV-related outdoor mats for sale on Etsy.
Above is just one example of a cool one I saw on there.
They are a nice way to add touch of "home" to your RV.

4) National Park Pass
If you're reading this from the USA you may want to check out the "America the Beautiful" annual passes.
You could give the gift of the beautiful and majestic US National Parks (at a low rate).

5) A Yeti Cooler
Seems like everyone who has a Yeti brags about it like it's their child.
(My sister-in-law has one and loves it!)
It helps keep food cool for a long time, but I find they are heavy. (I guess that means well built?)
(The one my sister-in-law has is the Yeti 45 [so bigger than the Yeti 35 shown here], and it weighs in at about 30 pounds!)
Remember, lift with your legs and not your back.





Yeti Travel Mugs
And if you're friendly with the RV'er…but not $300-gift friendly, check out these YETI travel mugs. They're still the cool Yeti brand, but they cost around $30 instead of $300.






6) Zero Gravity Camp Chairs
The memories and stories shared around a campfire can be some of the most precious moments of a camping trip: share your stories while sitting in style in a zero gravity camp chair.
For other innovative styles of camping chairs, click here to see our Camping Chairs article.

7) RV Couch Coaster
With the limited space in an RV you need to find ways to maximize what you DO have.
Check out these couch coasters I saw on Amazon.. I didn't even know these things existed, but they look super cool.
8) Funny RV Camping Shirts
"Last Clean Camping Shirt"
Most of us have enough t-shirts. But keep this one in the bottom of the drawer and pull it out when it's actually "true".
It is available on Amazon in a variety of sizes and colors.
"My Camping Shirt…Don't Mind the Smell"
Here is another cheeky camping shirt that'd be a great gift for the RV owner in your life.
Click here to see what other colors are available on Amazon.

9) Give the Gift of a Great cup of coffee
A French Press
Just because you're camping doesn't mean you have to have a crappy cup of coffee.
Just boil some water over the fire or on the stove and then pour the hot water into the french press with your favorite coffee grounds.
I usually wait 4 minutes then slowly press down the plunger. It traps the coffee grounds at the bottom leaving the delicious coffee above.
I'm not exactly sure where we purchased our french press but the one shown above is well reviewed on Amazon. (Currently 4.8 stars out of 5 with over 2,400 ratings.)
I recommend you get a stainless steel one, not glass. We've had two glass ones and we broke them both.
Melitta Single-cup Pour Over Coffee Cone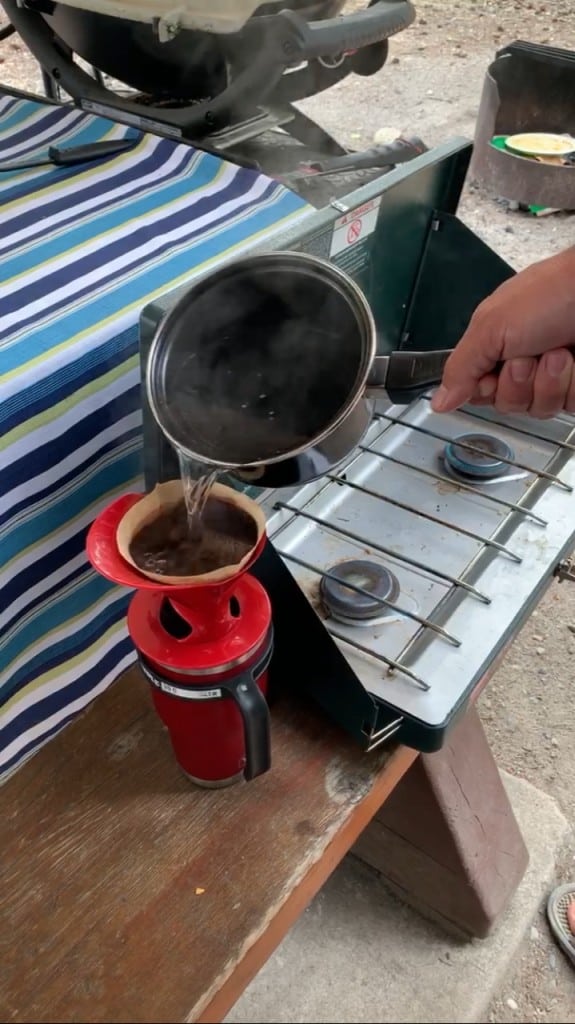 My brother-in-law likes the Melitta Single-cup Pour Over Coffee Cone. As you can see in the picture above he heats up the water over the stove and then simply pours it into the cone. It drips down and produces a tasty cup of coffee. (And yes, into a Yeti tumbler.)

10) Give the Gift of Cool – a Cooling fan
I don't mean a Neil Diamond collection, I mean a Dyson cooling fan.
How many Hot August Nights have you spent sweating it out in your RV dreaming of your air-conditioner at home.
Of course you can get an air-conditioner for your RV but if you don't have the electrical hookup or adequate generator for such a power-hungry appliance, check out this table top fan from Dyson (available on Amazon).
11) Give the Gift of Steady WiFi
Camping without WiFi can be refreshing and fulfilling. But spotty WiFi can be extremely frustrating.
If the RV'er on your list gets annoyed at weak WiFI, you should check out a WiFi range extender. They are designed to boost the existing WiFi at the campground.
To check out some well-reviewed WiFi extenders on Amazon, click here.
12) Give the Gift of a Good Night's Sleep
Many RV's come with less-than-stellar stock mattresses.
You can buy memory foam mattresses from Amazon, or you can even order custom RV mattresses.
But buying a new RV mattress is a big decision, and a personal one.
So if you're interested in giving the gift of a good night's sleep, check out this article, "6 Things to Know Before you Buy a RV Mattress."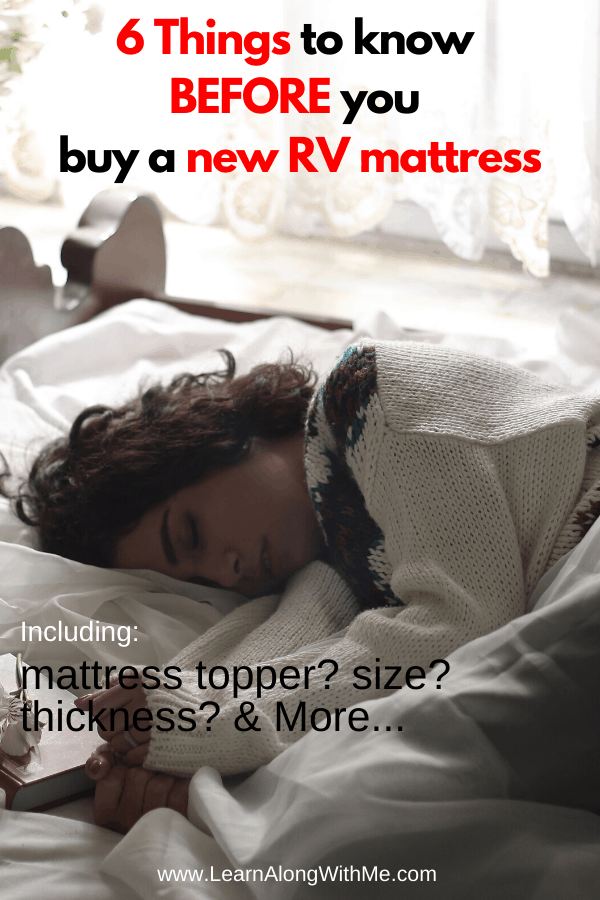 Conclusion
I'm sure whatever your end up buying the RV'er in your life, they will love it.
And they'll appreciate the thoughtfulness you put in by just reading an article like this.
That makes you special. It shows you care.
Up Next:
11 Kitchen Gadgets that make Surprisingly Good Christmas gifts (that'll be appreciated for years)
You'll also find some great RV Organization ideas in our article, "75 Clever RV Organization Accessories" (Particularly good if the camper in your life has a messy RV 🙂 )
Happy Holidays.