Are you going to Disneyland by yourself? Great, because in this article I'll show you some of the benefits of going to Disneyland by yourself – including Disneyland single rider lines!
Disneyland conjures up images of families and children. But that doesn't mean you can't go to Disneyland alone as an adult, and love it!
I would know, because the first (and so far only) time I've been to Disneyland I was flying solo.
In this article I will talk about going to Disneyland alone.
I'll highlight what "Single Rider" passes are, what rides offer the single rider lines at Disneyland, other cool things about going to Disneyland by yourself, and my tips from my first Disneyland visit.
Basically its how to be a lone wolf at Disneyland. 🙂
Why are you going to Disneyland by yourself?
Your friends may back out of a trip, your family may be busy or there could be a thousand other reasons why you end up going to Disneyland alone. But it can still be awesome.
For me, I was in the Los Angeles area for a conference – so I couldn't bring my kids with me. But I thought, since I'm already so close, I'll go to Disneyland.
And I found out there are some pretty sweet perks about going to Disneyland by yourself including "Single Rider" passes.
What is a Single Rider Line at Disneyland?
A single rider line at Disneyland is when a ride has a separate line for people that are by themselves and willing to go on a ride and be seated with anyone else. Often the amount of time it takes to get on a ride when you are in a single rider line versus the regular line is greatly reduced (but not guaranteed to be less time).
Disneyland Wait Times
Disneyland Park and Disney California Adventure Park are notorious for long wait times.
You wait to get into the parks, you wait for rides, you wait for your food and you wait to pay for your souvenirs.
I'm a bit of an impatient person so I wasn't sure how well I'd handle this.

But luckily, I discovered that many of the most popular rides have a Single Rider Line.
(If you're wondering about the difference between Disneyland and Disney California Adventure Park, click here for my quick explanation.)
Why do they have Single Rider Lines at Disneyland?
They want to start the rides with a full-passenger capacity. So in order to fill the random seats left over, some rides have a single rider entrance.
They'll pluck a solo rider from this single rider line and stick you into an empty seat if one is available. So you are seated next to strangers.
This means it has shorter lineups.
Disneyland rides and attractions change over time.
The way that I found best to determine what Disneyland and California Adventure rides had single rider entrance was by picking up a paper map of the parks like this one below.
This maps are available just inside the entrance to the parks: usually on the turnstiles themselves. There are separate maps for Disneyland and California Adventure and each map is available inside its respective park.
The maps have a small icon next to the rides that have a Single Rider Service. Check it out in the picture below.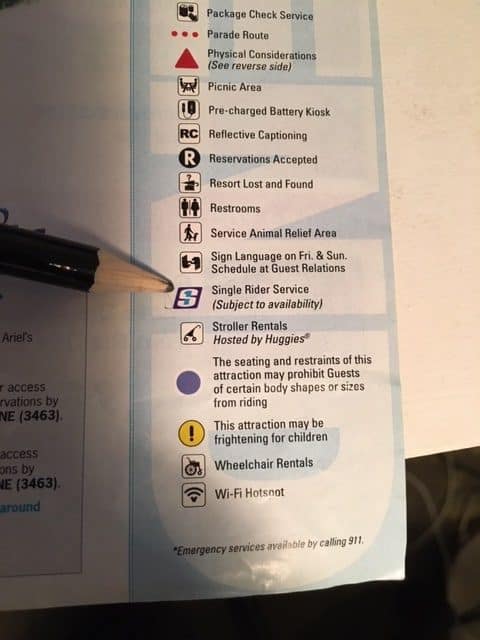 And below you can see the icon located next to the ride listing for the Incredicoaster at California Adventure.
You can also use the Disneyland app to find what attractions have single rider lines. (Its under the "Guest Services" tab in the app.)

Rides with Single Rider Lines at Disneyland and California Adventure:
Disneyland Rides that offer Single Rider Liners
Indiana Jones Adventure
Splash Mountain
Millennium Falcon: Smuggler's Run
Matterhorn Bobsleds
Hyperspace Mountain
Star Tours
Disney California Adventure Rides that offer Single Rider Lines
Incredicoaster
Radiator Springs Racers
Grizzly River Run
Goofy's Sky School
Does Single Rider Service guarantee you'll get on quicker?
No, it doesn't.
I had very good luck with it. I did pick my timing though.
If I walked by a ride and saw its Single Rider line looked really long, I chose another ride.
Because sometimes even the single rider lines can take awhile, but you don't really know how long…the single rider lines don't have a posted wait time.
To read Disney's information on Single Rider Service click here.
Plan your Day at Disneyland and California Adventure
Get to the park early and go to the popular rides that do not offer single rider. Basically stand in line like everyone else.
But if you get there early it hopefully won't be too bad.
I loved the Guardians of the Galaxy ride called Mission: BREAKOUT. This popular thrill ride does not offer single rider. So by one minute after park opening I was standing in line to get on this ride. (It was on my list of top 5 Thrill Rides at Disneyland and California Adventure…click to see where it ranked.)
And it already had about 100 people ahead of me, but I was on the ride very quickly!
Then I walked over to the Incredicoaster, got in the single rider line, and was pretty much seated on the ride right away.
Once the Incredicoaster ended, I went back into the Single Rider line and went on it almost immediately again.
But when I went back in the afternoon, there was a fair amount of people in the Single Rider line for the Incredicoaster.
And this particular line didn't seem to be moving fast. I'd already been on it twice that day so I didn't bother waiting again.
Being a Disneyland Single Rider requires Finding the Single Rider Service Entrances
The single rider entrance for many rides isn't where you think it'd be. In fact, on some rides the Single Rider entrance is actually through the exit!
In this section I'll list where you can find the Single Rider line entrances for many of the most popular rides at Disneyland and California Adventure. (Current as of Sept. 2019)
Incredicoaster Single Rider Line Entrance
Yes there is a single rider line for the IncrediCoaster, it is just a little tricky to see the because the single rider entrance is actually by the ride's exit.
You can see in the picture below that the regular entrance to the Incredicoaster is on the right side, under the arch.
But the single rider entrance is actually where I'm pointing to.
The picture below shows the Incredicoaster single rider entrance that i'm pointing toward in the above picture.
It might be a bit hard to read, but under "EXIT" it says "Single Rider Entrance."
It can be a bit tricky to see and I walked past it a few times before I finally noticed it.

Grizzly River Run single rider line entrance
Grizzly River Run is a tube ride down a wet and wild "river" in the California Adventure park.
It can be a very popular ride especially on hot days.
In the picture below you'll see the sign that says, "Please obtain single rider pass from river guide at the entrance."
Once the attendant gives you your Single Rider Pass, you head in the direction as pointed out on this cool paddle sign.
Radiator Springs Racers single rider entrance
The Single Rider entrance for this "Cars" themed ride is near the regular entrance.
This is a very popular ride. The "regular" line-up wait time can easily be one HOUR or longer.
Using the single rider entrance I was on within 5 minutes.
You kind of feel sorry for the people waiting in line for over 60 minutes.
I did not go on Goofy's Sky School so I'm sorry I don't have a picture of that single rider entrance.
Indiana Jones Adventure
The Single Rider entrance for Indiana Jones Adventure is at the "regular" entrance.
The ride says it has a Single Rider Service, but when you get to the entrance the sign says, "Single Rider Enquire Here."
At the time I went the posted wait time was 20 minutes. I'm not sure if this rather short wait time had anything to do with it, but when I told the attendant I was a single rider he mumbled something about not doing it right now (or not needing it?).
So I hopped into the regular line-up and I got in pretty quickly.
Of the posted 20 minute wait time I think about 10 minutes of it was walking into the bowels of the ride. Or, deeper and deeper into the temple if you want to keep up with ride's theme.
So if you're wondering, "Is there single rider for Indiana Jones?" The answer is yes, but how it works isn't as straight-forward as the other rides because when I told them I was a single rider they basically just told me to get in the regular line.


And did you know there is a Disneyland Hidden Secret near the entrance to the Indiana Jones ride. Check out the hidden secrets at Disneyland checklist.
Hyperspace Mountain single rider entrance
I was briefly stumped trying to find the single rider entrance and I was wondering, where is the single rider line for Space mountain? Well it took a bit of searching but I found it. The Single Rider Entrance for Hyperspace Mountain (formerly known as Space Mountain) is through the ride's exit near the washrooms.
I'm sorry I don't have a good picture of the Single rider entrance for Hyperspace mountain, but if you aim for these washrooms you'll find it.
Then look for the "Single Rider" signs like the one shown below.


I went on Hyperspace Mountain twice. Each time with very little waiting. I had fun on this classic ride.

Splash Mountain single rider entrance
This one can be a bit hard to find.
The Single Rider entrance to Splash Mountain is around the back of the ride by the ride's exit.
You have to go all the way around the ride to the exit.
It is across from a Winnie the Pooh-themed store (Pooh Corner).
And then it's a bit tricky because you have to walk against the flow of people exiting the ride.
I felt like a salmon swimming upstream. But once near the ride I got on very quickly.
In the picture above I have my back to the Pooh Corner store so you can see the little sign that points single riders in the direction of the single rider entrance.
Splash Mountain was one of my favorite rides with single rider lines at Disneyland.

Single Rider line for Millennium Falcon: Smugglers Run
The Single Rider entrance for Smugglers Run is at the "regular" entrance and you can see in the blurry photo below there is a sign stating where to go.
(The photo below is a screenshot from a video I took…that is why its blurry and weird looking. 🙂 )
I went on Smugglers Run a couple times and each time I made it on fairly quickly using the Single Rider entrance.
Matterhorn Bobsleds
I don't have a picture of the single rider entrance for this ride, but if I recall correctly, it was at the "regular" entrance.
Another benefit of going to Disneyland alone is saving money
Now I definitely want to take my children to Disneyland, but at the time I went I was in Southern California for work purposes.
But I got to admit when you go by yourself you can definitely save money.
Obviously you only have to purchase tickets for yourself, buy food for only yourself, and you get to be more selective over the souvenirs you purchase.
You don't have to deal with a crying child putting up a fit because you didn'tbuy them an expensive trinket they wanted.
If you want to read some other tips on how to save money at Disneyland click here.
If you'd been wondering is it weird to go to Disneyland alone? I hope I've shown that not only is it not weird, but by using the single rider lines at Disneyland you can take in great rides and attractions with less wait time, leaving more time to explore and have fun.
I hope you've enjoyed my tips on going to Disneyland alone. Lone Wolf'ing it as I call it. 🙂
Using the Single Rider Service for these popular rides allowed me to experience these rides with minimal waiting.
I truly loved Disneyland even though i was alone. (Or maybe I loved it because I was alone??)

Check out these other Disneyland articles:
---
This article was written by Tim from LearnAlongWithMe.com
It was his first trip to Disneyland but he hopes he'll be able to go back (soon).