Are you thinking of starting a blog? Or perhaps you want to switch your web hosting provider? A few years ago I switched to GreenGeeks web hosting, so I have first-hand experience with this company. This is my Greengeeks review and 7 reasons to choose GreenGeeks.
Hopefully by the end of this article you'll know whether GreenGeeks is right for you.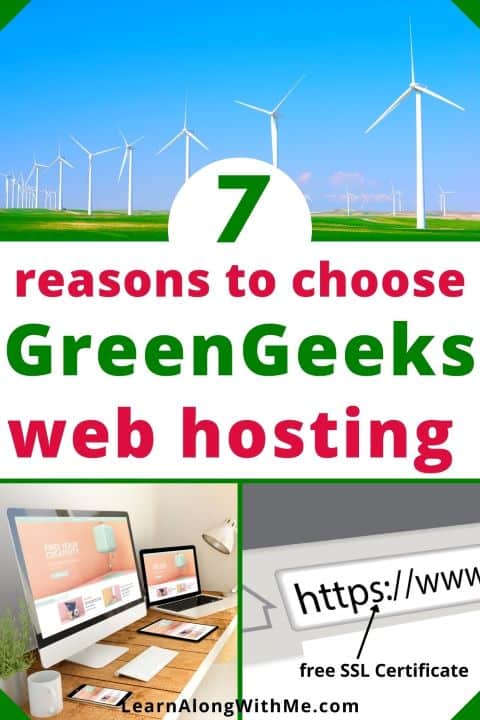 This article contains affiliate links. If you click a link and buy something I may receive a small commission at no extra cost to you. For more information please see the Disclosure page.
Why choose GreenGeeks? – My GreenGeeks Review
I hosted this website on a BlueHost shared plan for almost three years. My plan was due to renew, but I chose not to continue with BlueHost.
I decided to go with GreenGeeks. This is my GreenGeeks review explaining why choose GreenGeeks as a webhosting provider.
1) GreenGeeks is an Eco-friendlly Webhosting option.
Do you try to make eco-friendly options in your life when it comes to what you eat, what you wear and how you get around?
If so, the eco-friendly web host GreenGeeks is aligned with your vision.
You could say they offer green hosting.
And let's be honest…this is probably the reason you're even looking into Greengeeks as a potential web hosting provider.
How is GreenGeeks Eco-friendly?
GreenGeeks say they are the most eco-friendly web hosting company in the world.
Let's look at some of the ways they try to minimize their impact on the environment and reduce their carbon footprint.
A) Electricity consumption and Wind Energy Credits
It takes a lot of electricity to run data centers and the stacks of computer servers required to run our web-connected world.
The amount of greenhouse gases created by the internet (and electricity-hungry web servers) is equivalent to the emission created by the airline industry. (Reference)
Using the internet and running a website is one way we leave a carbon footprint perhaps without evening thinking about it. GreenGeeks can help you reduce your carbon footprint because they invest in renewable energy.
They buy wind energy credits from an environmental foundation to help offset the electricity they consume.
When I emailed the company to clarify exactly how are they "green" a GreenGeeks agent responded quickly with the following comments:
We replace, with wind power credits, 3 times the amount of energy a website will use. This means that any website that is hosted with us has a positive energy footprint on the environment. We do this through a partnership with the Bonneville Environmental Foundation out of Portland, Oregon. GreenGeeks is also a recognized EPA Green Power Partner (and have been since 2009).

We tell them how many servers, personnel, etcetera that we have. They say that our energy consumption is X and they work with the wind farms so we tell them to go and buy 3 times X having been produced by wind (and they) put it back into the grid so that offsets what we do as well as two other companies our size.
B) Telecommuting Staff
The GreenGeeks agent goes on to say that their staff telecommutes for work, so they don't burn fossil fuels driving to and from work everyday.
C) Environmentally Designed Buildings that hold the servers
Plus, the actual buildings where the GreenGeeks computer servers are housed are designed to be environmentally friendly, and the servers themselves use the most energy efficient hardware available.
Here is a short video from GreenGeeks describing some of their eco-friendly benefits.
And if you decide to host with GreenGeeks you can get cool little badges like the one below that states your website is Green.


Clicking the icon above will take you to GreenGeeks.
2) GreenGeeks Pricing – it has competitive prices
GreenGeeks offers shared hosting plans at a reasonable and competitive price. This is really important for small business owners and bloggers.
But GreenGeeks doesn't solely compete on price point. They don't aim to be the lowest cost website hosting.
They offer quality webhosting, at a competitive price all while reducing the carbon footprint of your website.
Let's look at some GreenGeeks pricing for new customers.
Lite Plan – GreenGeeks offers really great introductory pricing for new customers
If you are a new customer to GreenGeeks they offer the low price of $2.95 per month for their Lite plan.
This is a great starter plan if you're looking to set up your first WordPress blog or website.
This Lite plan allows you to host one website with GreenGeeks. And it can be a WordPress blog. GreenGeeks makes it super easy to set up a WordPress site.
It is a great way to "get your feet wet" in the world of blogging and creating websites.
If you want a good starter option for WordPress hosting (making your own blog), check it out.
EcoSite Pro Plan – Do you want the option to have more than one website?
I initially started with their Lite plan but I soon discovered I wanted more than one website.
And GreenGeeks has their Pro Plan which allows you have to host an unlimited number of websites under this one monthly plan. This is the plan I now use.
It is $5.95 per month.
The Pro plan also lets you have an unlimited number of email accounts tied to your websites. This is a good opportunity to have professional branding to your websites. (Looks more professional than a Gmail or Hotmail email address.)
I suggest that if you have an extra couple of bucks to spend on website hosting per month that you get the Pro plan simply because of the option to create more sites.
Blogging can get addicting once you get started.
And GreenGeeks has a 30-day money-back guarantee. If you aren't happy, just cancel.
GreenGeeks Premium Plan Pricing
GreenGeeks also offers a premium plan that is aimed at e-commerce stores or big websites that get lots of traffic.
This may not be plan you need to start with if you're just looking for some WordPress hosting but it is there as an option for you if your website really starts taking off.
The Premium Plan is usually priced at $10.95 per month.
You May Also Like:
My Canva Pro Review – is Canva Pro worth it?
3) GreenGeeks offers Free Website Migration
The fact that GreenGeeks offers free website migration was a big reason I chose them as my website hosting provider.
GreenGeeks will transfer a website from your current web-hosting company to theirs for free.
I like the idea of this being free.
A couple of years ago I was looking at transferring a different website from Yahoo hosting to Bluehost, but they wanted to charge me a $150 US fee for this service.
I decided to migrate the site myself, and I did it incorrectly.
(I ended up having to go the "WayBack Machine" to see an old version of my site so I could copy and paste my old articles into my new WordPress site.)
Migrating to GreenGeeks with their Free Site Migration
Shortly after I paid for my new webhosting plan I received 4 emails from GreenGeeks.
One of the emails titled, "New Account Information…" had a direct link to their Service page telling me how to request website migration.
Here is the link.
The article was dated July 2012. But everything went smoothly.
It required me to log into my Bluehost CPanel (the control panel) and find out some information such as my FTP (file transfer protocol) name. This kind of scared me at first but it wasn't that bad and GreenGeeks helped walk me through it.
That's another thing about GreenGeeks, they have helpful Customer Support and you can reach the support team through Live Chat, phone support or email.
There was a couple other things that did require my involvement, but the folks at GreenGeeks took care of the rest.
My advice is to make sure you begin your site migration process before your contract with your current website host expires because it does some time to transfer your site over to GreenGeeks.
4) WordPress Hosting so you can create your own blog
If you don't already have an existing website, don't worry.
GreenGeeks has an easy one-click installation of WordPress.
WordPress – in a very basic way – is like any word processing software you've ever used. Think Microsoft Word. That software may have seemed daunting at first but you quickly pick up the basics.
Same with WordPress. There is a lot of fancy stuff you can do with WordPress, but to get started you only need to know the basics.
And there are tons of online resources to help you with this. I watch YouTube videos to help me if I'm stuck with something. WordPress is what tons of the major blogs are made with.


If you want to start sharing your passions and interests with the world on the top blogging platform then you should check out WordPress.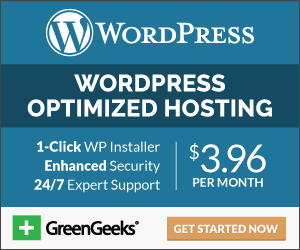 5) Great Customer Support
I haven't had many reasons to contact GreenGeeks since hosting my site with them, but when I've needed quick support their live chat feature is very efficient. Plus, they offer email and phone support too.
They respond promptly and help me work through any issues I may have.
Sometimes they are able to do small technical things for me, and sometimes they point me to a support article that describes in step-by-step detail how I can do something on my own.
I mentioned above that I emailed GreenGeeks to ask exactly how they were "green." I thought it might take them a few days to get back to me.
To my surprise I had a reply later that day.
I've been happy with GreenGeeks' customer service.
6) GreenGeeks offers a Free Domain for the First Year
GreenGeeks gives you a free domain name for the first year you start your webhosting plan with them.
And if you have the EcoSite Pro plan or Premium hosting account and you start more than one website, you do have to pay for those new domain names.
The free domain name for the first year isn't a huge differentiator between GreenGeeks and other web hosts – because I think other companies do this too – but it's nice to know they offer it.
It keeps them competitive while being an eco-friendly option.
7) Free SSL Certificate to boost security and confidence in your site
If your website (including WordPress blog) doesn't have an SSL certificate then internet browsers like Google Chrome and Safari may warn people that your site isn't to be trusted.
This warning can scare off people…so you want an SSL certficate for your website.
Thankfully GreenGeeks offers a free SSL certificate which will boost confidence in your site.
It is simple to set up the SSL certificate within the GreenGeeks dashboard, but if you have questions or trouble just reach out to their support team.
The one con with GreenGeeks
The only thing negative I've come across with GreenGeeks – and other web hosts too – is that the renewal price for their hosting plans is higher than the introductory rates.
For instance, when I renewed by EcoSite Pro plan for an additional 3 years it was about $11.10 per month and not the lower rate of $5.95 that I initially received.
Bluehost did this too, so GreenGeeks isn't alone in this practice of higher renewal rates.
I try to put this in perspective. I view it as only costing me less than $0.40 per day to host my websites: my businesses.
How many other businesses have overhead expenses of only about $0.40 per day!
Does GreenGeeks use cPanel?
Yes GreenGeeks uses cPanel (short for control panel) to allow you to get in and change lots of things about your website…mostly technical things, but it is also how you access the email addresses you've created.
The main GreenGeeks dashboard has an easy to find button called "cPanel" which gets you into this control panel.
I hope my GreenGeeks review has helped you decide on which web hosting provider you'll choose.
Green Geeks has feature-rich plans and pricing that make it competitive with other web hosting solutions, but their big competitive advantage is that they are the eco-friendlier option. This is their differentiator. It's what sets them apart from the rest of webhosts out there.
It is a great option – the option – for people that want to reduce their carbon footprint.
Has it inspired you to "go green"?
You May Also Like:
My RankIQ Review – is RankIQ worth it for bloggers?
My Canva Pro review – is Canva Pro worth is vs the free Canva account?
If you're interested in other ways you can make your work office green check out this article.