Why I'm Breaking up with

BlueHost

and Going with

GreenGeeks

Web Hosting. My GreenGeeks review.
I hosted this website on a BlueHost shared plan for almost three years. My plan was due to renew, but I chose not to continue with BlueHost. I decided to go with GreenGeeks, and this is my GreenGeeks review.
I have been very happy with GreenGeeks and I am now an affiliate for them meaning if you decide to go green and make the environmentally responsible decision to host your website or blog with them, I make a small commission. The links on this page are affiliate links. But if I wasn't happy with them, I wouldn't recommend them. Below you'll see why I'm happy with them. Thank you.
Why am I switching to GreenGeeks from Bluehost?
Three Main factors
1) Wanting an Eco-friendlier option.
In 2018 I decided to start emphasizing sustainability on my website, and an eco-friendly host like GreenGeeks is aligned with my vision.
I have some environmental strikes against me:
1) I have a regular fossil fuel powered car. (Unfortunately I can't afford a Tesla yet…but "it will be mine. Oh yes, it will be mine." Bonus points if you get that reference 🙂
2) My current house is over 2,000 square feet. It's not a monster, but it isn't tiny either.
I don't want my web-hosting to be another strike!
GreenGeeks says they are the most eco-friendly web hosting company in the world.
They buy wind energy credits from an environmental foundation to help offset the electricity they consume.
.
When I emailed the company to clarify exactly how are they "green" a GreenGeeks agent responded quickly with the following comments:
We replace, with wind power credits, 3 times the amount of energy a website will use. This means that any website that is hosted with us has a positive energy footprint on the environment. We do this through a partnership with the Bonneville Environmental Foundation out of Portland, Oregon. GreenGeeks is also a recognized EPA Green Power Partner (and have been since 2009).

We tell them how many servers, personnel, etcetera that we have. They say that our energy consumption is X and they work with the wind farms so we tell them to go and buy 3 times X having been produced by wind (and they) put it back into the grid so that offsets what we do as well as two other companies our size.
The GreenGeeks agent goes on to say that their staff telecommutes for work, so they don't burn fossil fuels driving to and from work everyday.
Plus, the actual buildings where the GreenGeeks computer servers are housed are designed to be environmentally friendly, and the servers themselves use the most energy efficient hardware available.
Here is a short video from GreenGeeks describing some of their eco-friendly benefits.
And if you decide to host with GreenGeeks you can get cool little badges like the one below that states your website is Green.


Clicking the icon above will take you to GreenGeeks.
2) Cost
The shared website hosting plan with Bluehost was set to renew at $12.99 per month (US dollars).
When I chatted with their representative they said that they could give me a bit of deal if I renewed for three years at a time. The cost would be reduced to $10.99 per month.
As a new customer to Green Geeks I bought the $3.99 per month package, and it's for a three year plan.
If I was going to buy 2 years it would be $4.95 per month. 1 year at $5.95 per month or $9.95 monthly for month to month.
If you are doing this just for fun then you probably don't want to spend a lot of money on hosting.

3) Free Website Migration
This was a big one for me.
GreenGeeks will transfer a website from your current web-hosting company to theirs for free.
I like the idea of this being free.
A couple of years ago I was looking at transferring a different website from Yahoo hosting to Bluehost, but they wanted to charge me a $150 US fee for this service.
I decided to migrate the site myself, and I did it incorrectly.
I ended up having to go the "WayBack Machine" to see an old version of my site so I could copy and paste my old articles into my new WordPress site.
Migrating to GreenGeeks
Shortly after I paid for my new webhosting plan I received 4 emails from GreenGeeks.
One of the emails titled, "New Account Information…" had a direct link to their Service page telling me how to request website migration.
Here is the link.
The article was dated July 2012. But everything went smoothly.
It required me to log into my Bluehost CPanel and find out some information such as my FTP (file transfer protocol) name. This kind of scared me at first but it wasn't that bad and GreenGeeks helped walk me through it.
There was a couple other things that did require my involvement, but the folks at GreenGeeks took care of the rest.
My advice is to make sure you begin your site migration process before your contract with your current website host expires because it does some time to transfer your site over to GreenGeeks.

Are you starting fresh with no existing website or blog?
If you don't already have an existing website, don't worry.
GreenGeeks has an easy one-click installation of WordPress.
WordPress – in a very basic way – is like any word processing software you've ever used. Think Microsoft Word. That software may have seemed daunting at first but you quickly pick up the basics.
Same with WordPress. There is a lot of fancy stuff you can do with WordPress, but to get started you only need to know the basics.
And there are tons of online resources to help you with this. I watch YouTube videos to help me if I'm stuck with something. WordPress is what tons of the major blogs are made with.
Below is a screenshot of me writing this very post!
Looks like a lot going on there, but compare it to any other software you use daily…probably not much different.
If you want to start sharing your passions and interests with the world on the top blogging platform then you should check out WordPress.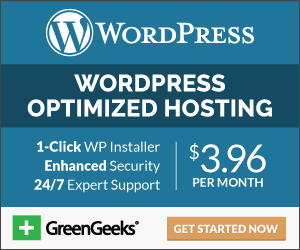 ---
This next reason isn't a reason why I switched, but it's the one BIG reason why I stay, and why I decided to start another website and host it on GreenGeeks too.
4) Great Customer service
I haven't had many reasons to contact GreenGeeks since hosting my site with them, but when I've needed quick support their chat feature is very efficient. They respond promptly and help me work through any issues I may have (or have created for myself 🙂
I mentioned above that I emailed GreenGeeks to ask exactly how they were "green." I thought it might take them a few days to get back to me.
To my surprise I had a reply later that day.
GreenGeeks has really surprised me with their excellent customer service.
---
The one con…
The only thing negative I've come across with GreenGeeks, and I'm not even sure if it is their fault or mine, but a couple times when I've tried to log into my GreenGeeks account it wouldn't let me because it didn't like my "IP" address.
I know that isn't the technical wording that was used, but I can't remember the exact phrasing.
I was admittedly a little annoyed, but all I needed to do was contact GreenGeeks via the chat feature on their homepage and they solved the issue right away.
In the screenshot below I've shown where the live chat button is on their homepage.
---
I hope my GreenGeeks review has helped you. Has it inspired you to "go green"?
---
If you're interested in other ways you can make your work office green check out this article.