Do you need to organize and store a large number of hats? Well, hopefully you'll find something in this list of 25 hat storage ideas to help you out.
We'll look at:
hat organizers for your closet
behind the door hat racks
wall-mounted hat racks
and more…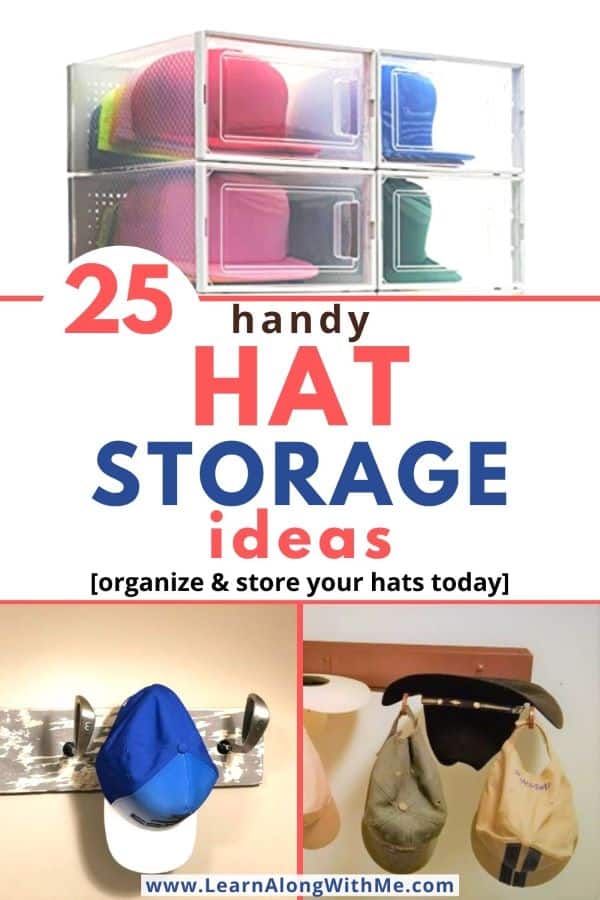 This article contains affiliate links. If you click a link and buy something I may receive a small commission at no extra cost to you. As an Amazon Associate I earn from qualifying purchases. For more information please see the Disclosure page.
25 handy Hat Storage Ideas
Most of the hat storage ideas featured in this article pertain to baseball caps.
But there are hat storage options for cowboy hats and other wide-brimmed hats too.
1) Horizontal Hat Storage Hanger [goes over a clothes hanger]
The company Loki Essentials makes this closet rod hat hanger that can store up to 10 hats. You put the hat organizer over a clothes hanger and then you clip your hats onto this organizer. 
And you can buy a 2 pack where you get two hat hangers so you can store up to 20 of your hats. 
This could be a good option if you have room in your closet. But if your closet is jam-packed with clothes on the closet rod you won't have enough room to safely store your hats with this option.
2) Hat Shelf Organizer for your Closet
This 10-shelf hanging hat organizer is a convenient way to store your baseball caps in your closet. Plus, there is a plastic dust cover on the front.
The shelves are 9-inches wide so they should fit your hats well, and it secures to your closet rod with Velcro.
It is almost 5-feet high so it may not fully extend down if you have a shorter curtain rod than that.
3) Hanging Closet Organizer Shelves for Wide-Brimmed Hats
Does most of your hat collection consist of sun hats, fedoras, cowboy hats, or other wide-brimmed hats?
If so, perhaps a hanging closet shelf system like this one will work of you.
You can combine the two pieces into one taller organizer, or keep separate as in the photo above.
And what is cool about this option is that if you don't have 10 hats to fill all the shelves, you can use the shelves for other things like sweaters too.
4) The "Dome Dock" – a wall mounted hat storage rack
See that black plastic thing on the wall in the picture above…that is the "Dome Dock."
If you have all ball caps, then this might work for you. You attach the "Dome Dock" to the wall and stick the brim of your hat down inside the Dome Dock.
Then you tuck your next hat behind the first hat, and so on….

The downside to this option is that it may not work as well as planned unless you have flat-billed hats (ones with flat brims).  If you like to round your hat brims then they may not fit in here as well. And if you want a hat that is stacked in the middle of the pile you have to remove all the hats above it then put them all back, and hope they go back okay.

Plus, some people complain about the price. I'll let you decide.
5) Wall-mounted Hat Rack with Key Holder Hooks
This is a similar hat storage idea as the Dome Deck but this one has the added feature of the hooks for hanging up your keys.
6) Over the Door hat hanger – a vertical hat storage idea
This product called the CapRack18 is made by Perfect Curve is intended for hats and visors that are adjustable and have the little hole at the back with the adjustable strap. (That's because the hangers go through this hole to secure you hat.)
You can hold up to 9 hats on the back of your door with one of these hanger strips, and since it comes as a 2-pack you'll be able to store up to 18 hats behind your door.
This is a very popular hat hanger. It helps you store a large number of hats and put them in an "out of the way" spot.
7) Accordion style Hat Rack for your Wall
This wooden accordion-style hat rack has 17 wooden pegs to hang your hats, coats, etc…
You can mount it to your wall horizontally – as shown above – or you can mount it vertically.
It can extend up to 5-feet 9-inches long.
One potential downside to it though is that if you're using it primarily for hats, the hats can be smushed close together.
8) Hat Storage Cubbies (by Boxy Concepts)
Do you have a hat collection that you take pride in?
These hat organizer boxes from Boxy Concepts are stackable so you can put them in your closet or on a shelf.
But some people say these hat crates are better suited for hats that you don't wear too often. (It isn't as easy to get into one of these as it is to pluck a hat off a hat rack.)
Click here for more details on these hat storage boxes.
9) Tree shaped Hat Rack (attractive entryway organizer)
This tree-shaped hat rack has 8 branches that act as hooks for your hats, coats, scarves, etc…
What I like about an option like this is that your frequently worn hats will be easily reachable, and conveniently close to your front door.
This is not only functional and well-rated, but it is nice decor too.
10) Hat-Tac Hat Racks
These plastic wall-mounted hat racks by Hat-Tac stick to your wall using an adhesive. No screwing required. And they claim the adhesive is damage-free.
You store one hat on each hook, and you'll get 4 of these hat racks in one order.
These are a great option for hanging your frequently worn hats: have them within easy reach.
11) Hat Rail – Hat Organizer (Amazon)
This wall-mounted hat rack has room to hang 7 adjustable baseball caps, visors or trucker hats.
I like how the screw holes are 16-inches apart so you should be able to hit the wall studs on a standard 16-inch-on-center studded wall.
This was invented by a husband and wife duo out of Utah.
12) Handmade Wooden Hat Rack (Etsy)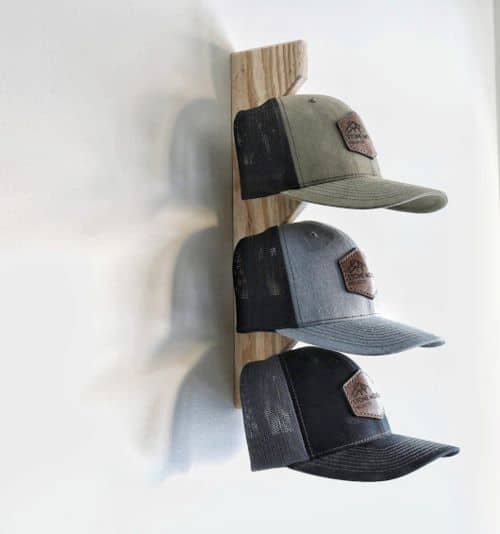 If you love the charm on handmade wood projects, check out this wooden hat rack made by StoneMTNProjects on Etsy.
You can get it with 3 hooks (like shown above), or you can get it with 6 hat hooks.
And you have your choice of 3 different kinds of wood to have your hat rack made from.
Click here to see price on Etsy
13) Hat Rack made from old golf clubs [on Etsy…perfect for a golf lover]
Do you have a golf lover in your family? Or do you love golf?
This is such a cool hat rack (or coat rack) for golf lovers. It is a great rack for them to hang up their golf hats and visors.
It is a handmade product made by the Etsy seller OldGolfClub.
If you love golf…check out our article about –
9 super handy Golf Bag Organizers [protect and store your golf gear]
14) Hockey Stick Hat Rack (easy DIY option)
Here is a homemade hockey stick hat rack that my sister made her son.
I thought she may have screwed into the hockey stick with a cup hook, but she said she actually used Command Hooks. So she didn't wreck the stick.
This is an easy DIY hat storage idea for the hockey lover in your life. And you can customize it by adding as many hat hooks as you want or need.





You may also like our article on hockey mom gifts.
15) Baseball Bat Hat Rack (Etsy)
Isn't this cool!
What better way to hang baseball caps than on a baseball bat.
This handmade hat rack is made from a real Louisville Slugger ash-wood baseball bat that is sawed in half. And each half has 4 pegs to hang your hats, metals, uniforms, etc…
And you do get both halves with your order. (This is a popular product with buyers.)
16) Hat Rack for Cowboy Hats (Etsy)
Store your cowboy hats on this great Western-themed hat rack by GreatAmericanDecor on Etsy.
This handmade cowboy hat holder has room for 4 cowboy hats and even more trucker hats and ball caps on the hooks.
Will this work for you?
17) Horizontal Cowboy Hat Rack (Etsy)
Here is another handmade cowboy rack from GreatAmericanDecor (on Etsy), but this one is horizontally oriented.
you can store up to 3 cowboy hats with this rack and up to 6 ball caps. (You could store more ball caps if you slid them along the pegs.)
If you're into Western decor and you want a quality hat organizer for your cowby hats…check this out.
18) Horseshoe Hat Rack for Cowboy Hats (Etsy)
Here is another cowboy hat holder, but this horseshoe hat holder (say that 3 times fast) doesn't touch your hat's brim. It holds up the hat where your head would be.
Note the wood doesn't come with this. What you get is the welded and powder-coated horseshoe hat rack that you can screw into your walls, or into a piece of wood like in the picture above.
19) Farmhouse Hat Rack (DIY option)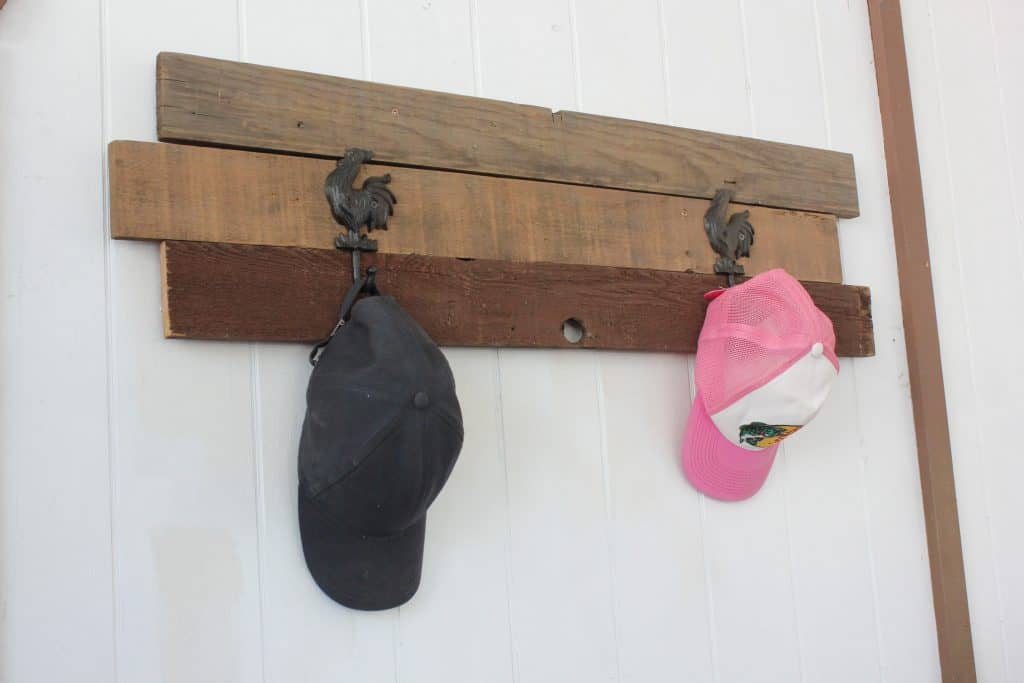 Above is a farmhouse hat rack that I made. I ended up adding another hook, and now it is our entryway coat rack.
This was an easy DIY hat rack that I believe darn-near anybody can make.
Click here to see my article about this farmhouse hat rack.
20) Cowboy Hat Holder Hooks (Amazon)
If you want to make your own cowboy hat holder, you can buy a 5-pack of these hat holders and screw them into rustic wood, barn boards, or even just your wall to help store and organize your wide-brimmed hats.
21) Cowboy Hat Hooks – wal mounted (4-pack on Amazon)
You can buy a 4-pack of these u-shaped hat hooks on Amazon, and then screw them into your wall or mount them to a decorative piece of wood.
They are marketed as being cowboy hat holders, but they'd work for other wide-brimmed hats like fedoras, and the hooks would work for ball caps too.
22) Display Shelves for your Ball Caps (Amazon)
If you'd rather have your ball caps on display instead of tucked away in a closet, check out this 4-pack of hat display shelves.
You can stick it to your walls using 3M adhesive tape so no need to screw them.
If you or someone you know loves their hats, then show them off with shelves like this.
23) Stainless Steel Adhesive Hat Hooks
Hat storage ideas don't have to be complicated. Here is a 20-pack of adhesive hooks that you can mount to your wall or to the side of cabinets and they'll provide a convenient spot to hang your hat.
You could mount the hooks to the wall in an interesting pattern to create a piece of functional, hat-hanging art.
24) Freestanding Hat Rack
Do you have room for a free-standing hat rack like this near your entryway?
If you do, they can be a convenient and attractive way to hang your hats, coats, umbrellas, etc..
This is a popular and well-rated hat rack made of metal and wood that you can find on Amazon.
25) Wooden Hat Tree Rack
Do you prefer the warmth and old-timey look of wood over metal?
If so, you may be interested in this wooden hat rack. It stands about 70-inches tall once assembled.
Most people rave about the stability and look of this product.
Will this work for your home?
We've looked at options for storing your hats in the closet, organizing your hats behind a door, various wall-mounted hat racks and even some floor-standing hat trees.
I hope one of these hat storage ideas help you organize and store your hats.
Up Next:
33 Garage Storage Ideas [get your garage organized this weekend]
11 Wrench Storage Ideas [get your tools organized]
9 Golf Bag Organizers [protect & store your golf gear]