A hitch ball cover can help protect your hitch ball from the weather, but it also lets you display your individuality. In this article we'll look at 9 hitch ball covers that range from dull to darn clever in style.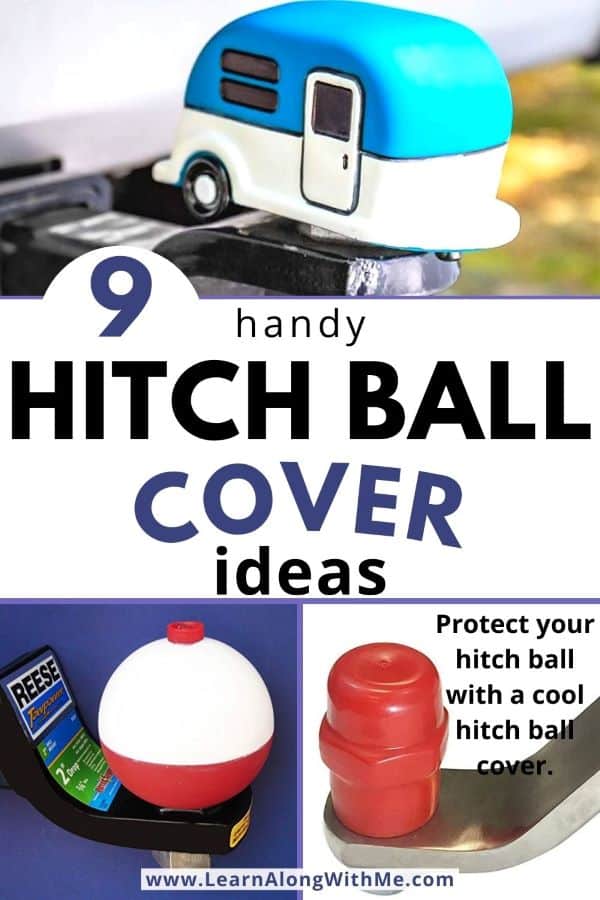 This article contains affiliate links. If you click a link and buy something I may receive a small commission at no extra cost to you. As an Amazon Associate I earn from qualifying purchases. For more information please see the Disclosure page.
9 handy Hitch Ball Cover Ideas
A hitch ball cover will help:
keep water off your tow ball
help keep hitch ball lube ON the ball and NOT ON your pants.
Some people call them a trailer ball cover, a trailer hitch ball cover, or a tow ball cover but they are the same thing.
Take note of what size your hitch ball is. Measure the diameter of the hitch ball to get the proper size of cover before you purchase one.
The most common sizes of hitch balls is 1-7/8″ , 2″, and 2-5/16″. [There is also a 3-inch trailer ball for gooseneck towing.] (Reference)
Which one of these trailer ball covers will work for your vehicle?
1) Simple Black Rubber Trailer Hitch Ball Cover (by Curt Manufacturing)
Curt Manufacturing makes hitch balls and hitches, but they also make these simple hitch ball covers.
It is the black rubber sleeve over top of the hitch ball in the picture above. It pushes down, and pulls off when needed.
This particular model is for 1- 7/8″ hitch balls and 2″ hitch balls.
They also make a version that fits the larger 2-5/16″ hitch balls.
2) Rubber Hitch Ball Cover with Tether (keeps it attached to hitch)
It's a little tricky to see in this picture but the hitch ball cover that has a tether that remains attached to the shaft of the trailer ball. So when you pull off the cover you can just flip it to the side and let it dangle while you attach and tow your trailer.
This should minimize the chance of losing the cover and leaving it behind.
It is highly-rated…a lot of people seem to like this one.
CLICK HERE to see more details and reviews.
3) Trailer Ball Cover with Pocket for 4-Pin Wiring Connector
This trailer ball cover is made by Reese Towpower. It is their model #74052.
I saw this and was wondering what that little flap was on the side. Turns out it is a protector for your 4-pin wiring connector. You slip the cover over the ball and then push your vehicle's 4-pin wiring end into this protective sleeve.
It isn't rubber…it is vinyl plastic.
This model fits 1-7/8″ and 2″ trailer hitch balls.
I wouldn't need this for my truck because I don't have the 4-pin connection wire…I have a 7-pin electrical socket. So this extra sleeve would be unnecessary.
Will this work for your vehicle?
Click here to see more details on Amazon.
4) Red Hitch Ball Cover (Rubber)
I've included this red one on this list because of its visibility.
While camping last weekend people banged their shins into my hitch ball mount at least four times.
Perhaps with a red hitch ball cover people will see it better ?? (Or they could try looking down when they walk. 🙂
This is for 1-7/8″ to 2″ trailer balls.
Click here to see details on this trailer ball cover.
You May Also Like:
23 unique Hitch Covers (protect your hitch receiver and personalize your vehicle)
5) Life is Better at the Campsite Hitch Ball Cover (by Camco. Model 53306)
Here is a cute trailer ball cover for people that love to camp. It is made of PVC (flexible plastic).
This hitch ball cover fits 1-7/8″ and 2″ trailer hitch balls.
6) Fish Bobber – Hitch Ball Cover
This rubber trailer ball cover is great for fishermen and women. The product description says it'll fit hitch balls up to 2-5/16″ in size, but when you read further, you see it is best suited for balls up to 2″ in size.

7) Bass Fish Trailer Ball Cover
Haha, this thing looks ridiculous (yet funny). It would make a great gift for the angler in your life.
Just imagine them at the gas station saying, "Yup, big mouth bass swallowed my ball" while pointing at this cover.
I don't know what it is made of, but it is for 1-7/8″ to 2″ trailer hitch balls.
Would you want this on your truck?
8) Ram Tow Ball Cover
I really wish they had a picture of this mounted on trailer ball…
Luckily, on the Amazon product page a customer submitted a photo of this ram tow ball cover on their truck.
Sounds like it is best suited for a trailer ball up to 2″ in diameter. (People say it doesn't fit 2-5/16″ ball without needing to modify it.)
9) Blue Rubber Trailer Ball Cover
Here is a simple, blue, dimpled rubber trailer ball by JLP.
It is very similar to the other ones I've already mentioned…but hey, it's blue!
It is for 1-7/8″ and 2″ trailer balls.
Click here to see more details.
Did you find a trailer ball cover that'll work for your vehicle?
I came across some interesting tow ball covers made by River's Edge Products on Amazon, but they are currently unavailable so I couldn't get any good pics. They have a buck deer and a moose that would be great gifts for hunters or outdoor lovers. You may want to click the link and see if they're available now.
Up Next:
11 Vehicle Organizers and Accessories to get your ride tidy and organized
7 clever accessories for eating in your car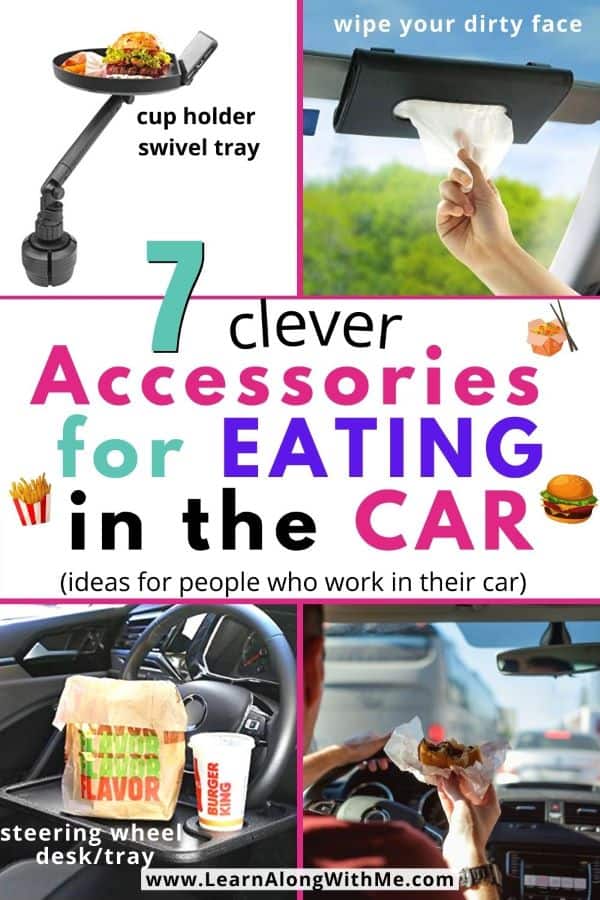 23 unique Trailer Hitch Covers