You spend time on your deck but now you're wondering 'How do I add privacy to a raised deck?' It is a great question because you don't want your neighbor to see your every move. These deck privacy ideas will help make your deck more comfortable and relaxing knowing you aren't on display anymore.
This article will highlight 9 options to add privacy to your raised deck including:
deck privacy screen options
deck privacy wall options
and more…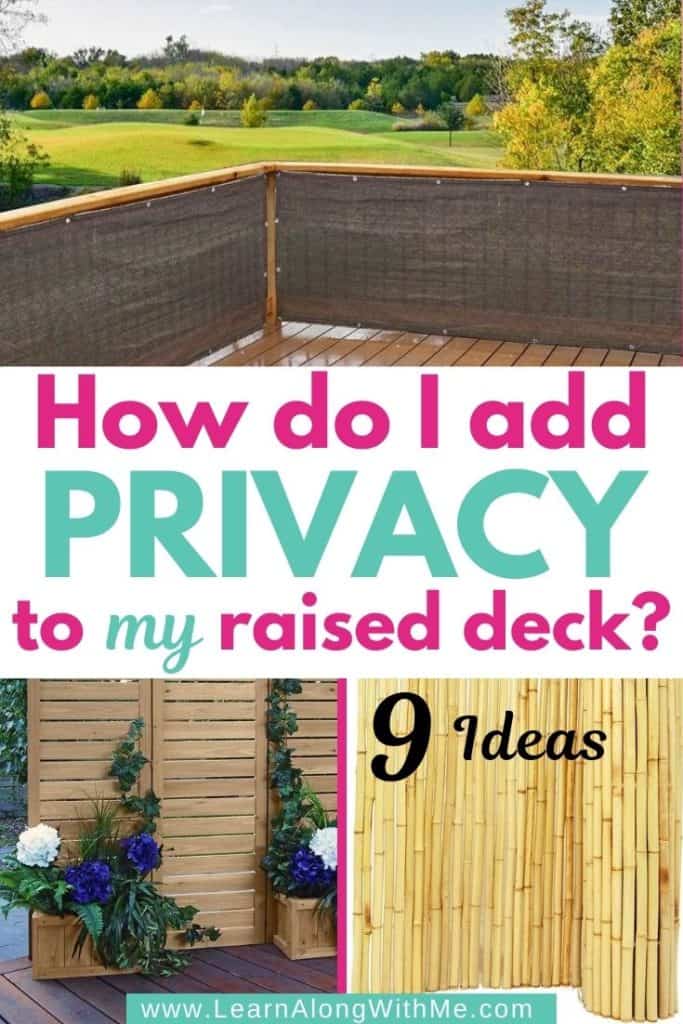 This article contains affiliate links. If you click a link and buy something I may receive a small commission at no extra cost to you. As an Amazon Associate I earn from qualifying purchases. For more information please see the Disclosure page.
Updated March 2023: I added some more deck privacy ideas, and I have removed some Instagram photos from this article. If you own one of the businesses for which I've used your Instagram photo still in this article – and you do not want the free publicity please let me know and I'll remove it.
Deck Privacy Ideas – if you already have a railing around your raised deck
If you already have a railing around your raised deck then below are some easy options for adding privacy screens to your existing railings.
Not all of these ideas will work for you. You may not like their style or the required installation steps.
But scroll through them all to see if one will work for you.
1) Rolls of bamboo or other reed grasses (simple deck privacy screen)
You can unroll the bamboo and strap it to your deck railing for a quick and easy deck privacy screen with an exotic flare.
Want more details? See this product on Amazon. (I have noticed some availability issues lately though.)
2) Fabric deck privacy screen straps to your existing railing
A deck privacy screen like the one shown above (by Alion Home and available on Amazon) quickly attaches to your existing deck railing.
You feed a zip tie through the metal grommet and secure it to your railing….easy.
If you have people coming over in a couple days and you want to add some privacy to your deck quickly…this is a great option.
Sure, if you're standing on your deck, people may still be able to see you, but if you're sitting down having some drinks on your deck or balcony, then people from below aren't going to see every move you make.
3) Rolls of artificial hedges make a good Deck Privacy Screen
Expandable faux ivy privacy fence rolls and other artificial hedge rolls can be an easy way to add privacy to your raised deck railing.
Simply unroll it, and zip tie it to your existing railing.
They are one of the simplest and quickest deck privacy screen ideas.
4) Use real plants to provide privacy to your deck
The picture above beautifully illustrates using plants for privacy around a raised deck.
Plants can make a great natural deck privacy screen, but this may not be a great option depending on where you live, and how "green" your thumb is.
5) Privacy Lattice around Deck
You can use privacy lattice – either wood or plastic – to provide some privacy to your raised deck. The wood lattice will require more maintenance: painting or staining. If you buy plastic privacy lattice check if it is fade resistant.
It doesn't completely block your neighbor's view, but at least they can't see each and everything you're doing on your deck.
This is basically like building a deck privacy fence, and you could further obscure neighbor's views by growing some climbing vines up through the lattice.
Deck Privacy Ideas – if you do not already have a railing around your raised deck…
If you do not already have a railing around your raised deck, then when you build one, you can plan ahead and have privacy in mind.
Below are some options like a deck privacy wall, privacy screens, solid railings and other deck privacy ideas to make your outdoor living space feel more private and restful.
6) Wooden Slat Privacy Screen
I like the photo above where they incorporate a fairly simple horizontal board design to create a nice-looking privacy screen for their raised deck.
Both of these examples don't completely block out your deck, but they will obscure sightlines while still allowing your deck to feel open and airy.
7) Planter Box and Privacy Screen
The cedar planter box and privacy screen combo shown above would be a great way to add privacy to your deck (whether you have a current railing or not).
I found this cool privacy screen on Amazon.
8) Hang some outdoor curtains
Hanging outdoor curtains can help add privacy to your raised deck, and do it in a hurry. The photo above is an popular outdoor curtain available on Amazon.
You could also use white sheer curtains to provide some privacy to our outdoor area.
9) Corrugated Metal Privacy Panel
Even though the photo below doesn't show the corrugated metal privacy panel set up on a deck, it gives you a real good idea what you could accomplish with corrugated metal.
(I'm not too sure how much heat this would radiate back at you though?)
You could create an amazing deck privacy wall using some corrugated metal panels and a wood frame. You'll just have to make sure you secure the privacy wall to your deck or railings. You don't it to fall over while you're out there enjoying yourself.
10) Elevated Deck Privacy Screen made of wood
To add some privacy to their deck my parents built a privacy screen to partially enclose a section of their deck. (See the red arrow in the picture above.)
When asked why they added this, they said that portion of the deck looked directly at the neighbor's back door.
You can see they built it taller than the rest of the deck railing. (It really looks more like a deck privacy wall.)
Then they tucked their barbeque into this space to have a little grilling station.
11) Solid Deck Railing…like a privacy fence around your deck
At my parents previous house they basically built a wooden privacy fence as their deck railing, then had a lattice topper to break up the monotony of the solid wood. (This is the same deck as the above picture but a different angle.)
The good thing about this option is that the solid railing would make it hard to see what was happening on the deck if people are sitting down.
The downside to this option is that all that wood will need to be stained or sealed periodically to help maintain it and promote its longevity.
Bonus Deck Privacy Idea– Get a Retractable Side Awning
I just recently learned about retractable side awnings…these seem pretty cool.
It is hard to tell by the picture above, but the polyester fabric portion of the awning retracts and rolls up out of sight.
It is kind of like a projector screen but tipped on its side.
If you're out on your deck or patio, and you want some privacy, you pull the handle to unroll the awning and attach it to the other post that is anchored into your deck. When you don't need it or if it gets windy, you simply retract the awning.
This particular retractable privacy side awning is made by SogesGame and is available on Amazon.
Want to see more pictures, more details or to read reviews?
Here is a great example from Instagram of how this company from Washington DC added privacy to their client's raised decks. Looks cozy.

And once again, it doesn't completely block out the view, but it does provide some privacy while sitting down, and still has an open feeling.
And check out these 17 proven Expandable Faux Privacy Fence ideas as a way to add privacy to your raised deck.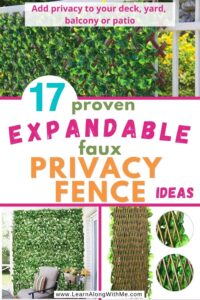 I hope you've found some helpful solutions on how to add privacy to your raised deck.
As you can see, there are some quick and easy options to make your deck more private if you already have a deck railing.
If you're just building your deck, you can plan ahead and build privacy screens right into your railing designs.
Which of these deck privacy ideas will work for you?
If you want to see some Privacy fence ideas, check our article that is filled with lots of pictures.
Chain Link Fence Privacy – And if you want to know what to put on a chain link fence for privacy, click here.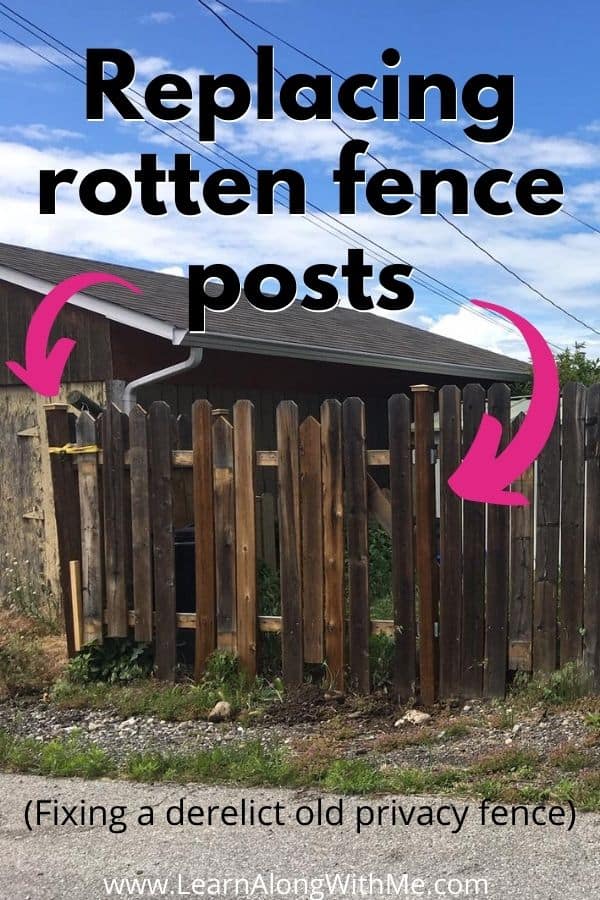 And if you happen to have rotten fence posts on your wood privacy fence – like I had – click here to check out how I fixed the rotten fence posts.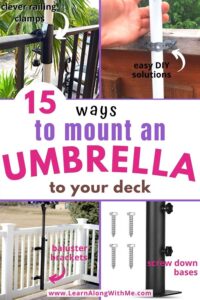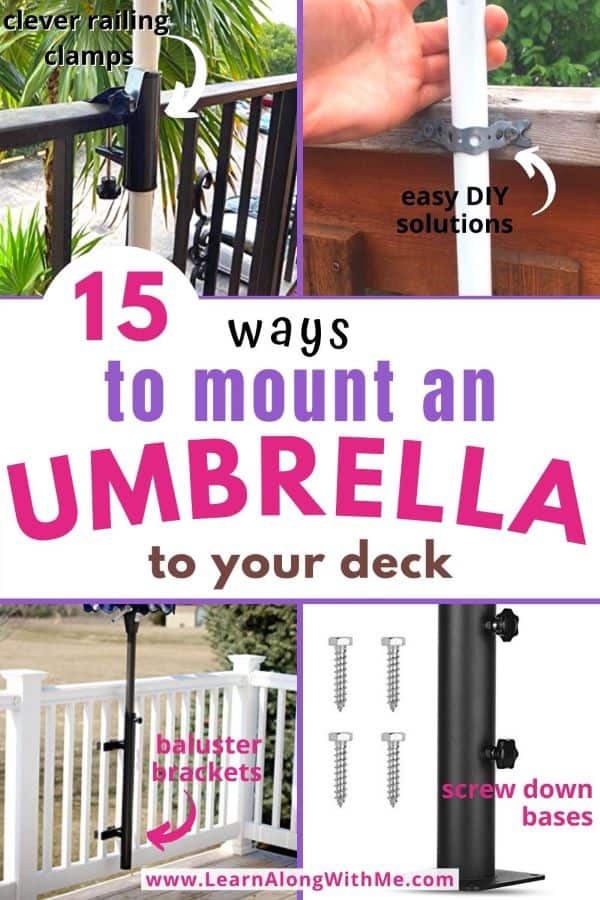 Deck Umbrella Mount Ideas – secure your umbrella to your deck with one of these ideas. And you can actually use patio umbrellas to help provide some privacy. The ones that tilt sideways work well.
17 handy Outdoor Shelves to store your stuff
Thank you.