Camping and hiking are awesome, but a day sweating in the hot sun can get a little smelly. After a nice refreshing shower you reach out to grab your towel…but it isn't there! This article looks to answer 'how do you store towels in camper?'.
This article is dedicated to RV towel storage and RV towel rack ideas. And most of the suggestions in this article will be about how to hang towels that are in use, but also where to put extra towels. We'll look at some great RV towel racks and holders.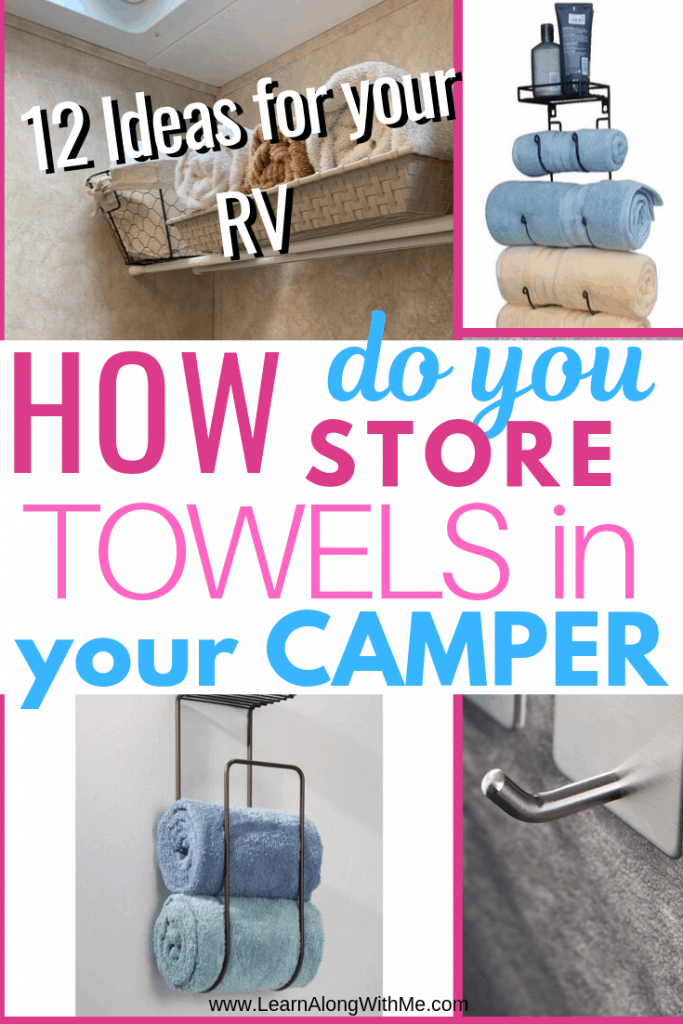 This article contains affiliate links. If you click a link and buy something I may receive a small commission at no extra cost to you. As an Amazon Associate I earn from qualifying purchases. For more information please see the Disclosure page.
Want to see the Video Version of this Article?
Think about how many towels you need
Before you commit to buying an RV towel holder, think about how many days you camp in a row. Obviously the amount of towels you need to bring with you will depend if you're going for a single night, or for a multi-week excursion.
Plus, how many of you are going camping? If its just yourself, or with your spouse, then you won't need many towels. But if you've got kids you'll need to bring some spares too.
1) Store extra towels in a laundry basket in the Bathtub
I know some RV'ers that put their extra towels in a plastic laundry basket and store them in their RV bathtub or shower while not in use.
Then just take them out prior to bathing.
And to stop them from getting wet when you put them back into wet tub you can set the laundry basket down on a couple pieces of a foam pool noodles. Or really anything else that will suspend the basket of towels up off the wet floor.
Need some help organizing your RV?
(I understand if you don't want to buy right away…so you can click below to access a few FREE sample pages from the RV Organization Bundle.)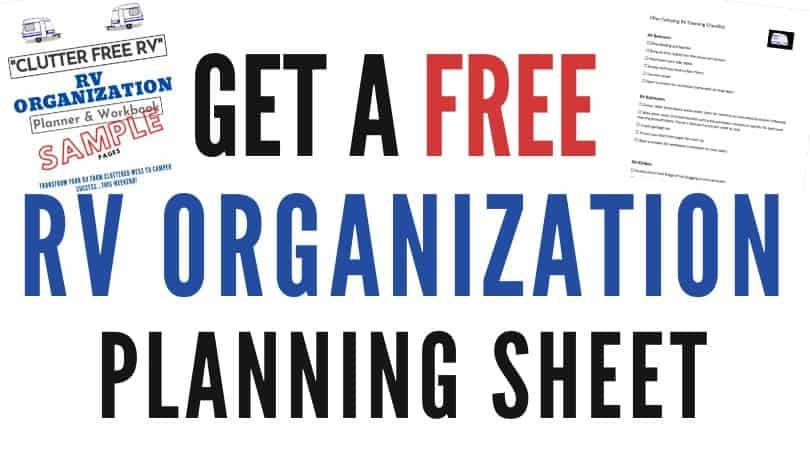 2) Wine Rack RV Towel Holder
I love versatile organizers, and this wine rack towel holder is definitely versatile. It comes in 2 pieces and you mount it to the wall. (You can mount them connected as one unit or separated as two pieces.)
The manufacturer suggests you screw it to the wall, but some campers say they've used command hooks to hold up the rack and it's working well (sold separately).
Plus, this rack has a small shelf on top that you could use to store extra shampoo, soap or face clothes.
And if you're really having a bad camping trip you could keep a bottle of wine on one of the shelves and lock yourself in the bathroom. (Just kidding, I don't recommend this. )
Click here to get more details on Amazon.

3) RV Towel Hooks (stick on with adhesive)
These are some cool looking stainless steel towel hooks.
They come in a 4-pack and they stick to the wall using adhesive tape. So you don't have to drill or screw into your camper's walls. It could make a convenient camper towel rack.
The manufacturer states it can stick to most smooth surfaces, but you need to clean the surface first. Let it dry, then stick the hooks onto the wall. Then don't hang anything from the hooks for at least 24 hours.
Do you like the look of these? Click here to see more details on Amazon.





4) Swing Out Wall-mounted Towel Holder (requires screws)
This swing-out 4 bar towel rack is quite popular on Amazon.
People really seem to like it. But…
The one issue I could foresee with using it in a camper though is having to screw it into the wall.
Some RV owners don't want to do that. But perhaps you could mount it to the back of the door or side of a cabinet?

See more details on Amazon for this towel rack.

5) Towel Rings (requires screwing)
A standard towel ring is a good option if you only need to hang one towel at a time.
A lot of RV'ers mount one of these near the sink to hang hand towels after washing their hands. It makes a convenient RV towel holder.
But you can also hang your bath towels from it as well.
This particular product is an "AmazonBasics" product and requires screwing into the wall. But if you didn't want to screw into your walls you could try mounting it to the back of your bathroom door or side of a wooden cabinet. It could make a nice camper towel rack if you had some solid wood to screw in to.
Click here to see more photos of this popular towel ring.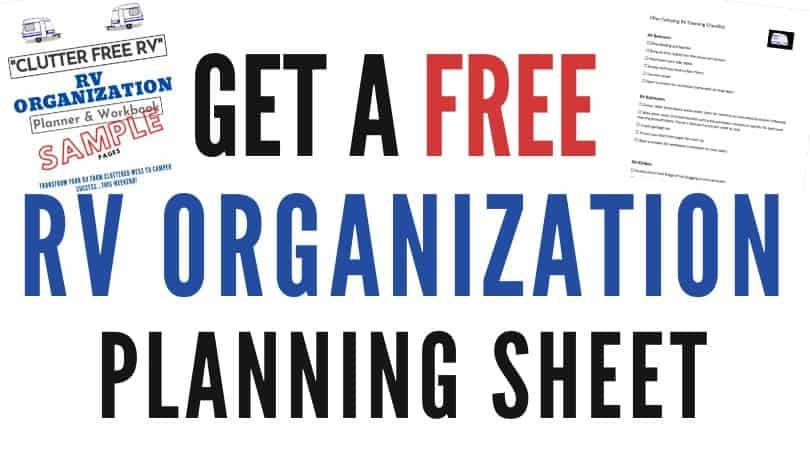 6) Over the cabinet door hanging towel bar
I really like this idea. It takes advantage of unused 3-dimensional space in your RV, and that's very important to help maximize space in your RV. It would make a good RV towel rack.
It is adjustable side-to-side but the one downside I could see with this particular towel bar though is that it is only 14″ wide when fully expanded. I don't think that wouldn't really allow a full-sized towel to air out well. (If you've used it in your RV please correct me if I'm wrong.)
But it would work well for smaller hand towels or hair towels. If you want to check it out and judge for yourself, you can click here to see it on Amazon.
(And it would be great for tea towels in the kitchen too!)
**You may like these 27 simple RV Bathroom Organization Ideas **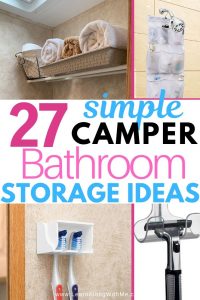 7) RV Towel Rack with Shelf for Face Clothes
This wall-mounted towel rack kind of looks like the letter "J". And the little shelf up top is convenient spot for face clothes or even extra bars of soap.
It is available in different colors…click here to see the other colors on Amazon.
8) Adhesive wall-mounted RV Towel Bars
A lot of RV owners don't want to screw or drill into their RV walls.
This towel bar is held to the wall using 3M adhesive tape.
You can see more details on Amazon. (And the product page lists the wall surfaces that it will stick to.)
It claims it will stick to glass, smooth ceramic tile, stainless steel and baking finish. (So smooth surfaces.)
Does your RV have a smooth, non-porous wall surface that this would stick to? If so, this could make handy camper towel rack.
9) Over the Door Towel Rack (can be used over shower door too)
A lot of the big, newer RV's come with glass shower doors or plexiglass.
If you have a solid shower door in your camper you could hang a towel rack like this over the door.
Then your towels will be in easy reach when you get out of the shower and the staggered design should allow multiple towels to hang at once.
You may want to put little rubber bumpers on the bottom of the rack to minimize the risk of it scratching or banging against the glass shower door when you open the door.
If this worries you, you could also hang it on the back of your bathroom door. It could make a stylish RV towel holder.
Click to see this impressive towel rack on Amazon.






10) Over the Bathroom Door Towel Hooks
This is what we have at our house, and many people use it in their campers too. It is such an easy way to hang towels in your camper and makes a great camper towel rack because no drilling or screwing into walls is required.
(Jeez my bathrobe is starting to look pretty ratty :0 )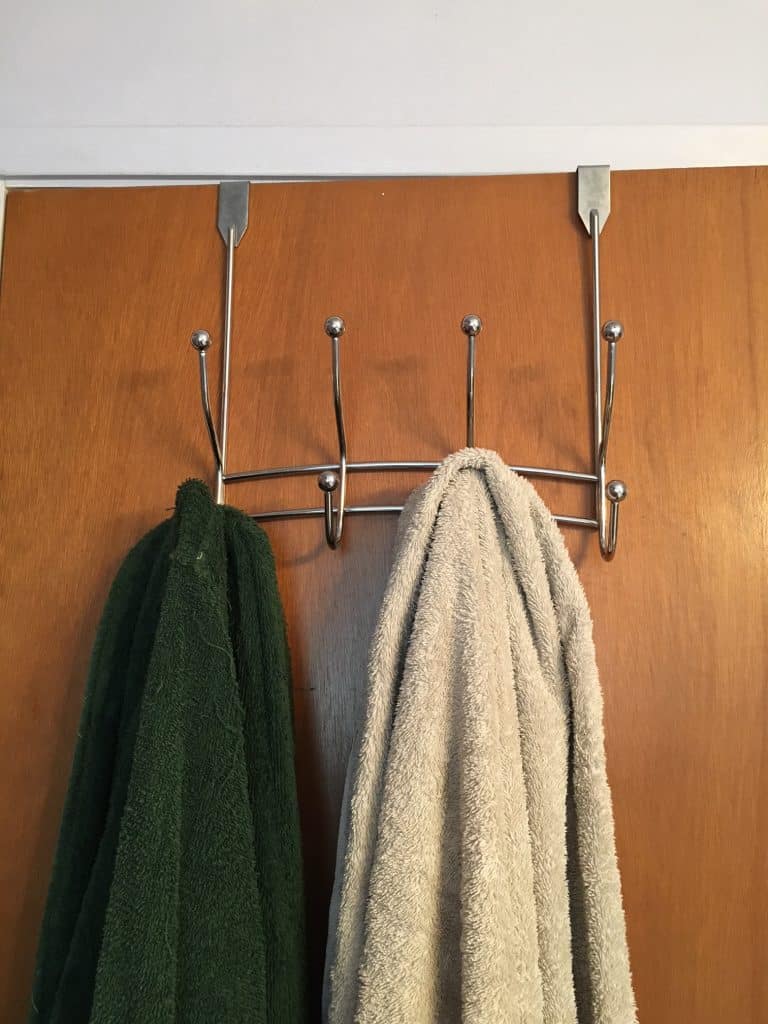 11) Tension Bar Shelf for Extra Towel Storage
Here is a clever idea on how to store towels in a camper – and it doesn't require screwing or drilling!
If the dimensions of your bathroom allow it, you put two tension bars between the walls, or between the wall and a cabinet.
Then once tightened into place you can set baskets of towels upon your tension bar shelf.
**And take down on travel days and set the baskets on the floor. ** (This RV towel storage idea is particularly well-suited to those with a seasonal site where they don't travel very often.)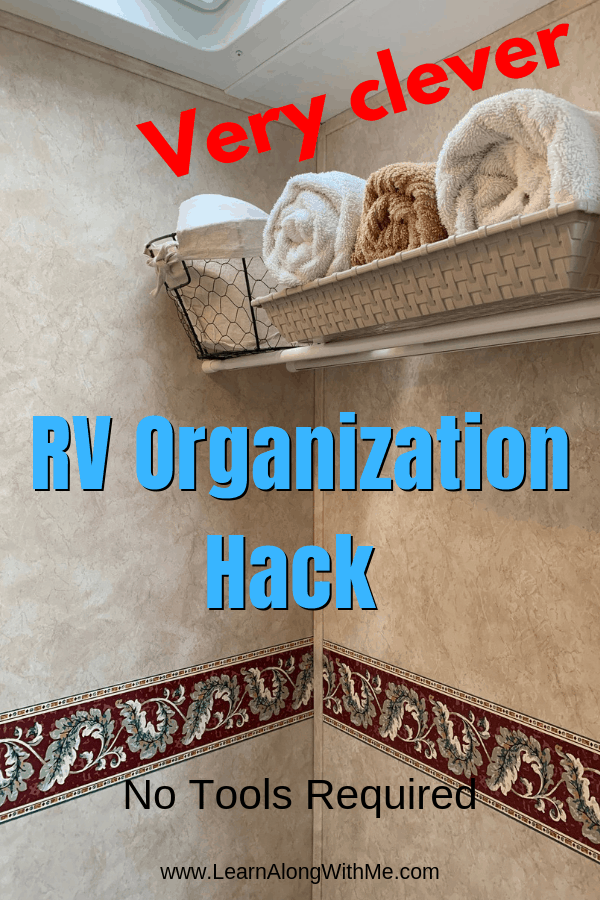 Or another, even simpler way on how to store towels in your camper is to just drape a towel over a tension bar. Put a tension bar wherever you can in your RV bathroom and just hang a towel from it. Done. Easy.

12) Over the Toilet Organizer Shelf
Here is another way to store folded towels that makes use of vertical "wasted" space. The space above the toilet is usually under-utilized. If you have enough room in your RV's bathroom to fit an over the toilet organizer, they can be a great way to organize towels and other toiletries. It is especially good for long-term sites.
If you are traveling a lot, you may want to keep your toiletries and towels in baskets so you could easily set the baskets on the floor during travel days. And you'll need to secure the shelf to the wall somehow. (This may not be a great option if you don't want to screw into the walls and can't secure it to a wood cabinet.)
The over the toilet organizer is available Amazon if you want to see more details. (But will it fit in your RV?)

You may also like these 11 inspiring Over the Toilet Shelves Ideas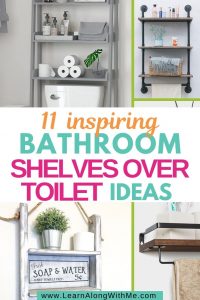 If you like RV Organization Hacks and Ideas, you may like: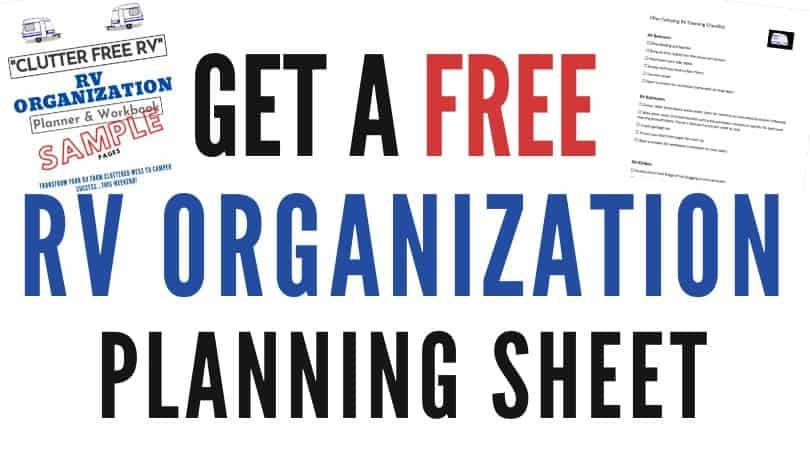 Summary
I hope you're enjoyed these ideas on how to store towels in a camper.
It generally involves trying to make use of 3-dimensional space, and using "wasted space" (like the back of your bathroom door or above the toilet) to hang your RV towel rack.
If you have other clever ways you store your towels in your RV please let us know. The other readers would love to learn from you.
Thank you,
Tim
UP NEXT:
13 clever Ways to Store Clothes in an RV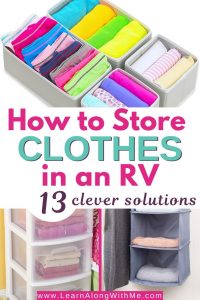 13 proven Paper Towel Holders for your RV