Summer can be an amazing time to go camping, but the hot summer sun can turn your RV into a metal sweat-box. In this article we'll look at some simple tips on how to keep your RV cool in the summer.

This article contains affiliate links. If you click a link and buy something I may receive a small commission at no extra cost to you. As an Amazon Associate I earn from qualifying purchases. For more information please see the Disclosure page.
NOTE: I've recently updated this article to include a few more things that may help keep your RV cooler. (That's why the image says 17, but the title says 21.) I hope it helps you.
How to keep RV cool in Summer
In order to keep your RV cool in the summer, we need to look at 3 main things:
Ways to Prevent your RV from Heating Up
How to Cool your RV, or how to cool yourself in your RV (there is a difference)
How to Maintain Cool in your RV
We will address each of these categories below.
Ways to Prevent your RV from Heating Up
The best way to cool down a hot RV is to prevent it from getting hot in the first place.
The following tips are ways to help keep the sun off your RV, and to prevent it from heating up your RV.
1) Park in the Shade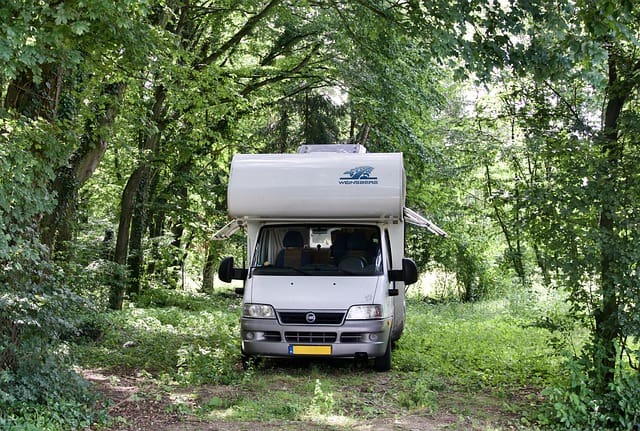 This sounds obvious, but it still needs to be stated: park in the shade if you can. The shade provided by large trees, hills or even buildings can make a huge difference in the internal temperature of your RV.
If you're reserving a spot at a campground you've never been too, check out Google Maps or other mapping services that allow a good bird's eye view of the property to scope out trees and shady spots.
Full shade would be good, but even partial shade is better than parking in the direct sunlight.
2) Cover your Roof Vents (with a reflective surface)
This foam-based vent filler from Camco has a reflective surface that gets tucked up inside your RV's ceiling vent. (Fits into 14-inch RV vent fan openings.)
It helps reflect the sun's rays off your RV.
Its insulating abilities help your RV stay cooler in the summer (and warmer in the winter).
Like most Camco products, these RV vent covers are popular on Amazon and seem to be well liked by RV owners.
They are simple to install.
Don't forget your shower skylight…
Get a measurement for your shower's skylight…you may want to put something on that to block the sun too. (Some options are listed below.)
3) Put Sun Shades on the Window and Doors
This 16-inch by 25-inch reflective sun shade can be used on RV doors or windows. It uses velcro strips to stay in place.
It'll help prevent the sun's rays from entering through the window, and it provides a degree of darkness inside your RV too. If you want to see more details on Amazon click here.
Since this is usually put on the RV's front door – which is usually under your awning anyway – you may want to use this option in addition to the other options listed in this article.
And lower your RV's pull-down shades or blinds if you have them.
4) Use Larger Window Sun Shades when necessary
This sun shade from Camco is similar to the one mentioned above, but it is larger and better suited for large RV windows.
It is 62-inches long by 26-inches wide.
It also uses velcro strips to "stick" to the window or door.
By sticking this tightly to the window it helps reflect the sunshine off your RV and helps keep your RV cooler (and darker).
Click here to see what other sizes you can get this in on Amazon.
People that have it seem to really like it.



(These are a good option to put on your RV bedroom window to block out light so you can get a better sleep. For more ideas on how to get a better sleep in your RV click here.)
5) Another Reflective option – Use an "Emergency Blanket" on windows to reflect heat
If you don't want to buy a dedicated sun shade then an emergency blanket (that hikers often pack with them and look like large tin foil sheets) can be used to reflect the suns rays off your RV's windows.
Ideally you'd tape them to the outside of your RV's windows so the window itself doesn't get hot in the first place. But if you don't like this "look", you can tape it inside directly against the window.


If you want a more commercial product with better insulating properties check out these rolls of Reflectix foil reflective insulation. (Pop up camper owners love this option for keeping their pop up cool.)
6) Extend your RV Awning to create shade
Extend your awning to help shade your RV (if it's on the sunny side). This will not only shade the windows on that side of your RV, but the walls too.
This is a simple option to help keep your RV cool.
7) Get an Awning Sun Shade
An awning shade like this one (from Tentproinc) can really help to make your outdoor seating area more comfortable. And some RV'ers claim it helped reduce the heat inside their RV too. (If that wall of the RV is cooler then less heat transfers inside.)
It attaches to the top slot of your awning, and anchors to plastic stakes in the ground: they claim you can set it up in minutes.
This particular product comes in various sizes and is available on Amazon for you to see more details.
8) Ensure your Fridge's External Vents are Clear
An RV fridge pulls heat from the inside of the food compartment and exhausts it outside. If this external vent is dirty or obstructed then this heat will "back up" and contribute to warming up your RV. And the fridge will have to work harder to maintain a cool temperature.
You can purchase rack fans that'll attach to the external refrigerator vents to aid in the exhaust of this hot air away from your fridge to the great outdoors.
Cooling your RV down
So far we have looked at options to help prevent your RV from getting hot. These included various ways to block the sun and create shade.
Now we're going to look at ways to cool down your RV.
9) Get your Air Conditioner Serviced and Clean the Air Vents or Grill
If you have an air conditioner on your RV then you need to ask yourself if it is working optimally and at maximum efficiency. Have you had it serviced recently?
An AC unit is usually the largest electricity draw in your RV.
So if your air conditioner isn't serviced properly then it won't "blow cold"
and it'll be wasting electricity (and therefore your money).


And clean the A/C vents and ducts (if you have a ducted system) or the air conditioner's grill if you have a non-ducted system.
We want to maximize air flow and limit obstructions.
Properly functioning air conditioning is obviously a great way to cool your RV in the summer especially if your site has electrical hookups to plug into.
10) Get a New Reversible Roof Fan (this could be key)
If you have an older RV its old ceiling fan may not be working very well. This means hot air is staying "stagnant" in your enclosed trailer or motorhome.
We know hot air rises…so you want a ceiling fan that can exhaust that hot air outside. There are new replacement RV vent fans that'll fit into different size roof openings – generally 12"X12″ or 14″X 14″ – and they'll move more air and be quieter than most base models.

Several RV owners have said a new replacement fan made a huge difference in the comfort of their RV.
To improve ventilation in your RV the roof van will pull the hot air out the top, and to let new fresh air in, you can crack a window on the shady side of your RV.
The fan shown here – the Maxxfan Plus by MaxAir – has the option to run it with the overhead vent closed. They call this ceiling fan mode. Not all fans have this, but you should get a fan that provides reversible air flow.
When the ceiling fan blows air down upon you it gives you a cooling sensation because of the evaporation of moisture from your skin. It doesn't actually cool the air down. (That is what an air conditioner is for).
Look for a roof fan that can:
pull hot air out of the RV and exhaust it outside and
blow air down upon you to give you a cooling sensation (this is particularly good for sleeping quarters so you don't need the A/C running all night).
11) Use a personal fan or table top fan
I mentioned above that a fan doesn't actually cool the air, but it does provide us with a cooling sensation…and as long as it provides me with some relief I don't care how it works. There are lots of portable fans available.
The fan shown in the picture above is:
rechargeable (runs on its own battery power)
portable
and they claim it can go almost 24 hours on a charge.
What's cool is that its base is a clamp.
So you can clamp to the side of your RV table, a camping chair, beach umbrella, a stroller, etc…
Lots of cool features. These are small so you may need several small fans for different family members.





If you want a more powerful, plug-in table top fan, there are lots of options out there including the popular Dyson line of fans, or you may like this one below: it is remote controlled!
12) Put a Bowl of Ice in Front of a Blowing Fan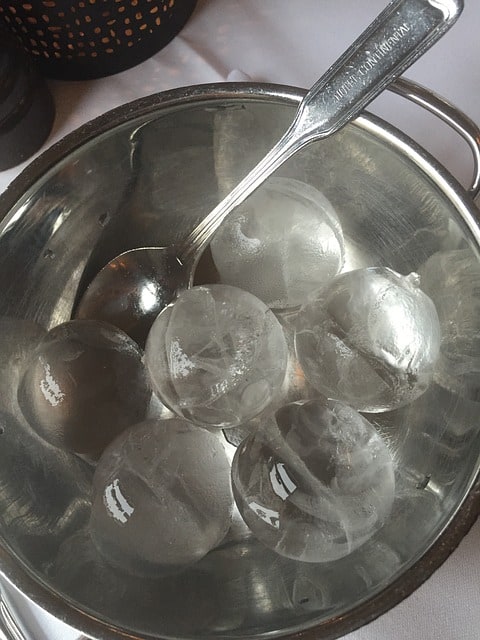 I learned this trick from a friend of mine who camped in an old metal trailer in the hot Arizona sun.
If you have melting ice or cold water in your cooler, toss it into a bowl and place it in front of your table fan. The air passing over the ice water gets chilled and provides you some better relief.
And if you have a portable ice maker you can make more ice cubes and refill the bowl as needed. It likely won't keep your entire RV cool but it could help while sitting around playing cards or reading a book.

And I learned from this article on Angie's List that if you don't have any ice then a damp cloth placed over the fan will have a similar cooling effect. (I've yet to try this.)
Sick of having a cluttered and messy RV?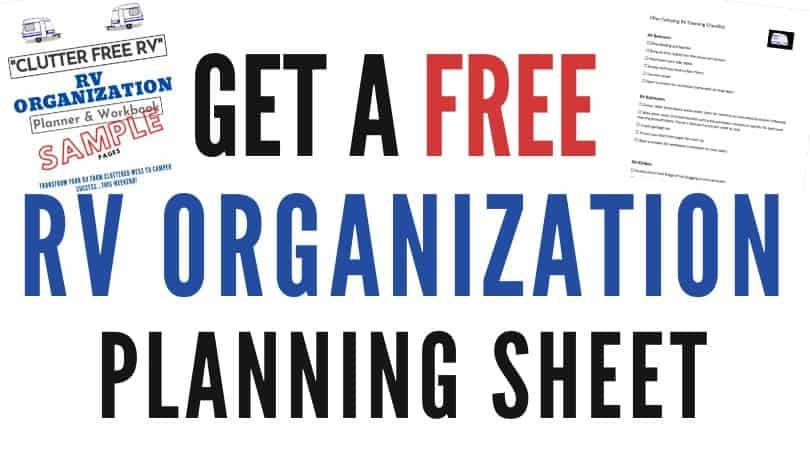 13) Portable Swamp Cooler (evaporative coolers)
​An evaporative cooler aka a swamp cooler uses a water pump to pump water to the top of the unit so the water can trickle down while a fan blows air past the water.
I've used a large swamp cooler in a trailer before to help reduce the summer heat, but it seemed to work best when you're standing quite close to it.
​This is a really small swamp cooler so it likely won't cool off your entire camper but it should provide some relief to you if you're sitting or standing close to it.
14) Bonus Cooling Product – Ryobi 18v ONE+ Bucket Top Misting Fan (Home Depot)
I saw this mentioned in a Facebook camping group. I haven't seen one of these in person yet, but it seems like a "cool" idea.
You can use it just as a fan, or as a misting fan. So it'll provide a nice cooling sensation.
It is the Ryobi 18v ONE+ series of tools, and you can get it with various amp-hour batteries. The higher the amp-hours, the more expensive it is. (That's why there is a variety of prices for a product that looks the same.)
Most campers use it outside their RV while sitting in the shade of their awning. It acts like a portable patio mister.
Click here to see it on Home Depot.com
MAINTAINING a Cool RV
If you've done your best to prevent your RV from warming up in the first place, or if you've turned on your RV air-conditioner to cool it down, then there are some simple things you can do to help KEEP your RV cool.
15) Keep the exterior door closed and try to minimize frequent openings
Opening the door repeatedly allows the hot outdoor air to enter your RV. This can be tricky to implement if you have kids going in and out, but try if you can.






16) Don't use the stove or oven
On hot days you should plan to use your outdoor kitchen or campfire to cook meals, or eat meals that don't require cooking (like sandwiches and salads).
Cooking inside your RV is just another way that you'd heat up the inside of your RV so we want to minimize this.
17) Turn off interior lights and consider switching to LED lights
If your RV still has incandescent light bulbs or halogen lights then make sure you turn these off: they do emit heat.
And if you can, you should consider installing LED lights which give you light (obviously) but they don't release heat.
The picture above shows that after switching from incandescent bulbs to LED lights, your RV may be brighter and less gloomy.
It is hard to say what are best led replacement bulbs for RV 921 lights, but the ones shown above come as a 20-pack and are a well rated and popular option.
18) Open up windows in the cool evening air and close them in the early morning
Keep the windows closed during the daytime to prevent hot air from infiltrating your RV, but open up the windows at night if you are camping in a place with cool evenings.
The cool air will enter the open window and hopefully allow you to get a better sleep in your RV.
19) Open up cupboards, cabinets and doors in the evening
In the evening when the temperature has cooled down you should open up your cabinets, cupboards and bedroom doors to allow trapped air to circulate.
Getting some good airflow lets that warm air escape out through the roof vent fan.
I learned from this article by EZ Snap that air in enclosed spaces like this may stay warm and contribute to heating your RV.
Other RV Cooling Ideas (such as a portable air conditioner)
20) Pop Up Gizmos for Bunk Ends on Pop Up Campers or Hybrid Trailers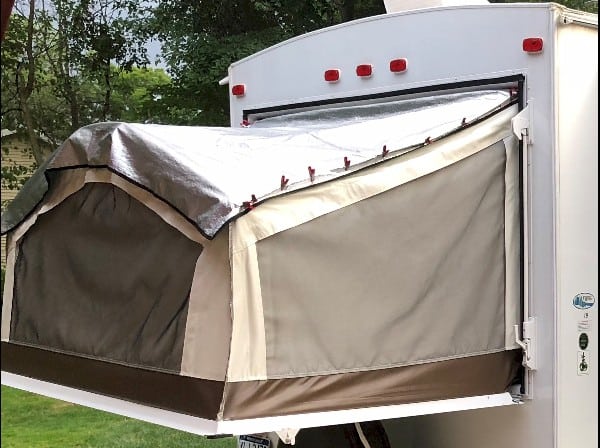 The company "Pop Up Gizmos" makes this self-named product that provides a reflective surface to attach to the roof of the bunk ends for pop up campers or hybrid trailers.
It helps keep the bedding area of these RV's cooler by reflecting the sun's rays.
If you want more information, click here to check out PopUpGizmos.com
(We haven't used this on our pop up camper yet, but a lot of people swear it drops the temperature down a couple of degrees in their pop up.)
21) Portable Air Conditioner
If your rooftop RV air conditioner doesn't work well (or if you don't have one) you could look into getting portable air conditioner.
They work well to cool down a small area such as an RV.
But they are usually quite large, and require venting out a window, so they may be better suited for stationary RV's or RV's parked at seasonal site. (In other words when you aren't traveling regularly.)
So if you're parked for several days at a time, and have access to shore power, have a look into a portable air conditioner.
The one in the picture above includes a remote control.
Will this work for your RV?
I hope some of these ideas on how to keep your RV cool in summer will help you have a really COOL summer.
You may also like this article on choosing a generator for your RV (since an Air-conditioner is such a power hog).
Up Next: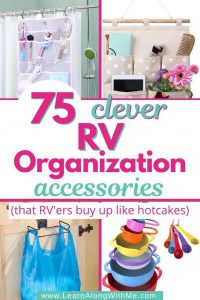 75 clever RV Organization Accessories (that RV'ers snatch up like hotcakes)
Plus check out:
11 charming RV Decorating Ideas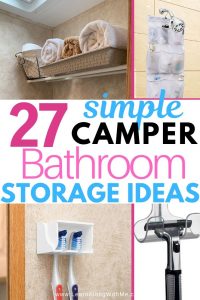 27 simple Camper Bathroom Storage Ideas
Thank you,
Tim from LearnAlongWithMe.com
Tim worked in construction for a few years before going to university. Then he worked as a community pharmacist for 10 years and now works as a full-time writer and online publisher. He has experience in several different, far-reaching lines of work.
"I sincerely hope you find the articles helpful and informative."
Tim from LearnAlongWithMe.com