Does your small kitchen have a tiny pantry? Well, just because it's small doesn't mean it has to be unorganized. This article will give you some tips on how to organize your pantry, and it also highlights some helpful pantry organizers.
(It's aimed at small kitchens like RV kitchens or tiny home kitchens, but "regular" kitchen owners will enjoy these tips too.)
This article contains affiliate links. If you click a link and buy something I may receive a small commission at no extra cost to you. As an Amazon Associate I earn from qualifying purchases. For more information please see the Disclosure page.
Once your pantry is organized it'll reduce your daily stress because meal preparation and cooking will go smoother, and it'll take the guess work out of meal planning.
"This recipe calls for a can of coconut milk. Do I have it?" And you'll be able to look in your tidy and organized pantry and have the answer immediately.
How to Organize a Pantry – 5 Tips
1) Go through your current pantry contents
They always tell us to go through our medicine cabinet and get rid of expired or unneeded medications.
And we should do the same for our pantry.
Pull out what is currently in your pantry and check all the "best before" dates. Do you have stuff from the Reagan era?
(You're probably laughing but I know a lady who recently went through her deep freeze and there was a fish in there that they caught in the 70's!)
Do you have stuff that isn't expired, but you know deep down you're never going to eat it?
Be honest.
If you haven't ate it in two years, what makes you think you'll eat it now? (Unless you just saw it again.) 🙂
Donate the food you won't eat.
2) Create Different Sections
One idea for your pantry organization system is to create sections, or zones.
For example, you can designate a section for your baking essentials, another section for side dishes and one for quick snacks. And whatever else fits your needs.
How could you separate your pantry into sections? (Brainstorm now.)
Once established, it's important to keep everything in its proper zone so you can easily find the items you need.
If you have a labeling machine then now is the perfect time to pull it out!
I saw this picture and it inspired me to include it.
If you don't already have pantry shelving (which we discuss further below), you could use wooden boxes like these and screw them onto a wall.
Each box could be a dedicated to a different zone.
One for canned soups, one for breakfast items, etc…

Are you thinking of starting your own blog? If so, check out what GreenGeeks has to offer new bloggers (besides just the great price).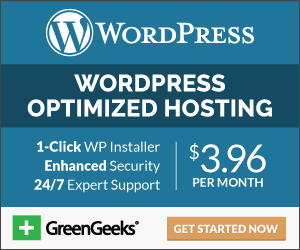 3) Adjust The Shelves and Get some Pantry Organization Bins
If you have a pantry shelving system then it's likely adjustable.
Take advantage of that!
How you are going to adjust each shelf depends on that particular section, but don't be shy…make those adjustments.
The pantry shelving kit shown below may not work for your space because this particular kit is 4-feet wide.
But it gives you an idea of the sort of pantry shelving systems that are out there.
(And you can often find some good products marketed as "closet shelves" too….so keep that in mind.)
Click to see more details of these shelves on Amazon.

Once you have an idea of where you're going to place each zone, adjust the shelves up and down to make each space work.
Remember to give yourself enough room to access the items in each section.
Example, if you have a "Lunch zone" or "Soup zone" then place the shelves high enough so you could reach to the back and grab a can from the back without knocking over the front cans.
(I've included a "soup organizer" further below.)
If you prefer a different option for "reaching the back" you can buy pantry organization bins like the ones shown below.
Then you just pull the whole bin out and you can easily get at anything in it.
Many dollar stores sell plastic baskets that may work, but check their quality and sturdiness.
(In the long run you waste money buying crappy cheap items.)
If you want to check out my DIY shelving solution, I wrote about a similar topic in a closet organization post.
(Closets and pantries have a lot in common because they are both spaces dedicated to storage.)
4) Use Vertical Storage to Maximize Pantry Organization
Sometimes organizing a smaller pantry means thinking outside the box.
You're used to working with horizontal shelf space, but do not be afraid to create vertical storage with under-shelf baskets.
These are particularly effective if you can't adjust the height of your pantry shelves.
Vertical storage maximizes your space while creating an area for smaller items.
Click here to see these shelves on Amazon.






And if you don't want to stack soup cans like a Jenga tower, you may like this soup can organizer.
They're stackable so you can really utilize the vertical space.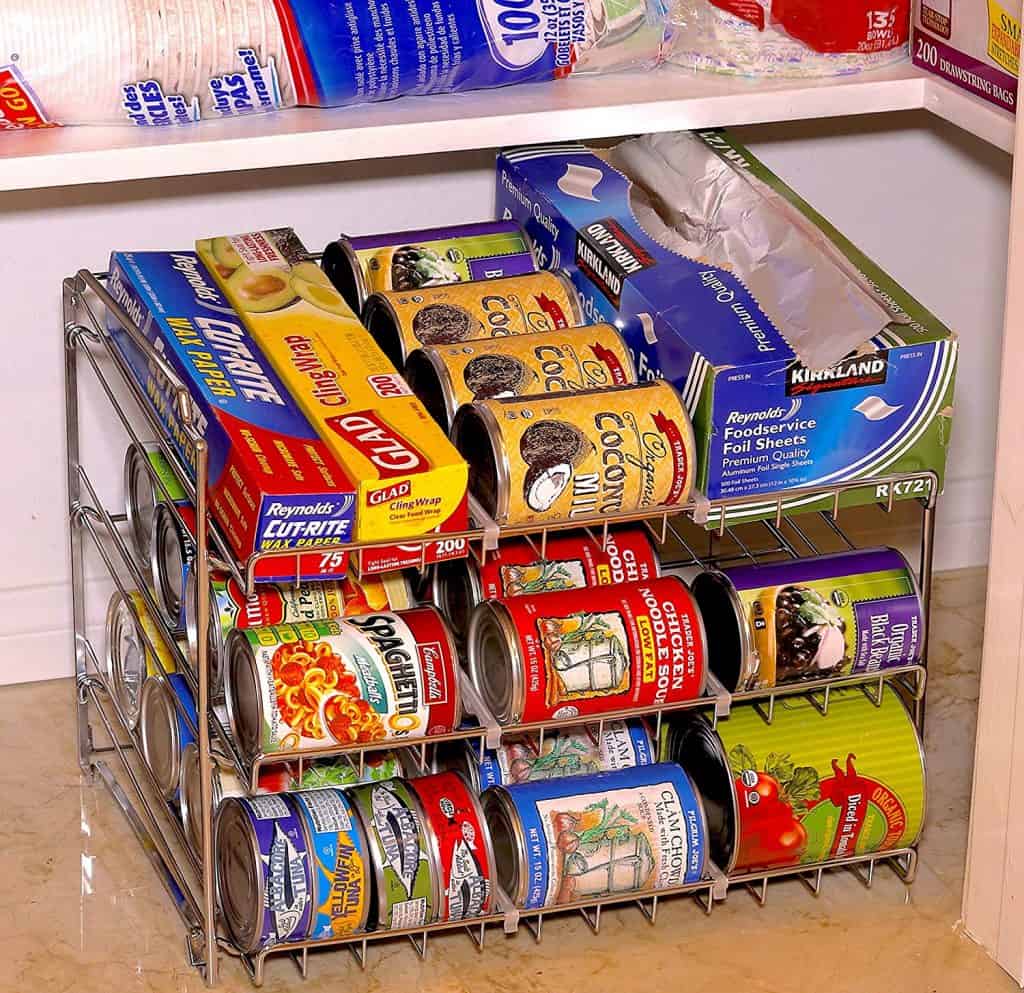 Will this help you organize your pantry?
5) Use The Back of the Pantry Door to Hang Items

When it comes to pantry organization, you want to maximize every space of your pantry.
The back of the pantry door is often an underutilized space.
You can create a new storage solution by placing a wire rack on the pantry door.
The rack is perfect for storing the snacks you need for lunches and outings, or you can use this storage solution to create your own spice rack.
It is quite versatile and can be screwed to a wall or hung on the back of a door.
(If you hang it on the back of the door using the included hardware, you should still screw in the bottom to prevent swinging when the door is opened.)
To see the details of this particular wire rack click here.
If you want a different pantry door solution check out the one below.
It is a really popular organizer available on Amazon.
It basically looks like a hanging shoe organizer that you put food in. (So I bet a shoe organizer would work too??)
Free Standing Kitchen Pantry Cabinets
If you don't have a dedicated pantry closet or a built-in pantry cabinet then you should look into a free standing pantry.
(Space permitting of course…so may not work for your small kitchen??)
The one shown below is actually available on Amazon.

We have a free standing pantry in our 70's built home.
Ours isn't as nice as this one.
The one we have is pretty plain Jane…not "colonial" styling like the one shown here.
And ours also doesn't have a drawer. I think that'd be super handy to have for soft goods like rice, oatmeal packets, etc…
As you can see, you can easily organize the items in your small pantry. But it's time to stop thinking and start doing!
When you take the time to organize your pantry, you are creating a flow in your kitchen that makes cooking a breeze.
Give it a try…did it reduce your stress? Let us know, and if you have tips on how to organize a pantry, please share in the comments section below. It'll benefit all our other readers. Thank you!
The HGTV network has a post you may like about pantry organization for some more ideas.
Check out these other kitchen organization articles:
13 popular Rice Storage Containers [organize your pantry and reduce food waste]