After a few hours on the road listening to the banging and rattling of cookware, dishes and other stuff in your motorhome, your dream voyage can start to become a frustrating experience.
This site is Reader Supported, and this article contains affiliate links. This means if you click a link and buy a product I may receive a small commission at no extra cost to you. For more information please see the Disclosure page.
The rattling that occurs in a motorhome is usually caused by two surface knocking against each other.
For example: glasses clinking together or the oven shelves clanging against the runners.
The rattling and clanking is frustrating, but the good news is that once you determine the culprits you can use the following techniques to stop the cacophony.
Ideas and Options to Stop the Rattling in a Motorhome
The following list of ideas to help stop rattles in your motorhome is in no particular order. Some people may need to use more than one technique depending on what is causing the noise in their RV.
Find the cause of the noise (i.e. what two surfaces are banging together)
Use a technique to stop the two surfaces from coming together

Choose plastic dishes
Choosing plastic dishes (like these melamine dishes from Camp Casual) will reduce rattling in your RV cabinets. (Just note that melamine dishes like these are NOT microwave safe. So if you have a microwave in your RV you'll still need a microwaveable bowl and plate. Which leads to the next idea…)
Alternate glass and plastic cups so that you don't have glass-on-glass rattling
This one is pretty straightforward and comes down to how you set up your kitchen cabinets. Setting up glasses is like setting up bowling pins…just don't have one glass next to another glass: have it next to a plastic cup.






Not ready to buy the bundle, but you'd love to have an organized RV? Then click the picture below for a some FREE RV organization planning sheets and checklists.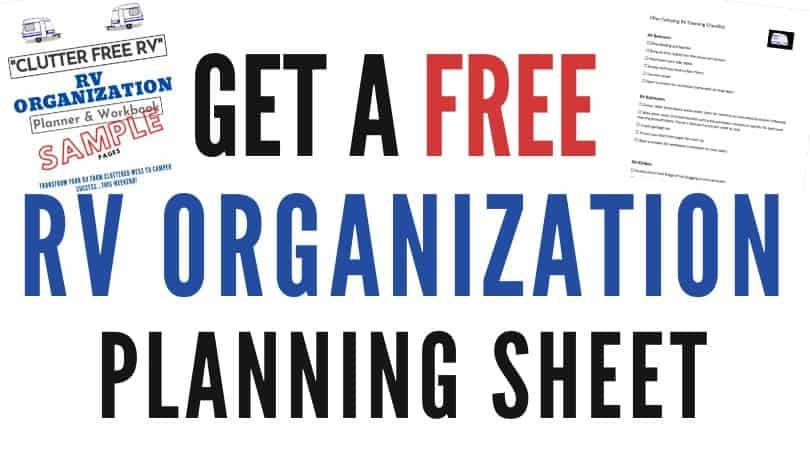 Cut pieces of inexpensive shelf liner and put between dishes and between pots and pans
Pick up some shelf liner (like the stuff you can find at dollar stores) and cut it into squares. Then put it between pots and pans, and between plates and bowls.
Use your dish towels, face clothes and extra towels to wrap around pots and pans (and store in the oven for extra sound-proofing)
Obviously remove the towel-wrapped pots and pans before turning your oven on (I know some of you were thinking that).
But having them wrapped in cloth will reduce metal-on-metal clanging or glass-on-glass rattling. And then storing them in the oven will provide an extra layer of sound-proofing (and free up some cabinet space).
Use bubble wrap between plates and wrap around glassware
Get dish-carrying crates to pack away your dishes on traveling days.
You can make or buy dish storage crates like this set from Woffit to safely transport your dishes and minimize rattling. It comes with felt pads to insert between the plates or bowls to protect and stop rattling.
This particular set is currently rated a very high 4.6 stars out of 5 on Amazon.
Cut the toes off old socks and slip the fabric tube over glass jars or cups
This is a great way to reuse your old socks (wash them first!) and give them a second life as "rattle stoppers."
I hope these 7 easy fixes will help you stop the rattling in your motorhome.
Of course, the rattling in your RV may be something totally unique, but hopefully this gave you some inspiration.
If you're camping this summer you may also like this article on "17 Tips on how to keep your RV Cool."
And if its some RV storage ideas you're looking for then you should check out:
Thank you,
Tim from LearnAlongWithMe.com