Are you looking for some inspiration on how to store clothes in an RV? In this article we look at 13 RV storage ideas for organizing clothes in your camper.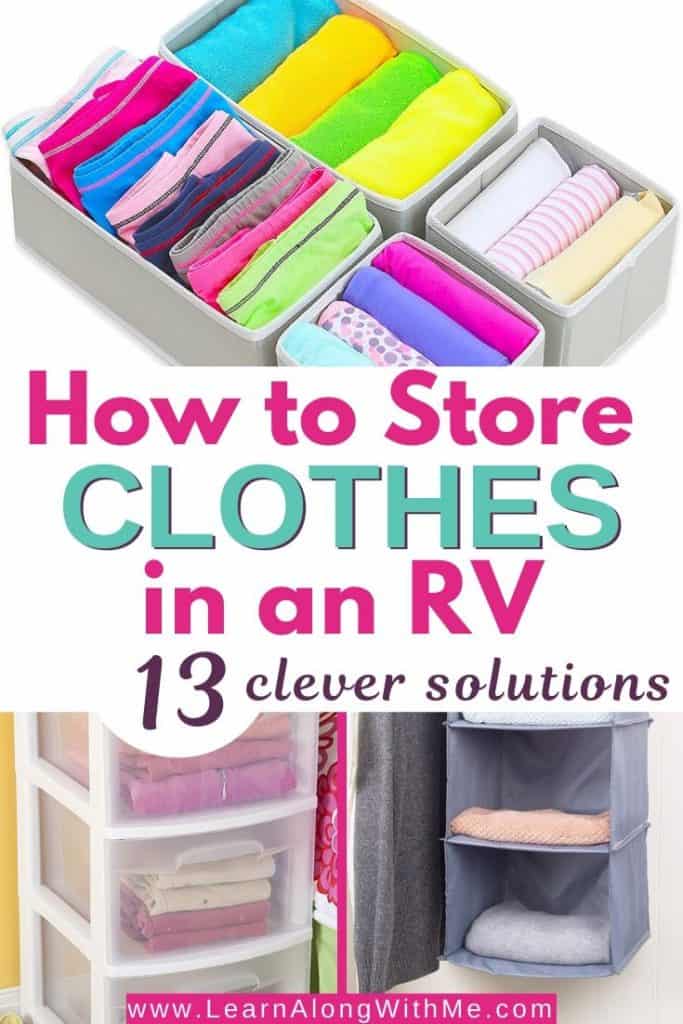 This website is Reader Supported and this article contains some affiliate links. This means if you click a link and buy a product I may receive a small commission at no extra cost to you. For more information please see the Disclosure page.
Before you Begin…quickly analyze what you're having the most trouble organizing
Are you having difficulty finding room to store t-shirts? Or is it underwear and socks? Is it clothes you need to hang? Or perhaps it is clothes you only need occasionally?
Knowing what type of clothes you're having the most issue organizing will guide you to select the best organizer for YOUR needs.
For instance, if you just can't seem to find room for your underwear and socks, then buying new clothes hangers won't help you.
So, know what you need the most help with and keep that in mind as you read on.
1) Learn to Fold your Clothes Smaller
If you can't make more room, then make better use of the room you have.
Above is a picture of my t-shirt drawer before and after watching the first episode of "Tidying Up" on Netflix. Yes I did get rid of some t-shirts and you should ask yourself this too, "Do I need all the clothes I have in my RV?"
Check out the video below where Marie Kondo shows how to fold different types of clothes in the "KonMarie" way.
Does it take a bit more time to fold? YES. But will you gain more space in your RV? YES. I think you'll be pleased.
2) Put a Hanging Shelf in your Closet
A hanging shelf like this one can give you much-needed space to put sweaters and t-shirts. Many RV closets are not tall enough to fit a 5-shelf hanger, but a 3-shelf hanger like this may be perfect for you.
This one is made by DonYeco and currently has 4.6 stars out of 5 on Amazon. Check it out if you need some extra shelves. If you're worried about losing space on your closet rod, you should check out the next idea.
I'd love for you to buy this now 🙂 …but I understand you may want a sample first. So click below to get some FREE sample sheets from the RV Organization Bundle.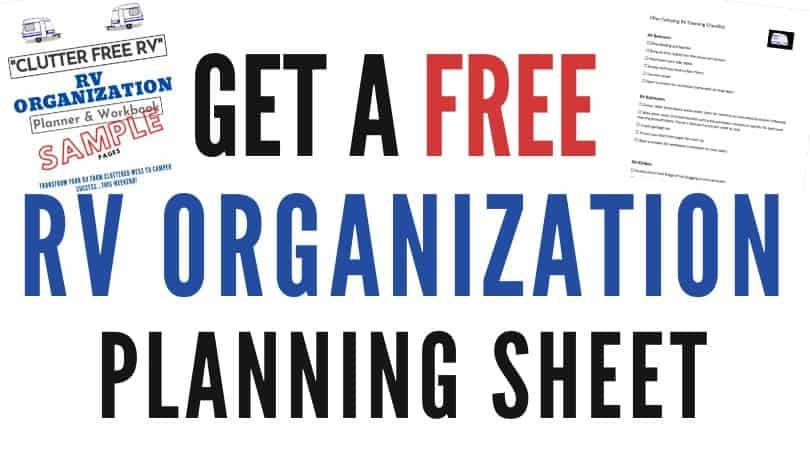 3) Folding Rod to Hang Clothes
This folding clothes rod by InstaHanger is marketed as a laundry drying rack, but it would provide extra hanging space in an RV too. It requires screwing into a wall (or wooden door), and when open it will stick out 15″ into your room. But it's a consideration if you want more clothes hanging space.
It is currently rated 4.7 stars out of 5 on Amazon with over 2,000 customer-submitted ratings.
4) Use the Back of the Bedroom Door
The back of the bedroom door is often "wasted" space that can utilized with a hanging organizer like the one shown above. I realize this product photo shows baby items in the clear pockets, but just imagine your socks, underwear and tightly folded t-shirts in there.
Will it work for your RV?
This well-rated hanging organizer by Simple Houseware has lots of customer-submitted pictures on Amazon. Click here to check out the reviews on Amazon.
5) Use a Hanging Shoe Organizer (to organize lots of stuff)
Yes, they call it a "hanging shoe organizer" but these multi-pocketed organizers are good for a lot more than just shoes. In fact, I wrote an entire article dedicated to these versatile organizers.
Some campers will put one of these on the back of their bedroom door, or on the inside of their closet door to store socks, underwear and toiletries.
And they can be cut so they aren't so long. (Then you can cut each horizontal row and staple them along the bottom of your bed frame for additional storage.)
You can probably find them at your local stores, but here is a link to check this one out on Amazon.
6) Plastic 3-Drawer Organizer
Many campers will use 3-shelf organizers like this one to help store clothes in their RV. It is only 12.5-inches wide (and 24-inches tall without the wheels) so you can put this in most RV closets to provide a compact dresser.
But tossing everything into a drawer isn't always the best way…that's why you may like the next idea.
7) Use Drawer Dividing Baskets
If you do get some drawers in your RV closet or nightstand, you can utilize drawer dividing baskets like these to help keep everything separated and organized.
Want to "try before you buy"? Click the picture below to get some FREE sample pages from the RV Organization Bundle.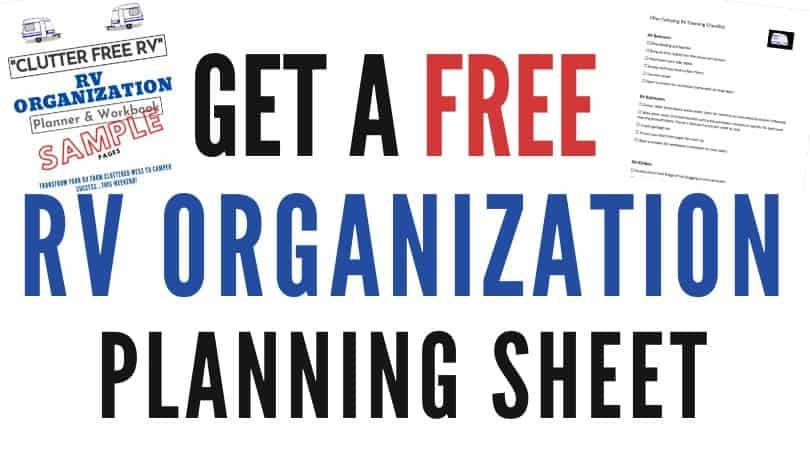 8) Tuck Extra Clothes and Bedding Inside Pillow Cases
I learned this little tip from these folks on Instagram. They stash some extra sheets inside their pillow cases. Seems like a great "hidden" solution to me. And it'd work well for extra clothing too.
9) Utilize Packing Cubes
Here is another great idea I found on Instagram. It just goes to show that packing cubes aren't just for airline travel.
10) Vacuum Bags and Under Bed Storage
This is another neat idea I discovered on Instagram. I've used vacuum bags before (but I always seem to get crappy ones)… but I like how they combined the vacuum bags with under bed storage. It would be good for shrinking down heavier coats, sweaters or blankets that may only be needed once in awhile.
11) Tension Rods with S Hooks for hanging clothes
If your closet rod isn't big enough to hang all your clothes, do what these folks did and put up a tension rod with S hooks. (The hat rack is pretty cool too.) This was another great idea from Instagram. Tension rods are awesome because you don't have to drill or screw into the walls.
12) Slim Laundry Hamper
It isn't only clean clothes we have to deal with in an RV. It's dirty clothes too. This thin hamper from Chrislley may fit nicely in the corner of your RV bathroom next to your toilet.
It is currently well-rated with 4.5 stars out of 5 with almost 600 customer-submitted ratings on Amazon.
13) Other Dirty Clothes Storage Ideas
Many RV'ers keep their dirty clothes in a hamper in the shower.

I came across this clever lady on Instagram who has a very ingenious idea to store dirty clothes…she cut a hole next to her bed and drops her dirty clothes down through the hole. The hole passes through to the underbelly of her RV where she collects the dirty clothes in a laundry hamper. (Click the arrows in her Instagram picture to see all the photos.)
I hope you found some ideas to help you organize your clothes in your RV better.


Click here for even more RV Bedroom Storage Ideas.
Or perhaps it's your RV kitchen giving you some organization challenges? If so, check out these 21 clever RV kitchen organization ideas
Or if you want to see the grand-daddy of all RV Storage ideas article, click here to see 61 smart RV organization ideas.
Thank you and happy travels,
Tim from LearnAlongWithMe.com