Sick of looking at an ugly or plain wooden fence? Check out these 15 ways to improve the look of your wooden fence…today!
This article contains affiliate links. If you click a link and buy something I may receive a small commission at no extra cost to you. As an Amazon Associate I earn from qualifying purchases. For more information please see the Disclosure page.
15 ways to improve the look of your wooden fence
Scroll through all these ideas and see which idea will help make your fence look better.

With the price of lumber going up so much lately, many people are looking at ways to prolong the life of their fence, or make their current fence look better instead of replacing the whole thing. I hope you enjoy these ideas.
1) Paint your Fence Posts
I know I said no painting…but I meant no painting the entire fence. You can quickly paint just the posts and completely change the look of your fence.
Check out the photo above. The black-painted posts make a plain wooden panel fence look way more sophisticated.
2) Straighten and Fix Warped Fence Sections
If you have warped and bowed sections of fence you can try to straighten them to improve the overall look of the fence.
In the fence above you see how this fence panel is sagging. (Unfortunately this is my fence…so I have work to do on it. And the cost of lumber is now so high, replacing the whole thing isn't in my budget.)
I should be able to take off the vertical boards, and then only replace the horizontal "stringer" boards. Then I can screw the vertical boards back on: nice and straight.
[That's the plan anyway…we'll see how it goes.]
3) Screw in loose boards
Wooden fence boards held in place with nails can pull away from the stringer boards (like in the picture above). To help make your wooden fence look better you can screw in these loose boards with dedicated outdoor screws.
They are less likely to pull out (unless the boards you screw into are rotten), and re-attaching the loose boards will instantly make your fence look better.
4) Use Fence Mender to support Wobbly Posts
If you have some wobbly fence posts (4″x4″ posts) then you can buy a Simpson Strong Tie EZ Menders to provide some support.
I have one for my fence to prop up a wobbly post. I don't even have it installed properly, yet it still helps keep the post upright. I'm using it to "buy me some time" and it's been about three years and I'm still waiting to find that time. (To install it properly I need to remove the fence panels, and if I'm going to do that I'm going to replace the bad fence post.)
Ideally you'd use one fence post mender spike on each side of the fence post. You'd drive the metal bracket into ground and then screw the metal fence mender into the wooden fence post to hold the post in place.
CLICK HERE to see how I used the Fence Mender as a short-term fix for wobbly posts.
If you need to replace rotten fence posts, check out this article. (I had this "pleasure" last summer.)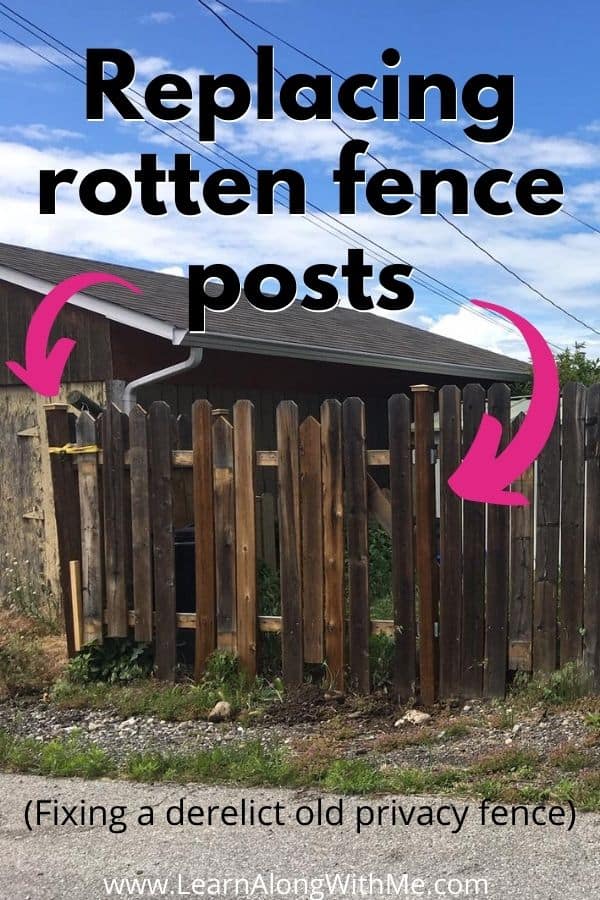 5) Replace old lattice on top of your fence
If you have a wood fence with lattice on top, and if the lattice has seen better days then you may be able to replace just the lattice.
You can buy lattice panels at most hardware stores (like Home Depot and Lowe's). If you want a long-lasting option that doesn't require maintenance you could buy a plastic lattice panel, cut it into strips to match your current lattice dimensions, and then install the new lattice.
You could also try painting or staining the lattice top, but it would be time-intensive unless you have a sprayer.
Want some other Fence Topper ideas? Check this out…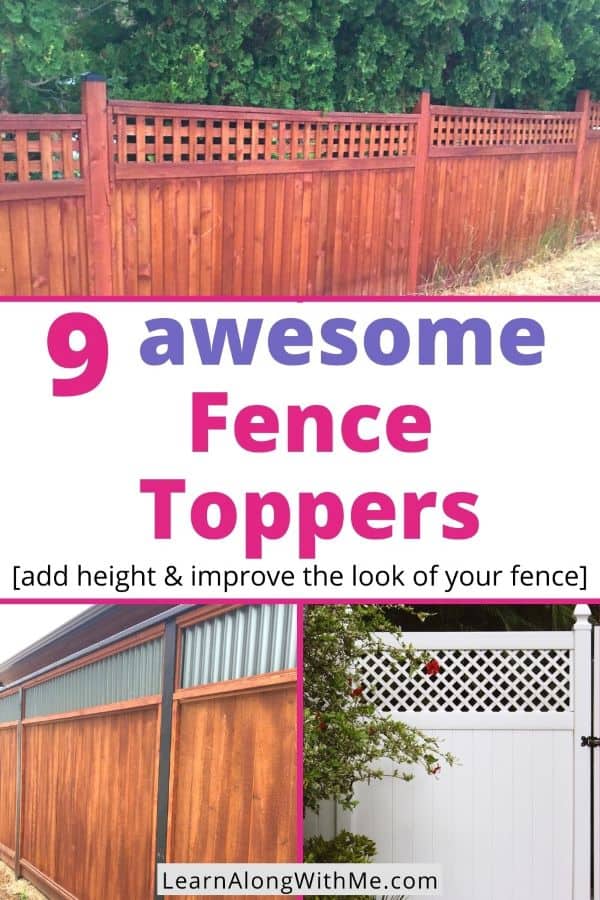 6) Hang Flower Baskets
Hanging a colorful flower pot from your fence (like in the photo above) can quickly change the look of your wooden fence and gives it more "warmth".
You can find outdoor plant hanger brackets at most hardware stores. If you can't find them in your area, below is a link to a popular plant bracket on Amazon.
Below is a 10-pack of colorful metal planter buckets that you could quickly add to your wooden fence. (Note, they are small.)
7) Add some Solar Fence Post Lights
If you have wooden fence posts you'll want to have post caps anyway, so why not get some nice decorative solar fence post lights like these ones?
I wanted fence cap lights like this for the privacy fence I built for my rental house, but since it bordered an alley I was too worried about vandalism. If this isn't a concern for you, you may want to check these out. They could quickly improve the look of your fence posts.

8) Add some Solar Fence Lights
These solar fence lights are great for people that have wooden fences with metal posts. Instead of being a fence post cap, these simply screw into your wooden fence.
They have a darkness sensor and turn on at night and off in the day.
They're a good way to change the look of your fence, give you nice nighttime ambiance, and they're quick to install.
These are available on Amazon.
Check out my article on 15 awesome Solar Fence Lights…instantly add ambience to your yard.
9) Use Fairy Lights to provide a whimsical look
I came across this photo on Flickr and had to add it because the fairy lights (and snowflake decorations) provide a whimsical feel to the wooden fence.
You can find outdoor solar-powered fairy lights at many retail stores.
But if you can't find them locally, below is a 2-pack of LED outdoor solar fairy lights on Amazon.
Add some Fence Art
Adding fence art to your wooden fence provides immediate decorative touches. Below are some examples of fence art that you may want to freshen up your fence.
10) Gecko Fence Art
These cute and colorful fence art geckos hang from screws that you could easily attach to your wooden fence. They'll instantly add a splash of color and fun to your fence.

11) Dragonfly Fence Art
If dragonflies are more your thing, check out this 3-pack of colorful dragonfly fence decor.
12) Ladybug Fence Art / Fence Decor
These metal critters sure are cute.
I don't think I'd want them for my fence, but I bet my mom would love them. 🙂 (Maybe a good Mother's Day gift??)
They are popular on Amazon and people seem to like them.
13) Metal Fence Clock
I came across this metal fence clock on the Flickr website. I don't know where the clock came from, but it is stylish fence decor that immediately changes the look of the vertical wooden fence.
14) Add a trellis and vines in front of your wooden fence
In the picture above the home owner put a metal trellis into the ground in front of the wooden privacy fence, and ivy is starting to grow up the trellis.
I personally wouldn't put this near wood fence posts because I recently had to remove rotten fence posts from concrete footings. I like the look, but I'd make sure to plant it in the middle of a fence panel, and I would plant a vine that doesn't require much watering. In other words, choose a vine that is adapted to grow in your area with your natural rainfall.


You can find outdoor trellises at most hardware and garden center. If you can't find one, below is a nice-looking option from Amazon.
15) Add some decorative Fence Hardware or Gate Hardware
Adding some nice decorative trim pieces or new gate hardware can quickly change the look of your fence.
And check out the decorative gate latch below. Would this look good on your wood fence? Would changing your gate latch and hardware make your fence look better?
I hope you've enjoyed these 15 ways to make your wood fence look better without painting the whole thing.
[I could have added a lot more fence art and fence decor items, but maybe I'll save those for a separate post.]
Up Next:
19 Privacy Fence Ideas to block out neighbors
8 ways to add privacy to a chain link fence
How I went about Replacing Rotten Fence posts on this derelict privacy fence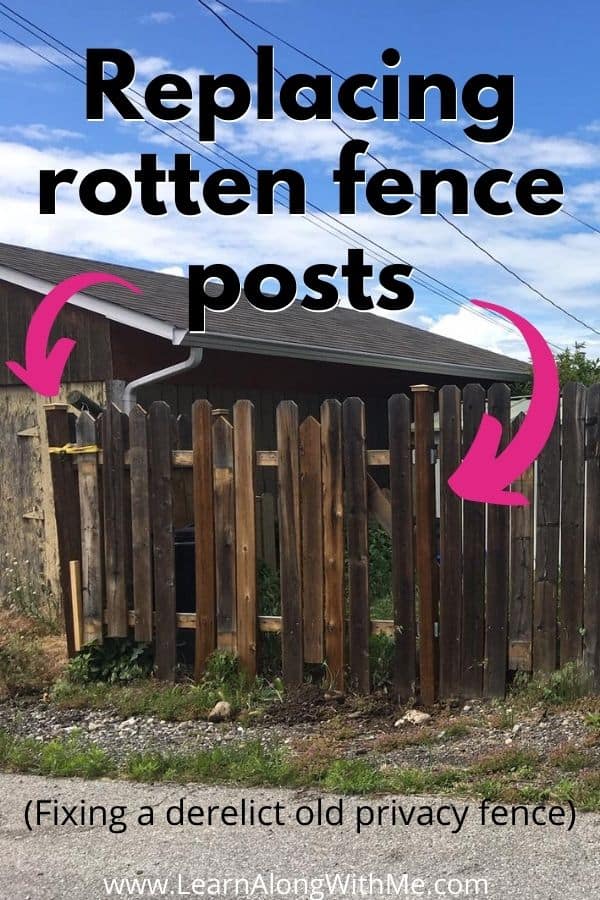 15 awesome Solar Fence Light Options (great ambience for your yard)
9 awesome Fence Toppers (add height and improve the looks of your fence)