Are you fed up with the clutter of your small laundry room, and are you looking for laundry room organization ideas? Good. Then you've come to the right article.
This article will show you some inspiring organization and laundry room hacks.
This article contains affiliate links. If you click a link and buy something I may receive a small commission at no extra cost to you. As an Amazon Associate I earn from qualifying purchases. For more information please see the Disclosure page.





Cleaning the Laundry Room
The laundry room is probably the most neglected room in your house.
Pretend you are going to sell at your house and a potential buyer is coming to look at it: are they going to grossed out by your laundry room?
Here are some quick tips to get it looking spiffy.
Wash the outside of your washer and dryer (when is the last time you did this?)
Wash the inside lip of your washing machine (you want your clothes to come out clean right? Then put them into a clean machine.)
Give the walls a nice coat of bright paint (white looks fresh and clean)
Mason jars to hold detergent looks a lot more decorative than manufacturer's packaging (unless it's Nellie's)
Fold your clothes right away, and put them AWAY
Laundry Room Organization Ideas
Laundry Room Organization Idea #1 – Install a counter-top
If you have front loading washer & dryer then install a laundry room countertop.
It makes a great folding station.
The picture above illustrates how beautiful a countertop can look. (The pic is from Etsy where you can buy the "Laundry loads of fun" decal.)
You can buy butcher block style counter-tops at most hardware stores.
And interestingly, Amazon has a section called "Workbenches" where you can buy wooden counter-tops.
But before buying just remember to measure twice (measure twice and buy once).
For instance, the length of my washer and dryer are 54″, but remember you need the vertical supports on each side so you'll need to add this to your basic measurement.

And do you want your washer and dryer tight together or do you want a slide-out cart in between?
Laundry Room Organization Idea #2 – Laundry Hamper System
Can you tell your clean clothes from your dirty?
If not you need a better laundry hamper system.
I've seen some great DIY options where folks built a floor to ceiling shelving system where each family member puts their laundry basket on their designated shelf.
If you don't want to build a shelf, there are pre-made laundry hamper systems out there.
The rolling laundry hamper is about 2.5-feet wide.
Will that fit in your space?
Click here to see this rolling laundry hamper on Amazon.

The hamper system below is cool because it has a shelf on top.
It could act as a mobile clothes folding station for you. (What do you think of that green wall color??)
Click here to see details of this rolling laundry hamper on Amazon.







3) Slide-out Cart for Small Spaces
Many of you don't have the luxury of having a huge laundry room.
Space is tight.
And that is perfect for this slide-out laundry cart.
It is on wheels so it can slide back and forth when you need it.
You can put it between your washing machine and dryer and use it to store your detergents, stain removers, dryer sheets and other cleaning supplies.
Click here for more details of this slim, rolling laundry cart on Amazon.




4) Retractable Clothes Hanger
If you're tight on space and need something to hang your clothes hangers then check out this retractable hanger.
It is available on Amazon.
5) Laundry Room Broom and Mop Holder
I don't know about you, but our laundry room is the headquarters for cleaning supplies in our house.
And it gets so IRRITATING when the broom handle flops over and tries to trip me. (I swear it's out to get me!)
This broom holder rack has 5 slots so it should help contain your malicious brooms, mops, dusters, etc… This is on my "to buy" list.
Will this work for you? Click here to see size on Amazon


6) Laundry Soap Drip Catcher
The best way to clean is to prevent a mess in the first place.
And these ingenious drip catchers do just that. It helps you organize your laundry room because you won't have to spend as much time cleaning sticky drips.
You attach it to your laundry soap jugs so instead of dripping into your sink or onto the floor, it will drip into the cup.
So it allows you to reduce waste as well. Click here if you want to see it on Amazon for more information.
7) Laundry Room Wall Cabinets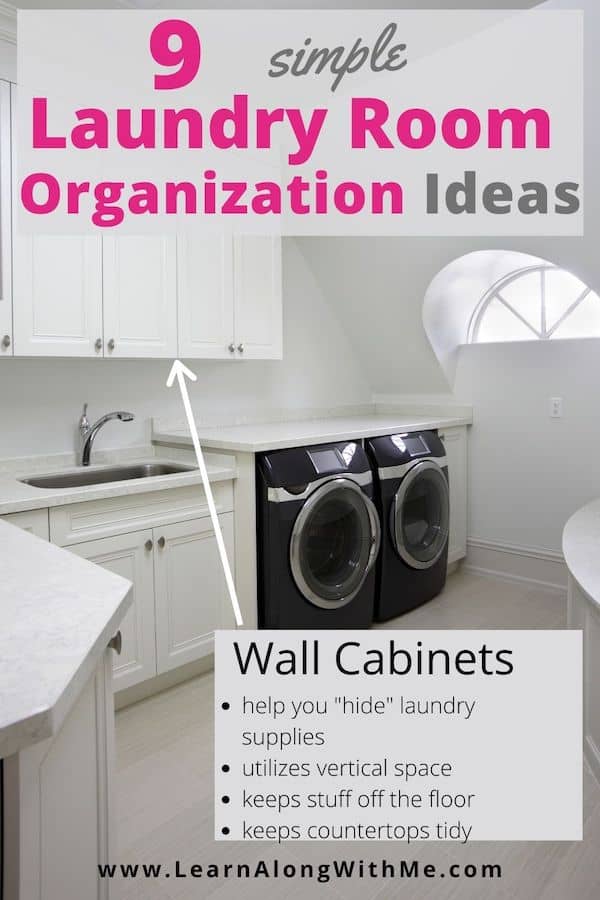 Laundry rooms often have little to no counter space.
You can put up shelves, and these can look awesome, but sometimes you just want those cleaning supplies out of sight. And that is where wall cabinets come in.
You can look for people selling their kitchen cabinets, and then reuse them to suit your needs. (That is what we did in our laundry room!)
Give them a fresh coat of white paint and they'll look clean and crisp.
Hardware stores like Home Depot or Lowes also sell wall cabinets so you can check out sales in your area.
If you don't have access to a local hardware store, I've provided a link to a wall cabinet for sale on Amazon.
8) Wall-mounted Drying Rack (A simple laundry room organization idea!)
I hang dry almost all my clothes. In fact, I've written an entire article about laundry drying rack options.
I don't have the drying rack shown below, but I'm considering it for when we finally getting around to do our laundry room makeover.
It looks very high end. Will this work in your laundry room? For more information, click here.
9) Over-the-Door Ironing Board Holder
I don't know why, but my daughter loves to iron. (She has even ironed crepe paper just to practice!)
And we have a small closet in our laundry room that contains our ironing board and iron. But if you are short on space, you should check out this over-the-door ironing board holder.
You can also mount this to the wall if you don't have door to hang it on.
Curious about this? Will it help you organize your laundry room? Click here to see more details on Amazon.








Laundry Room Decor
Just because your laundry room is essentially a utility space, it doesn't mean it has to be ugly.
Most of these I found on Etsy.
Here are some laundry room decor ideas that I found inspiring.
On Etsy you can purchase these laundry symbols signs. Not only is it good looking, but it is informative too.
And I love the look of the white subway tile on the wall, and the white counter-top.

Below is a product listing from Etsy (You can buy the decals there.)
But just take a look at the other things this tiny laundry room has.
I love the wooden counter-top that is held up by small metal angle brackets. That is clever. And the matching wood shelves really make this small space coordinated and put together.
Plus, all the matching fabric baskets are really eye-catching.
The rustic laundry sign show below is a simple, classic-looking sign. It is available for purchase on Etsy.
Below is cute sign that doubles as a very functional 'lost and found' for those darn, pesky lost socks.
Another lost sock solution. (This one claims it was featured on the Today Show.)
Conclusion
We have looked at variety of laundry room organization ideas including wall cabinets, slide-out carts, laundry hamper systems, broom holders and retractable clothes hangers.
And we also saw some cool laundry room decor to freshen up the utilitarian room.
Researching this article has definitely provided me with some inspiration for our upcoming laundry room makeover.
Up Next:
How to Build Strong Wooden Shelves for your Laundry Room or Storage Room
Or:
Laundry Drying Racks [to save your Money]
Plus, check out How we did our Laundry Room Makeover using old kitchen cabinets.