Do you love your jeans but you don't know how to store them? In this article we'll look at 21 jeans storage ideas. Scroll through all the ideas to find the best way for YOU to store your jeans.
This article contains affiliate links. If you click a link and buy something I may receive a small commission at no extra cost to you. As an Amazon Associate I earn from qualifying purchases. For more information please see the Disclosure page.

Different Ways you Can Store your Jeans
Below is the list of ways to organize and store your jeans. Many of the ideas involve putting your jeans in your bedroom closet – which can be a great way to store jeans if you have the closet space.
But there are also some suggestions on storing your jeans even if you don't have a closet or a dresser.
(And I've done several of these options so I could get pics to show you the storage idea in action.)
1) Neatly store your jeans in a dresser drawer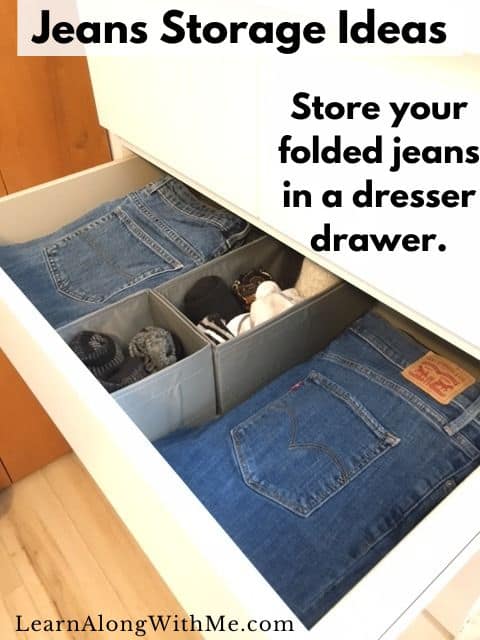 If you have the drawer space, you can neatly store your jeans in a dresser drawer.
This is a popular option so I've put it at the top of the list.
If you're stacking up your folded jeans you can alternate the direction of the waistband so you create a more level stack.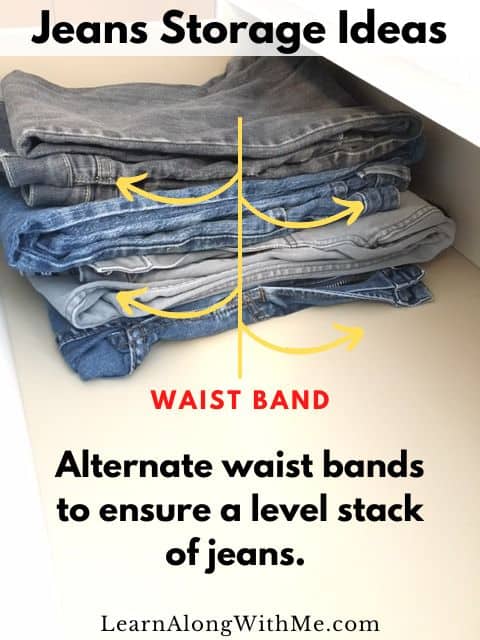 2) Get Closet Shelf Dividers
Does your pile of jeans topple over on your closet shelf?
To stop this leaning tower of denim you can get shelf dividers like the ones shown above, and then stick them onto the open shelves.
This will help keep your jeans in a neat and tidy pile. (They also work well to keep bulky sweaters and other bulky items in place too.)
These particular shelf dividers from Evelots are for wood shelves up to 3/4-inch thick, but you can also find other shelf dividers designed for wire shelves.
3) Use Magazine Holders as Shelf Dividers
Instead of buying dedicated shelf dividers you may already have some magazine holders at your house that you can use.
You can fold up your jeans, place them in a neat pile on a shelf and then use the magazine holders as shelf dividers. These will help keep the jeans from toppling over. (They work well to keep other bulky clothes upright too.)
They will take up a bit more shelf space than narrow shelf dividers, but they'll work if you have the room.
4) You can try rolling up your jeans (for storage, not style)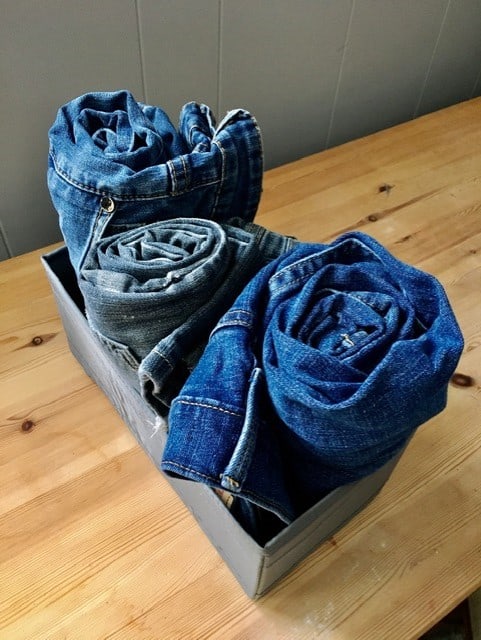 If you roll your jeans, and you have deep drawers, you may even want to try using drawer organizer cubes like these SKUBB Ikea organizers.
If your dresser drawers aren't deep enough, you could just set this on top of your dresser or on a closet shelf.
5) Store your Jeans under your bed
If you have a platform bed or a bed on risers you can use this under bed storage space to stow away your jeans.
We have a Zinus platform bed so there is adequate room under our bed for totes or drawers like in the picture above.
This is an old wardrobe drawer that I now use under my bed.
The good thing about this option is that it frees up closet space and drawer space.
The potential downside is dust – if you don't have your jeans covered. (But if you wear and rotate your jeans regularly it shouldn't be a big problem.)
RELATED ARTICLE YOU MAY LIKE:
Check out our other article on Under Bed Storage Ideas (make the most of this space)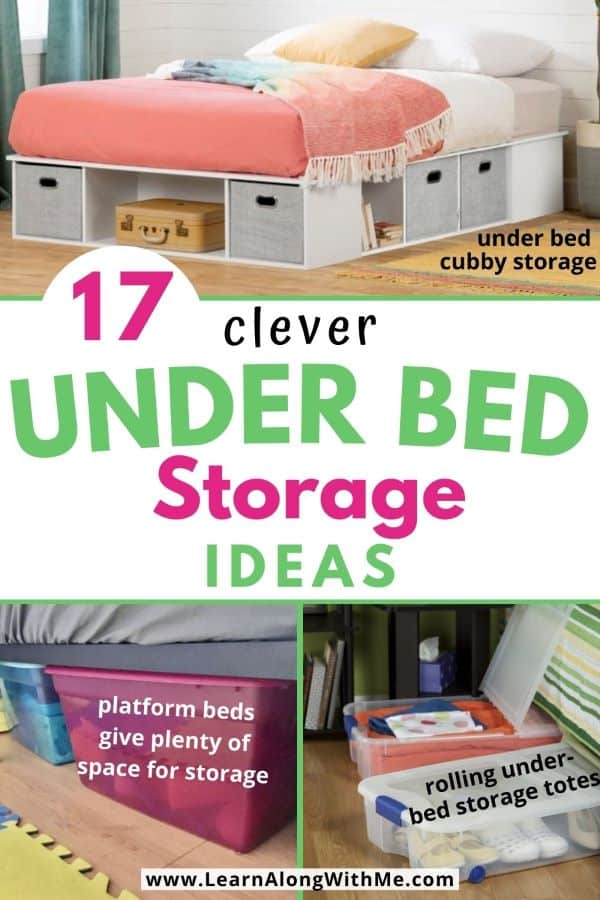 6) Put your folded jeans into storage bins, cubes, or wire baskets
Many people have cube organization furniture (like this IKEA KALLAX unit) in their home and perhaps even in their bedroom.
If you have storage furniture like this, you can place your folded jeans inside a bin and then put the bin in one of the cubes.
The downside to this option – at least when you fold your jeans like this – is that you can only see the pair of jeans on top. And to get at jeans below you'll have to remove the ones on top…or make a mess of them while trying to pull out a bottom pair.
To solve this you may want to try the folding method shown below – the file folder method of storing jeans – and use that inside a storage bin or basket.
7) Fold and store your jeans in the file folder method
Stacking your jeans one pair on top of another in a traditional pile makes it difficult to see pairs near the bottom, and it's tricky to remove a bottom pair without toppling the whole pile.
A potential to solution is to store your jeans vertically like file folders (as shown in the picture above).
To fold your jeans in the file folder method:
Lay your jean out flat.
Fold your jeans vertically in half so front pocket lays on top the opposite front pocket (or back pocket to back pocket if you prefer)
Grab the bottom hem of your jeans and fold them up to the waist band. (Folds your jeans in half along the horizontal plane.)
Then grab your jeans already folded in half and fold it into thirds by doing two more folds

Once you've folded your jeans like this you can tuck them upright in a dresser drawer like you're filing away folders.
If you don't have a dresser drawer you could still use this file folder method in a fabric storage cube, between two shelf dividers on your closet shelf, or in a jeans organizer box like the one below.
You May Also Like:
13 proven Belt Storage Ideas
8) Get a Jeans Organizer Box
These look interesting. With these jeans storage boxes you fold up your jeans then slide them into the the compartments and store your jeans vertically…it's like using the file folder method but contained within the compartments of this box.
There are 7 compartments per box, and you get a 2-pack of boxes. So with this product you'll be able to store 14 pairs of jeans.
Then you can put the box on your closet shelf, on top of your dresser, or under your platform bed (as long as there is at least 9-inches of room).
Click here to see more details on these jeans storage boxes.
9) Hang your jeans on a clothes hanger in your closet
Storing your jeans doesn't have to be fancy or complicated.
If you have room along your closet rod you can hang a pair of jeans folded over a standard clothes hanger. Denim jeans resist wrinkles and creases so you shouldn't notice the spot where the jeans were folded.
Having just one pair of jeans per hanger means it is easy to get the pair you want – just remove that hanger. And you'll be able to see all your jeans at once.
The downside is that because jeans are thicker material, if you have a few of them hanging up, they'll take up space on your closet rod. Then you may not have as much room to hang your other clothes.
10) Hang your jeans using Pants Hangers with clips
If you want to hang your jeans in your closet, but you don't want to fold them over a clothes hanger, you can get pants hangers with clips.
These ones in the picture above are just some that I've got from stores when I've bought new clothes, but you can buy packs of pants hangers with clips from Amazon.
I personally hate the kind where you have to slide down the metal tab to close the gripper part. I much prefer the kind of clips that I have to pinch to get them to open up (like clothes pins). But that's just me.
11) Get S hooks to hang your jeans
Hanging your jeans up in your closet is a good way to store your jeans, but you may not like to fold your jeans over a clothes hanger.
But don't worry, you can still hang your jeans. Just get some S hooks and slip one end of the hook through the jeans' belt loops, and the other end of the hook hangs from your closet rod.
If you don't have space on your closet rod, you could hang the S-hooks from wall-mounted hooks (even a strong Command Hook).
The good thing about hanging your jeans with S hooks is that you'll have easy access to your jeans. Just grab the pair you want, take off the hook and you're ready for the day. You'll see this options used at some stores because it is easy for the staff to hang the jeans up. I took the picture above of the chrome S hook at a clothing store.
The potential downside that I've read about though, is that over time the stitching around the belt loops may weaken. (If you like the idea of a single hook like this, but are weary of this stitch weakening, check out the boot hanger clips further on in this article.)
The picture below shows some black S hooks that are available on Amazon.
12) Hang your jeans using boot hanger clips
These metal closet clips are marketed as boot hanger clips – so they're strong enough to hold boots – but you can store jeans and pants using these clips too. Just clip it to the waist band of your jeans.
The product photo below shows the clips being used to hang some jeans.
Click here for more info on these clips.
13) Get Hanging Closet Organizer Shelves
If you have the space along your closet rod you can get hanging closet shelves like these to hold your jeans.
These organizers from DonYeco only come one per pack, but the picture shows the 6-shelf version on the left and the 5-shelf version on the right.
Each shelf is just over 11.5-inches wide so you'll be able to fold up your jeans and place them on the shelves for easy access.
14) Get a Wire Rack Organizer
If you don't have the space in your closet for installing closet shelves, another option is to set up a wire rack organizer like this on your closet floor.
You can stack your jeans in one of the cubes directly, or you can put the jeans inside a fabric storage cube and place it in one of the cubbies.
If you get a 3 cube organizer, you'll still have two more cubes for storage. You could use one as a shoe cubby and another for seasonal clothing.
What's cool about these wire racks is that you can orient them vertically like a tower, or place them horizontally along your floor. They give you options.
15) Hanging Organizer Shelves for Behind the Door Storage
This style of hanging shelves can be a great way to take advantage of wasted space such as the space at the back of a door.
Some people hang them from the inside of their closet door, but if you have bi-fold closet doors, you could hang them on your bedroom door.
Because the shelves aren't very deep, you may need to roll your jeans so they'll fit.
Sorry I don't have a great pic of this "in action" but hopefully you'll see the potential – especially if you don't have a closet or enough dresser space.
16) Hang your jean from velvet hangers
One of the most common complaints about hanging jeans on a coat hanger is that they can slide off.
But you can get velvet hangers that provide a little bit of friction to prevent your jeans from toppling off onto the floor.
The velvet-covered hangers above can hang up to 4 pairs of jeans. These are a good, space-saving way to hang jeans in your closet.
But some people don't like how it can be difficult to remove one pair of jeans without disrupting the other pairs.
Will these work for you?
17) You can try a hanging S-type pants organizer
Some people use this style of clothes hanger to organize their jeans.
These particular hangers from Benavvy have silicone sleeves on the horizontal sections to prevent the jeans from sliding off. (Which is a common complaint with other hangers like this.) And the company claims it can hold the weight of multiple pairs of jeans without sagging.
We don't have this exact product, but my daughter used a similar style of hanger and she said they took up a lot of room along the closet rod, the jeans slid off onto the floor, and it was hard to get the jeans off the hanger when they were still in the closet. I think having the silicone sleeves on these hangers would stop the jeans from slipping off, but the other complaints still seem valid.
Have you used hangers like this before? If so, what did you think?
18) Unique Sliding Pants Hangers
This pants hanger has 2 hooks that can hang from your closet rod, and you can either hang it using just one hanger (and it dangles down…the hanger on the right in the pic above), or you can hang both hooks off the rod (the left hanger in the pic above).
And in the picture below you can see how the individual pants hanger rod slides out.
I haven't tried this, but it looks like an interesting way to store jeans.
This hanger is currently well-rated on Amazon if you want to see more details.
19) Put your Jeans in a Hanging Multi Pocket Organizer
It might be a tight fit depending on your size and style of jeans, but you may be able to roll up your jeans into a swirl and then tuck them into the pockets.
If it'll work for you, an organizer like this is a great way to take advantage of "dead space" behind your bedroom door or closet door.
And don't be put off if you hear them called a shoe organizer…they can be used for so much more than just shoes.
Due to the small size of the pockets though I think this may be best reserved for leggings or children's jeans.
20) Store your jeans on a rolling pants cart
If you have floor space at the bottom on your closet you could look into a rolling cart like this.
It has 20 removable hangers so you'll be able to hang up to 20 pairs of favorite jeans on here.
If you are going to use this in your closet, just note that it is 31.5-inches tall. So make sure you have enough space from the bottom of your hanging clothes to the floor so this will roll in and out unobstructed.
21) Store your jeans in an Under Shelf Basket
I'm sorry I don't have a great pic of this "in action" storing jeans, but just imagine the kitchen towels in the picture above swapped out for rolled-up jeans.
If you have a flat, wooden shelf on the top of your closet you could store a few pairs of jeans on this 16-inch wide shelf.
Is this the greatest option? Probably not, but it'll work if you have only have to deal with a few pairs of jean, or if you're storing smaller, kids jeans.
(Just hold onto the basket with one hand while removing your jeans with the other hand so the basket doesn't slide off the shelf.)
I hope you've enjoyed this list of jean storage ideas.
Will one of them help you get your jeans nicely stored and organized?
And some of you may need to use more than one of these options, and that's okay.
Find what works for you then put it to good use.
You May Also Like:
13 Underwear Storage Ideas (some helpful ideas even if you don't have a dresser)
Get your socks organized with these Sock Storage Ideas