Do you have an amazing jewelry collection…but you can't find what you're looking for? Is your jewelry scattered across several organizers? This article highlights 23 unique jewelry storage ideas that'll help you keep you organized.
We'll look at some:
hanging jewelry organizers
unique jewelry box options
wall mounted jewelry organizers
jewelry storage cabinets
and more…
This article contains affiliate links. If you click a link and buy something I may receive a small commission at no extra cost to you. As an Amazon Associate I earn from qualifying purchases. For more information please see the Disclosure page.
List of 23 Jewelry Storage Ideas
Types of Jewelry Organizers
I've separated the article into a few main sections: hanging jewelry organizers, jewelry boxes, jewelry armoires, wall mounted jewelry organizers and other unique jewelry storage ideas.
So not all of these ideas will work for you or suit your needs, but hopefully at least one of them will work for you.
Hanging Jewelry Organizers
Hanging up your jewelry in the closet or from hooks is a great way to reduce the clutter on counter-tops and dresser-tops.
And it is usually the most inexpensive jewelry organization idea.
1) Hanging Jewelry Closet Organizer (by Misslo)
This double-sided jewelry organizer hangs from your closet. You insert a standard clothes hanger up through the top and hang it from your closet rod.
It has 32 clear pockets on the front and 18 loops on the back that you can hang jewelry from.
This isn't the prettiest belle at the ball, but it is a well-rated and popular jewelry organizer.
2) 80-Pocket Hanging Jewelry Organizer for the Closet (by BB Brotrade)
This hanging jewelry closet organizer slips over your closet rod to add 80 pockets of jewelry organizing possibilities.
There are 40 pockets on each side, and each pocket has a clear PVC front window so you can see what is in each pocket.
The hanger comes with the product.
It is available in several different colors.
Want some other closet organization ideas? Check out our other article for more ideas.
Jewelry Boxes
Jewelry boxes are a great traditional way to store your jewelry.
As you'll see in the section below there are a variety of unique jewelry box options to suit your needs and your budget.
3) Clear Jewelry Organizer Box
If you prefer to see your jewelry in its box, here is an acrylic clear jewelry organizer box. It has 3 slide-out trays, and each tray can be customized to have up to 15 compartments by using the adjustable dividers.
Just note…it isn't big. It measures about 9.5-inches wide, less than 5.5-inches deep, and about 4.25-inches tall.
But with all those small compartments, it should work well for your earrings, rings, bracelets, etc…
4) Earring and Ring Jewelry Organizer (the Glenor Co Classic jewelry box)
This lovely jewelry box by Glenor Co is really popular and has very high rating on Amazon.
To help organize your jewelry, it has 50 small compartments to store your rings, earrings, or little trinkets.
It has a mirror inside the top lid, and the magnetic buckle that makes it look classy.
5) Jewelry Box Necklace Organizer
If you're wondering how to store necklaces, the same company as listed above – Glenor Co – makes a necklace organizer jewelry box.
It has a removable tray on top with 7 compartments for necklace storage, and the bottom portion of the box has 5 compartments. So 12 necklace storage compartments in total.
You could also store bracelets, watches or other jewelry in here too.
And when it's closed up – like shown above – it'll almost look as good as your jewelry collection. (Well maybe not, but it still looks good.)
6) Versatile Jewelry Organizer with 2 Slide-out trays (by SONGMICS)
Perhaps you don't want a separate jewelry box for rings, earring, necklaces and bracelets.
You want to store all your jewelry together.
The jewelry box by SONGMICS has small compartments for rings and earrings, flip-out sides to hang necklaces, and two slide-out trays for additional storage.
Plus, it all goes together to make a tidy cube.
And there is even a separate detachable travel jewelry organizer.
So if you want an all-in-one jewelry organizer, you may want to check this out. (You can also get it in White color.)
7) Beautiful Jewelry Box Organizer (by WOLF)
If you want a jewelry box that looks almost as good as your jewelry, you may like this jewelry box by WOLF. It is called the "Caroline Jewelry Case." It even comes with a separate small jewelry travel case.
You should see the inside pictures…pretty cool.
8) Men's Watch Holder Box with Valet Drawer
This black jewelry box has a glass top, so it is a mix between a display case and a jewelry organizer.
It is mainly marketed towards men, but because of its classic black styling, women could use it too.
It would make a great gift for the man in your life (or for yourself).
It is another quality jewelry organizer made by Glenor Co.



You may also like our article on stylish Watch Storage Ideas for Men's watches.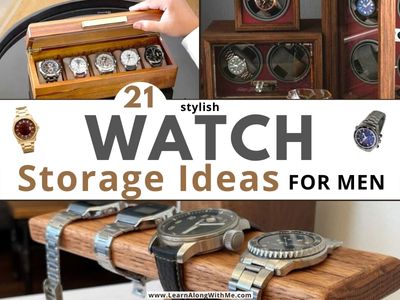 Jewelry Armoires
If you have a large amount of jewelry and don't want a jewelry box the size of a suitcase, you may be an ideal candidate for a jewelry armoire.
They are jewelry cabinets that may be wall-mounted (almost like a medicine cabinet for jewelry) or free-standing units.
Most of them have locks, unique storage compartments, and many have mirrors on the outside door. (So once again, like a medicine cabinet for jewelry.)
9) Wall or Door-mounted Jewelry Armoire with LED Lights
This lockable jewelry cabinet from SONGMICS looks really functional.
It can be screwed into a wall, or hung from a door with the provided hooks. When the cabinet is closed it looks like a mirror.
And what's cool is that it has 6 LED lights mounted to the top of the cabinet which are powered by 3 X AAA batteries.
Below is a picture showing the closed cabinet mounted on a wall.
There is a video on the Amazon product page that gives you a better sense of the scale and quality of this product.
10) Free-standing Locking Jewelry Armoire (by Nicetree)
If you prefer a free-standing jewelry armoire that you can tuck into the corner and move around when needed, then you may like this one.
It has multiple shelves and compartments to neatly organize and store your jewelry.
And you can check the mirror to see if your jewelry goes with your outfit.
This is a highly-rated cheval mirror with jewelry storage that'll help you store a LOT of jewelry.
Wall Mounted Jewelry Organizer Ideas
There are various wall mounted jewelry organizers out there that'll help you organize your jewelry while reducing counter-top clutter. I've featured various styles below.
11) Rustic Shelves with Hanging Jewelry Storage Rods (by Keebofly)
This jewelry organizer combines the convenience of small shelves and jewelry storage rods.
These have a nice look to them…not too bulky or intrusive.
The one shelf can be primarily used as a necklace rack or holder, while the other shelf – with its small holes drilled into the rod – will work well for earrings.
And if you don't' like this "Carbonized Black" color of shelves…you can get other colors.
12) Wall-mounted Mesh Jewelry Organizer
This hanging jewelry organizer has a mesh screen that you can hang your earrings from, and a small shelf to hold watches, perfume, etc…
Plus, there are hooks along the bottom to hang your necklaces, glasses or keys from.
You can tell by the scale of the nail polish bottles that this is not a big jewelry organizer…so it won't take up a lot of room on your wall. It is about 14.5-inches high by 10.25-inches wide.
It looks cool…But will this organizer work for you?
13) Mesh Jewelry Holder with Removable Bracelet Rod
The company ASHLEYRIVER makes this attractive mesh jewelry organizer with a removable bracelet storage rod.
The mesh works well to store hook-style earrings, and you can hang your necklaces from the bottom hooks.
But one downside to this particular jewelry organizer is that it isn't great for post-style earrings. You can't get behind the mesh screen to attach a backing. Some people choose to put their small post earrings in boxes and set the boxes on the tiny bottom shelf.
Do you like the look of this one?
14) Wall-mounted Jewelry Cabinet with Barn Doors [farmhouse style]
Not every style of jewelry is sleek and "modern". And your jewelry organizer doesn't have to look this way either.
A perfect example of that is this wall-mounted jewelry cabinet that has Farmhouse styling with barn doors.
It has spots for rings, earring, necklaces and a rod for bracelets and watches. I think this is one of the most unique jewelry organizers on this list.
And it comes with a separate necklace rack with 12 hooks. You can see it in the bottom right of the picture above. This hanging necklace storage bar is colored to match the look of the cabinet.
15) Jewelry Picture Frame Storage Cabinet
This picture frame with jewelry storage inside would pretty much look like any other picture frame you have on your wall. (Except the lock on the side of course.)
If you want a lot of jewelry storage, plus a 4×6 picture frame, all in one semi-secretive unit, check this out.
There are a lot of good customer-submitted photos in the review section of the product page on Amazon.
16) Beautiful Olive Branch Necklace Holder (Etsy)
These lovely and unique necklace holders are made from Olive tree branches, and sold from an Etsy seller named rusticwildroots.
They ship from Portugal but most reviewers said the product came quickly.
She makes several styles of necklace holders with different amounts of hooks so I recommend you check out her Etsy page for details.
It could provide a whimsical Boho style to your bedroom.




If you Like this…You May Also Like:
19 stylish Boho Bedding ideas
17) Wall-mounted Jewelry Organizer with Shelf (Etsy)
Here is another great product from an Etsy seller.
These wood jewelry organizers with a shelf are made by TheKnottedWood.
She makes them in various sizes and styles so check it out if you like the look.
18) White Wood Shelves with Jewelry Hooks (Etsy)
This is another simple yet elegant jewelry organization solution from the Etsy seller TheKnottedWood. (Same seller as above.) It is a unique necklace holder that will help you hang a lot of jewelry.
19) DIY Necklace Organizer Solution – add hooks inside a cabinet door
You could easily put several small hooks (called cup hooks) inside a cabinet door or side wall of a closet and then hang necklaces from it. It won't be one of the most unique jewelry organizers out there…but it'll work for necklaces. You could easily make your own necklace racks.
Cup hooks are what you call the hooks as shown above. Your local hardware store should have some, but if you don't have a local retailer, here is a link to Amazon.
20) DIY Solution – Peg Board
Another DIY wall-mounted jewelry organizer solution is to make your own jewelry organizer using a peg board and clips.
Mount the peg board to the wall or back of your door, and then insert the appropriate clips.
That way you can adjust the pegs to suit your needs.
Other Unique Jewelry Organization Ideas
Below are more jewelry storage ideas that may work for you. There are really cool and unique jewelry holders out there.
21) Mannequin Hands for Rings Storage
You can buy a mannequin hand like this one and use it as a unique way to store – and display – your favorite rings.
If you don't like the white hand, the company HOMEGOAL makes these hands in other colors (including a translucent pink).
22) Bracelet and Necklace Jewelry Tower
There are a lot of T-bar style bracelet holders. This particular acrylic 2-tier jewelry tower is made by the company Mooca.
And the taller rod will allow you to store some of your shorter necklaces on there too.
If you're okay with having your jewelry on display on top of your dresser, check this out.
23) Secret Jewelry Book Storage
These look like musty old books but they are really MDF wooden storage boxes bound in faux leather. You could put your jewelry in here and hide it on a bookshelf among other old classic books.
If this style of jewelry book storage isn't quite what you're looking for – for instance if it would stand out and look obvious in your bedroom – the company that makes these, Jolitac, has it available in several other styles.
Perhaps a different looking book set would look more sincere and suit your style better.
I hope you've found some inspiration in this list of 23 unique jewelry storage ideas.
Even though I've listed 23 cool examples here, there are thousands of other jewelry organizers out there. It's just a matter of finding one that'll work for you particular jewelry collection and the space you have available to store your jewelry.
Will any of these jewelry storage ideas work for you?
Up Next:
53 clever Closet Storage Ideas (get your bedroom closet organized today)
13 Space-saving Small Bedroom Organization Ideas
Teenage Bedroom Organization Ideas for Teen Girls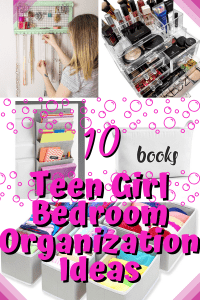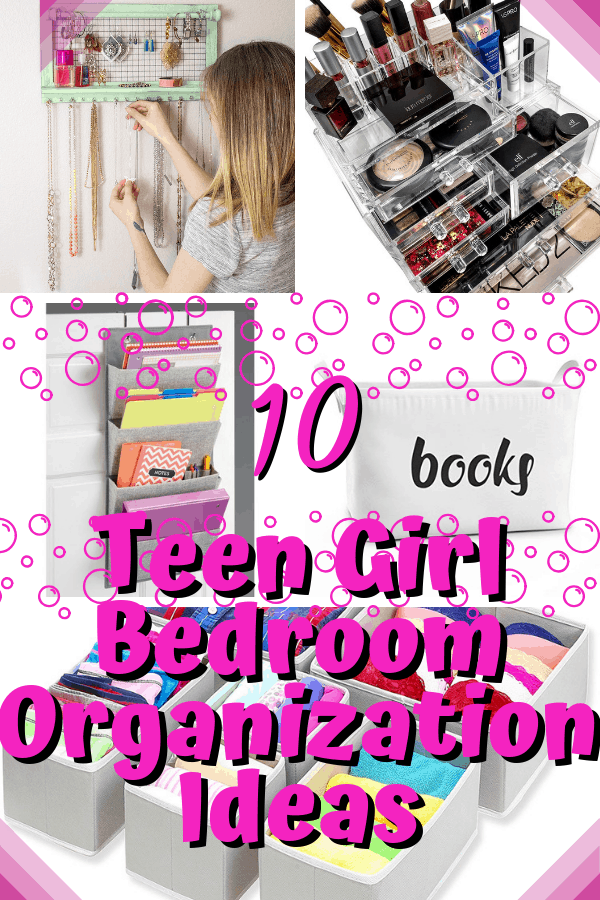 21 stylish Watch Storage Ideas for Men's watches [great ways to organize and store men's watches]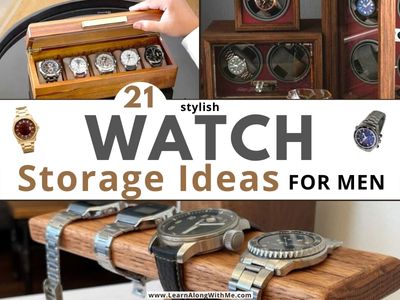 Below you'll see my original Pinterest pin for this jewelry organizer article…I've since updated it to include even more jewelry storage solutions to help you out.