Are your K cup coffee pods cluttering up your kitchen, coffee bar or office coffee station? In this article we'll look at 17 K Cup storage ideas to help you organize and store your coffee pods. Which K Cup holder will work for you?
We include:
counter-top K Cup holders
drawer-style K cup organizers
wall-mounted coffee pod organizers
and more…
This article contains affiliate links. If you click a link and buy something I may receive a small commission at no extra cost to you. As an Amazon Associate I earn from qualifying purchases. For more information please see the Disclosure page.
17 proven K Cup Storage Ideas
Hopefully one of these K Cup storage options will help you get your K Cups organized and make your coffee station look tidy and ready to tackle a new day.
Scroll through them all to see which option will work for you.
1) Coffee Pod 3 Drawer Stand
This extremely well-rated K Cup Holder is the Anchor Coffee Pod drawer by Mind Reader.
Each of the three drawers holds 12 K Cups so you can easily store and organize 36 coffee pods with this cool organizer.
This would be a good option for an office or workplace where different people prefer different styles of coffee. You could designate a drawer for Dark Roast, Medium Roast, Specialty Coffee, or any other way that works for you.
2) Vertical K Cup Dispenser
This looks pretty cool. These K Cup holders are made by STORAGENIE. They adhere to the side of your Keurig machine using 3M adhesive pads. But you can also stick these dispensers to a wall or side of a cabinet. (I wouldn't want to stick it to a surface that gets hot though.)
Each of these dispensers holds 5 K cups. This is a good option for a small coffee bar area.
3) K Cup Carousel (by Nifty Solutions)
This rotating coffee pod carousel can hold up to 35 K-Cups.
It is a black powder-coated metal carousel on a lazy susan-style base. This would look good in an office lunch room, or in your AirBnB.
By the way, this thing has a crazy high rating with lots of reviews! (But will it work for you?)
(The prices can differ, so you may want to check both.)
4) Four-Drawer Cabinet for your Coffee Pods (holds 72 K-Cups)
Doesn't this look like a cute little dresser for your K-cups.
It can hold up to 72 K-cups, and measures just 7-inches wide and less than 10-inches high.
Will this work for your coffee bar?
This is also made by Nifty Soltuions, and it too has a really high rating.
5) Acrylic K-Cup Holder
This coffee pod holder is a good way to keep your K-Cups upright and organized.
You can set this on your counter next to your Keurig machine, or you can use it inside a drawer to help keep things organized and out of sight.
Click here to see size…will it work for you?
6) Foam Drawer Insert (to hold 40 Coffee Pods)
This foam drawer insert measures 17-inches by 11-inches so make sure it'll fit in your drawer. And ensure your drawer is at least 2.5-inches tall so your drawer will close when this is loaded with K-cups.
Good option for people that want their coffee pods out of sight and not on the counter.
7) Big Coffee Cup for Coffee Pod Storage
Here is a nice decorative option to store your K-Cups on the counter top. This rust-resistant metal coffee pod holder can hold up to 35 K-Cups.
This option would be best reserved for all the same kind of K-Cups, or maybe two different kinds.
It would be a bit tedious shuffling through this trying to find the coffee you like if there are lots of other options in here.
This is another K-Cup holder with a really high rating.
CLICK HERE to see more details.
8) Decorative Counter Top K Cup Storage rack
Wouldn't this make a great addition to your coffee bar.
It only holds 6 coffee pods, but I think it would be great for a short term rental place, or for a coffee station in an office.
You May Also Like our other article on 29 great Coffee Bar Accessories for your home or office coffee bar.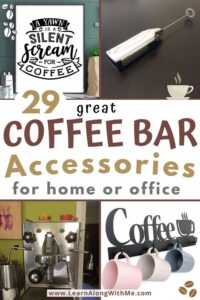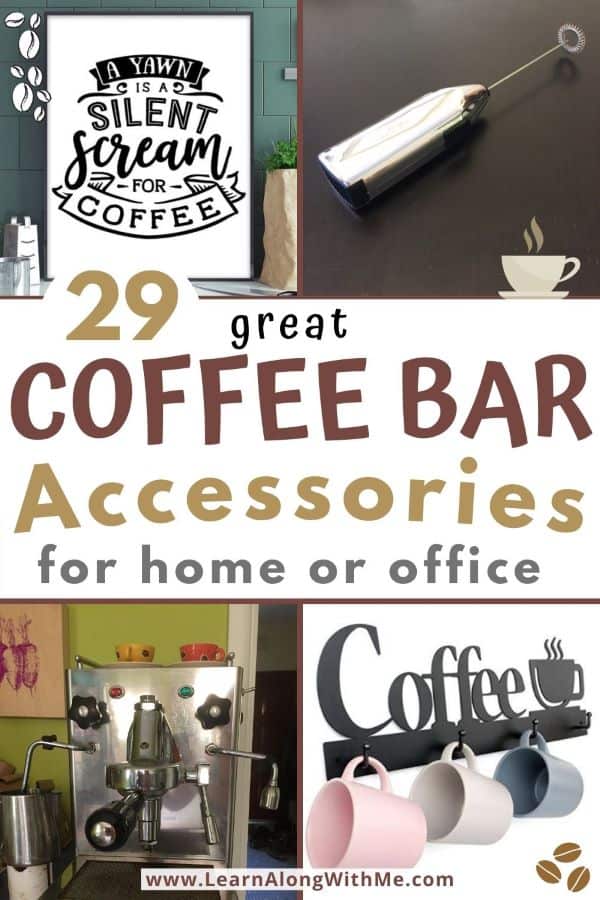 9) Wall-mounted K Cup Storage / Dispenser
This K Cup dispenser mounts to your wall using an adhesive. You can also stick it on the side of a fridge or cabinet.
Plus, there is a little corkboard on the top to stick reminder notes…like "If you're the last to take a K-Cup fill the slot again."
It can hold up to 20 coffee pods.
Good option for office coffee bars or staff lunch rooms.
10) K Cup Storage for the Christmas Season
Get into the holiday spirit with this Christmas tree-shaped coffee pod holder. It is a free-standing wooden display rack that will look awesome on your counter next to your Keurig. It can hold 13 coffee pods. You could use this to make your own "12 Days of Coffee" gift for a loved one.
This is a good way to get into the Christmas spirit at your home or office.
11) Bamboo Drawers Holds up to 70 Coffee Pods
If you need K Cup storage for more than just a few coffee pods, maybe this 70-pod holder will work for you.
It is made of bamboo, and has 2 sliding drawers with round holes cut in the bamboo where you store your coffee pod.
You can put your coffee machine on top of this drawer unit.
(I can see some people not wanting to spend the time to insert the coffee pods into the holes though.)
Do you like this option?
12) Metal Dump Bin for Coffee Pod Storage
This is a good option for people who don't want to mess around with placing individual K-Cups into a slot or hole.
With this metal container you can just dump in your K-Cups and get on with your work (or enjoying your coffee).
They claim it'll hold about 30 K-Cups.
13) Keurig 2.0 Neo K-Cup Carousel (Keurig 117548)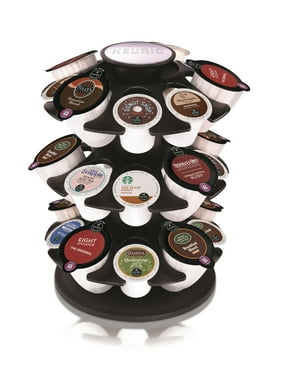 We've being talking about K-Cups this whole article which are the brand name for the coffee pods made by Keurig. And here is a rotating K-Cup storage carousel made by Keurig.
They call it the Keurig 2.0 Neo Carousel. It holds up to 27 K-Cups. (They say it'll hold K-Carafe's too.)
So far, I've only seen this on Walmart.com (I don't see it on Amazon as of this writing.)
It is currently rated 4.9 stars out of 5 on Walmart.com
14) Keurig K Cup Slim Storage Drawer (holds 24 K-cups)
Here is another K-Cup storage option made by Keurig. This little unit is designed to fit underneath your Keurig coffee machin.e The slide-out drawer can hold up to 24 coffee pods.
Do you want a brand name Keurig storage drawer for under your Keurig machine?
15) Slide Out K Cup Holder for Kitchen Cabinets (by Lynk Professional)
The company Lynk Professional usually makes quality cabinet organizers, so I've included their slide-out coffee pod holder on this list of K Cup storage ideas.
I didn't really like their product photos on their Amazon product page (they looked Photoshopped), so I've included this basic photo for you to get an idea of how it works.
If you want to store your K Cups out of sight in a cabinet, this could be a great option for you.
16) Cute Black Bear Decorative Coffee Pod Holder
This black bear K Cup holder would be perfect for a cabin or cottage, or for an outdoorsy person.
It only stores 12 K Cups, but it sure is cute. It is made of a polyresin so it should last you awhile.
Will this look good in your home, cabin or office?
Click here for more details (and pictures).
17) DIY K Cup Storage Ideas
You don't need to buy something to store your K Cups and other coffee pods.
You just need to decide where you want to store your K Cups, and then find a DIY solution that works for you.
Do you want to store them on your counter-top? If so, you could use an old fish bowl or a big empty jar.
Do you want to store them in a drawer? If so, you could simply toss them in a nearby drawer, or get cheap plastic baskets to hold the coffee pods inside the drawer. (You may already have some that you aren't using.)
Are you handy with wood? If have some basic tools you could cut a design into wood and then use a hole saw to drill holes in the the wood large enough to hold a coffee pod.
I hope you've enjoyed this list of K Cup Storage Ideas. As you can see their are a lot of options to organize K Cups. It is just a matter of deciding whether you want to put them in drawer, have them on display on your counter-top, in a cabinet, or mounted to a wall.
Will one of them work for you to help tidy up your coffee area?
Up Next:
29 great Coffee Bar Accessories for your home or office coffee station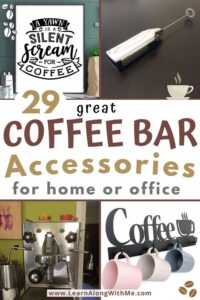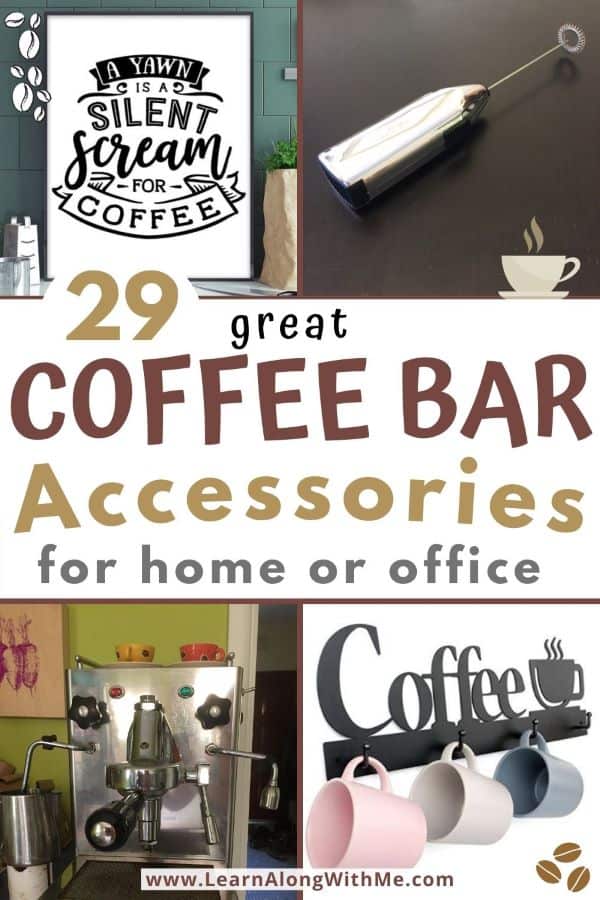 35 proven Small Kitchen Storage Ideas