Do you love warming up under a blanket while watching TV…but you don't want blankets cluttering up your living room? Hopefully one of these 33 clever living room blanket storage ideas will help you get things tidied up. You can keep the blankets organized but still within reach.
We can break down these blanket storage ideas into two broad categories:
storage options to keep the blankets out of sight
blanket storage ideas that have the blankets visible and on display
This article contains affiliate links. If you click a link and buy something I may receive a small commission at no extra cost to you. As an Amazon Associate I earn from qualifying purchases. For more information please see the Disclosure page.
33 clever Living Room Blanket Storage Ideas
There are lots of ways to organize and store blankets in your home, but we'll concentrate on how to store blankets in a living room.
Not all of these options will work for you, but hopefully at least one will help and inspire you.
Let's start the list.
1) Coffee Table with Storage
A good way to store blankets in your living room is to get a coffee table with built-in storage.
This storage coffee table has a split top. One side flips up to access the storage area, and the other side has a lift-up feature.
What's cool about the lift-up section is that you can still have items on here and be able to lift the top, whereas you can't do that with a flip-up top.
This table is part of the Valebeck collection by Ashley Furniture. With the large size of this storage area, you should be able to fit at least 2-3 blankets in here (depending upon size and thickness of course).
I was a little surprised to find this on Amazon…but there is was. And it is popular and well-rated.
If you want to learn more about this option…
2) Storage Ottomans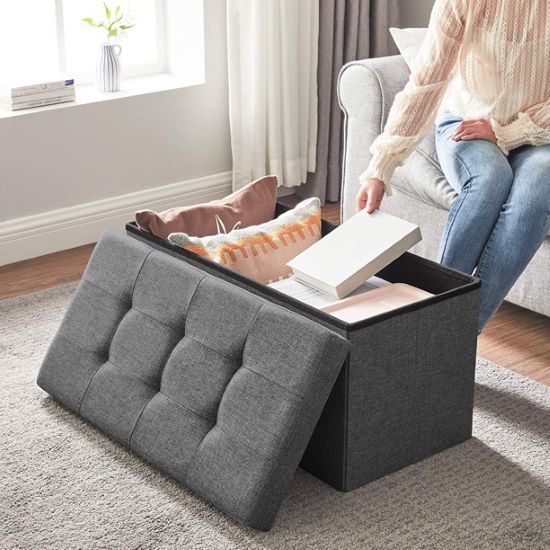 Storage ottomans are great double-duty furniture. You can use them as footrests or seats, and you can use the interior storage to help tidy up your living room.
Above is a picture of popular rectangular storage ottoman made by SONGMICS (model ULSF47K). It has 80 liter storage capacity. I find that hard to visualize, so I'm grateful the picture shows some throw pillows inside the ottoman. It helps give me a sense of scale.
You should be able to get a few folded blankets in there for sure.
Want more storage ottoman ideas?
Check out our article on Square Storage Ottomans…lots of great options.
3) Rope Hamper Basket
This 100% pure cotton rope basket may be more commonly used as a laundry hamper, but it makes a great blanket storage basket for a living room too.
The muted, earthy colors make it look warm and natural. This cylindrical shaped-basket has a 14-inch diameter and stands 16-inches tall.
So it isn't a huge basket, but it should work well to hold your blankets without crowding your entire living room.
Will this work in your home?
4) Jumbo Woven Basket for Blanket Storage
Here is a popular and well-rated rope basket made by Goodpick that would work well to store blankets and throw pillows in your living room.
It has a wider diameter than the basket shown earlier. This "jumbo" sized basket is just shy of 2-feet across and about 14-inches tall.
I don't know what it is about this basket, but it gives off a nice, clean, airy look.
5) Seagrass Baskets to hold your Blankets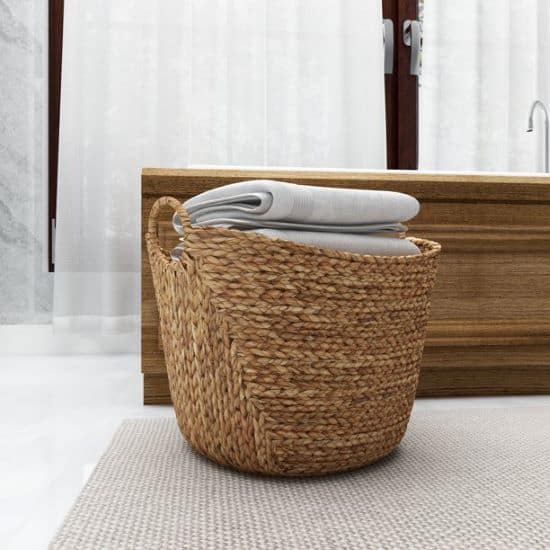 Seagrass baskets can be a charming way to store blankets in your living room (or any other room in your house really).
This basket made by DecMode is made from a Vietnamese seagrass. It has an oval shape and two carrying handles in case you need to move your blankets into another room.
I found this particular basket for sale on Walmart.com
You may also like our article on…
Etsy Storage Baskets – 11 stylish options to help you organize your home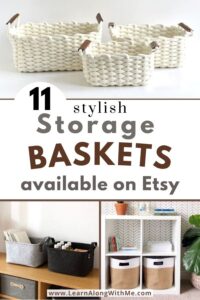 6) Toy Chest converted to be a Blanket Storage Chest
Above is the picture of an old toy chest that I cleaned and painted, and now we use it as a blanket storage chest in our living room.
I cleaned the inside, but I left some of the old stickers on there as you can see in the picture below. (Partly because they're cute stickers but mostly because I ran out of elbow grease that day.)
I found this toy chest on Facebook Marketplace and painted it with some interior latex house paint. It took a couple coats of paint, but it looks pretty good and is super functional as a living room storage chest.
Plus, the flat top doubles as a coffee table.
It was an easy DIY project that just took a bit of time for the painting.
You can check on used marketplaces for toy chests and maybe they'll work to hold your blankets too.
7) Footlocker Trunk used to store Blankets
These type of footlocker trunks are often marketed as "Undergrad trunks" for college students going off to dorm rooms. But they can be a cool way to store blankets in your living room.
This particular model is a popular trunk made by Rhino Trunk that has removable wheels and is available in LOTS of different colors.
8) Console table with a bottom shelf
A console table like this one – which are sometimes called skinny sofa tables – can be a good place to store blankets if they have a bottom shelf. You don't want your folded blankets cluttering up the top surface of your console table, but if you have a bottom shelf this is a great place for your blankets.
You can place your blankets directly on the shelf, or you can place the blankets inside baskets or storage cubes.
This particular console table is made by Convenience Concepts and is available at Amazon.
It is just shy of 4-feet across, 9-inches deep and 29-inches tall.
Do you have room behind your couch or elsewhere in your living room for a console table?
9) Fabric Storage cubes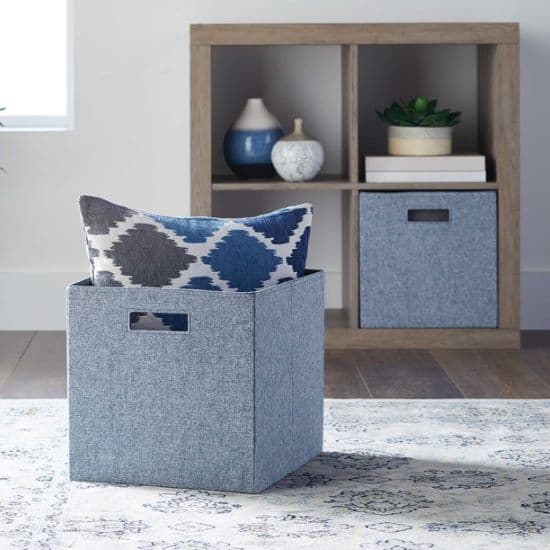 Fold up your throw blankets and store them inside a fabric storage cube such as these ones from Better Homes & Gardens.
You can place the storage cubes on the bottom shelf of a console table, under some coffee tables, or inside a cube organizer.
Many companies have a cube organizer – such as IKEA's KALLAX unit – and the Better Homes and Gardens brand makes their own cube organizers too.
10) Storage Benches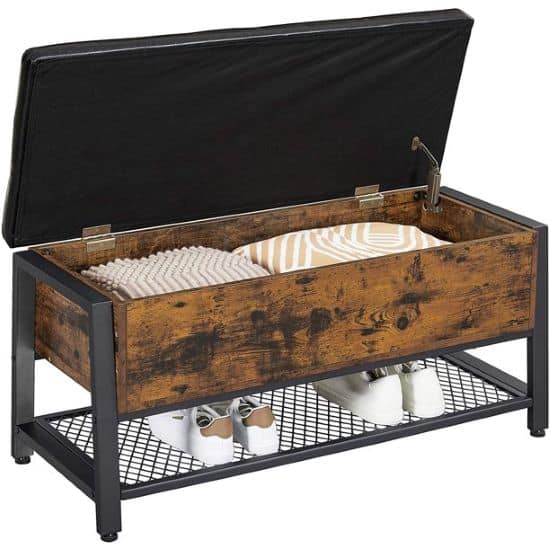 If you have the space in your living room a storage bench can be a great way to store your blankets.
This particular storage bench is made by VASAGLE. It is their model ULSB47BX.
What's cool about this one is that it has the covered, out-of-sight storage underneath the tufted faux leather top, and it has the bottom metal shelf. It can be used as extra seating when needed and as a way to help keep your living room tidy. (It would work well near the entryway too.)
11) Blanket Ladders – to decoratively store your blankets
Blanket ladders are a good decorative way to store blankets in your living room. They lean against the wall and the "rungs" of the ladder provide the hanging surface for your blankets.
This particular blanket ladder is a 5-rung ladder that stands 4.5-feet tall and is available in a white-wash finish or brown finish.
It is made by Rose Home Fashion and is available on Amazon.
12) Blanket Ladder – wood and pipe (on Etsy)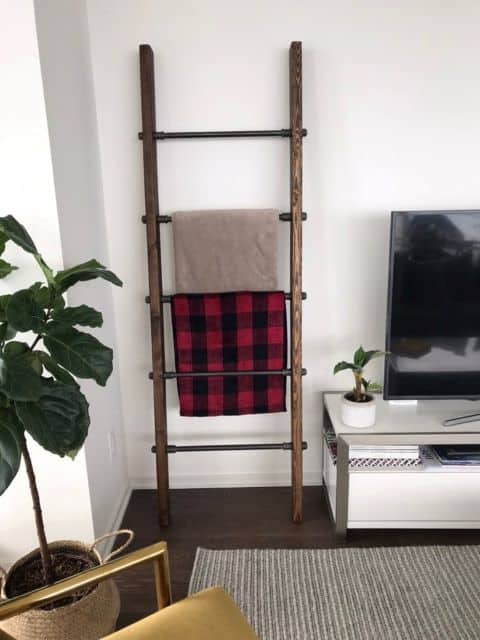 Here is another blanket ladder, but this one is a handmade option available on Etsy by the seller PipeandWoodDesigns.
You can get it in 4-foot, 5-foot or 6-foot heights and in a variety of different finishes.
I like the combination of the natural wood and the industrial piping.
13) Blanket ladder with storage hooks and basket
This is the same idea as the other blanket ladders mentioned above but it has some additional features. It comes with 4 removable hooks that slide over the horizontal wood pieces.
There are 3 different options for storing your blankets on this unit:
Hang the blankets from the metal hooks
Drape your blankets from the horizontal slats
Toss your blankets into the fabric storage basket
This is a versatile organizer that could also work well as a coat rack near your home's entrance.
14) Nesting Tables with Blanket Storage Inside
These are an interesting and eye-catching way to store blankets in your living room. They are nesting tables made by Lavish Home.
If you're looking for new end tables anyway, you should check these out. Remove the tops and toss in some blankets or throw pillows.
15) Over the Door Blanket Hanger
This is a clever use of space IF you have a door near your living room. (And you may not if you have an open concept floor plan.)
But if you do, then this living room blanket storage option will make use of wasted space behind a door, and it isn't bulky like some of the storage furniture options.
Note: I discovered the same company "Things Made Easy" sells their product on Etsy, Amazon and Walmart. If this option will work for you, I suggest you compare prices. Clicking a button below will open that site in a new browser window.)
16) Hanging Ladder Quilt and Blanket Hanger (farmhouse style)
Want to add some rustic charm to your living room and give it some farmhouse style? If so, check out this hanging rope ladder that you can use to hang your blankets.
You could also use it to hang towels in the bathroom, or scarves near the front door.
If you like this look, click here to see more details on this farmhouse hanger.
17) Floor-standing Blanket Rack
If you have the space in your living room, a floor-standing blanket rack like this one with its scrollwork can be a decorative way to store blankets. You could position the rack near a heating vent then snuggle up in a nice warmed blanket.
This is a popular item, and is well-rated on Amazon.
18) End tables with storage can be used to store blankets
An end table that has storage shelves or baskets can be a great way to store blankets in your living room while still having the table-top to set down your drinks or snacks.
You may want to buy a matching set that has a coffee table too. Or you could buy a separate end table like the one shown in the picture.
Sure this picture shows it storing books in the bottom metal basket, but just imagine your blankets there.
Will it work for you?
19) Rattan Log Holder
This is another example of using something to store blankets in your living room when it was intended to be used for something else.
In this case, this rattan log holder is intended to hold logs next to the fireplace, but it works well to store your rolled up throw blankets.
20) Wicker Basket to Store Blankets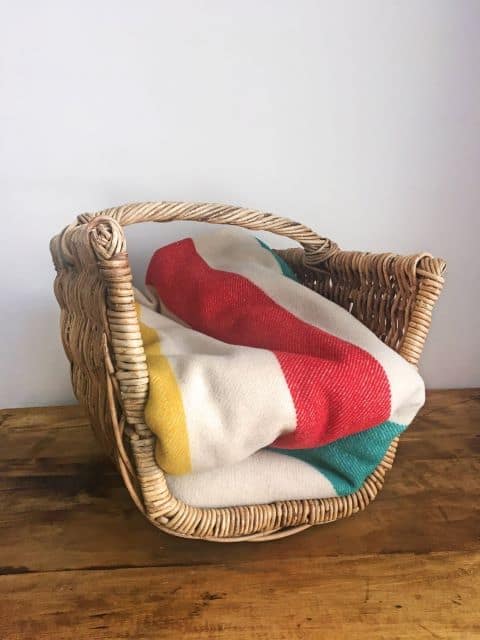 This is such a cool look. This is a vintage wicker basket that was originally designed and used to carry firewood. But the Etsy seller ToutePetiteTreasures has shown how it can work well to store blankets too.
This particular basket may not be available by the time you read this, but does it inspire you?
Are there vintage shops or second-hand shops in your area that may carry neat stuff like this?
21) Wall Mounted Yoga Mat Holder
Sure this is marketed as a yoga mat holder, but it'll work as a way to store your living room blankets too.
And storing your blankets on the wall will help free up floor space.
These are easy to install…simply screw them into your wall studs and they're ready for use.
22) Wall Mounted Blanket Hanger with Display Shelf
Here is a great way to store and display your favorite blankets and quilts. This is a handmade wooden quilt hanger made by the Etsy seller AppleTreeWoodcrafts.
This version measures 42-inches across and sticks out from the wall only 5.5-inches.
If you want to support a "Made in the USA" company, check this out.
23) Wall-mounted Blanket Hanger Rods
Above is a picture I discovered on Instagram. It is made by a husband and wife welding team.
It has a distinct cowboy and western theme.
But it is a great example of how a blanket hanger can be decorative as well as functional. And you can find a wall rod like this to match your style.
24) Use Towel Bars as Blanket Holders
But hey, these are towel racks…I can't use these in my living room?
Why not. Just because they are marketed as towel racks, you can easily use them in your living room to hold blankets.
They are a great way to use vertical storage space.
You may not like this "brushed grey" look, but you can also get this towel bar from KES in different colors.
25) Use a Towel Rack to Hang your Blankets
This is obviously very similar to the towel bar option above, but this is a towel rack instead of just a single bar.
You could drape your blankets over the horizontal bars, and you could set little baskets on the top shelf to help organize your living room.
This is another quality towel rack by the company KES.
26) Under a platform daybed or elevated sofa
This option won't work for everyone but if you have a daybed, futon or sofa that is elevated off the ground, you can store the blankets under your furniture.
Then you can treat it like any other under bed storage option.
This particular daybed shown above by DHP has 8-inches of clearance under the bed so the Sterilite under bed storage totes would work. And if you put the lid on the storage totes it'll help keep the dust off your blankets.
Are you wanting to change up your living room? Maybe you're interested in a daybed?
Check out our article on 13 awesome Daybed with Storage options.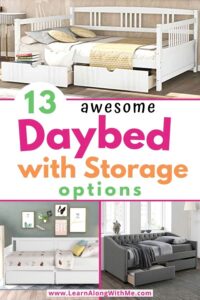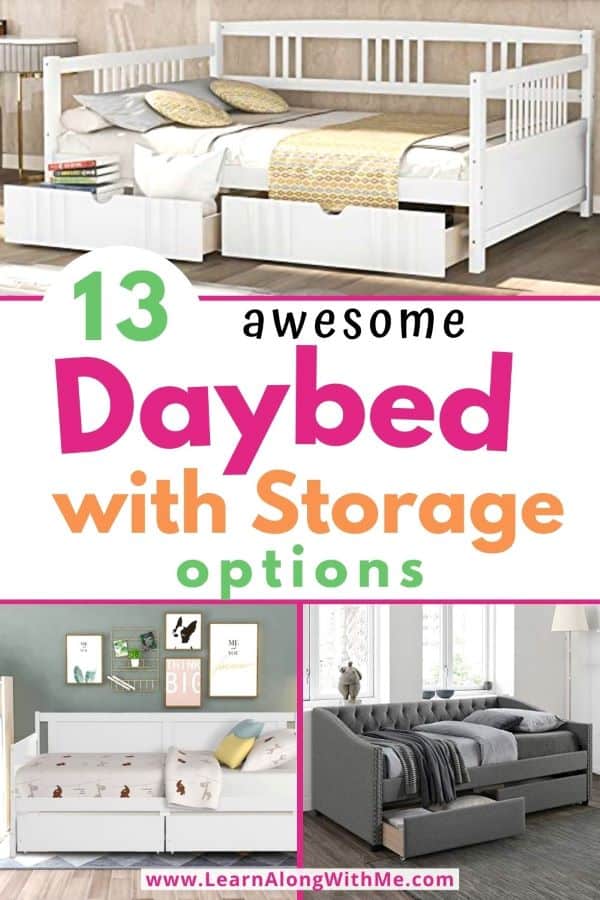 27) Blanket Rack for your Wall
You can mount blanket racks like the one shown above to your living room walls and you'll have a convenient place to store your blankets.
The one shown above is available on Amazon.
Or if you're handy with wood and have some basic tools you could make your own blanket racks.
Below is a YouTube video where you can learn the step-by-step process to build a rustic DIY blanket rack.
And what's cool is that he makes it using just one 2×4 board. (The audio levels in this video aren't great, but I think you'll be able to follow along.)
28) Use an Accordion style Coat Hanger to Store Blankets
An accordion style coat rack like the one above can be very versatile. You can use them to hang up clothes, coats, hats, scarves, and more.
Plus, you can mount them on your living room wall to hang up blankets.
The one shown above has 10 pegs, and you may not need one that big, but they sure are handy and stylish.
29) Leather Blanket Carrier / Hanger
This isn't a look that everyone wants, but if you have a rustic or western look to your home or cabin, you'll want to check this out.
It is a leather blanket holder from the Etsy seller MyshkinHouse.
Does this get your brain working? Are there straps or holders that would match your home's style and work well to store blankets in your living room?
30) Giant Clothes Pins to Hang your Blankets (Etsy)
Well these are pretty unique aren't they. They're giant wall-mounted clothespins that the company CherryTreeGallery sells on Etsy.
They kind of have a farmhouse look to them and they can be used to store lighter blankets in the living room or towels in your bathroom.
It this matches the style you're going for, click here for more details.
31) Use Buffets or Armoires to Store Blankets in your Living Room
A handsome buffet with storage like the one above can be a stylish way to your store blankets. Plus, the drawers are an additional way to help organize your living room.
If you like the look of this buffet, you can click here to see more details (and sizes) on Amazon.
We found a used armoire on Facebook Marketplace a little while ago. We use it to store blankets, sheets and pillow cases for our downstairs bedrooms. It does the trick, but unfortunately the drawers on the bottom don't slide very well. (Buyer beware right.)
Are there any used armoires on Craigslist or Facebook in your region that you could use to store blankets?
32) Coat Rack used to hang blankets
This is a farmhouse styled coat rack that I made. I've staged it here to show it hanging blankets. (I actually use it by the front door for coats.)
Is there a coat rack that you could make or buy that would work for your blankets? I bet there is. 🙂
The one downside is that the blankets can bunch up on the floor unless you either mount the rack higher up the wall, or fold your blankets before hanging them.
If you want to see how I made this DIY farmhouse coat rack, click here.
33) Fold them nicely and place on the arms or back of the couch
I've left the simplest option for the last. Just nicely fold up your blanket and drape it over the armrest or back of your couch.
Having too many blankets out could make your living room look cluttered. So pick the one you use the most, and keep the others in your closet.
When I need to tidy up our living room one of the first things I do is fold up the blankets and either store them in our converted toy chest or drape them on the armrest or back of the couch.
It may not be the prettiest option but it works in a pinch and it's quick.
Thank you for checking out these 33 living room blanket storage ideas. Hopefully at least one of them will work for you.
Maybe now when you're scrolling through Facebook Marketplace or strolling through second-hand stores you'll start to see things differently. Maybe you'll think, "Hey, that'll work well to store blankets."
Up Next:
11 stylish Square Ottoman options [help organize your living room]
Daybeds with Storage – 13 awesome options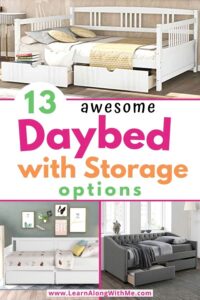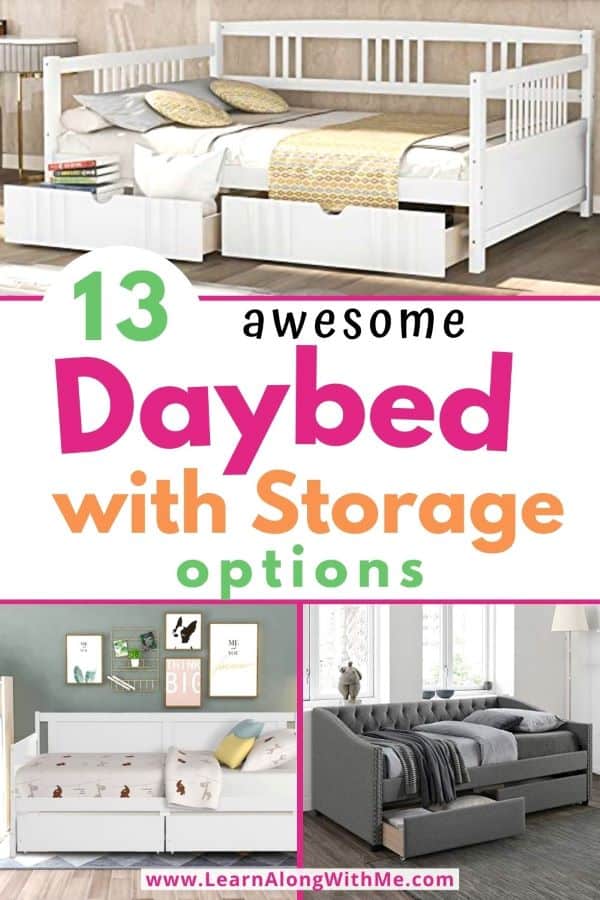 11 stylish Etsy Storage Baskets [to tidy and organize your home in style]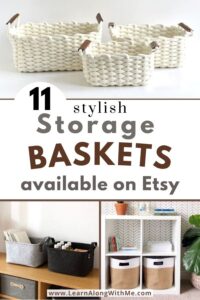 Plus you may also like:
15 helpful Remote Control Holders [tidy up your living room or TV room]
Organize your discs with these CD Storage Ideas
Hat Storage Ideas – great ideas to help you organize and store your hats