Are your guests sick of waking up on a deflated air mattress? Do they have to get up at 2AM just to blow it up again? That's the situation we were in so we decided to buy a Milliard Tri Fold Foam mattress almost 2 years ago. In this article I'll share our thoughts on this folding mattress.
​
This article contains affiliate links. If you click a link and buy something I may receive a small commission at no extra cost to you. As an Amazon Associate I earn from qualifying purchases. For more information please see the Disclosure page.
Why you may want a folding mattress
As I mentioned in the introduction, we decided to buy a folding foam mattress because the air mattresses we had kept getting holes. And setting up the air mattresses was a pain: we'd have to get out the foot pump to blow up the air mattresses or find an extension cord for an air pump.
Buying a foldable mattress solved these problems. (But it did create some new problems that you'll see below.)
Good uses for a Fold up Bed like the Milliard trifolding mattress:
Good for small spaces like bachelor pads or studio apartments…sleep on at night, fold up during the day
Great for guests
When you or your partner has a cold or isn't feeling well…one of you can sleep on this mattress
When you are renovating your bedroom and you need somewhere else to sleep
If you move into a new place and your regular bedroom furniture hasn't arrived yet
It would make a comfortable daily sleeper too
What is this Mattress made of?
This foldable mattress from Milliard is a foam mattress. It is made of 75% polyurethane foam and 25% viscoelastic polyurethane foam.
Viscoelastic polyurethane foam is better known as memory foam. (Reference: Polyurethane Foam Assocation)
It is a CertiPUR-US certified memory foam mattress that meets standards such as:
low VOC (less than 0.5 parts per million)
no phthalates
contains no ozone depleters
has no lead, mercury or other heavy metals.
and also meets more standards…
For more information about CertiPUR-US certification, click here.


Outer Covering
The outer covering is removable and washable. It is made from 60% polyester and 40% viscose (which is a type of rayon.)
What's Good about this mattress
Here are the good things about the Milliard 6 inch memory foam tri fold mattress after owning it almost 2 years.
Comfortable
This mattress is not our daily sleeper but it is comfortable when I sleep on it.
It came in handy during our bedroom renovation when I had the room torn apart. 
It may sound weird but when I tweaked my back a few months ago I found it better to sleep on this mattress than our usual king sized bed. And then when I woke up in the morning I just pushed this fold up bed off to the side of the living room.
I don't know if the picture below will help you at all, but it shows that you do sink into the foam a bit, but it isn't super soft. The weight depressed the foam approximately a 1/2-inch.
The Milliard Tri Folding Mattress is Easy to set up as a Bed
This foldable mattress easily goes from this…(see below)…
To this…
to this…
…in just minutes.
Setting up this folding mattress as a bed is super quick and easy once you have it in the spot you want it.
So if you have unexpected guests come by – or your friends have too many drinks to drive home – you can easily make them a bed with this foldable mattress. No hassle set up.
Washable, zippered cover
Our Milliard tri folding mattress has a zippered cover that can be removed and washed.
Each of the three mattress sections of the tri fold mattress has a separate zipper, but it is just one cover piece.
The cover for the mattress is one piece with each of the three separate zippered sections sewn together. In the picture below I'm pointing to one of the two "joints" where the covering pieces are sewn together.





Below is a picture of the washing instructions tag for the outer cover of this foldable mattress.
So once you unzip the three sections of the cover and remove the three foam mattress pieces, you can wash the outer cover in your washing machine using cold water. If you put it in the dryer use low heat.
Note: We have not removed the cover yet and washed it so I don't know how tricky it will be to put the cover back on.
Durable
Below is a picture of the seams where the "joints" of the tri folding mattress cover are sewn together.
You'd think this fraying would be a bad thing…but read on…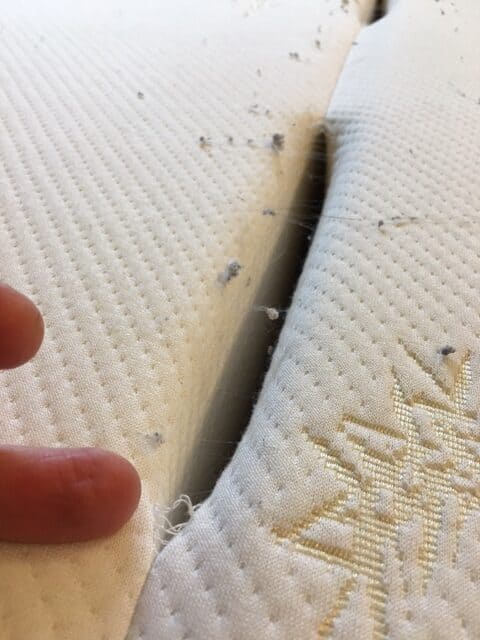 Our mattress is not just exposed to the usual stresses of a mattress…it has been used as a pommel horse, climbing gym, and even a "trampoline" by my daughter.
You can see in the picture below, the mattress is on its side and she is balancing on the top. What she does after that is jump down into the cracks between the foam sections and run around. This places lots of strain on the seams.
I'm thankful it has held up as well as it has.
So you'd think my earlier picture of a few loose threads would imply it isn't made well, but in our case it means it has held up well to the abuse of a preschooler using it like playground equipment.
What's Not so Good about this Mattress (and what you can do about it)
Everything isn't perfect with this mattress, but there are some things you can do about it.
Bulky to carry around
We bought the queen size mattress: which is listed as 78-inches long, 58-inches wide and 6-inches thick.
It is listed as weighing 32 pounds on the tag, but when I weighed it it weighed 34 pounds. (Hopefully that isn't 2 pounds of accumulated dead skin cells. 🤮 )
32 pounds isn't a lot, but because of the dimensions of this mattress, it is bulky.
(Isn't that what all weak people say, "It isn't the weight, its just the bulkiness." haha)
So yes, it is a portable folding mattress, but it takes some effort to pack it around the house.
I usually end up bear-hugging it and then dragging it up the stairs.
What can you do to make it more portable?
We don't have one of these and I just discovered it while writing this article, but Milliard makes a zippered carrying case for its tri fold mattresses.
It has 3 handles to make it easier to carry around the house. I haven't tried one yet, but it has to be better than bear-hugging it and dragging it like we do.
Click here to see details of this Milliard Carrying Case on Amazon.
Storing it in your home
When the queen size mattress is folded up it makes a rectangular stack that is 26″ wide by 58″ long by 19″ tall.    (When I measured it I expected 18-inches tall but it was 19-inches so it may have plumped up a bit.)
This isn't exactly tiny (as you can see in the picture below).
If you decide to get a foldable mattress like this one, make sure you have room to store it.
Of course if you buy a smaller folding mattress – such as a full size or twin size – it won't be as bulky as the queen size is.
Overall we've been happy with our purchase of the Milliard 6 inch memory foam tri foam mattress.
The 6-inch memory foam provides a a comfortable sleep.
It's easy to set up as a bed and I think your guests will be happy this accommodation.
It is a bit bulky to store and move around the house (but a carrying case would help with this).
I'd say that if you're using this Milliard tri folding mattress as a spare mattress for guests or occasional use, it is a great choice as long as you have the room in your house to store it.


I hope this has helped clarify any questions you may have had about this folding mattress.




Where can you buy this Foldable Mattress?
You may be able to find the Queen size 6-inch mattress on Walmart.com

We bought ours in 2019 from Amazon, so as of writing this we've had it almost 2 years.
You may still be able to get it there. But it seems like it is getting harder to find on there.

Up Next:

13 space-saving small bedroom storage ideas