Stop bringing so much dirt into your RV. Get a good RV patio mat and help protect your RV investment. In this article we'll look at a concise list of 9 proven, quality outdoor mats for campers.
Let's get started.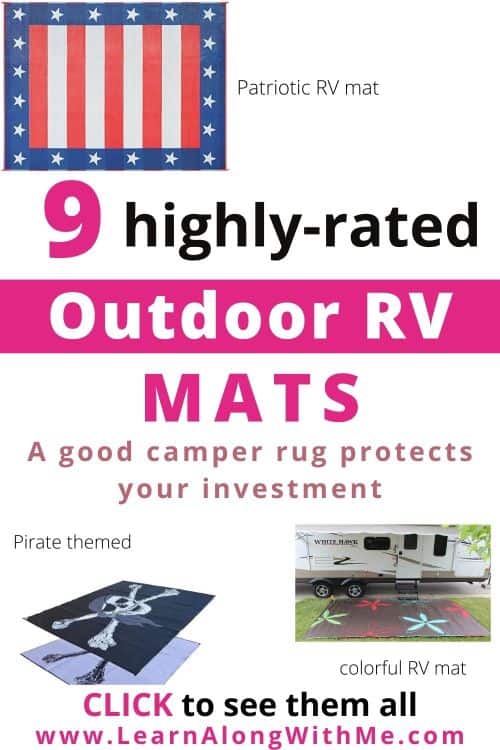 This article contains affiliate links. If you click a link and buy something I may receive a small commission at no extra cost to you. As an Amazon Associate I earn from qualifying purchases. For more information please see the Disclosure page.
What to look for in RV Patio Mats
People camp in different ways, but a general consensus is that you want the following things in an outdoor RV mat.
What to look for with an RV patio mat:
need something big to go under the stairs so you don't have to step in dirt before entering the RV – helps keep RV cleaner
Want to extend along RV too because you usually sit under awning.
Want one that is easy to sweep and clean
Resists curling up or has a way to peg down (could use patio stakes to hold it down)
quick drying
water permeable (you want water to drip through it so it doesn't get soggy and heavy)
UV protectant coating to improve durability
Where to buy an RV mat?
There are lots of places to buy an RV mat or outdoor rugs. This includes most of the large box stores, RV dealerships, Menards, Walmart, Home Depot, Costco, and Amazon.
Examples of quality patio mats
Below are some examples of quality RV mats. Most of them are available on Amazon unless otherwise noted.
1) Eco-friendly Outdoor RV Patio mat by Mountain Mat
This RV patio mat by Mountain Mat is available on Amazon .
It is eco-friendly because it uses recycled plastic (polypropylene). And it comes with a carrying case.
It is stain-resistant, has a UV-coating to improve durability and can be easily cleaned by spraying it with a hose.

2) Reversible Outdoor RV rug by Sand Mine
This reversible outdoor rug came highly recommended by some people in the camping Facebook groups I'm in. It is stylish and is available in a 5'x8′ size, 9′ by 12′ size or the large 9'x18′ size..
This plastic rug has a UV protectant coating to try and minimize damage and wear caused by the sun.

3) Outdoor Mat by Reversible Mats
This is the large 9-foot by 18-foot outdoor mat made by Reversible Mats. It is quick drying and you can clean it by sweeping it or spraying it with water.
The same company makes smaller RV mats if this is too large.

4) Astro Turf or Synthetic Grass Mats
Another option that some campers use is to put a synthetic grass rug (like Astro Turf) under their RV awning and use that as their patio mat.
You can buy artificial grass rugs at most hardware stores or on Amazon.
Below is link to some popular fake grass on Amazon. (This is the 6ft x 12ft size…smaller sizes are usually less money.)
5) Oriental Rug – Outdoor Camping Mat by Camco
Camco – the leader in RV accessories – makes this charcoal-colored, reversible, outdoor camping mat with an oriental rug design.
They claim it will not trap water, and it is coated with a UV-protectant to increase durability against the sun's rays. It can be cleaned with soap and water to get it looking new again.

6) 9-foot x 12-foot Reversible RV Mat (available at Walmart)
This is a large, reversible RV mat that is available in a few different styles. It is available on Walmart.com
Some reviewers on the Walmart website mentioned it felt really nice under the feet. It has a UV-stabilizer on it, has nylon straps on the corners so you can stake it down to prevent tripping. You can give it a thorough cleaning by hosing it off with water.
And it prevents ripping and unraveling at the edges because you don't want an camper mat with edges that could trip or catch your feet.

7) Colorful Floral RV Mat (an attractive outdoor mat for your camper)
I've added this one to the list because it has the features we want – like easy to sweep off, large size, durable with UV-protectant, nylon loops at the corners to stake it down – but I've also included it because it is colorful and lively. The other camper outdoor rugs featured in this article are a little drab.
How would this look under your RV awning?

8) Pirate Flag Outdoor Camper Mat
Here is a quality outdoor camper mat with a novel design that looks like a Jolly Roger pirate flag. Fun RV accessory for a pirate-lover or maybe a Tampa Bay Buccaneers fan.
This outdoor rug by EZ Travel is reversible, has a UV-coating, comes with a carrying bag, and it also comes with patio stakes to secure the edges.
It is a 9-foot by 12-foot outdoor mat.

9) BIG Outdoor Mat perfect for Independence Day
Here is a unique, BIG outdoor camper mat that measures 8-feet by 16-feet. So it should take up a large part of the ground under your RV awning.
It has a UV-coating to resist sun damage, and sand & small particles of dirt should slip down through the material.
If you want a big Patriotic RV mat, check this one out.

RV Outdoor Mat Accessories
Yes there are a LOT of accessories in the camping world, and RV mats are no different.
You can buy stakes to help secure outdoor rugs to the ground. This should help minimize curling and the tripping hazard. They call these patio stakes.
How to store your outdoor RV mats
Many RV mats come with carrying bags (which is awesome), but if yours doesn't, there are still lots of ways to store your RV patio mat during travel days.
Here are some ways that people store their RV mat:
use a bag from their camping chairs
store it inside a length of PVC pipe
some folks use a garbage bag
and others just clean it off, roll it up and store it on the floor inside their RV
Many of these ways to store an outdoor camper rug was from the collective wisdom of a RV Facebook group I'm in. (So many helpful, and handy people on there.)
I hope you've enjoyed this concise look into some quality outdoor mats for camping.
Which one will work for your RV?
Up Next:
9 ways to Enhance your RV Outdoor Space
RV Deck Ideas (14 RV Deck ideas to inspire you)
Plus, check out:
75 clever RV Accessories [that RV'ers buy up like crazy]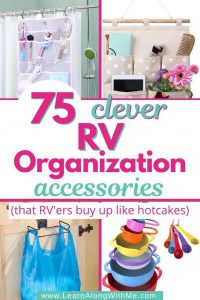 How to keep your RV windows from sweating
How to stabilize your RV and stop it from rocking