Are you looking for some outdoor shelves to help you organize and hold your stuff?  In this article we'll look at 17 outdoor shelves that should do the trick for you.
We'll look at:
Outdoor plant shelves
Plastic outdoor shelving options
Garden shelves
Outdoor storage cabinets
And more…
This article contains affiliate links. If you click a link and buy something I may receive a small commission at no extra cost to you. As an Amazon Associate I earn from qualifying purchases. For more information please see the Disclosure page.
17 helpful Outdoor Shelves to store your stuff
So whether you need outdoor shelves for your yard, deck, garden or patio, at least one of these options should work for you.
Outdoor Plant Shelves – 7 Tier Wood Shelf
This outdoor plant shelf is a great way to display your plants.
It would work well on your patio or balcony because it isn't too big. It is just less than 34-inches wide and just under 32-inches tall.
All the slats are made of wood, and the joints are plastic. It comes flat-packed in a box and you put it together by pushing the ends of the wood into the plastic joints.
The manufacturer said the wood has undergone carbonization. It should help this wooden outdoor shelf stand up to the elements.
(This article states that the carbonization process can help extend the life of wood by killing the fungi that is already inside the wood.)
So if you're looking for an outdoor shelves for plants, check this out.

5-tier Outdoor Wood Plant stand (for summer use)
I really like the look of this 5-tiered pine wood plant stand.
The manufacturer said it can be used inside or outside during the summer.
I'm not sure why it is summer specific? Perhaps it won't hold up to the precipitation and cold of the winter?
This plant shelf is held together using screws, not plastic joints. So you'll need to do some screwing to get it together.
CLICK HERE for more information on this indoor / outdoor plant shelf.
Outdoor Plant Shelves – Folding Bamboo Plant Shelf
This 3-tiered ladder style plant shelf has a horizontal rod to place your hanging plants.
It's made of bamboo that has had 2 layers of varnish painted on to it…so it should hold up to the elements.
I don't know if I'd push it, but the manufacturer states it can hold up to 220 pounds.
So if you want an attractive outdoor plant shelf, you can check this one out.

Outdoor Metal Shelving – 5 tier plant stand
This is 5-tier outdoor shelving unit is perfect for plants or small garden accessories like hand-held pruners and sprinklers.
It is made of metal, but it has been painted to help it resist the elements. (Just be careful not to scratch it and expose the metal.)
It is a narrow shelving unit: only about 12-inches deep. To stop it from tipping over, I suggest to screw it into wall or deck railing if you can.
We have a similar outdoor shelf at our house that has dimensions very close to this one's. I tied it to an exterior wall to prevent tipping.
This product is well-rated on Amazon with lots of reviews.

Outdoor Shelving Unit – Plastic Utility Shelves
If you want a basic, sturdy outdoor shelving unit, this one made by "Black & Yellow" should fit the bill.
The manufacturer states it can be used indoor or outdoor. And because it is made of plastic it should hold up to the rain and humidity.
But they don't say anything about UV-resistance. So this may be better suited for the shade. You could put your outdoor stuff into plastic totes and then store them on this outdoor shelving unit.
It is well rated on Amazon with a lot of reviews.
Plastic Outdoor Shelving Unit Walmart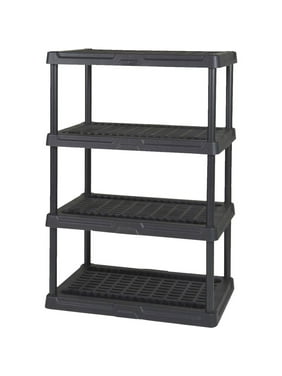 This plastic resin shelving unit from Walmart.com is similar to the unit shown earlier, but this one is only 3-feet wide (the one from "Black & Yellow" is 4-feet wide).
I have similar shelves in my carport, and they work well to store totes and boxes.
It is a basic unit. So if you want simple, this should do the trick.

Metal Outdoor Shelves – Home Depot
Woah, this shelving unit can hold up to 800 pounds per shelf (evenly distributed) with no wheels. Or 160 pounds per shelf if you want to keep it on the caster wheels. And it has 5 shelves, so you'll be able to keep a lot on this shelving unit.

Who is this for?
A shelving unit like this one from Home Depot is for someone who needs some heavy duty outdoor storage.
What's cool about this unit is that the shelves are adjustable too. So you can customize heights to suit your needs.
It measures 4-feet wide, by 6-feet tall. Will this work for you?
Click here to see more details on Home Depot.com
Outdoor Garden Bench with Shelves and Tub
Who is this for:
This outdoor garden bench would be great for gardeners because it has plastic sink, plenty of shelving space, and a drawer for garden tools or seeds.
The plastic sink is only 3-inches deep but it would work well to hold water or garden soil when transplanting plants.
I've seen people make their own DIY garden benches, but if you don't have the time or skills, you can check out this garden bench.

Garden Potting Bench with Shelving & Metal Work Surface
Here is another great option for gardeners. This one doesn't have a sink on top.
What it does have though is a metal worktop. So you can easily wipe off spilled top soil or mud.
The shelves have a backing board to prevent your stuff from falling backwards off the shelf.
And it has plastic feet so the fir wood won't be in direct contact with the ground.
Will this work for you?
Lawn Shelf with Hose Holder and Shelf
This is pretty cool. I hadn't seen something like this before.
It has metal stakes that you push down into your lawn and voila, you've got yourself a hose stand and shelf – wherever you need it. Pull it up and move it to a different spot in your lawn if you need to.
The shelf is small, but it would work well to hold different sprinklers and hose nozzles.
CLICK HERE to see more details on Amazon.
Small Farmhouse Style Outdoor Storage Cabinet (Walmart)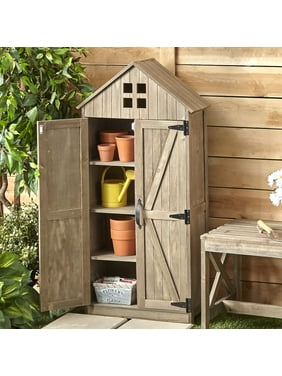 This cute farmhouse-styled storage cabinet is available at Walmart.com
It is small though. It is only about 9.5-inches deep and 20.25-inches wide so don't expect to store big items in here.
I really the look of this, but the reviews are mixed on this product.
Some buyers said the wood is too flimsy for the price. You can have a look for yourself.

Outdoor Greenhouse with Shelves for Plants
Are you an avid gardener who'd like to get a head start on your growing season?
This walk-in outdoor greenhouse features a clear PVC cover and ventilation windows. Plus, it has the shelves on each side of the main aisle in order to get your seed trays and seedlings started. (And to store your hand tools.)
If you want a place to put your plants and cover them from the elements, check out this greenhouse.

Outdoor Shelving Unit with Doors (Lockable Cabinet)
Some people don't like the cluttered look of stuff on shelves. If you're one of those people, you might like an outdoor shelving unit like this one that has closing doors. So you can tuck your stuff in here, close the door and not have to look at it.
It even has holes in the door where you could put a padlock (lock not included).
To make it better stand up to the element and make it more weatherproof, some people suggest putting epoxy or waterproof caulking along the seams and joints when assembling it.
CLICK HERE for more details of this outdoor storage cabinet.
Outdoor Wall Shelf – Rustic Galvanized Shelves
This isn't what I had in mind when I started looking up outdoor shelves, but they look cool so I'm adding them to the list!
These farmhouse-styled galvanized metal shelves can be used inside or outside. You could attach them to an outside wall, fence or deck railing.
It's a little hard to get a sense of scale from this picture. The smaller shelf on the top is 15-inches wide, and the bottom shelf is 16.5-inches wide.
So these aren't huge but they'd work well to hold plants, small kids toys, or other outdoor knick-knacks.

Outdoor Patio Cabinet with shelves – Rubbermaid
Who is this for?
This outdoor storage cabinet with a shelf is best suited for someone who needs storage on their deck or patio.
As shown in the picture above it would make a convenient place to store your outdoor cushions and gardening tools.
And you could set your plates of appies or drinks on the top shelf.
You may be able to find this Rubbermaid storage cabinet at your local retailer, or you can click here to see on Amazon.
Outdoor Patio Side Table Cabinet with a Shelf
This patio table is made from eucalyptus wood and is available in a few different stained finishes. This is their "Natural Oil Finish" look. (It looks pretty awesome to me.) And it is FSC certified wood.
It has the top shelf, and another shelf above the cabinet area. There are no shelves inside the cabinet area but I bet you could DIY a solution if you needed to.
If you want a decorative shelving option for your patio or deck, you'll want to check this out.

Outdoor Entertaining Hutch with Shelves (Pottery Barn)
Isn't this thing awesome looking!
Who is this for:
This would be great addition to a patio or deck for someone who frequently entertain outside. (And if you have the money to spend…this isn't cheap.)
The acacia wood is Forest Stewardship Council certified (FSC-certified). And they do say its for outdoor use, but they suggest to store it indoors over winter and cover it while its raining to prolong its life.
So this may not be practical for everyone, but it sure looks cool.
This product is available at the Pottery Barn.
Thank you, and I hope one of these outdoor shelves will help you.
So evaluate your needs – what do you want to store on the shelves – and then decide on a shelf that'll work for you and have the look you desire.
Up Next:
33 proven Garage Organization Ideas
15 cozy Patio Furniture Ideas and Accessories
19 Privacy Fence Ideas (to create a nice private backyard)