Are you wanting to get a portable fire pit? In this article I'll share my hands-on review of the Outland Firebowl Cypress 21-inch propane fire pit.
Read on to see if this portable fire pit is right for you.
This article contains affiliate links. If you click a link and buy something I may receive a small commission at no extra cost to you. As an Amazon Associate I earn from qualifying purchases. For more information please see the Disclosure page.
NOTE:
This is a hands-on review. We've had this fire pit for over a year now. And in this review I don't have a bunch of fancy photos…you'll see our well-used firebowl as it is. So there are dirty, real world photos of a used device.
What are the dimensions of the Cypress Model 863?
The Outland Firebowl that we have is the 21-inch model. I'm happy with that size. It is small enough to easily carry around, yet big enough for our family of 5 to sit around.


It is about 9-inches high.
What size propane tank does this connect to?
The manufacturer states that this fire pit and its regulator are designed to connect to a 20-pound propane tank. This is the usual barbeque tank sized propane tank.
And it has a 10-foot long propane hose attached to the fire pit so you can place your propane tank away from the fire.
What's cool is that it came with a metal stabilizer stand for your propane tank. You can see it in the picture below. It is the black ring under the propane tank.
(But I'm not sure if the Cypress Firebowl that is available on Amazon comes with this ring…I think it would though because it's a good safety accessory.)
What I like about the Outland Firebowl Cypress Model (21-inch)
Below are the main things I like about the Cypress firebowl.
Portable
I love how easy it is to put it in the back of the truck and head off for a family gathering.
With the rocks in it, it weighs about 30 pounds.
I put it in the back of the truck along with a 20-pound propane tank and the stabilizer ring for the propane tank, and we're all set.
Oh yeah, make sure to bring a lighter too. The Outland Firebowl Cypress model is a manual start fire pit.
It doesn't have an ignitor so you'll have to light the flame. I use a long-handled barbeque lighter to get it going.
Easy to Set up
It doesn't require any tools to set it up, and you can have have your fire going in about one minute (or less) from the time your park your truck.
One end of the 10-foot long propane hose is pre-attached to the firebowl, and you simply screw the other end onto your 20-pound propane tank.
Easy to get a fire going and to put it out
If you're comparing this portable propane fire pit to a wood fire, it is a lot quicker to get this firebowl going than it is to build a wood fire.
No "After Campfire stress"
The risk of embers and burning ash from a wood fire can be stressful.
Did you completely put out the fire?
Are you sure?
But you won't have that stress with a propane fire pit.
It is a lot easier to put out a propane fire pit than it is to douse a wood campfire. With this Outland firebowl you simply turn off the propane tank and your fire is gone.
Then you can let it cool down for awhile, put the steel cover back on, and head home or head onto the lake knowing that your fire is completely out. No stress.
No Smelly Smoke
To be honest I love sitting around a wood campfire, but I don't love the smell of campfire smoke.
And if you don't like the smell of campfire smoke either, you'll love this propane fire pit because it doesn't have that stink.
You may be able to use it during campfire bans
You'll have to double-check in your area, but most areas will allow controlled propane fire pits like this during wood campfire bans.
Want to see what others say about this firebowl?






.
What I don't like about the Outland Firebowl
My grudges against this propane fire pit actually have nothing to do with the product (the product is fantastic). Instead, they are things that I miss about a wood campfire compared to propane fire pit.
I miss the crackle of a wood fire
This is purely a sensory thing…I miss the sound and crackle of burning wood.
I guess I could remedy this by getting a "Crackling Fireplace Sound" and listening to it on a speaker.
It doesn't throw as much heat as a wood campfire
This is my opinion because I haven't pulled out a thermometer to measure it, but I feel like this 58,000 BTU propane fire pit doesn't feel as warm as most of the wood campfires I've had.
But since most of the time I'm not using this to heat myself up, it isn't a big problem.
You have to make sure you have propane
This seems obvious – if you have a propane fire pit you need to have propane. But it is another thing to remember to pack if you're taking this somewhere.
Where did we get our fire bowl?
We got our Outland Firebowl at a store that sells liquidation merchandise (often from Costco).
So our Cypress Firebowl would be the model found at Costco – which is slightly different than the one found on Amazon. More details below…
Is the Firebowl model on Amazon the same as the one at Costco?
The Outland Firebowl 863 Cypress model found on Amazon has a different burner style and a silver ring around the bowl. According to the manufacturer, the Helios-style burner on the Amazon product has a more natural looking flame.
The photo below is from the Amazon product page. You can see the burner has a unique style: this is the Helios burner.
The Outland firebowl that we have (the Costco model) has a circular fire burner ring as you can see in the photo below.


I'm happy with the flames that come from the circular fire burner ring, so if the Helios style is supposed to be even better then that should be very impressive.

Can you cook over an Outland Firebowl?
The manufacturer states that it is not CSA (Canadian Standards Association) approved as a cooking appliance.
Don't follow my lead, but as you can see in the pictures below I have cooked hotdogs over the firebowl (and S'more too). My reasoning is that I only do this infrequently (its not like every meal is cooked over this), and it is propane flame.
You'll have to do your own due diligence and risk assessment if you want to cook over this propane fire pit.
How to light the Outland Firebowl
The Outland Firebowl Cypress model is easy to light.
Set up the firebowl outside in a well-ventilated area, place your propane tank on the stabilizer ring and have the tank at least 3-feet away from the firebowl but farther if possible.
Double-check to make sure the firebowl flame dial is set to off and the propane tank is closed.
Take the metal lid off the firebowl and set it aside.
Connect the regulator connector to your propane tank by screwing it on clockwise. Only hand-tighten this connection – don't use tools.
SLOWLY turn the propane tank's valve first (so the propane starts flowing into the hose)
Go to the firebowl, ignite your lighter or match directly above the burner ring, then turn the dial on the firebowl to allow the propane to start emerging from the burner ring, the propane will ignite creating a nice flame
So when lighting the firebowl you open the valve on the propane tank first and then the firebowl valve.

The manufacturer says you need to do a leak test before you light it for the first time and then at least once per year or more frequently if any parts have been replaced or serviced.
These are my simple steps to light the Outland Firebowl just to illustrate it is an easy process…but always refer to the owner's manual for the complete and thorough instructions.
Want to see the owner's manual? – Click here.
To Turn off the Outland Firebowl
To extinguish the flames on the firebowl, you turn off valve on the top of the propane tank first. (This makes it so no more propane is leaving the tank.)
Then you go to the firebowl, push in the flame valve and turn to the right (clockwise) to turn it to the off position.
Disconnect the hose from the propane tank.
Allow the firebowl to cool before putting the lid back on.


So when turning off the firebowl, you turn off the valve on the propane tank first, then turn off the firebowl valve.
What if it has a low feeble flame?
The manufacturer says it is very important to slowly open the propane tank's valve otherwise it may trip the safety valve that is in the regulator.
Below you'll see the firebowl's attached tag that states what to do if you have a low flame.
Where can you buy an Outland Firebowl?
You may be able to find this firebowl at your local retailers (I've seen them at Home Hardware in Canada), and if you can't find them there, it is available on Amazon.
I don't see the Outland Firebowl Cypress on Costco app anymore. So they may no longer carry it, but you could check your local warehouse.
How I carry the firebowl around
I just grab the sides of the firebowl and pick it up that way.
It came with some carrying straps but I don't use them. I find attaching them to the firebowl more hassle than help.
You can buy a carrying bag like the one shown below – which looks way better than the straps – but I haven't used one so I personally attest to its value.
Click here to see the carrying bag on Amazon.
If you don't want to carry it by hand, check out the MAC Sports Folding Wagon. (We have one for our beach stuff.)
I hope you've enjoyed my Outland Firebowl review of the Cypress 21-inch model.
My family and I are very happy with the purchase and I bet you will be too.
Up Next:
15 Patio Accessories and Patio Furniture Ideas
Hands on Rapid Flo Garden Hose Review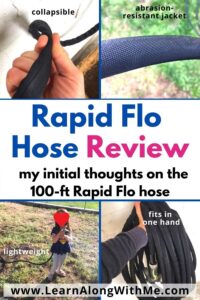 Looking for a folding wagon? MAC Sports Folding Wagon with Table review