Do you have a pool, but you want some protection from the sun's scorching rays? Hopefully one of these 13 pool canopy and pool shade ideas will work for you. (Scroll to see them all…it includes some above ground pool canopy options too.)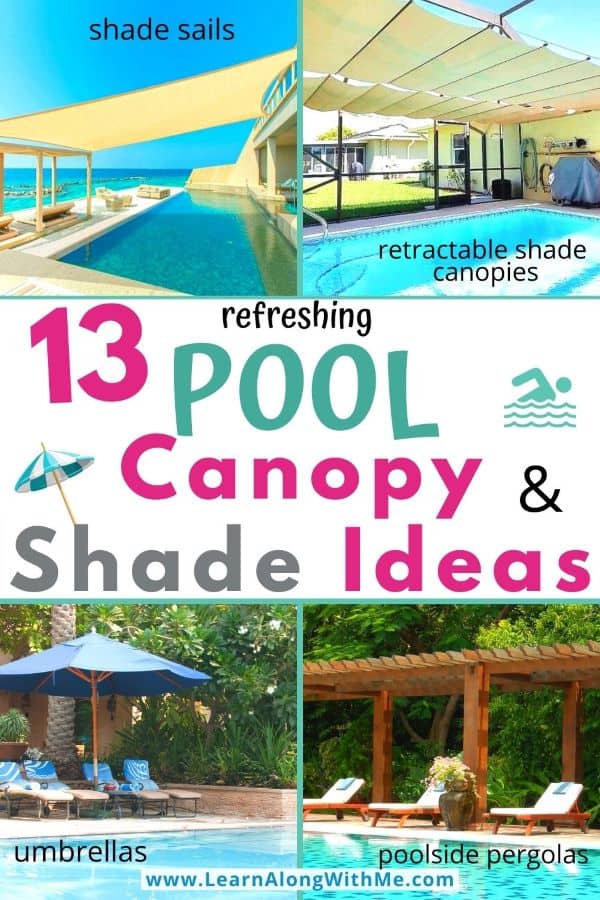 This article contains affiliate links. If you click a link and buy something I may receive a small commission at no extra cost to you. As an Amazon Associate I earn from qualifying purchases. For more information please see the Disclosure page.
Note: this article contains some Instagram photos from publicly shared accounts of businesses. If your company has one of the pictures I feature in this article and you don't want the free publicity and attention, please let me know and I'll replace it with another photo.
13 Pool Canopy and Pool Shade Ideas
Not all of these pool canopy and shade ideas will work for your pool, but hopefully you'll find at least one option to provide you that much-needed, refreshing shade from the scorching sun.
1) Triangular Shade Sails
Shade sails like the one shown above can be a great way to provide some shade directly above your pool.
But you need strong anchor points to attach it to, and make sure you have a tilt, or incline with the sail so that rainwater won't pool on the fabric.
These have become so popular that you'll likely find a contractor in your area who specializes in installing shade sails (if you can't do it yourself).

2) Rectangular Shade Sails
You can also buy rectangular shade sails if that would be better for your backyard pool.
This pool shade cover shown above is also available in a few different colors if you don't like this "Sand" color.

3) Retractable Pool Shade Canopy
Wouldn't something like this be great above your backyard pool?
You can open it up to let the sun warm the pool and "pull the shades" when you are swimming.
This particular retractable pool canopy is made by CableShade. Check them out to see if their products will be right to help you shade your pool.
4) Freestanding Umbrellas
What is good about using an umbrella to shade your pool?
One of the benefits of using umbrellas for shade is that they are portable. You can move them around the pool deck throughout the day to provide shade where needed.
And compared to many of the other pool canopy and pool shade ideas, this one is relatively inexpensive.
What are the downsides to using an umbrella as a pool shade idea?
Wind –The downside is you need to crank them down when you aren't outside or if it gets windy. You don't want a flyaway umbrella hurting someone.
Small area of Shade — Plus, the small area of shade they throw may require you to huddle in that one shady spot in your pool.
You can find sturdy, freestanding umbrellas at most local retailers or patio stores.
You may be interested in…
15 Deck Umbrella Mount Ideas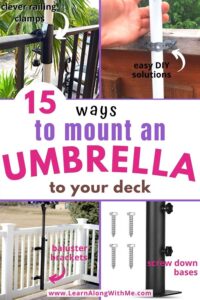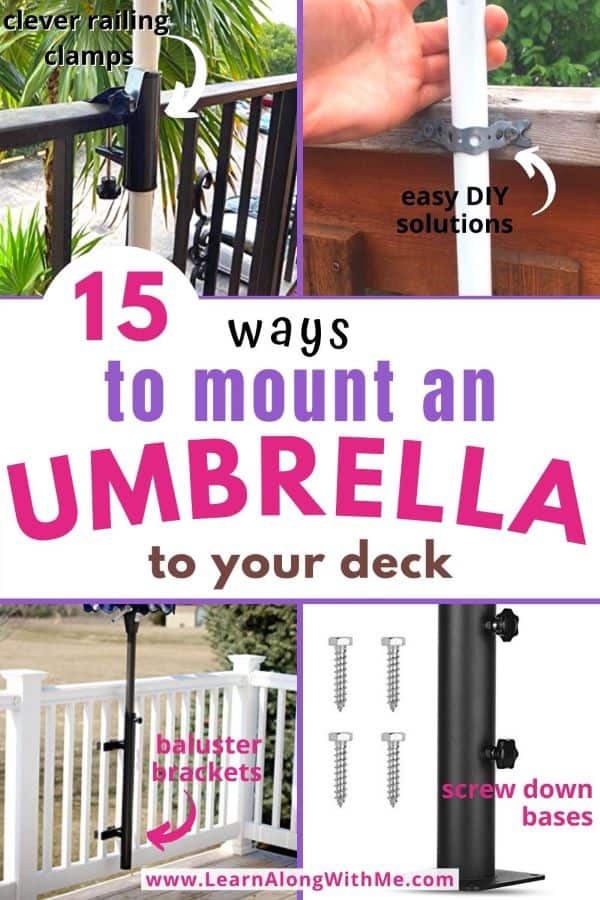 5) Cantilever Umbrellas for Shade
Placing a cantilever umbrella like this one on your pool deck can provide shade that extends onto surface of your pool.
And like the freestanding umbrellas already mentioned, you can move it around the pool deck to follow the sun's arc through the sky.
Because they extend farther out towards your pool, they usually provide more shade than an upright umbrella.
Click here for more details on Amazon.
6) Poolside Pergola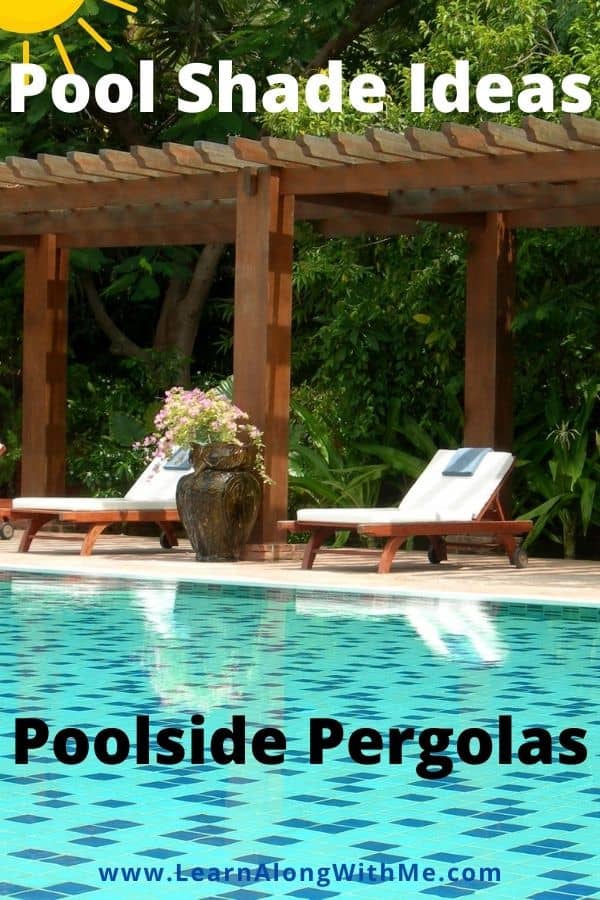 Placing a pergola on your pool deck will provide some shade on the water.
Plus, it will provide some much-needed shade while lounging poolside on the deck.
If you're handy you could attempt a DIY pergola, or you could hire a local contractor to make you an awesome pool pergola.
7) Poolside Pergola with a Retractable Shade Roof
This photo looks a little Photoshopped to me, but it gives you the ideas. It is a 4-post pergola with a retractable polyester fabric roof.
Depending on the width of your pool, would you be able to mount this over top of your pool?
This particular pergola is actually available on Amazon if you want to have a closer look.
8) Cantilever Structure with Retractable Shade Panels
Here is a great Instagram photo showing a unique pool canopy called the Shaderunner.
The structure is permanent, but the shade fabric retracts.
If you want more information on this product, click here to check out their website. (It is an Australian company that makes some pretty cool stuff.)
It's awesome how it can act as as pool shade cover, but then you can retract the fabric to let in the heat when you want.
9) Patio Awnings extending over the Pool
If your pool is located close to your home (or pool house), perhaps you could mount an awning to your house.
Then with the awning extended it would provide some shade for your pool, and give shade to your outdoor patio area.
The website "AboveAllAwnings" has several pictures on their website for awnings above a swimming pool. Click here to check them out.
10) Intex Pool Shade (Above ground pool canopy option)
The company Intex makes many popular above ground pools. If you have an Intex pool and need an above ground pool canopy, perhaps this one from Intex will work.
It attaches using clamps to certain Intex pools:
Prism Rectangular Frame
Prism Oval Frame
and XTR Rectangle pools (with some exceptions)
But before you order, make sure you carefully check if it will fit your size and model of Intex pool.
CLICK HERE for more details on Amazon.
11) Above Ground Pool Shade Canopy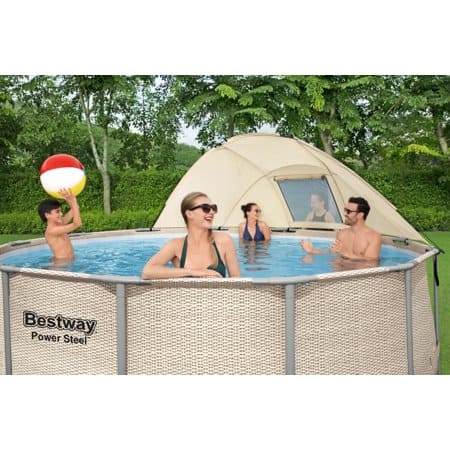 I found this above ground pool canopy on Walmart.com
It is called the Flowclear Pool Canopy Sunshade and it is for round above ground pools that are 12-feet to 14-feet in diameter.
If you need an above ground pool canopy, you may want to check this one out.
12) Pop Up Canopy Tent
I know the picture doesn't show it above a pool…but you'll have to use your imagination for a moment and imagine this as a pool canopy.
You see these all the time at the beach nowadays, and I think they'd make a great above ground pool canopy – especially if you have a small inflatable pool.
Set up one of these pop up canopy tents over your kiddie pool and your little ones will be able made in the shade.
This particular canopy tent comes with 4 bags that you can fill with sand to help secure the canopy against wind. You can probably find a similar one at your local retailer, or you can…
Click here to get more information on this pop up canopy tent on Amazon.
13) Pool Float with Shade (shade for one)
A water float with a shade canopy like this is a good option:
if you don't want a permanent pool canopy
some of the family likes the sun and some don't
you want any easy solution
The actual canopy of it doesn't seem very big though. I don't know how much of your body would actually be shaded by this option (likely your face and shoulders).
You can probably find a pool floatie with canopy at your local retailer. But if not you can click the button below and see what others say about this one.

Up Next:
Don't want your pool to feel like a fish bowl with your neighbor's staring gaze? Check out…
19 Privacy Fence Ideas (create a backyard retreat)
Wondering what to put under your above ground pool?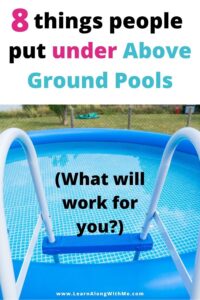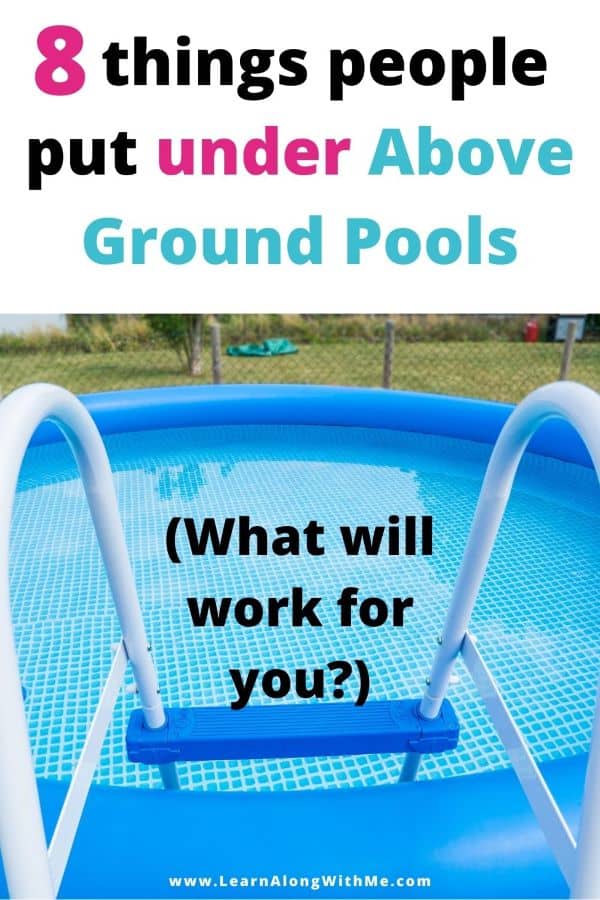 15 excellent Outdoor Towel Rack options (some great pool towel racks on this list)