Are you wondering how you can store your slew of pool floats and pool noodles that seem to end up all over your yard? In this article we'll look at 13 pool float storage ideas so you can store these toys and have them ready for more pool-time fun.
This article contains affiliate links. If you click a link and buy something I may receive a small commission at no extra cost to you. As an Amazon Associate I earn from qualifying purchases. For more information please see the Disclosure page.

How to store pool floats? – List of Pool Float Storage Ideas
Below are several pool float storage ideas that will help you store pool flotation toys, pool noodles, and some of the ideas will work for smaller pool toys too. (Yes, I'm talking about you Rubber Duckie!)
Most plastic floats and toys will degrade over time if continuously exposed to direct sunlight.
To help keep your toys in great shape, try to store them in a shady area if possible.
Not all of these ideas will suit your needs or fit the aesthetic of your pool, but hopefully at least one of the ideas will be right for you.
Scroll through them all to which idea will be the winner.
Pool Storage Bin with wheels
Doesn't this look cool.
It looks like a playpen for pool toys. Set it up on your pool deck and you'll have easy access to your favorite water toys.
This lightweight bin has mesh fabric walls and the frame is PVC pipes.
It features wheels on one end so you can wheel it around your pool deck.
On a hot summer day you can toss wet toys and pool accessories in here and they'll dry off because the mesh allows airflow.
Plus, you can hang your wet towels over the railing so they dry out too. (Kind of like a temporary towel storage spot.)
You do have to assemble it yourself and the number of pieces can seem like a lot, but most people find the instructions easy enough to follow.
And another piece of advice is to assemble the storage bin outside close to where you're going to use it, because this XXL bin may not fit through your doors after its assembled. (This company makes smaller bins too.)
Will this work for your pool and toys?
RELATED ARTICLE: Outdoor Towel Racks for your Pool
Cargo Net Storage Bag
A cargo net is an excellent option for pool float storage, especially if you have limited space. It takes advantage of vertical space.
This particular mesh cargo net organizer is from the company MESH TITAN. It can be hung from a fence that surrounds an in-ground pool, and even off the sides of some above ground pools.
It measures 5-feet wide, and can adjust from 34-40 inches high depending on how much stuff you put into it.
This provides good place to store inflatable beach balls or other inflatables, but smaller toys that fall to the bottom of the organizer could be a bit tricky getting out.
One of the advantages of a cargo net like this is that the mesh material will allow excess water to drip off your toys so they can dry off.
​
And if you only have your pool set up during the summer, you can use this organizer to hold soccer balls, basketballs or other equipment during the other seasons.
The downside to this organizer is that some people find it challenging to attach the net saying there are lots of straps and buckles.
Plus, if the net is not taut, there is a possibility of the floats slipping or falling out.
Do you have a spot for something like this?
Click here to see more details.
Rolling Pool Deck Organizer with elevated shelf
This is a popular pool deck organizer made by the company Essentially Yours.
You can put your inflatables in the bottom bin, store small pool toys and goggles in the side pockets, and keep your pool noodles on the shelf above.
This is a versatile organizer.
Click here to see more details on this organizer.
Pool Toy Storage Baskets
These small hanging baskets for above ground pools or chain link fences won't work to hold pool floats (well, maybe water wings), but they'd be perfect for small pool toys.
Last year we placed a small table next to our above ground pool so we could place our daughter's goggles, dolls and dive toys. Something like this would be a more convenient option.
They are designed to fit above ground pools that have a circular top rail of 2.3-inches in diameter or less.
And note, they aren't very big. There are some really good customer-submitted videos on the Amazon product page which give you a great sense of scale compared to the manufacturer's photos.
If you have an above ground pool and need a place to store small stuff, check this out.
RELATED ARTICLE: Above Ground Pool Accessories you'll want to check out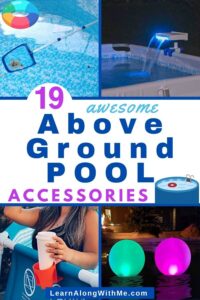 Freestanding Upright Pool Float Storage Rack
This looks a bit like an outdoor coat rack, but it is designed to hold inner tubes and other round floats with a hole in the middle.
It stands just over 4-feet tall so you can stack quite a few floaties on here.
You fill the base with water or sand to help keep it in place.
I live in a really windy area so I think this would blow over at my house, but maybe if you tucked it into a protected corner it would be okay.
Do you have lots of inner tube-style floats? If so…
You can click here for more information.
Wooden Pallet (a DIY pool noodle storage idea)
An old pallet can be repurposed into a creative and unique storage solution for pool noodles.
By securing the pallet vertically against the wall of a garden shed or the side of a fence, you can create compartments between the slats to store pool noodles upright.
I'd be fine with storing pool noodles in a pallet, but I wouldn't keep inflatable toys in or on here.
I'd be worried the wood would splinter and pierce my floatie.
But for pool noodles, I think it could be an almost perfect place to store them. It doesn't take up big footprint and you could tuck it into a corner of your yard.
The advantage of using a wooden pallet is they are cheap – if not free. If you get one in decent shape, it can add a touch of charm to your pool area while keeping your floats organized.
The downside as I mentioned above is that a wooden pallet may splinter. And you may need to sand down any rough edges to ensure kids don't get slivers while putting their toys away.
Also, keep in mind that exposure to the elements may cause the wood to deteriorate over time. Applying some paint or stain can help prolong its lifespan. (And make them look better and brighter.)
If you enjoy DIY projects and want a unique storage option, a wooden pallet can be a creative solution for your pool noodles.
Bungee Cord Storage
This may not be the most elegant solution but it could work to hold your pool floats and prevent them from blowing away in the wind.
As you can see in the picture above they can work against a chain link fence. And they can work against a wood fence too. You may have to screw some hooks into the wooden fence if you can't access the top of the fence post like I did in the picture below.
Decorative Storage Rack for Toys and Towels
Yes this is primarily marketed towards holding pool towels and wet bathing suits, but this attractive storage rack from the Etsy seller EverettLaneDesigns can work to hold some types of pool floats.
Plus, it is a good spot to hang up the kids' life vests, goggles and puddle jumpers.
You could mount it to the fence surrounded your pool (like in the pic above), or you could mount it to a wall near your pool.
You can order it in a 3-foot version, a 4-foot, or a 6-foot long version.
Double Hook (wall mounted option)
A double hook provides a simple storage option for pool floats and life jackets. By attaching the double hook to a wall, fence, or sturdy post, you can hang your floats that have handles. You may be able to directly hang your floats on the hooks, or use a bungee cord like I used in the picture above.
This storage method helps keep your floats off the ground, allowing them to dry effectively and minimizing the risk of damage.
The benefit of using a double hook is they're easy to put up. Just screw them into a solid surface.
A double hook offers a simple storage solution for your pool floats and noodles but you need to make sure the surface you're attaching the hooks to won't pop your floaties.
Additionally, if you have limited wall space or prefer a more organized display, you may need multiple double hooks to accommodate all your flotation toys.
Store your Pool Floats inside your trampoline's safety net
One of the easiest pool float storage ideas that we've come across for our own backyard pool is just tossing our floaties inside our trampoline's safety enclosure net.
Our above ground pool and trampoline are close to each other in our backyard, so when we're done in the pool we toss our floaters into the trampoline.
The tramp's safety net – which is about 6-feet higher than the trampoline – ensures our inflatables don't blow away in the wind.
And the mesh material allows air to flow through, drying off the floats.
Do you already have a trampoline with a net at home?
Wine Rack (for pool noodles)
Sorry I don't have a picture of this "in action" but you know those wine racks that mount to the wall and hold a bottle horizontally? Well instead of holding a bottle of wine, picture your pool noodles there.
The pool noodles may fall off because those racks aren't very wide, but you could use a bungee cord or another strap to keep them in place.
Fence hooks for life jackets or pool noodles
These fence hooks are marketed as pool tool holders, but you could use the hooks as a convenient spot to hang life jackets, and maybe even as a rack for pool noodles.
Check out the picture above. Imagine if you remove the broom from the photo and put your pool noodles there instead.
They'd probably blow away at my house because of the wind, but if you had a nice sheltered spot out of the wind they'd probably work well.
Laundry Basket for small pool toys
A laundry basket can be a convenient and budget-friendly option for storing small pool toys and water wings.
You could also use it to hold deflated pool floats. Simply place the deflated floats inside the basket when not in use.
One of the advantages of using a laundry basket is its portability. You can easily move it around your pool area or store it in a shed or garage.
However, keep in mind that if the basket has a solid bottom and gets wet, it may take longer to dry and could potentially accumulate mildew or mold.
Overall, a laundry basket provides a simple and accessible storage solution for your small toys and deflated floats.
Thank you for checking out these pool float storage ideas.
Will one of these options work for you?
Up Next:
Need a towel holder for your pool? Check out these outdoor towel rack options.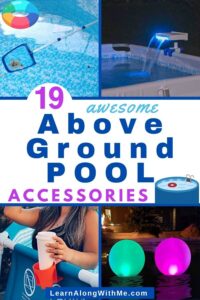 Do you have an above ground pool? If so, check out these awesome Above Ground Pool Accessories