Have you recently bought a pop up camper? If so, you'll probably want to some cool accessories for it. In this article we'll look at 41 pop up camper accessories that are used and appreciated by campers.
If you're from Canada or some parts of the United States you may also call them tent trailers, pop up trailers, pop-up camper trailers, or tent campers. Whatever you call them, these are some accessories you'll want to check out.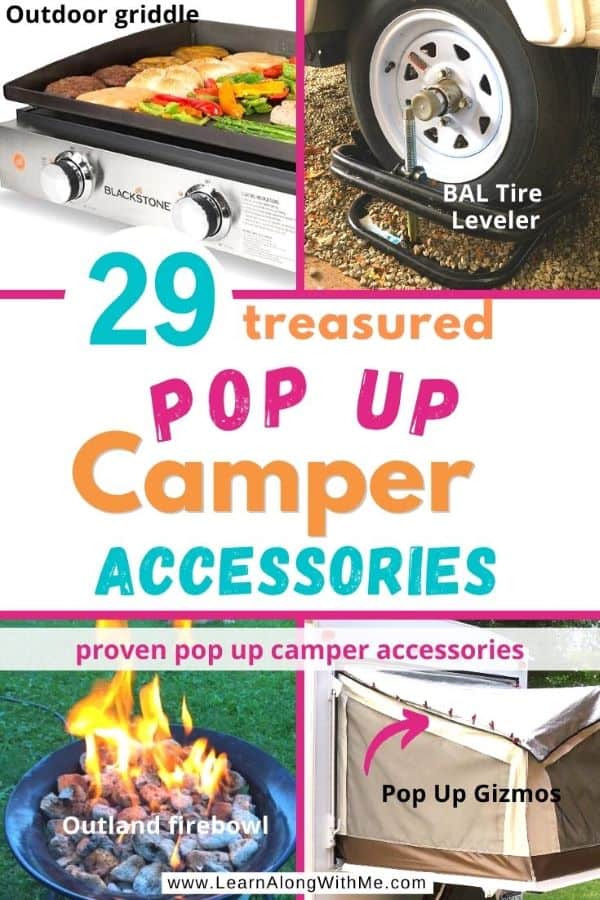 This article contains affiliate links. If you click a link and buy something I may receive a small commission at no extra cost to you. As an Amazon Associate I earn from qualifying purchases. For more information please see the Disclosure page.
Updated to include even more helpful and handy accessories.
The pop up camper I have
Below is a picture of our 1997 Palomino Colt pop up camper.
It is still pretty new to us, but we've been doing lots of research and we've come up with a list of pop-up camper accessories – some of these we already have, some we may get this year, and some don't suit our needs, but may suit yours.
41 Pop Up Camper Accessories treasured by Campers
In the following sections we'll look at accessories for setting up your pop up camper and campsite, then we'll look at accessories for cooking and camp meals, then we'll look at some pop up trailer accessories concerning bathrooms, and then some miscellaneous pop up trailer accessories.
Note I do not consider these "must have" camper accessories because everyone camps differently and has different needs.
Accessories for Setting up the Pop Up Camper and Site
In this section we'll look at some popular accessories that pertain to setting up the pop up camper and setting up the campsite.
1) Backup Camera
Most pop up campers are small enough that they don't obscure your vision while backing them up, but some people choose to use a backup camera mounted to the back of their trailer just for some extra piece of mind.
You can get some that mount to the license plate frame, or you can get a magnetic one – like the one shown above – and stick it on the bumper of your camper.
The camera part of this one by iBALL is battery powered and you can move it easily. So you could move it and use it on your vehicle's bumper to make it easier to hitch up.
Will a rear camera help you back up your camper?
2) Wheel Chocks
Nobody wants their camping investment rolling away on them so it is important to have wheel chocks. These help keep the pop up camper in place and prevent the tires (and hence the whole trailer) from rolling.
Using wheel chocks is important for safety (and peace of mind).
Some people make their own wheel chocks out of wood wedges, or you can buy dedicated wheel chocks like the one shown above.
I don't say many things are "must haves" but wheel chocks (of some kind) are.
Click here to see current price of these wheel chocks.
3) Tongue Jack Wheel Stopper

If you have a wheel under the front tongue jack (which is also called a hitch jack or trailer jack) then you can help stabilize it by placing the wheel on a hard plastic wheel stopper like this one by Camco. And it may also help prevent the wheel from sinking down into soft surfaces.
It may not be essential – depending on where you set up camp – but it could give you a little extra piece of mind.

4) BAL leveler – I love this thing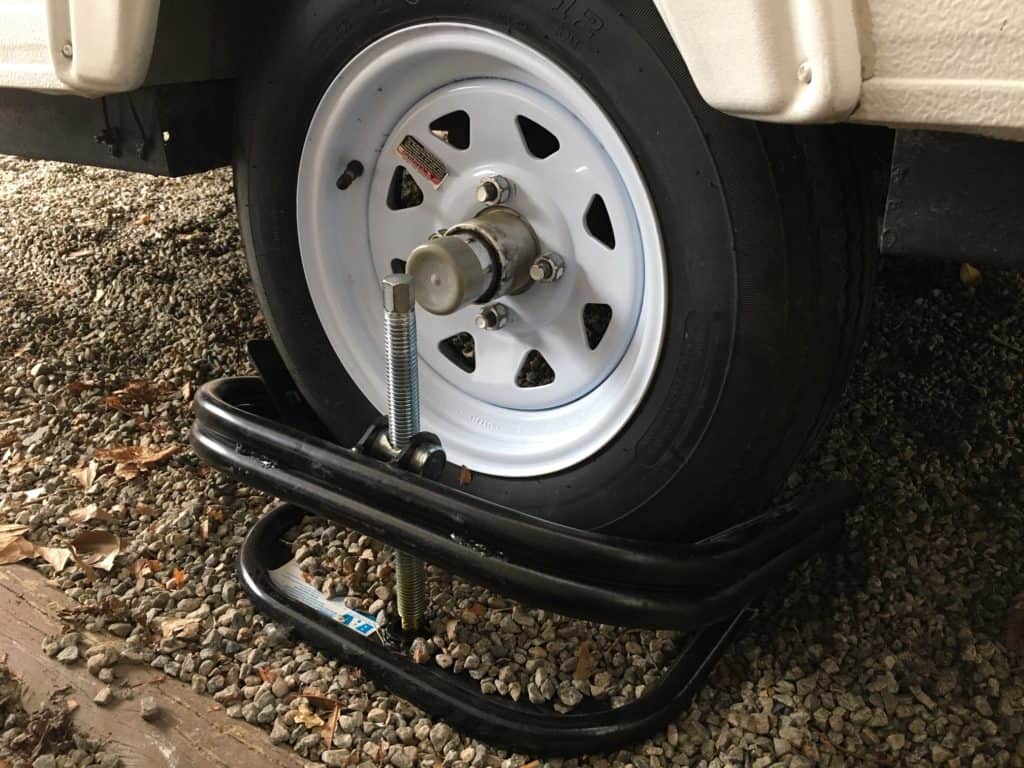 When we bought our "new to us" pop up camper it came with the BAL tire leveler, and I'm very grateful it did.
This RV leveler makes it so easy to level a pop up camper side-to-side.
I wrote an article called how to level a pop up camper using a BAL leveler, that you can check out by clicking here.
If you think this will help you – and you don't like to back up several times trying to find the right height of leveling blocks, you can check the current price of the BAL tire leveler on Amazon.
5) Leveling blocks
If you prefer to back your camper onto leveling blocks, you can buy interlocking plastic blocks such as these ones called "Lynx Levelers" that you can build up or down to suit a variety of heights.
This 10-pack of plastic blocks is available on Amazon where it is quite popular.
(We haven't used these, since we have the BAL leveler, but a lot of other campers swear by them.)
6) Stabilizer Jacks – Scissor Jacks
Once your pop up camper is level and the wheels are chocked, you can begin stabilizing it.
You want to stabilize it to prevent your camper from rocking and swaying when you are moving around inside the camper. Most pop up campers come equipped with stabilizer jacks from the manufacturer.
But over time they may fail or be insufficient. There are replacements jacks on the market including "scissor jacks" like the ones shown above.
These scissor jacks by EAZ-LIFT are rated at 5,000 pounds but you can buy a heavier-duty model as well.
They can bolt onto your camper's frame or they can be welded on.
I've also just heard of campers bringing scissor jacks with them and using them when needed for extra support. (So not bolted on, just used when needed for extra stability.)
Just keep in mind that stabilizer jacks are not intended to lift your camper: they are intended to make contact between your camper and the ground to prevent rocking.
7) Screw-style Stabilizer Jacks
Another option for stabilizing your pop up camper are screw-type RV stabilizers like the ones shown above.
They aren't mounted to your camper: they are portable. You can toss them into your camper, a storage box, or your tow vehicle when they aren't in use.
You could place the 4 of these under the corners (or in other places if your camper needs it), and these will help stop your camper from rocking.
Click here for current price of this 4-pack of stabilizers.
8) Outdoor camper rug
Once you have your pop up camper chocked, level and stabilized you can raise it. After raising it you can begin setting up your campsite, and a good place to start is with an outdoor camping rug.
A good outdoor RV mat will help keep the inside of your pop up camper clean by keeping the dirt outside, and it helps define your outdoor space.
The one in the picture above is a 6'x9′ RV mat, but they come in various sizes.
Will that be big enough for your campsite?
Click here to see more details on Amazon.
Click here to see this concise list of 9 proven Outdoor mats for camping.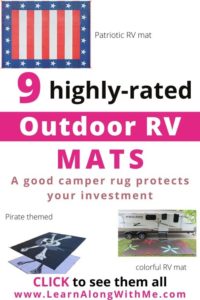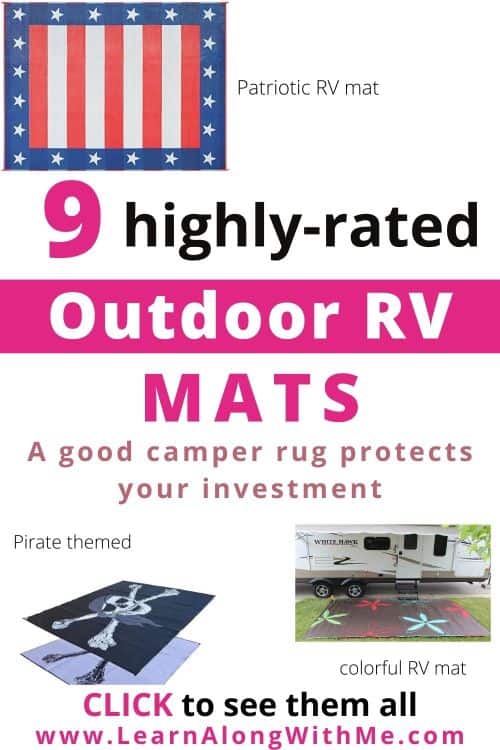 9) Pop Up Gizmos – to help with climate control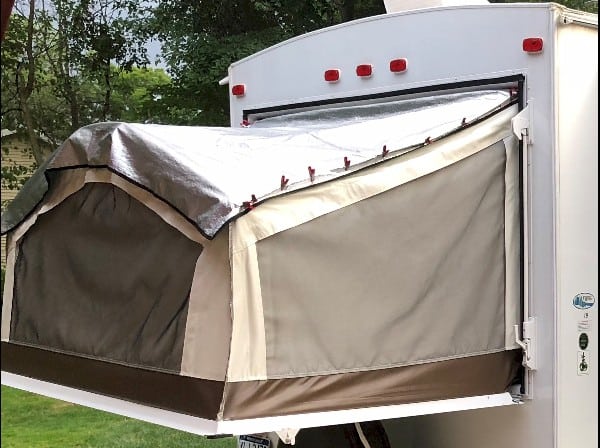 Pop Up Gizmos are reflective covers that go over top of the bunk ends of pop up campers.
They reflect sunlight and can help reduce the heat inside your tent camper while protecting your vinyl or canvas bunk end roofs from UV damage and bird droppings.
Pop Up Gizmos is a "Made in Texas" company and you can click here to find out more about them.
10) Reflectix Foil Insulation – make window inserts to reflect sun
Reflectix insulation can be used to cover your pop up camper windows to try and reflect sunlight away from your camper thereby reducing the temperature inside your pop up.
No one wants to spend their entire camping trip sweating in their ridiculously hot camper.
You buy a roll of the foil (as shown above) and cut it to fit your camper's windows.
You can also use the Reflectix insulation over your slide-out bunk ends as another way to reduce the internal temperature of your pop up tent trailer. (Or you could buy the pre-made "Pop Up Gizmos" for this purpose.)
11) Air Conditioner for your Pop up Camper
Even if you use pop up gizmos and reflective window covers, the inside of your pop up camper may still get too hot for your liking.
Some pop up campers come equipped with rooftop air conditioners direct from the factory.
But many don't.
If you hate the heat, luckily there are options for pop up campers that don't have factory installed AC.
You can buy rooftop air conditioners and have them professionally installed. But I'd be concerned about the extra weight on the roof. (That's why I suggest you talk to an RV tech before launching into a DIY project.)
Or you can get a portable air conditioner like the Black+Decker unit shown above if you connect to shore power.
I haven't personally tried this in our camper, but I know there are people that have. You'll likely want to place it on top of cabinet so it isn't taking up the already limited floor space in your camper.
You need to vent the flexible duct outside through one of your windows. And there is a drain hose you run outside that allows condensation to flow out of your camper.
Another option is installing a small window air conditioner in your pop up camper. (Like the kind you'd put in a bedroom window at home.)
It is a feasible DIY project that can give you some nice cooling relief. Places like Walmart and hardware stores usually sell these fairly cheap. And since they have to be mounted near a window they aren't taking up a lot of your living space.
12) Space Heater for Cool Weather Camping
Do you want to take the chill out of those cold nights or frosty mornings?
Our Palamino Colt doesn't come with a furnace or heater. If we wanted to camp in cool weather, we'd have to look into getting a space heater.
If you're plugged into shore power at a campground you can use electric space heaters like the one shown above.
At home I generally prefer to use the oil-filled electric heaters but they are usually too tall to store upright in a closed pop up camper.
An infrared unit like this one from Dr. Heater measures only 11″x13″x16″ so it a fairly compact unit.
(And you can actually get portable air conditioners that have a heating feature too: two birds with one stone.)
13) Extension cord for your Pop Up Camper
When you're camping at a campground with electrical service you may come across situations where the power outlet is across the campsite from where you want to park, or on the opposite side of your camper's electrical inlet.
In these situations you'll be thankful that you have an extension cord rated for RV usage like this 25-foot cord from Camco. (It also comes in a 50-foot length, but many RV owners prefer to have 2x25ft cords instead of one 50ft cord.)
Most pop up campers are 30-amp, but check with your pop up camper's owner's manual to see if you need 15-amp cord (which some older campers use) or if you require adapters to make it all work.
For more information on 30-amp service or 50-amp service at campgrounds check out this article on PopUpPortal.com

If you're plugging into shore power at a campground, you'll want the accessory below.
14) Surge Protector for your Electrical System
It's great to get to a campsite and be able to plug into "shore power" and utilize electricity from the campground's hookup.
But campground electrical systems are notorious for having power surges and drops.
To help protect your pop up camper's electrical system from one of these surges in electricity, you can purchase a surge protector.
You plug the male end of your camper's power cord into the female end of the surge protector, and then plug the male end of the surge protector into the campsite's power pedestal outlet.
15) Dogbone Adapter (15 amp Male to 30 amp Female)
You may wondering what this thing is and why you'd need one.
It is an electrical adapter that allows a 30-amp camper to plug in to a 15-amp electrical outlet.
It is called a dogbone adapter because it kind of shaped like a dog bone.
If you're camping at a campground with power hookups, these RV parks will likely have a 30-amp outlet to plug your camper in to. No problem right. But what about at home or when parked in your friend's driveway?
Most homes just have a standard 15-amp electrical outlet outside. And your camper's 30-amp power cord won't directly plug into this smaller-sized 15-amp power outlet.
That's why it is good to have an adapter like this.
This is a popular and well-rated adapter from Camco that you can find at many retailers or you can click here to see it on Amazon.
For more information on dogbone adapters and campsite shore power, check out my article about this.
16) Propane Fire Pit by Outland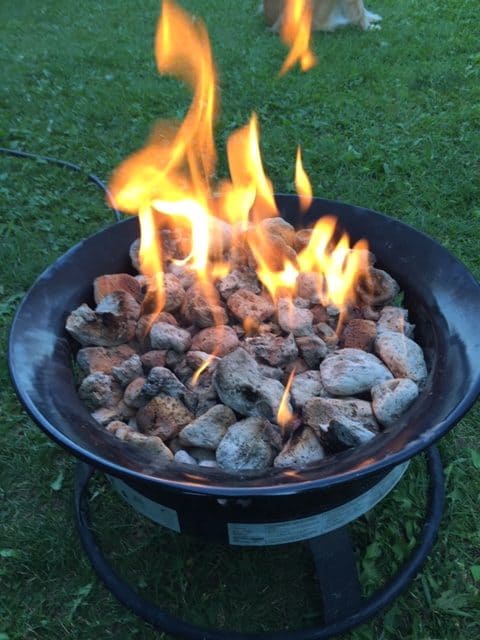 We have a propane firebowl by Outland and we love it. You can enjoy the flickering flames without the stinky smoke of a wood fire. It is great for cooking marshmallows and hotdogs (though it isn't technically approved as a cooking appliance).
And in many places, you are allowed to have a propane fire pit during fire bans – just check with your local jurisdiction first.
It is available in a few sizes including 19-inch, 21-inch and 24-inch. They are available on Amazon or you may be able to find the Outland firebowl at a local hardware store or outdoor store.
You can check out my Outland Firebowl review by clicking here.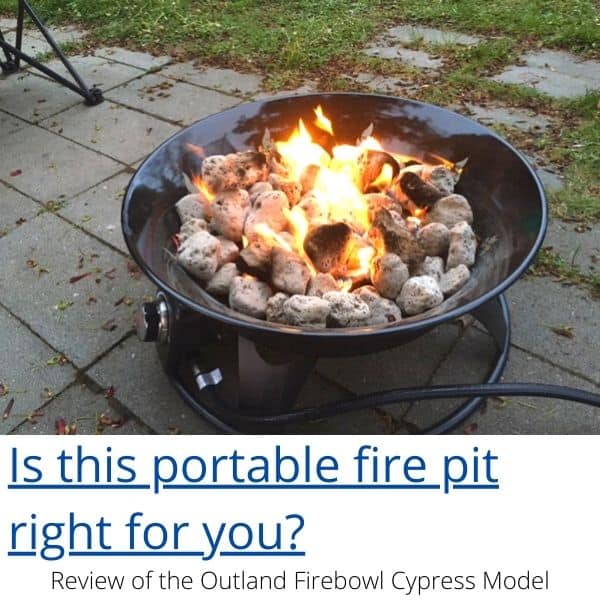 17) Pop Up Screen Tent to keep bugs away
On our recent camping trip there were so many wasps buzzing around. It was frustrating.
So we went into town to buy the hexagon-shaped Coleman 15×13 Instant Screen house as shown above.
We set it up then place it around our picnic table to keep the wasps and bugs away from our food.
It worked really well and was easy to set up and take down.
The only challenging part was setting up the tent on the grass and then trying to lift it over the picnic table. This wasn't due to the weight though…it was because my arms aren't long enough to grab two adjacent poles on a side.
What I'll do next time is just unzip the zipper door and slide the screenhouse around the table. That should do the trick.
If there are lots of wasps where you camp, check out this cool pop up screen house. You may be able to get one at your local retailer, or you can click here to see it on Amazon. (And after we bought it I see that it gives UV protection too!)
Accessories for Food and Drinks while Camping
In this section we'll look at accessories for your pop up camper that involves food and drinks such as cooking equipment, storing food and drinks and of course making coffee!



18) Camp Chef Sherpa table and storage compartment
It is hard to tell by this photo, but this organizer/tabletop is really handy. It has a roll-out aluminum top that can be placed on the top to provide an outdoor work surface. And inside the zippered opening there are 4 separate padded bags that can be used to store dishes, cutlery, cookware and more.
It also has telescoping legs so you can raise it to be up off the ground, or push them back in for easy storage and transport. This came highly recommended in some Facebook camping groups I'm in.
Below is a picture of it that provides better sense of scale.

19) Coffee Maker or Kettle
Just because you're camping doesn't mean you have to have bad coffee.
Campers have lots of options to make coffee including:
The AeroPress Coffee Press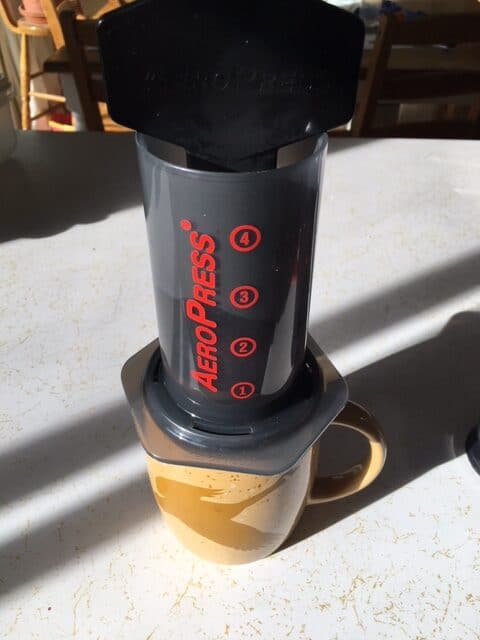 The AeroPress Coffee Press is a pretty cool device. It just requires you to heat up water in a kettle or pot then pour the hot water into the top of the AeroPress.
We recently bought one and I like it so far. The best part is that the coffee isn't as bitter as drip coffee or a French press. In the picture above is my AeroPress. That black thing sticking out of the top is the stir stick.
After you add the hot water and stir it around, you insert a plunger into it and push the hot water down through a filter and into your coffee mug. (The product photo below shows the guy pushing down on the plunger.)
Click here to see more details of the AeroPress coffee maker.
Melitta Pour Over Coffee Cone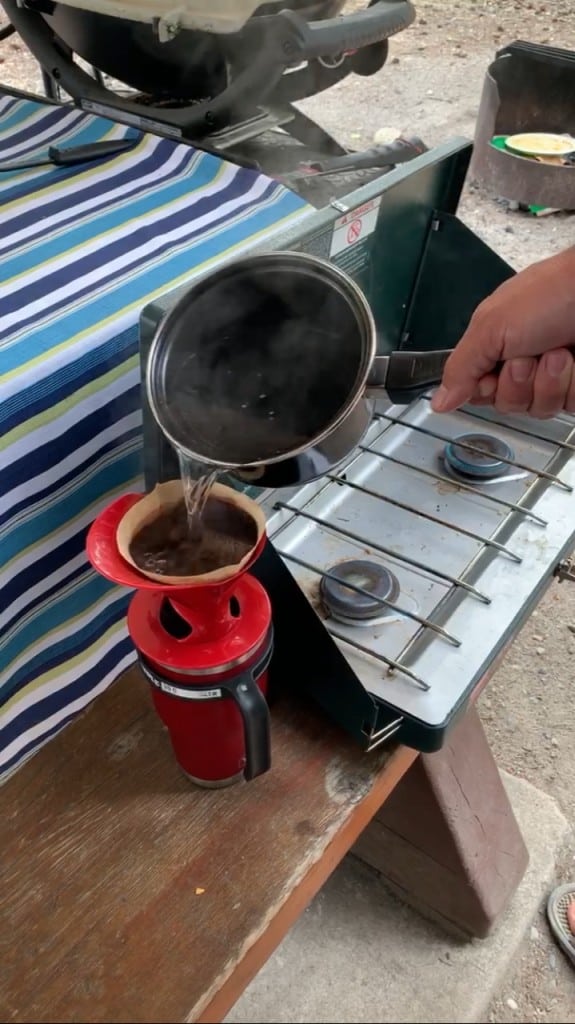 Another simple option for making coffee while camping is the Melitta Pour Over Coffee Cone. It is the red cone in the picture above. This is what my brother-in-law uses while camping. He heats up the water in a pot over his propane camping stove then pours it into the coffee cone.


Plus you can also get the Coleman Camping Coffee Maker which goes on a propane stove, or if you want to have the option to make coffee over a campfire you can get a stainless steel percolator like this from Coletti.


20) A good quality cooler
Many pop up trailers (especially older ones) only come with an ice box, not a fridge. Lots of campers use a quality cooler such as a Yeti, or even a Coleman cooler to keep their food and drinks cool over the weekend.
The Yeti cooler shown above is the Yeti Tundra 45. My sister-in-law has one and really likes it. I find it a little heavy. (They claim dry weight is 24 pounds. You put some ice and food in there and it adds up fast.) Yeti also makes a version with wheels called the Yeti Haul.
Click to see more details of the Yeti Tundra 45 on Amazon.
21) Outdoor Camping Grill – Blackstone
We currently just have an old 2-burner Coleman cookstove and the one that came with our pop up trailer, but a lot of campers rave about their Blackstone grills. You can use them to make eggs, pancakes, burgers and so many other cooking meals.
It is available in a few different sizes. This one shown is the 22-inch tabletop model (without a hood). You do have to season the grill before using.
It is a popular outdoor grill that is available on Amazon and several other retailers.
22) Camco Dish Drying Rack
We recently bought a Camco dish drying rack (mini size). It came in handy because it fits in our pop up camper's small sink. And if you are staying at a campground with a dish washing station, you can easily carry this with you.
I wish I would have bought the set that includes a small wash tub (like below), but we are making this work so far.
Pop Up Camper Bathroom Accessories
Some pop up campers come with cassette toilets, but many pop up campers do not come with toilets or showers.
So in this section we'll take a quick look at portable toilets, showers and their related accessories for when your pop up doesn't have a bathroom.
Every person's and family's toileting habits and needs are different. Some people are okay with public washrooms and some aren't. Your needs are different if you camp alone versus if you are sharing your camper with friends.
So these camper bathroom accessories aren't intended to judge people one way or another, they are simply possibilities that may make your camping experience more enjoyable.
Portable Toilets
There are several styles of portable toilets on the market. We have yet to buy one for our pop up, so we don't have any first-hand experience with these but I've listed ones that are popular with other campers.
These would be handy for a nighttime bathroom pee break instead of trying to head to the outhouse in the dark.
23) Portable Toilet with 5.3 Gallon Waste Tank and waste-pouring nozzle
This flushable portable toilet from SereneLife has a waste-pouring nozzle to allow for easier emptying.
We don't have one of these, but a lot of campers seem to like this one. It is available on Amazon if you want to read more about it.
24) Luggable Loo Portable Potty Seat and Bucket
A good old bucket toilet!
This lightweight portable camping toilet option can be used with plastic bag liners to "catch" the waste. If you are a female primarily using it for urine you could pee directly into the bucket and then put the toilet paper into a separate garbage bag; this would make it easier to pour out the liquid waste into a toilet or sani-dump station.
Or some camper put a bit of cat litter in there and primarily use it for urine. (Maybe this would help with the urine smell?)
Click here to see more details on Amazon.
25) Pop up Privacy Tents for Toilet or Shower or both
If you don't have a public washroom nearby – or you choose to avoid it – you can set up a privacy bathroom tent near your camper and it'll provide you some privacy while you use your portable toilet, or change your clothes.
And this particular model of privacy tent by Green Elephant can be used as a shower tent too. It doesn't have a bottom so no worries about pee or shower water dirtying the floor. (But it could make the ground muddy so you'd want something like an elevated bath mat to stand on.)

There are a lot of pop up privacy tents on the market, and this one from Green Elephant is marketed as being spacious and better for tall people. But there are other privacy tents out there such as this one from GigaTent (click to see it on Amazon).
26) Plastic tote with lid for bathroom needs
It is handy to have a plastic tote with a lid to store toilet paper, baby wipes, feminine hygiene products, hand sanitizer, and any other products you'll need near your toilet.
For more ideas on how to use plastic RV storage bins to improve RV organization click here.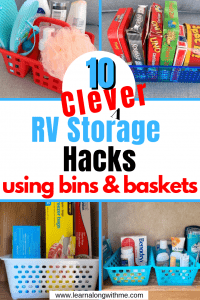 27) Outdoor Shower by Ivation
You can buy simple solar shower bags to shower outdoors while camping – which requires you to hang the bag of water up high – or you could get a battery-powered shower pump like this one from Ivation.
You put one end into a bucket of water and it pumps the water up to the shower nozzle end. The heavy bucket of water can stay on the floor and you can hold the showerhead in your hand or suspend it from your pop-up shower tent. It is battery powered and rechargeable but requires a USB port to charge.
Interested?
Click here for more information.
RELATED ARTICLE: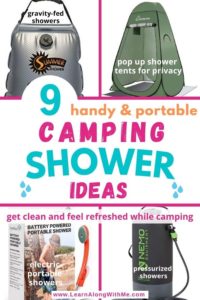 Click here for 9 Camping Shower Options (get clean while camping)
Miscellaneous Accessories
In this section we'll look at a variety of accessories that can't easily be classified into our above categories.
28) Plastic Storage Cart with Drawers to store clothes in a pop up camper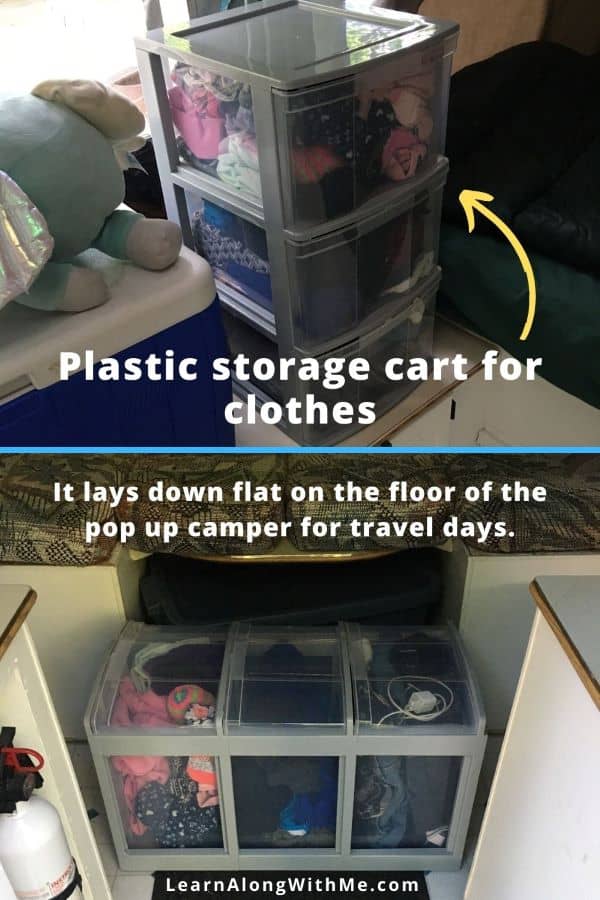 We discovered that a plastic storage cart with drawers works well to store clothes in our pop up camper.
And if you want to keep your clothes in their on a travel day you can simply flip the dresser onto its back and the beds should slide right over top. (Make sure to measure your clearance and buy an appropriate sized storage cart.)
I wish I would have bought out with taller drawers though. It was tough getting a weekend's clothes into one compartment. (We got one drawer each.)
You May Also Like:
31 proven Pop Up Camper Storage Ideas
29) Memory Foam Mattress or Mattress Topper
Does your pop up camper mattress make you feel like you're sleeping on a pile of bricks?
To improve the comfort of their camper mattresses many people opt to either swap out their current mattress or to put a memory foam mattress topper onto their mattress.
Since there are a variety of mattress sizes in pop up campers you can cut most foam mattress toppers to fit your particular mattress. The foam mattress topper above is the 3-inch thick Queen size topper by RUUF. If you want to see more details, click here to see it on Amazon.
Pop Up Camper Mattress Sizes
Pop up camper mattresses come in a variety of sizes. Some pop ups have Double (full), Queen or even King size mattresses. And some pop up models have one bed a certain size, and the other mattress will have a different size. (So there may be one Queen size and one Double size mattress.)
The mattresses in our 1997 Palomino Colt are about 48″ by 75″. This is close to a double bed size. We use fitted sheets for a double bed to stretch over the pop up camper mattress. They sheets are slightly larger than the mattress but we just tuck in the excess.
30) Electric Blanket
If you are sleeping in your pop up camper during chilly nights and you are plugged in to an electrical outlet or have a really quiet generator then an electric blanket will provide you warmth and comfort.
This particular one is made by Westinghouse, so you know it isn't a "fly by night" company. (They were founded in 1886!…exactly 49 years to the day before Elvis was born.)
Other Tips for Camping in a Pop Up camper in cold weather
Try heated electric mattress pads
Or put interlocking foam pads under your mattress (as extra insulation)
Stuff blankets around the edge of your bunk ends to seal off any drafts
Get bunk skirts to go around the exterior bed portion of your camper
Get a space heater – like mentioned earlier – if you're plugged into shore power
31) Beeswax Candle
We have a Palamino Colt pop up camper and the owner's manual suggests we keep some beeswax in the camper to help plug up any small leaks that may occur in the vinyl siding of our tent trailer.
It says to go outside and apply the beeswax to any leaking needle holes (seams) from the outside.
32) Duct Tape
It is always a good idea to bring some duct tape with you. You just never know when you're going to need it.
On our recent camping trip I used it to tape together the wrinkly curtain for more privacy, and to tape up a sagging drawer. Such a useful camping accessory.
33) Fuses
What fuses are required in your pop up camper?
Have a look at your electrical box (ours is located under the dinette bench), and note what fuses it takes, or check your owner's manual.
Buy some extra fuses and have them onboard just in case.
34) RV Broom
A compact RV broom or any broom dedicated to your camper will help you keep your outdoor camping mat clean and help you clean the inside of your camper clean too.
This is a popular RV broom from Camco. (Camco model 46323)
35) Handheld Cordless Vacuum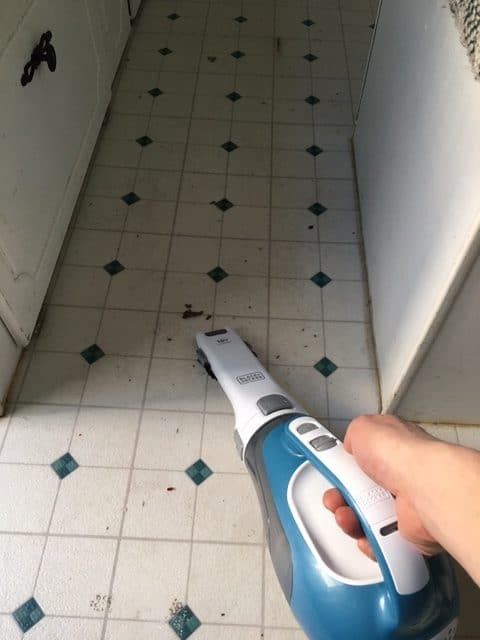 A handheld, cordless vacuum can be good to suck up crumbs and little bits of dirt. I hate most dust pans, so sometimes I'll sweep up dirt into a pile and then suck it up with our Black and Decker handheld vacuum. (As in picture above.)
It does require AC electricity to charge it, but if you're going on a short trip boondocking you could charge it up at home, leave the base at home and use the vacuum sparingly while camping.
I haven't ran the battery completely dead, so I don't know how many minutes it lasts, but since a pop up isn't huge, it should do the trick for you.
36) Basic Tools
It is wise to bring some basic hand tools with you in case you need to do minor repair or adjustment.
37) Power strip with USB port
If you plug into the electrical service at a campsite it is handy to have a power strip with USB chargers inside your camper. You can find these at most retail stores, or you can check out this one on Amazon.
38) LED Headlamps (work well as overhead bunk lights)
We bought some LED headlamps and my girlfriend discovered they work well as makeshift ceiling lights. I took the photo above to show you what I mean.
The ones we bought take 3 AAA batteries. I think next time I'll get a rechargeable headlamp we can recharge it using our pop up camper's solar panel.
Below are some well-rated LED rechargeable headlamps that are available on Amazon.
39) First Aid Kit
A first aid kit is a must for camping and you should always have one in your pop up camper or your tow vehicle. You can find them at most pharmacies, department stores or on Amazon.
40) Tire Covers to protect the rubber during storage
UV rays from the sun can degrade the rubber side walls of your pop up camper tires. And the last thing we want is a blowout on the highway.
To help protect against this damage, you can get slip-on tire covers like this 2-pack from MOONET.
Measure the outer diameter of your whole tire and then choose a size that will fit your tires.
41) Get a Pop up Camper Cover
To help protect your camper from the elements while it is not in use, you could park it indoors or cover it with a high quality pop up camper cover.
Make sure to measure your camper to ensure you're buying one that will fit well and hold up to wind stress (not be flapping in the breeze).
Thank you for checking out this article on pop up camper accessories.
As you can see there are lots of things you could buy for your pop up camper, but you don't necessarily have to. There are lists out there saying "must haves" or pop up camper essentials but since every tent trailer is different – and every person is different – I think the statement of "you have to have this" are a little pushy.
Now it is your turn…what is your favorite accessory for your pop up camper?
Up Next:
31 proven Pop Up Camper Storage Ideas
How to level a pop up camper (using a BAL tire leveler)
How to stop your RV from Rocking (aka How to stabilize your RV)
Plus, check out:
75 RV Organization Accessories (not specific to pop ups…includes other RV's)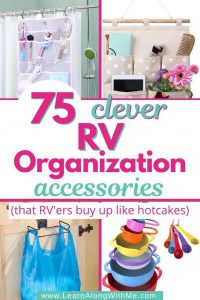 11 popular Camping Fan Options [help keep cool in your pop up camper without an AC]
9 well-rated Portable Stool Options [take a break and grab a seat]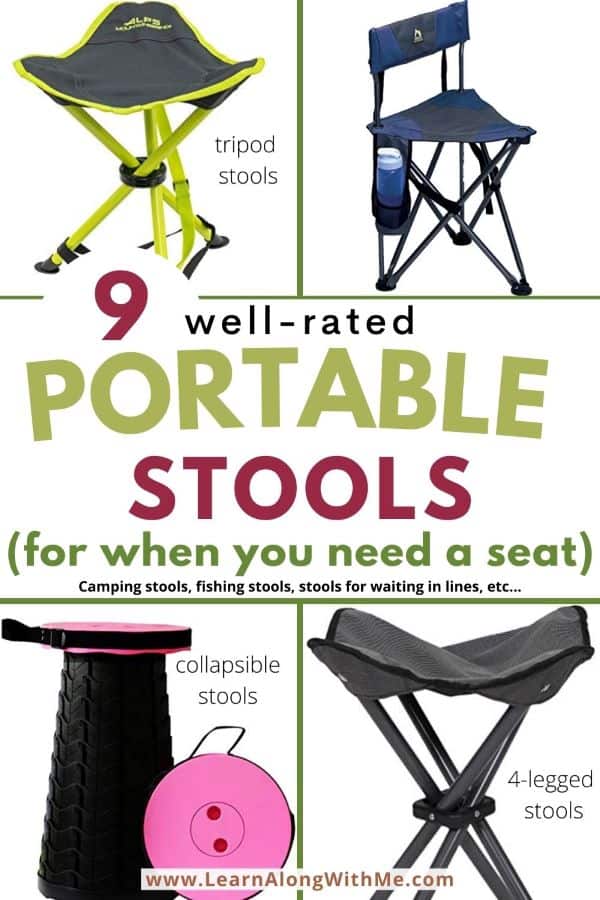 33 awesome Campfire Accessories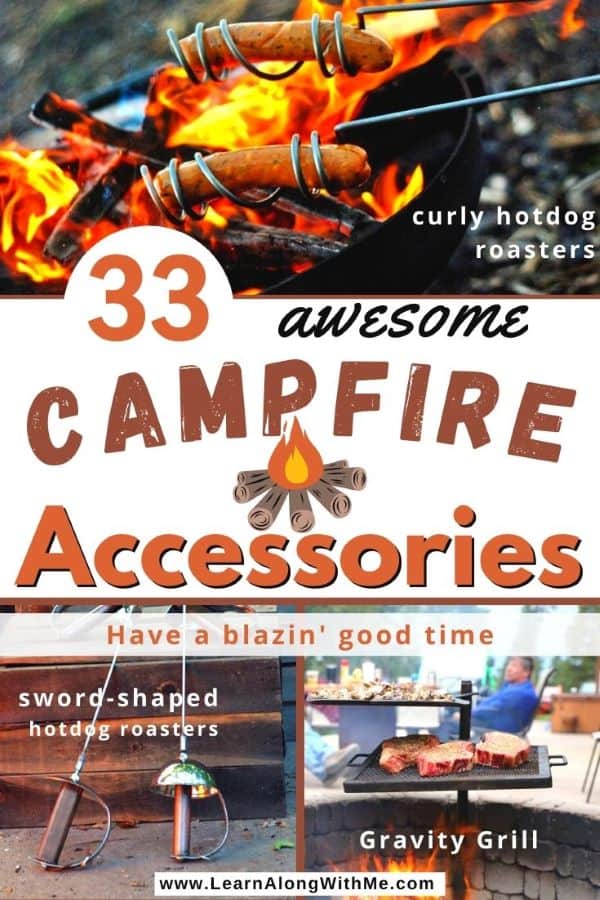 Thank you and have fun camping.
Tim
Tim worked in construction for a few years before going to university. Then he worked as a community pharmacist for 10 years and now works as a full-time writer and online publisher. He has experience in several different, far-reaching lines of work.
"I sincerely hope you find the articles helpful and informative."
Tim from LearnAlongWithMe.com