Do you want some storage solutions for your camper? These pop up camper storage ideas will help you make the most out of the small space in your pop up camper.
Pop up campers are great lightweight trailers, but their small size means they usually don't have much room nor dedicated storage space. The ideas in this article will help you get your camper organized so you can actually find stuff.
This article contains affiliate links. If you click a link and buy something I may receive a small commission at no extra cost to you. As an Amazon Associate I earn from qualifying purchases. For more information please see the Disclosure page.
31 Pop Up Camper Storage Ideas
If you own a pop up camper (aka pop up trailer or tent trailer) you'll know the benefits of these little campers: easy to tow and nice "airy" interiors.
But the limited space can quickly become cluttered with your camping supplies.
The best thing I've read about pop up camper organization is learning as you go. You'll learn what you need & use, and what you don't. You'll learn you don't need so much stuff.
You'll whittle it down so you'll only need to worry about organizing the essentials.
Here is our list of pop up camper storage ideas and hopefully some of them will help you.

We haven't used all of these in our 1997 Palomino Colt pop up camper, but we may try some in the upcoming season.
I learned some of these organization ideas from various Facebook groups and by asking fellow pop up campers. They had some great tips.
Below is a picture of our Palomino pop up camper. (Often called a tent trailer in Canada.)
Milk Crates for storage
We've found that plastic milk crates are super handy for storing stuff in the pop up camper, and for packing stuff for the trip.
Milk crates are easy to bring into the house, fill up with supplies, and then put into the camper.
I don't know if it'll work for your camper, but with our '97 Palomino Colt the milk crates fit inside the camper when it is closed up: they slide right under the beds.
Milk Crates for Dirty Dishes (Dirty Dish Caddy)
And we discovered another use for milk crates. We piled our dirty dishes into it and packed the dishes to the campground's dish washing station. (I love when a campground has one of these!)
So basically we use the milk crate as a dirty dish caddy. And then once the dishes are washed, you can rinse out the milk crate, then put the clean dishes back inside to return to the campsite.
The holes in the crate allow airflow, so the milk crate essentially becomes a dish drying rack too. (We have since bought the Camco RV dish drying rack.)
Milk crates are a versatile pop up camper accessory.
Storing Dishes in a Pop Up Camper
Below are some ideas on how to store dishes in a pop up camper. Many PUP's have drawers and cabinets for dishes, but some don't, and some people choose to use the drawers and cabinets for other things.
So here are some pop up camper dish storage ideas.
Hanging Mesh Tower for Plastics Dishes
I had never thought of using these to store dishes before until I came across it in a Facebook group. (I'd only ever seen these used for holding stuff animals and toys.)
A fellow pop up camper said they hang one of these near the sink and use it to store their plastic dishes like plates, cups, bowls and even dish towels.
I think it's a smart idea if you have lightweight dishes. Another good way to make the most of vertical space in your pop up.
You can probably find them at a local store, or you can click here to check out this set on Amazon.
Store your dishes in a Grocery Tote Bag
Do you regularly eat your camping meals outside?
If so, a durable grocery tote like this one makes it easy to pack your dishes outside, and bring them into your pop up when required.
Depending on the size of the tote, you can usually store the tote of dry dishes under your dinette table or in the aisle of your camper when it is folded-down.
This particular grocery tote is a very highly-rated and popular grocery tote by CleverMade.
Plastic Totes to Store Dishes
Another popular way to store dishes in a pop up camper is by using a plastic tote.
I read many people in a Facebook group say they use this method.
A plastic tote:
makes it easy to carry your dishes outside: where many campers eat their meals anyway
can store in your camper aisle or under table when folded (like ours in the pic above)
is easy to clean out and wash when necessary
You can even pack your dirty dishes to the campground's dish-washing facility if they have one.

And when you're packing for your trip you can also put some extra rolls of toilet paper and paper towels over top of your dry, clean dishes.
It'll ensure you've brought these paper products, and it'll help protect your dishes from shaking and sliding around. (Especially useful if you do have some glass or ceramic dishes.)
Plastic containers are one of the most tried and true pop up camper organization ideas.
Plastic Organizer with Drawers
Some campers use 3-drawer plastic bins to hold their dishes and kitchen utensils.
When the PUP is collapsed you place the organizer in the aisle of your camper.
And once the PUP is set up you can place these on your counter space, or bring it outside to the picnic table.
(I know in the photo above it shows stationary but just imagine your dishes and cutlery in an organizer like this.)
Just make sure you measure the size of the plastic drawers to ensure your plates and bowls will fit inside.
These can be a great way to organize the stuff in your camper's small kitchen.
Get a Dishes Set that Comes with a Bag – Wheat Straw Dishes Camping Set
Many people that have a pop up camper are eco-conscious people. And here is a lightweight camping dishes set made of wheat straw.
I've included it in this section because it also comes with its own carrying bag.
If you need camping dishes, and you don't want to buy plastic, check out this set.
Over the Cabinet Door Hanging Wire Baskets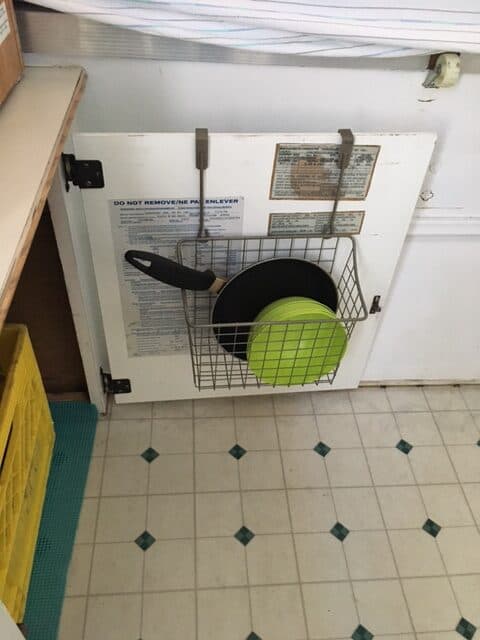 When we bought our used pop up camper it came with a couple hanging wire storage baskets.
The one in the photo above hangs on the cabinet door and fits nicely inside the cabinet (it closes when the milk crate isn't in there).
We currently use it for bowls and a small fry pan, but you could use it for a variety of items.
Our camper also came with a second basket that hangs above the kitchen sink and holds dish soap and other dish-washing supplies. (I don't usually use our pop up camper sink for dishes though…I try to use the campground facilities or wash them outside in a wash basin.)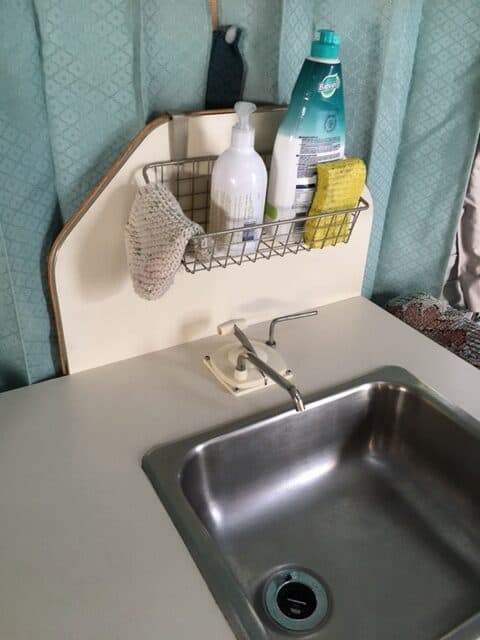 Nesting Bowls
Nesting bowls like these ones can help reduce "cabinet sprawl." (When the items in your cabinets spread out and take up too much space.) You can whip up some pancake batter or prepare a salad in one of these bowls.
This particular set is a great idea because it comes with lids so you can use them as food storage containers after you're finished eating.
Plastic Bins and Baskets – classic pop up camper organization idea
Using plastic bins and baskets inside of your cabinets is a simple way to keep things organized.
Depending on the size of the plastic containers, you can store lots of different stuff in them.
They're a great way to store little things.
For more ways to use bins and baskets in your RV check out our article on this…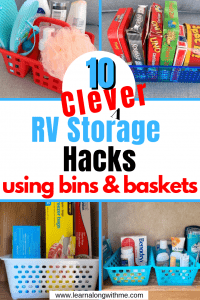 Shower Lanyards
A camping shower lanyard is a great way to tote your shampoo and soap to the campground's shower facilities. (Or you could use it in your own outdoor shower if you have one.)
You can get a lanyard and attach your shampoo, soap and conditioner to it so you can shower with these items draped around your neck.
The benefit of a shower lanyard is that your bottles don't have to touch the ground or shower floor.
And you won't leave your shampoo bottles in a shower stall…because it's around your neck the whole time.
Pop Up Camper Clothes Storage
A common question that campers have is how to store clothes in their pop up camper. And everyone you ask will likely have a different answer to this. Below I'll highlight some pop up camper organization ideas for clothes, and you can judge which one will work for you and your family.
Plastic 3-drawer Dresser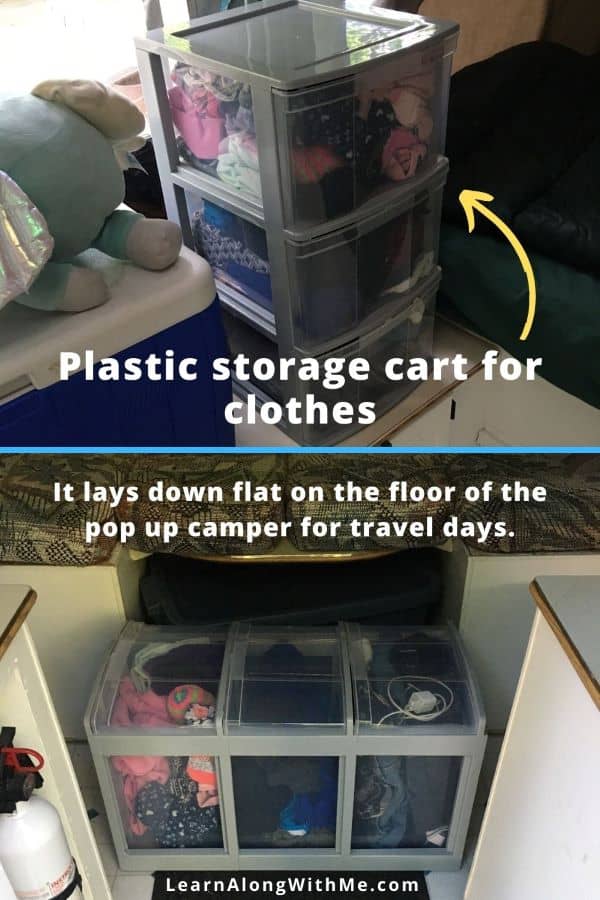 Many people use plastic dresser drawers like these to store their clothes. They are light enough to be brought inside the house to pack, and carried back out to the trailer on travel days.
They may be too tall to stand up and still have the camper close up, but you can lay it on its back like we do.
I was happy storing our clothes in one of these – it is a good idea – but I think I'd like one with wider plastic drawers.
It's not like we went on a long trip – they were only weekend trips – but it was still a tight fit for our clothes.
Hanging Closet Shelves
Hanging closet shelves like this 2-pack from GRANNYSAYS are a popular way to store clothes in pop up campers.
Some PUPs already have hooks mounted to the ceiling. You could put this hanging shelf on there.
Or you could hang them from your bunk end poles (and set aside during the night when you're sleeping).
And another option would be to place a tension rod horizontally near the ceiling of your pop up camper to act like a closet rod for these hanging shelves.
Duffel Bags
A lot of campers just use duffel bags to store their clothes they're pop up camping.
The duffel bags can be kept in the tow vehicle (and just pick out the clothes as needed for that day), or can be kept inside the pop up.
When I'm camping or traveling I bring some plastic bags with me for dirty clothes. That way I can quickly tell my dirty laundry from my clean clothes.
Stow N Go Travel Luggage Organizer
A fellow camper in a Facebook Group mentioned he uses the "Stow N Go luggage organizer" to store clothes in his pop up.
He didn't specifically say what he hangs it from though. I don't know if he hung it from the bunk end poles? (I think you'd have to be careful of weight though…clothes can be heavy.)
I think the distance between the two hooks on the Stow n Go would be too wide to hang on the garment hook of most pop cup campers.
So you could bring and extend your own tension rod near the ceiling between two opposing walls.
Space-saving Vacuum Bags
I came across a pop up camper organization video on YouTube and they said they use vacuum storage bags to pack their clothes and blankets.
If you camp with a handheld vacuum anyway this could be a good option for you. (We have a Black & Decker rechargeable that we bring along.)
For more camper clothes storage ideas…check this out.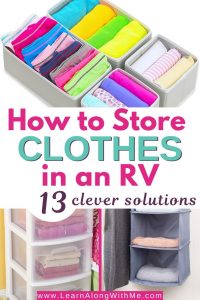 Pop Up Camper Hanging Storage Ideas
With the square footage of a pop up camper being rather small, you have to think vertically to "add extra space" into your camper.
Of course, you aren't really adding more space you're simply making the most of what you have.
And hanging things up in a pop up camper is one of the best ways to free up floor space and cupboard space.
Below you'll find great hanging pop up camper organization ideas
Hanging Toiletry Organizer
I found this hanging toiletry organizer at Value Village. It folds up small so it is easy to bring into the house and fill with supplies when necessary.
And you can hang it from a supporting bunk end pole to have your nighttime items like a book and glasses near by. Plus, you can put your cell phones in one of the pockets.
I think this was a good find. If you can't get lucky enough to find a good used one, I've provided a link to a hanging organizer I saw on Amazon.
Hanging closet organizer
I've already mentioned hanging closet shelves like these in the 'clothes storage' section, but they can be used for more than just clothes.
Some campers use shelves like these to hold their beach towels, and some even use it to hold their non-perishable food items (like a hanging pantry).
If you have a spot to hang them in your pop up they can be a versatile organizer.
Hanging Shoe Organizer
Even though they are usually called hanging shoe organizers, these things can store way more than just shoes.
(I even wrote a full article on different uses for hanging shoe organizers.)
I've laid the shoe organizer under our bunk mattress leaving a few pockets hanging down as you can see in the picture below. This requires no cutting or screwing.
You could also cut the show organizer and permanently mount it under your bunks.
You could use a hanging multi-pocket organizer to store lots of different things in your pop up camper.
You could use it as:
hanging pantry for snacks and foods
to hold socks, underwear, etc…
to hold books, pens, notepad, reading glasses, cell phones, flashlight, etc…

There are lots of small items that you could store in a hanging shoe organizer.
Command Hooks
Command hooks are loved by campers because they don't require screwing into your walls or roof.
They stick stick to surfaces with an adhesive. They are an easy way to hang stuff and provide extra storage in your pop-up camper.
I haven't used this organization idea in our pop up camper yet, but I think I'll get some this season.
Magnetic Strip
A magnetic strip stuck to the side of your kitchen cabinet can provide easy access to things like flashlights (with metal bodies) and bottle openers.
No need to dig around in drawers when you've got these items close at hand.
You stick these Neodymium magnet bars to the walls in your camper using the included double-sided tape.
This is a unique way to vertically store small metal objects in your camper.
Magnetic Spice Rack
A clever way to have your cooking spices within easy reach is to get a dedicated magnetic spice rack, or use magnetic bars.
You store your spices in the metal tins – or glass jars with metal lids – and then stick the tins to the magnetic strip.
You can take the spices down when you're folding up your camper and place them inside a cabinet for next time.
This option is best for people that actually cook inside their pop up camper. It allows them to have their spices within easy reach.
(If you cook outside you'll want a more portable spice storage system.)
Suction Cup Hooks
Suction cup hooks are a proven RV storage idea. They allow you to hang smaller items in your camper, but they may not be ideal for your pop up.
They likely won't stick to your vinyl windows.
But if your RV cabinets are smooth and non-porous, the suction cups may stick here.
Hanging Paper Towel Holder
We all know there isn't much countertop space in a pop up camper.
One way to free up the little space you do have is by getting some things off the counter.
A hanging paper towel holder like this one is a great option to do just that.
It'll get the paper towels off the counter and still within easy reach of the sink or kitchen area.
It uses an adhesive to stick, so you don't have to screw into anything.
Do you have a spot for this in your pop up?
If you want more RV paper towel holder ideas click here.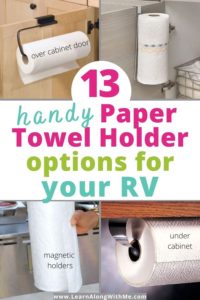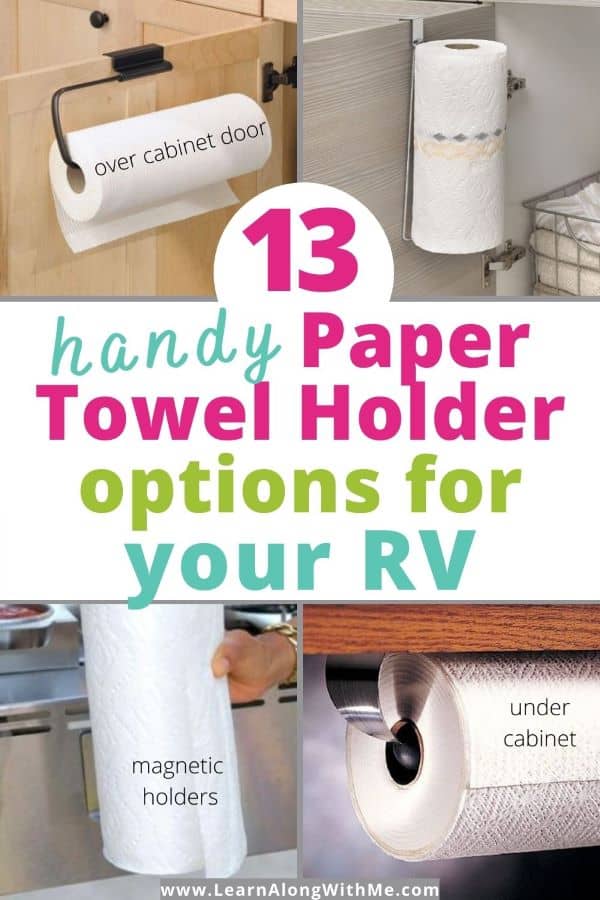 Miscellaneous Pop Up Camper Storage Ideas
Here are some more pop up camper storage ideas, but ones that aren't as easy to classify. Will any of these work for you?
Towel Rack for Drying Wet Towels and Clothes
Camping in the summer can often mean swimming! Which gives us wet towels and bathing suits.
Some campers devise DIY towel racks under the bunk ends of their pop ups.
I've even hung light swimwear from elastic strap under the bunk end.
Or you can get a folding towel rack to bring with you camping. Hang your wet towels and suits from it and let the sun do its magic.
The folding clothes drying rack shown here is a well-rated product from mDesign.
Lazy Susan
There isn't a lot of space inside the cupboards of a pop up. To make items more accessible, some campers use a lazy Susan inside their cabinets.
The lazy susan here (which my sister uses in her 5th wheel) doesn't have an elevated rim on it so the items could potentially slide off. (She parks her RV for the season in one site though).
For your pop up camper you may want to get a Lazy Susan with a raised edge and dividers… like the set shown below.
Collapsible Items
There never seems to be enough space in a pop up.
So an easy storage solution is to look for camping items that are collapsible so they take up less space. (One of the cups from out set is shown above.)
In the picture below you'll see some collapsible measuring cups and spoons that are very well-rated on Amazon.
Bungee Cords
Bungee cords are convenient and handy. They are a must-have in our camper.
You can use them in various ways such as holding shoes, acting as makeshift towel racks, wrapping around cords and lots more.
When we bought our used camper there was a bag of bungee cords of different sizes under the dinette.
It was like an awesome added bonus for getting the camper.
If you aren't as lucky as us, you can get bungee cord sets at most hardware stores, or you can click the picture below to see this highly rated set on Amazon.
Roof Rack System for a Pop up Camper
Our pop up camper doesn't have any roof racks right now.
But a roof rack can be a good way to store bulky items such as bicycles and kayaks.
The roof rack shown is a product called "Roamer" and is made by the company Swagman.
Swagman has instructions on how to properly install this product, so make sure you read it.
And before you hit the road, ensure you properly secure your load to your camper's roof rack, that you're not putting too much weight on the roof rack system, and that you don't have too much weight toward the rear of the camper.
(If you put a heavy load behind the axle it'll decrease the tongue weight of your camper and could result in deadly swaying.)
First Aid Kit
This isn't exactly a storage idea, but if you get a first aid kit that comes in its own case, you can avoid having multiple little cases spread around your camper.
Instead, have all your first aid stuff in one, easily-accessible first aid kit.
This first aid kit shown here is a small kit of essentials that is really highly rated and has its own zip-up case.
Pop Up Camper Storage Box (front of trailer frame)
Our pop up doesn't have a storage box on the front A-frame of the trailer like some other pop ups have.
I've heard lots of people complain about the manufacturer's built-in storage boxes leaking (particularly Coleman pop up campers). So I'm glad we don't have that problem.
But getting an aftermarket box for the front of the trailer frame would provide a good storage area for stuff like camping games, our BAL leveler and more.
Pop up Camper Tension Rod Shelves
We haven't personally used this storage idea yet, but lots of pop up camper owners utilize the versatility of tension rods to create tension rod shelves in their campers.
After setting up their camper, they place the vertical tension rod shelves between the counters and the roof.
These shelves help keep your counters clean and uncluttered.
If you want to see a tutorial on how to make tension rod shelves for a pop up camper, click here.
Frequently Asked Questions
Below are some questions that pop up camper owners frequently have. I know we sure did when we first got our Palomino pop up camper.
How do I organize my pop up camper?
It can be tricky organizing a small space like pop up camper, but a general rule of thumb is to have your most used items easily accessible. If you have storage compartments in your camper that are hard to get at – such as under a dinette seat – then put less-used items in there. You don't want to spend a lot of time fumbling around for stuff, so have your important items within easy reach.
And because of its small footprint, you'll want to utilize hanging storage and vertical space in your pop up camper if possible.
The pop up camper storage ideas in this article are a good place to start. Analyze what you have difficulty storing – clothes, dishes, etc… – and then find a storage solution to meet your needs.
How do I get more space in my pop up camper?
To better organize a pop up camper you need to utilize vertical storage options if possible. Vertical storage ideas for your pop up camper include tension bar shelves, hanging shoe organizers, and hanging closet shelves.
Another way to get more space inside your pop up camper is to better utilize the space in your tow vehicle, and outside the camper at your campsite. If you can store some things outside or in your vehicle then you'll have less stuff cluttering up the interior of your camper.
And speaking of clutter…are you packing stuff on your camping trips that you never use? If so, then try leaving it at home. For instance, if you always bring a croquet set, yet you never end up playing croquet, then leave it at home.
How do you store clothes in a pop up camper?
There are a lot of ways to store clothes in a pop up camper including plastic drawer storage units, hanging closet shelves and duffel bags. These ideas will probably work for you, but other options include using packing cubes. It makes it easier if each family member has a different color of packing cubes.
And bring a plastic garbage bag or a mesh laundry bag to keep your dirty clothes separated from your clean clothes.
Thank you for checking out these pop up camper storage ideas.
It may take a bit of experimenting but I think you'll find an organization idea that suits your needs.
Is there a PUP storage idea that I've missed?
Up Next:
29 treasured Pop Up Camper Accessories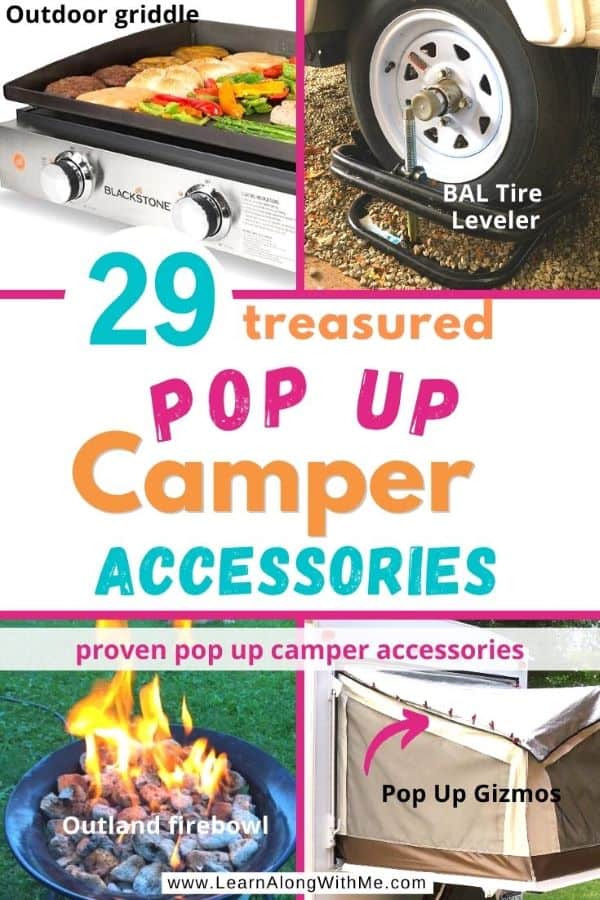 Pop Up Camper Electrical Outlets not Working? – check for this
How to Level Pop Up Camper – using the BAL leveler
Plus, check out:
75 clever RV organization accessories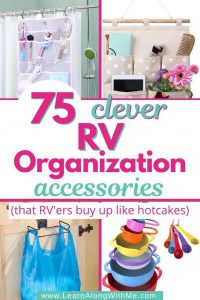 61 smart RV Storage Ideas (includes great travel trailer storage ideas)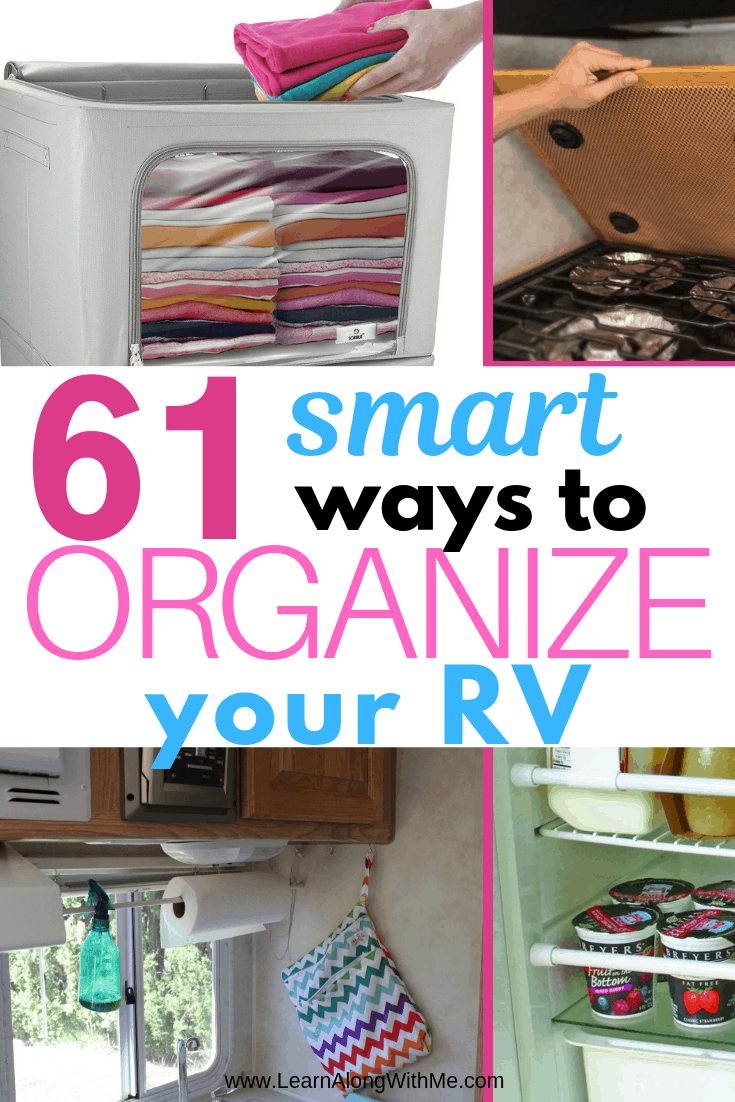 11 intriguing options for RV shower curtains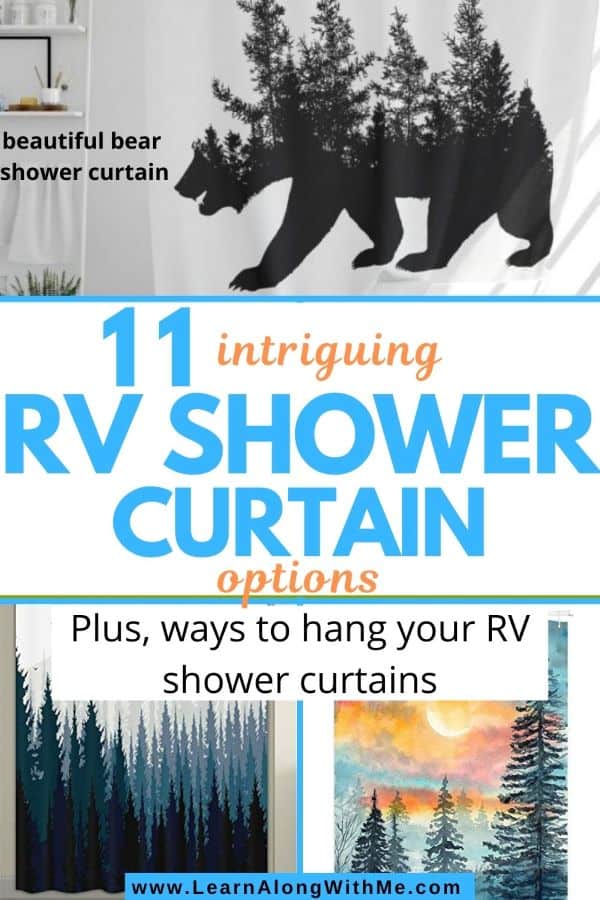 21 RV kitchen organization ideas to help you (ideas for pop up campers up to motor homes)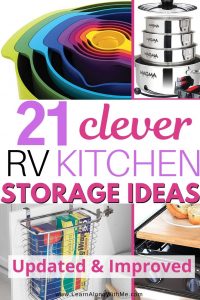 21 handy Truck Cab Storage Ideas (if your tow vehicle is a truck, check this out)