A portable stool can be helpful for people of all ages. They work well as camping stools, hunting stools (while patiently waiting in a blind), and for anytime you need to wait in a long line (such as elections, dealing with government agencies, etc…).
Whatever your reason for wanting a portable stool, hopefully you'll find one in this article that works for you:
In this article we'll look at some:
Tripod stool options
Four legged stools
Collapsible stools (aka telescopic stools)
And other great portable stool options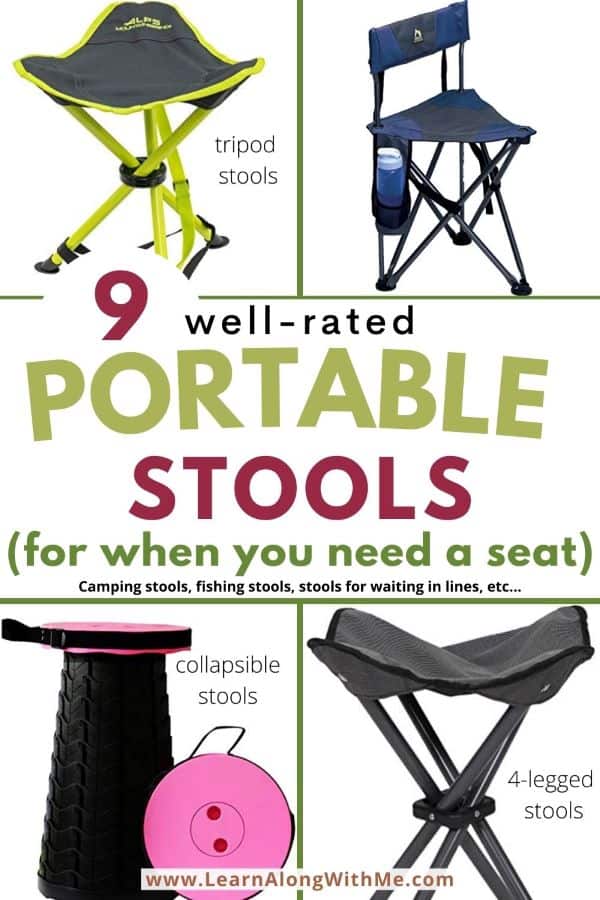 This article contains affiliate links. If you click a link and buy something I may receive a small commission at no extra cost to you. As an Amazon Associate I earn from qualifying purchases. For more information please see the Disclosure page.
Tripod Stool Options
This section features a variety of portable tripod stool options so you can have a seat…wherever you are. Many of them are popular camping stools because they're lightweight and packable.
ALPS Mountaineering Tri-Leg Stool
This colorful, well-rated tripod stool features a thick, 600-Denier (aka 600D) polyester fabric seat, and a steel frame finished with a powder-coating. People love this stool for camping, fishing and anytime they need to rest their legs for awhile.
This popular, portable stool weighs only 2 pounds. And you can pack it around with its own fabric strap, or put it into its carrying bag (included).
Weight Capacity: 250 pounds
The one potential downside is that it is only 16-inches off the ground. (This is about 41cm off the ground.)
CLICK HERE to see more details about this portable stool.
PORTAL Tall Slacker Stool – a slightly taller tripod tool
This tripod stool is similar to the one shown above, but one of the main differences is that this one is 19-inches tall when set up. (Compared to 16-inches tall for the ALPS Mountaineering Tri-Leg Stool.)
And this one has a lower weight capacity versus the ALPS tri-leg stool.
Weight Capacity: 225 pounds
Do you like the look of this one?
CLICK HERE to see more details
GCI Quik-E-Seat Portable Camping Stool
This portable tripod camping stool is made by the reputable outdoor manufacturer GCI.
It features a folding tripod frame with a padded seat back for extra support. And it has a handy water bottle holder for when you need to take a break during your outdoor adventures.
It weighs 4.4 pounds and has a seat height of just over 17-inches off the ground.
Weight Capacity: 250 pounds
Lots of people love this as a portable chair for waiting in line because it does have a small seat back.
Four Legged Stools
In this section we have some four legged stools, which may have more stability, but check the weight capacity to make sure they'll work for you.
Stansport Four Legged Portable Folding Stool
Above is the product photo of this four-legged portable folding stool by Stansport.
But the picture below helps give it scale. In the picture below the man is using the stool as a footrest, so you can a get an idea of how low it is to the ground. (The stool's seat is about 16-inches off the ground.)
Weight Capacity: 200 pounds
If you're looking for a lightweight (2.4 pounds) four-legged camping stool, and you don't mind being low to the ground, and you weigh less than 200 pounds, then this may work for you.
Folding Four-Legged Camping Stool (by TRIPLE TREE)
I came across this folding portable stool on Amazon, and what is interesting is that it comes as a 2-pack. So you get two of these stools.
Many campers use them as footstools with their camping chairs because these are low to the ground…they claim 13.8-inches is the seat height. And even though these are rated to hold a lot of weight, they only weigh about 2 pounds each stool!
WEIGHT CAPACITY: 400 pounds
If you're looking for a stool to hold a lot of weight, but you'll be close to the ground, this 2-pack of camping stools may work for you.
Collapsible Stools (aka Telescopic stools)
These things look so clever.
To be honest I haven't used one yet. But they look super handy.
People use collapsible stools for so many reasons:
waiting in lineups
at concerts
at local sporting events
care aids and foot care nurses use in patients' homes
fishing from shore
and many more…
Collapsible Stool (by Boreeman) [portable stool 400 lbs capacity]
There are so many of these collapsible stools on Amazon it was hard to choose one to put on here. I've chose to add this one from Boreeman because it has the combination of a good rating, and lots of reviews.
Quickly reading the reviews will help you know what you're getting in to (or onto in this case).
WEIGHT CAPACITY: 400 lbs
They say that with this stool you can adjust it to 12 different heights if you want. The tallest height is over 17.5-inches tall.

Telescopic Stool with Pink Seat (by Deer's Life)
Here is another collapsible stool, but this one is a little more colorful: it features a pink seat.
It is also well-rated and has plenty of reviews. It weighs just over 2.5 pounds.
WEIGHT CAPACITY: they claim they've tested it to hold 600 pounds
And in case you're wondering, the seat is 10-inches in diameter.
CLICK HERE to see more details.
Other Portable Stools
In this section below we'll highlight some portable stool options that have some unique properties…such as folding walking canes!
Folding Walking Cane with Seat (turns into tripod stool)
Above is a picture of this folding walking cane with seat folded up and being used as a cane.
In the picture below we see it set up as a tripod stool. The seat height is 20-inches off the ground.
This could be a good gift for senior, but they need to have good balance to use a cane and seat like this. It is going to take some effort for them to rise from a seated position – which takes balance. And they say it is best suited for someone 5-feet tall to 5'10" tall.
WEIGHT CAPACITY: 220 lbs
This portable stool can hold up to 220 pounds, and weighs about 3 pounds.
Heavy Duty Folding Stools
These folding stools are designed to hold up to 650 pounds! It has a steel legs to help support the weight.
And another cool thing about this stool is that its seat height is almost 18-inches off the ground.
These stools may not have convenient carrying handles like some of the other stools on this list, but they still fold up and can be brought with you fishing, camping, or for wherever you need them.
WEIGHT CAPACITY: 650 lbs
I hope you found a portable stool in this list that suits your needs.
Which one best portable stool for you?
It can be tough choosing a stool over the internet because something may look good, but then not feel good once you actually sit in it. (For example, your bottom may not fit on the seat properly, the stool's legs may press into your thighs, or the stool may be too low to the ground.)
If you buy a portable stool check out the company's return policy before you buy: just in case you the one you buy is too uncomfortable, too low, too hard to pack with you, etc…
Up Next: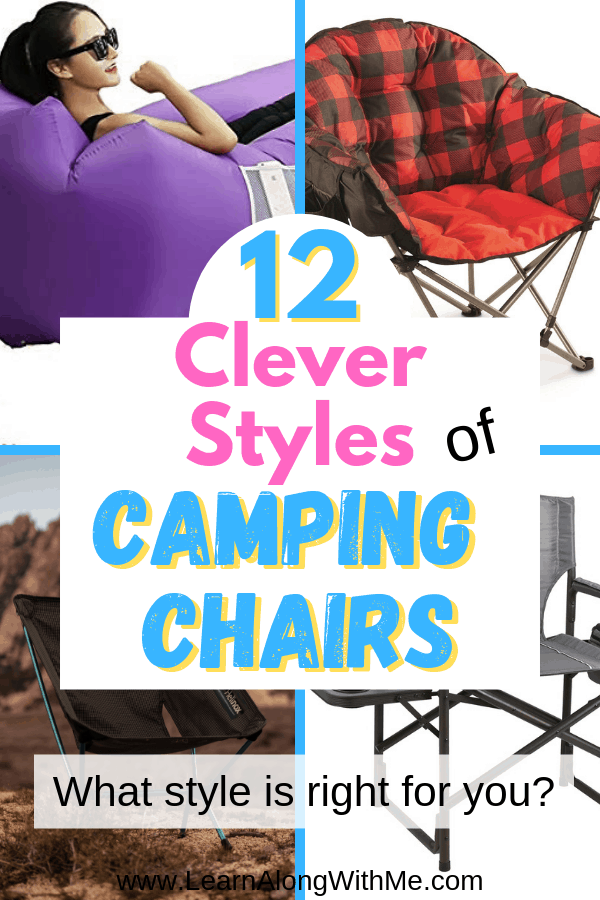 12 innovative and clever styles of Camping Chairs
11 popular Camping Fan options to help beat the heat
And if you don't want to carry your portable stool in your hand, I suggest you check out the…
MAC Sports Folding Wagon [great versatile utility wagon, we have one and love it]