Premier Lake is a beautiful mountain lake nestled in the western slopes of the Rocky mountains in the East Kootenay region of BC. We recently went there for a day visit (in June 2021), and I'll share some information with you about what to do at Premier Lake during a day visit.
Why did we go to Premier Lake?
We went to Premier Lake to swim in the clear, green waters of this mountain lake. We were visiting during a heat wave so a dip in these mountain waters was refreshing, but not bone-chillingly cold.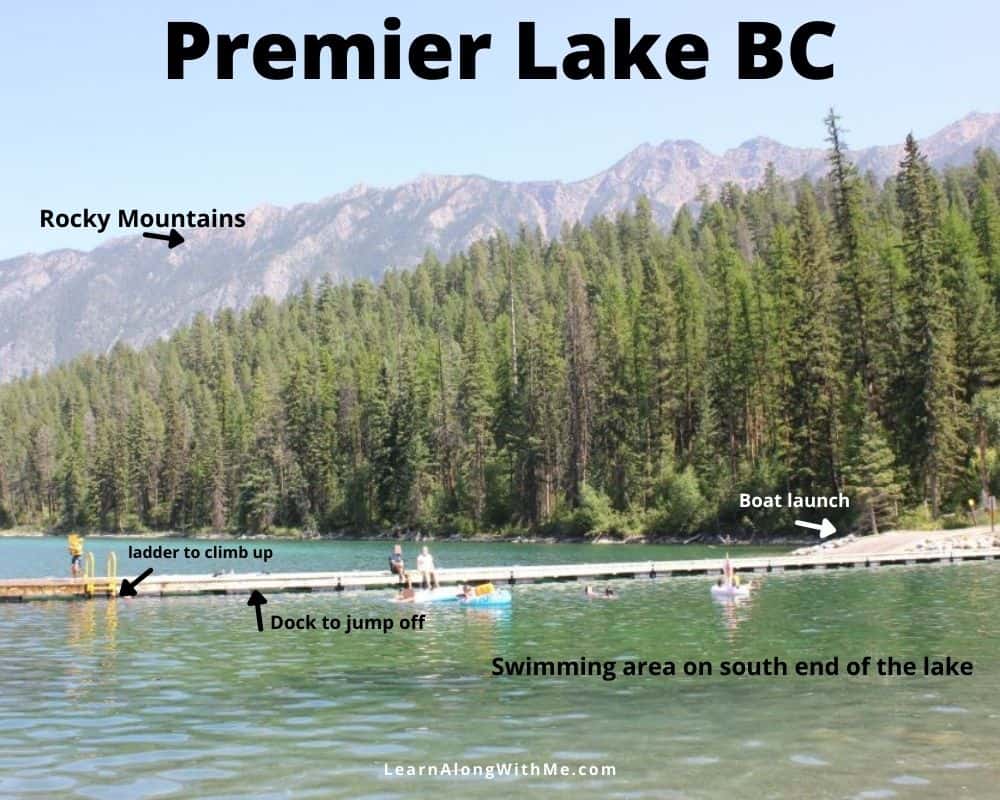 Older kids love it here because you can jump off the dock into the water.
The dock is shaped like a capital "L" tipped on its side. The dock creates a physical separation between the swimming area and the boating area. (You can see the boat in the photo below is on the other side of the dock.)
What's fantastic is when you're standing on the dock you can look down and see the bottom of the lake through the clear mountain water. I don't know exactly how deep the water is at the dock, but I'd guess around 15-20 feet.
Below is my youngest daughter playing around in the swimming area. In the background you can see the dock and the yellow ladder to climb up after jumping in.
Below is a picture of the day use area, and "beach" area at the south end of Premier Lake. This picture is taken from the dock looking back toward the shore. Look at the color of the water!!
Swimmer's Itch at Premier Lake
My youngest daughter and I swam around the shoreline, and we got some itchy bumps indicative of swimmer's itch.
The older kids in my family just jumped off the dock and didn't swim near the shore, and they didn't have any bites or itchy spots.
I don't know if this happens all the time at Premier Lake (or if we just came at a bad time), but I'd take precautions if you are going to swim near the shore to try to prevent swimmer's itch. You could try to towel dry off right away to brush off the causative larvae from your skin.
You could shower to rinse off, but you would need to bring your own camping shower bag with you. There is no shower at the lake.
There is a hand-cranked cold water pump near the day-use area that you could use to fill your shower bag.
(Apparently there is a shower enclosure for campers to use, but you still need to bring your own shower bag anyway.)
For more ways to prevent swimmer's itch click here.
Want some ideas for a portable camping shower you could bring to lakes like this?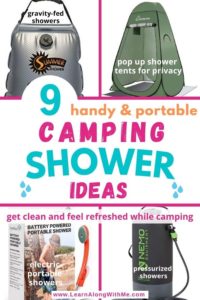 What else can you do at Premier Lake?
We went there to swim, but besides swimming, there are numerous things to do at Premier Lake.
Fishing at Premier Lake
As I mentioned in a photo above, there is a boat launch so you can take your boat out onto Premier Lake to do some fishing.
Plus, you can fish at Quartz lake. Or you can hike into the nearby mountain lakes such as Canuck or Yankee lake to fish there.
Play at the Playground
There is a children's playground at the Premier Lake provincial park campground.
But it doesn't look like there is much shade there.
Since we were there during a heat wave my daughter didn't get a chance to play on this fun-looking playground.
Walking the Nature Trails
There are several walking trails around the Premier Lake campground that I remember walking on when I was a kid. (I haven't been on them since – so I can't attest to their upkeep – but since it is a provincial park they're probably in good shape.)
Hiking
There are designated trails heading out to the nearby lakes of Turtle lake, Yankee and Canuck lake.
The BC Parks website states that hiking these loop trails can last 1.5 to 4 hours depending on the route you take.
And if you want a trails map for the area around Premier Lake, click here.
Have a Picnic
At the day-use area of the Premier Lake provincial park (by the swimming area), there are several picnic tables to enjoy a lunch. I counted 5 picnic tables in total.
There is a wheelchair accessible outhouse toilet near the boat launch.
There are some wheelchair accessible paved trails down to the picnic tables, but you'll need to be careful because the paved pathways are quite steep.
One of the picnic tables is wheelchair-friendly (with the extended tabletop) which you can see in the photo below. One additional picnic table can be accessed from the paved trail, but it doesn't have the extended tabletop.





Below is a picture looking out onto Premier Lake in the evening.
What to know before you go to Premier Lake for the day?
Gravel Road
You will have to drive along a gravel road to get to the provincial park and swimming area. The paved road becomes a gravel road before you get to the lake.
It is a pretty good gravel road, but when I went in June 2021 there was also a fair amount of wash-board gravel. So be careful.
About 6 kilometers of the road into Premier Lake is gravel.
Make sure you have gas in your vehicle or well-charged EV
Premier Lake is pretty far from any gas station so make sure you have lots of gas in your tank. The lake is about 29 kilometers from Wasa BC (I don't think the closer town of Skookumchuck BC has a gas station anymore.)
If you drive an EV, the PlugShare app says the nearest charging station is the Highway 95 Wasa rest area. This is still about 25 kilometers or so from Premier, so make sure you have lots of charge before heading out into the woods.
There isn't much parking in the Day Use area of Premier Lake
There is not a lot of parking in the day use area of the provincial park. There is a parking area for boats with trailers near the boat launch – which apparently fills up fast – but even parking a car isn't easy.
The parking spots near the swimming area are limited.
You'll want to get there early to get a spot. Otherwise you may have to park far away and walk to the lake.
There are 2 parking spaces for people with disabilities in the day use area parking lot.
Bring bug spray or protection
This is a natural wooded area so there can be mosquitoes. We didn't see any when we went, but that may have been because it was so darn hot out.
This is a personal preference, but since you are far from any stores, you may want to bring bug spray or protective clothing with you.
Camping at Premier Lake
The Premier Lake campground is a BC Parks provincial park.
We didn't camp here this time, but I used to camp here when I was a kid (many moons ago).
According to the BC Parks website there are 57 campsites at Premier Lake provincial campground.
But note, if you are an RV'er, there are no pull-through campsites…they only have back-in campsites.
Click here for a map of the Premier Lake Provincial Park campground.
Thanks for checking out my article about our day trip to Premier Lake BC.
The next time I go I'll try to get more pictures for you to see.
Up Next:
Hiking Gear to get your started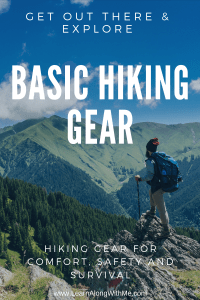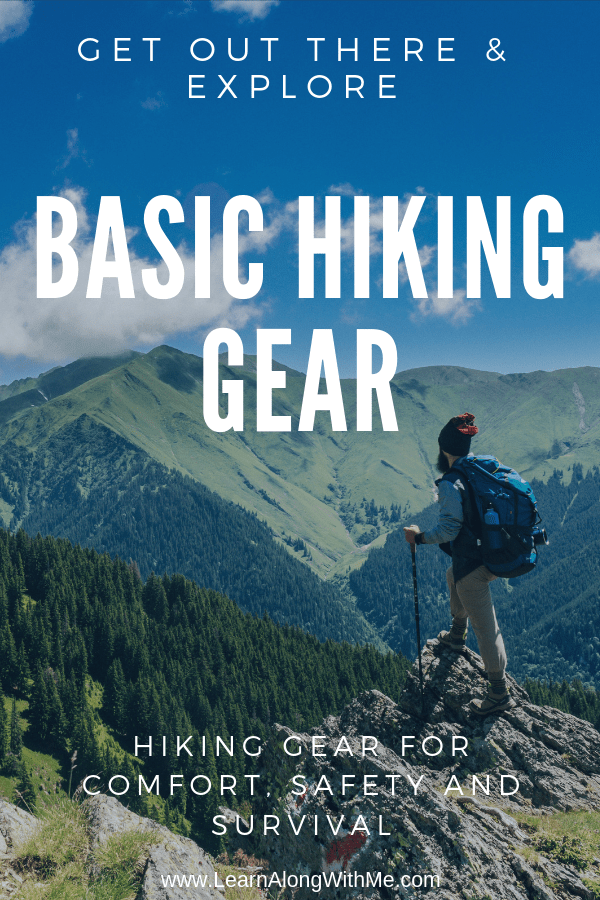 Postill Lake Lodge BC – what to do at Postill Lake (a lake near Kelowna BC)