Do you feel exposed when you're in your yard? Does your yard feel more like a display window than a private sanctuary? If so, check out this list of 19 privacy fence ideas to help you create a backyard retreat.
Keep scrolling right down to the bottom to see all the privacy fence ideas.
Is there an idea that'll work for your space?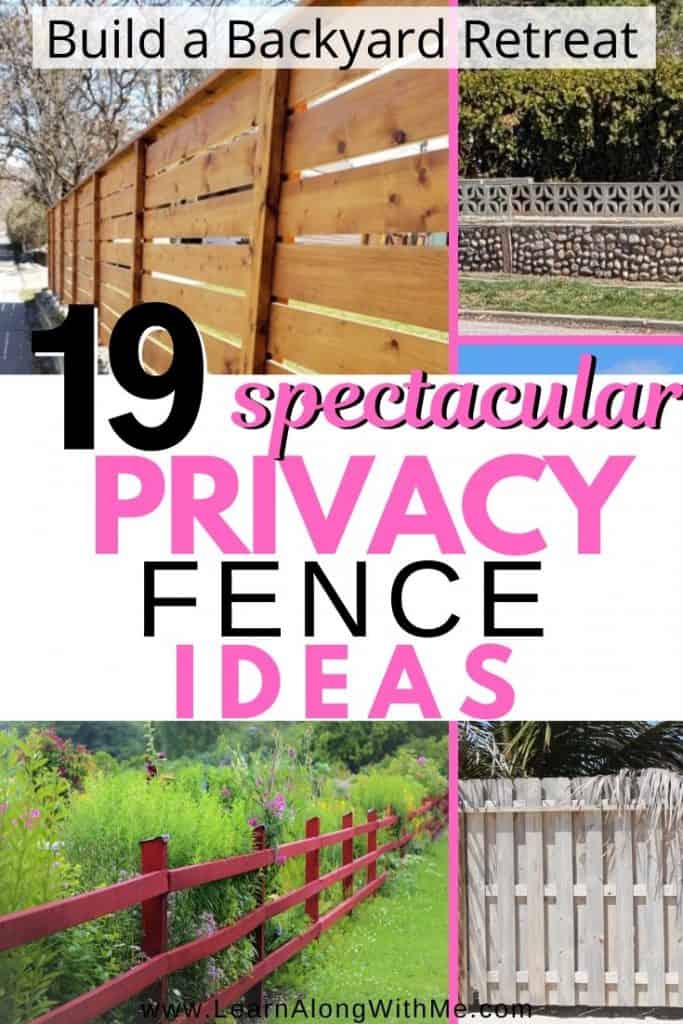 This article contains affiliate links. If you click a link and buy something I may receive a small commission at no extra cost to you. As an Amazon Associate I earn from qualifying purchases. For more information please see the Disclosure page.
Updated March 2021: I have removed some Instagram photos and added some other photos I've taken myself. If you own one of the companies in which I've shown your Instagram photo – and you do not want the free publicity – please contact me and I'll remove your Instagram photo. Thank you and enjoy.
Privacy Fence Ideas for Backyard Privacy
Using these privacy fence ideas for your backyard will help you create a more private, secluded backyard retreat.



1) Plant a Row of Hedges (Nature's privacy fence idea)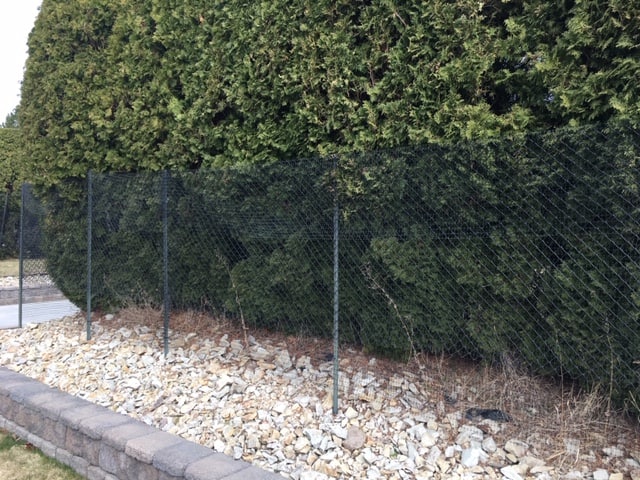 What are they doing in the yard behind these hedges? I have no idea because the hedges make a great privacy fence!
Living walls made of hedges with dense foliage is a great privacy fence idea because it actually gets better with age.
As the plant grows larger and fills in, it becomes a more effective privacy fence
Contrast this with wooden boards which deteriorate over time
Concerns about Hedges:
The downside to a living wall of hedges, is that they can be sparse during the first few years after planting: they haven't "filled in" yet.
The trees or hedges you plant may require consistent watering. (Try to pick hedges that are adapted to your area and don't require much extra watering beyond rainfall.)
After they're established and start to grow well, you need to trim them and keep them looking good.


You can probably trim the hedges yourself but it'll depend on your skills, abilities, and how tall the hedges are (do you need an extension ladder just to reach the top?).
Another photo of a row of hedges blocking out the view of a yard. This is more of a formal hedge where it is shaped and manicured.
Below is a picture of an informal hedge providing a great privacy screen. It is informal because it is not shaped and formed. It is more "natural" looking. I don't know what kind of bushes these are but it has big thorns…so they act as security too.
2) Artificial Hedge Fencing Roll
If you have an existing fencing structure that doesn't provide much privacy (such as a split-rail fence or chain link fence), and you don't want to wait for real hedges to grow, you can buy artificial hedge fencing rolls.
The "faux ivy" fencing roll shown below is available on Amazon.
It attaches to your existing fence with zip ties (not included with the fencing).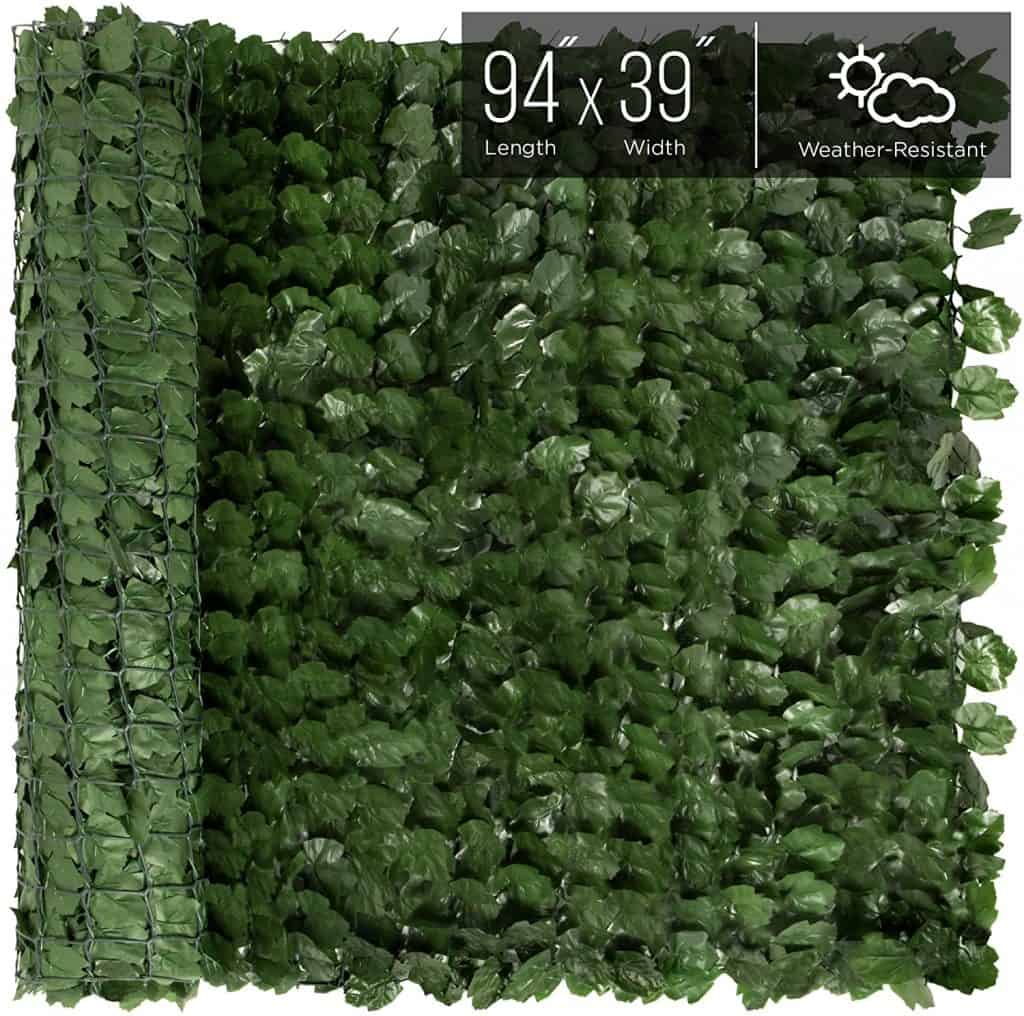 If you want specific ideas on how to add privacy to a chain link fence, I wrote this other article dedicated to that.






3) Plant Vines to grow along a framework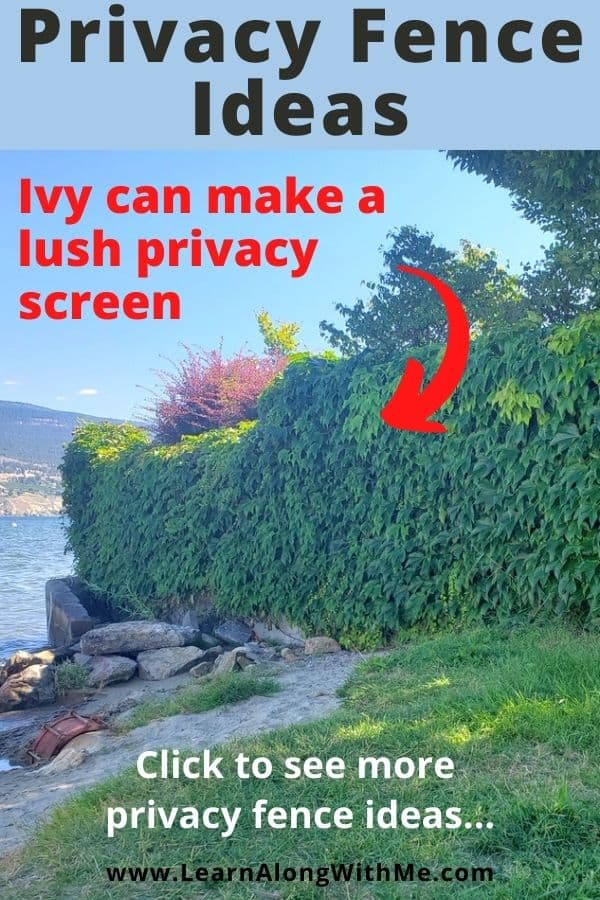 You can "train" a fast-growing vine to grow along a trellis or other framework.
Above is a Pinterest pin I made showing a great example of a lush privacy fence.
Examples of Climbing Vines include:
Climbing Hydrangea (produces lovely white flowers in the summer)
Boston Ivy
Wisteria
Virginia Creeper (notoriously fast-growing vine)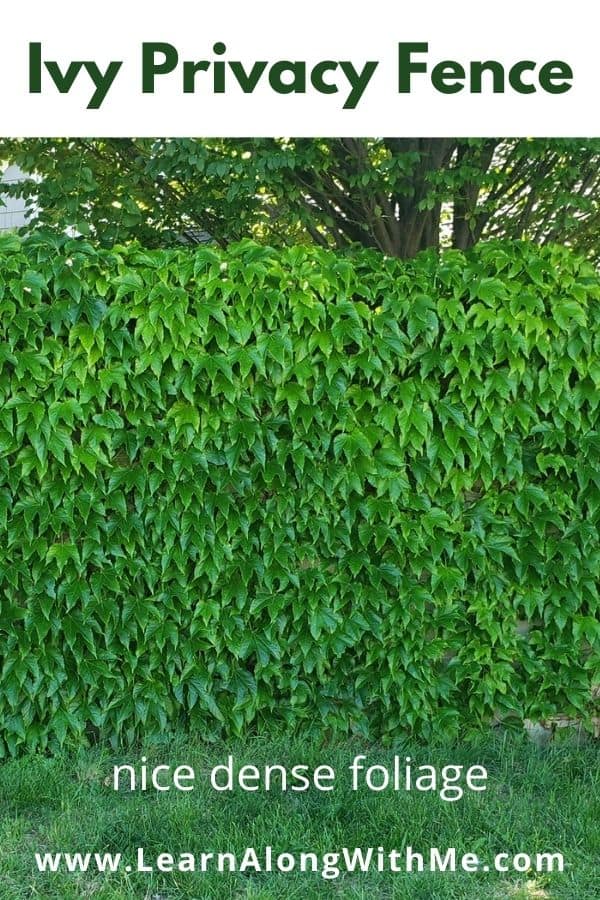 4) Plant tall decorative grasses or flowers (another living privacy fence idea)
The picture above beautifully illustrates the privacy and colors that tall grasses and flowers can provide to your landscaping.
The red fence wouldn't provide much privacy on its own.
But with the thick row of flowers and grasses behind it, it creates a lovely border.
Below are some tall grasses highlighted in this article on the HGTV website. The website lists more information such as what zones the grasses are suitable for.
Tall grass varieties include: (according to HGTV website)
"Northwind" Switchgrass
Frostgrass
Purple Majesty ornamental millet
Karl Foerster feather reed grass
Feather Pink Pampas Grass
Little Bluestem (according to Wrangle.com this was an original prairie tallgrass)
Big Bluestem ('Indian Warrior' variety)
Porcupine grass
Maiden Grass ('Dixieland' variety)
Switchgrass ('Prairie Sky' variety)
Pampas Grass ('Pumila' variety)
Feather Reed Grass ('Eldorado' variety)
Hardy Pampas Grass
Whatever grass you decide to use, try to pick grasses and plants that are native to your area.
Call your local greenhouse or nursery and ask them for good viable options for your area.
5) Weave plastic slats or tape between chain link fence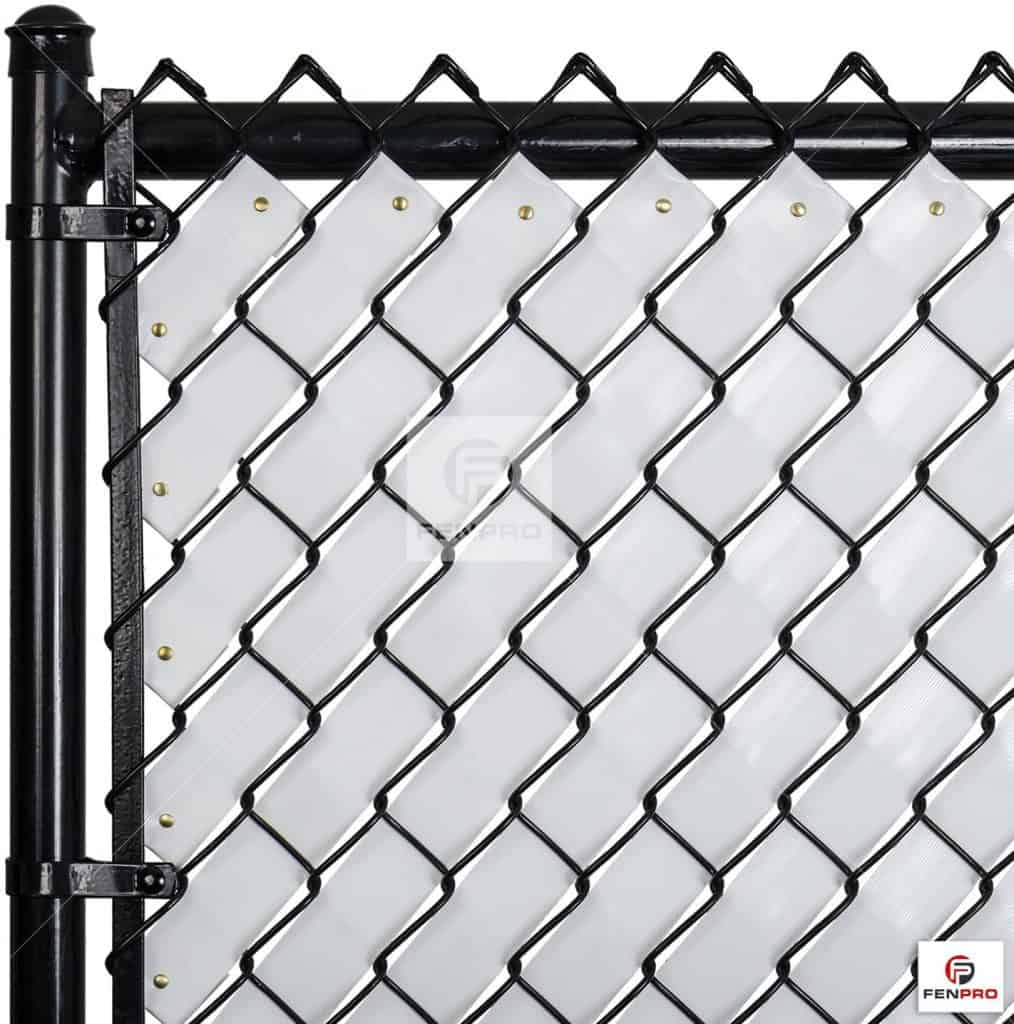 Chain link fences work well to contain a dog or to clearly mark your property line, but they provide zero privacy.
They do make a great starting structure though.

You can buy plastic slats or tape to weave through the links to obscure visibility.
There are lots of products on the market that do this.
The product above is plastic privacy tape made by FenPro that is available for sale on Amazon.
To further enhance privacy you can "basket weave" the product through the fence.
Weave the tape through the fence in one direction (like shown above), and then do it again in the opposite direction to create your own privacy lattice. (It can be time-consuming but may be worth the extra privacy all summer long.)
If you have a chain link fence you need to see our article on covering chain link fence for privacy.
6) Rock Walls (a solid privacy fence idea)
There is a sense of permanence and security of having a rock wall as a privacy fence.
I don't have a great picture yet of a good mortared rock fence, but I'm keeping my eyes open for one. (Dry stacked rocks are listed further below.)
And now I'm seeing even more rock walls built inside a metal cage like the picture below. (This one is actually a part of roadside retaining wall, but I've seen them used as privacy fences as well. You'll want to talk to an experienced contractor before trying this to make sure you have proper support for the weight of the rocks.)
This is called a Gabion wall. I've started seeing more of these lately.
7) Dry Stacked Rock walls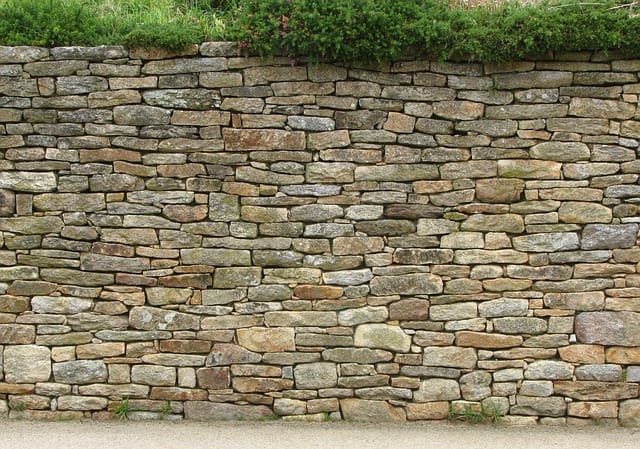 The craft of dry stacking rocks takes skill and experience.
And it'll cost you lots of money to pay for the labor.
But the result can be stunning and a lasting investment.
8) Brick walls or Allan Block Walls
Below is a picture from Instagram of a massive allan block wall.
It looks like a fortress!
A benefit of these walls is durability and strength. Brick walls or Allan block walls are great privacy fence ideas.
They'll last a long time…but they need to be installed properly and they're not cheap, easy or fast.
But things that last are rarely cheap,easy or fast.
Look this company up if you're interested in their work.
9) Corrugated metal panels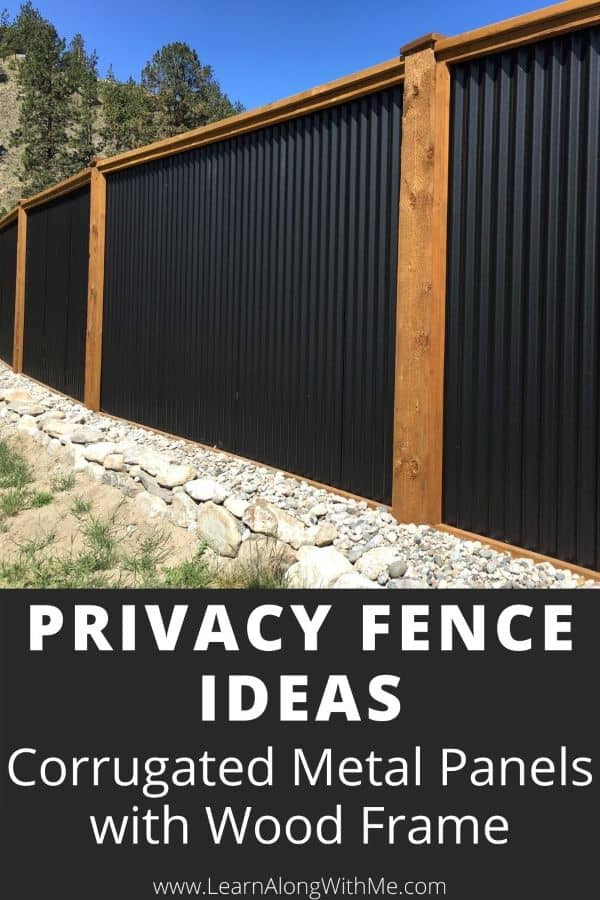 I love the balanced look of the metal panels with a wooden frame.
It is like a perfect blend of industrial and natural looks.
The picture below is from Instagram and it is a great example of this.
Below is another fence that was recently installed in my neighborhood. They screwed corrugated metal panels into a wooden frame.
It provides 100% privacy from the alley. There are no cracks or gaps to see through: total obstruction. Pretty cool.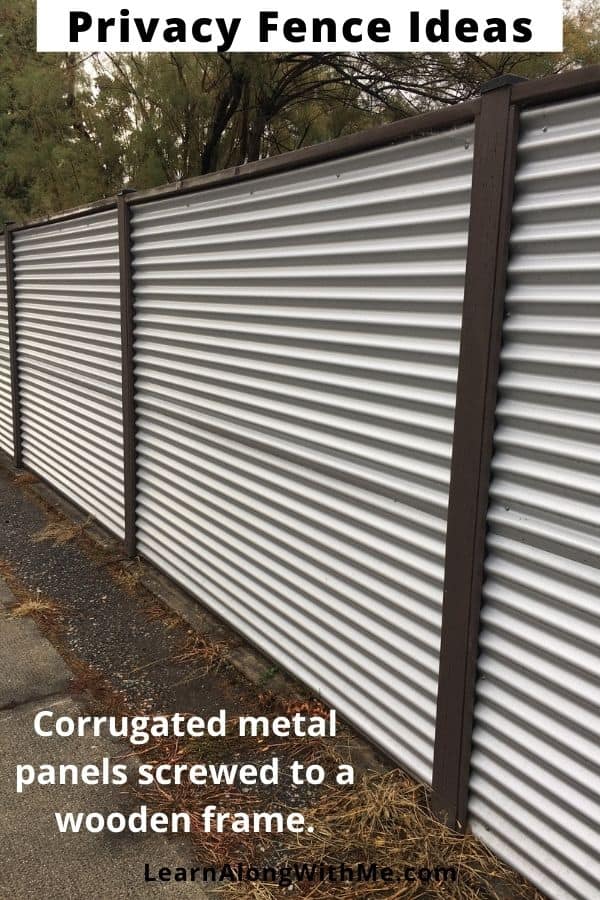 And another benefit of metal panel privacy fences is that they are fairly quick to install. Once you have your wooden frame built you just need to screw the panels into your frame.
10) Vertical Wooden Board Fences
There are lots of different looks and styles for wooden fences with vertically-oriented boards.
Pre-built Fence Panels
Most of our local hardware stores carry pre-built fence panels that are either made from cedar, or stained or painted pine boards.
The pre-made fence panels makes for a quick installation.
But if part of the panel get damaged, you may have to take the whole panel apart to replace one board.

Below is an example of the fence panels that we see everywhere around here.
They do the job: they provide good privacy.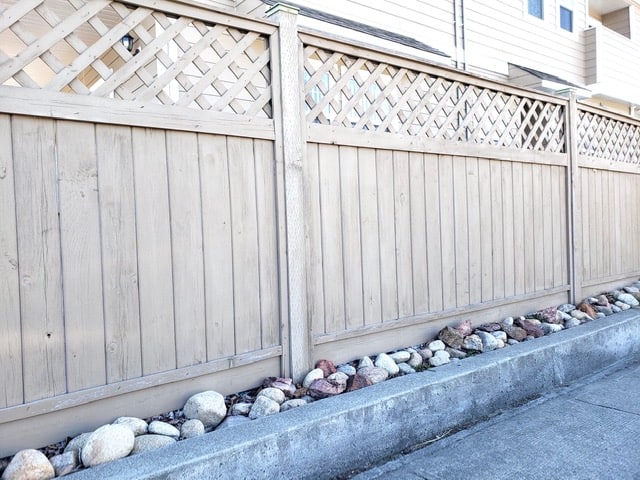 More Wood Panel Fences
Below is a picture of a newly installed wood panel fence. It hasn't been stained or painted yet. It doesn't have any gaps between the vertical boards: they are tongue and groove boards.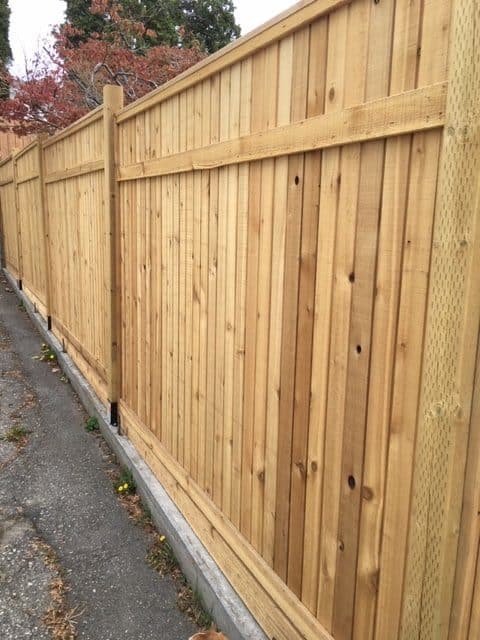 If you like the privacy of a wooden fence panel, but you want to add some "style" to it, you can paint the posts a different color than the panels. (Check out the cool fence below.)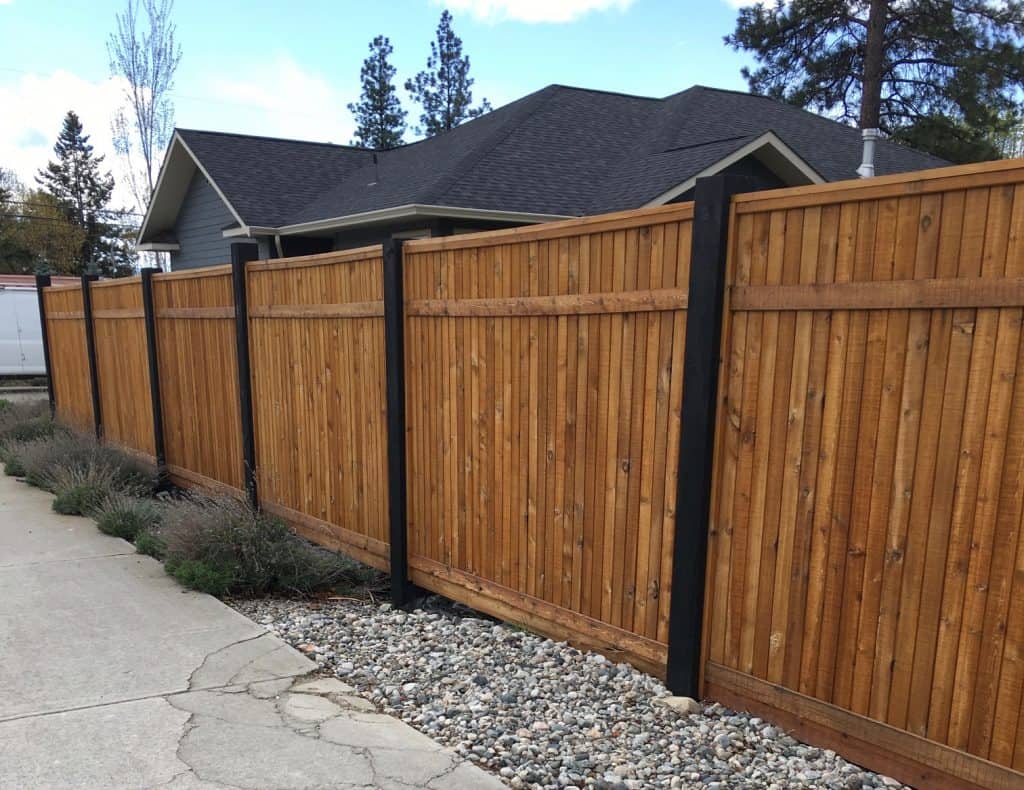 (I did the same thing on my backyard privacy fence at my rental house after I removed rotten posts from their concrete footings. Check it out.)





Vertical Boards on the same plane
The boards on the fence shown below are all on the same plane.
All the boards are screwed to the same side of the supporting horizontal board.
Staggered Vertical Board Fence
The fence in the photo below has a staggered pattern. Some people call this a shadowbox fence.
They are not all on the same plane.
One board is screwed to the outside of the horizontal supporting board, and the next board is screwed to the inside.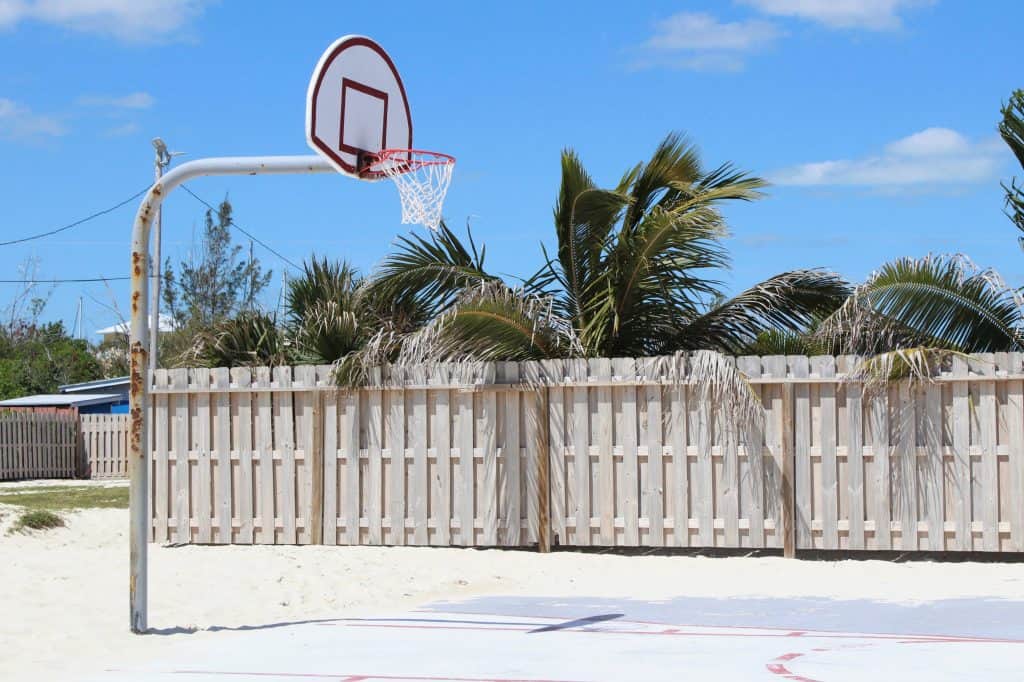 Tall Picket Fence
Picket fences are often used as front-yard decor and are usually less than 3-feet tall.
But you can use them as privacy fences.
You just need to use tall boards and space them closer together.
A good example of this is shown below. The property owners have the picket fence running along their side yard, and wrap it around the entire back yard too.
Got an old wood fence but you don't want to replace it yet?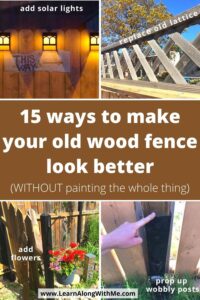 11) Horizontal Wooden Boards
Here is a classic option for privacy fences that allows a lot of different interpretations.
You can have the boards all the same size, or you can have alternating widths of boards like the grey fence shown below.
This grey fence shown below is an impressive privacy fence constructed along an alleyway. It is tall…probably about 7-feet tall. (Check with your local authorities to see if you have a height limit.)
The boards were painted prior to installing so they are well-painted on every side.
Here is another cool wooden privacy fence using various widths of the slats.
It is still a nice looking fence, but it brings up one downside to wooden fences.
They require upkeep and either re-painting or re-staining in this case.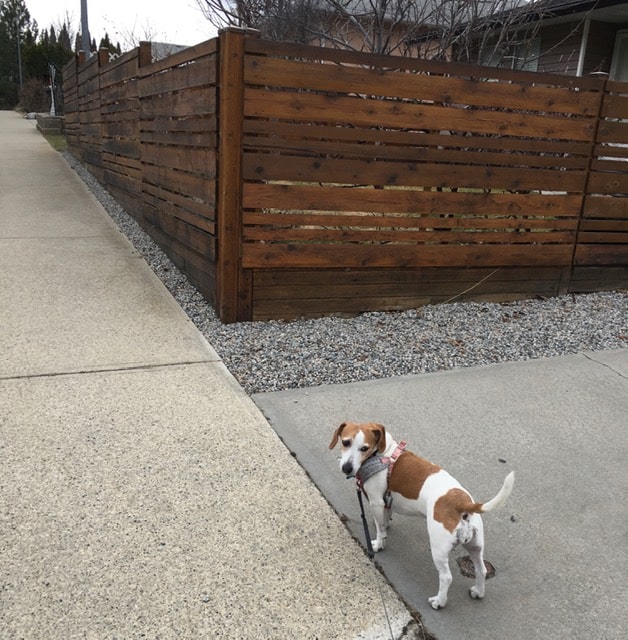 Below is another example of horizontal wooden boards used on opposite sides of the fence. It is a very sharp looking fence.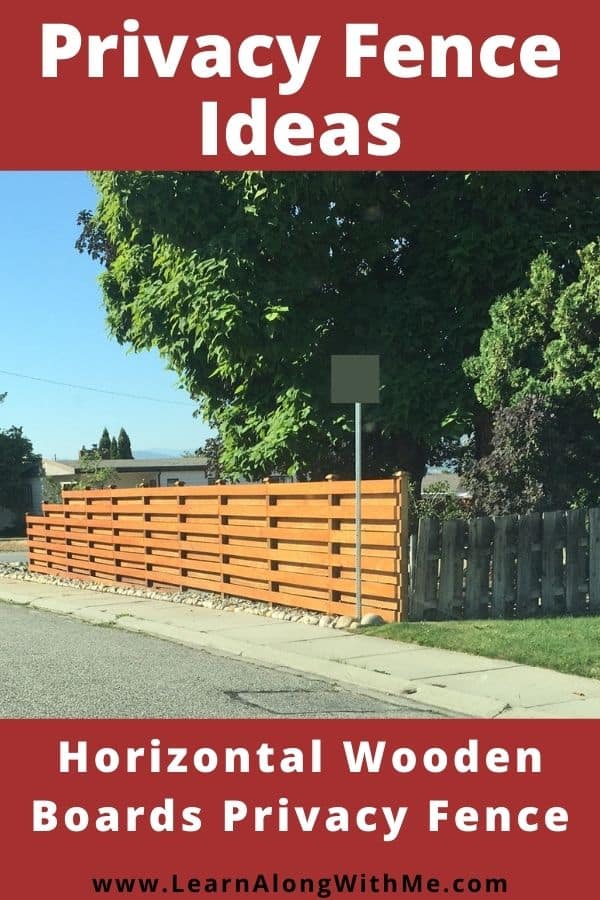 And here is another horizontal fence with 'board on board'. It is short video clip from Instagram. If you like the look of this and you live in their area and you want a privacy fence…check them out.
Below is another example of a horizontal privacy fence that I snapped on a walk.
I love the honey-colored stain on the wood.
I think for additional privacy I would put the boards closer together or fill in the gaps with a narrow piece. (But it still looks awesome as is.)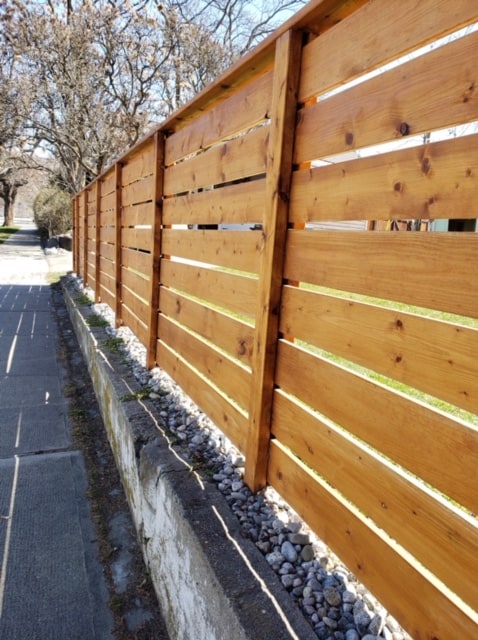 One negative thing about horizontal boards on a privacy fence is if you're walking along these fences you can see through the gaps and continue to see a good portion of the yard behind the fences. That is if the gaps between the boards are fairly large of course.
12) Bamboo Privacy Fencing
Reed roll fencing such as Bamboo Privacy screens may be better suited to surround smaller areas such as patios or defined seating areas.
But it is possible to have it around your entire yard….except you need an existing structure to attach them to. The reed rolls are not structural. They are meant to cover an existing fence (such as a chain link fence).
Here is a link to a roll of bamboo fencing that you can purchase on Amazon.
Depending on where you live you may be able to find bamboo fence panels: thicker bamboo fastened to a frame like the picture shown above.
13) Privacy Fence made from pallets
If you're a DIY type of person, and you want to build a fence cheaply (almost free), then check out fences made from pallets. They are a great DIY privacy fence idea.
Below is photo from Instagram where someone used pallets, painted them grey, and then adorned them with colorful flowers.
If you like of this, I suggest you check out offgridworld's profile on Instagram.

To make them more private though, you'd want to install some other boards in between the existing pallet board gaps in order further obstruct view.






14) Vinyl Fencing (PVC)
According to this website, vinyl fencing is made by pouring PVC plastic into molds to make panels. They are considered low maintenance because you don't need to paint them, but they may fade over time.
They will require cleaning once in a while though. They are a durable privacy fence idea.

Below are some photos I found on Instagram showing before and after a 5-feet white vinyl privacy fence was installed. (Click the arrow button to see all the photos in the gallery.) If you live near this company, and like what they've done here you can check out their website.
15) Composite Fencing Materials
Composite fences are similar to composite decks.
The "boards" are a combination of wood chips or sawdust, mixed with plastic (usually recycled plastic).
Composite Fencing can have some advantages over traditional wood fences.
They are low maintenance
they don't rot
insects don't eat it
and don't require painting (because the color is true throughout the board and not just an outer coating)
Installing a composite fence may take longer than vinyl panels because they are individual boards, but there are benefits to individual boards.
If a board gets damaged you can replace the single board instead of having to replace an entire panel. A composite privacy fence can be an excellent and durable privacy fence idea for your backyard.
Below is beautiful example of a privacy composite fence. It is made by the leader in composite products Trex.
16) Have a Vertical Garden Wall
This may be difficult or darn near impossible depending on where you live, but it could look amazing.
Above is a picture of a vertical garden wall that I took.
But…this was an indoor vertical garden wall: it wasn't outside.
If you had a green thumb and lived in a temperate climate I bet you could come up with some spectacular vertical gardening walls.
Below is a close up of shot of the garden wall. It shows how they have embedded the little pots in the wall.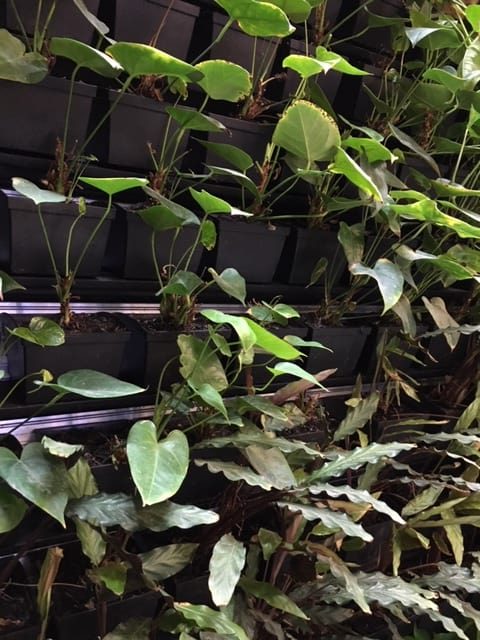 17) Stucco Walls
You can stucco over existing fences (made of concrete, wood or steel), or you can even purchase pre-made stucco panels.
In the Instagram photos below you'll see a stucco fence being built by this company. ( Click the arrow button to see all the photos in the gallery.)
Looks awesome. If you like the look of it, and you live in their area, check them out.


If your stucco fence is built properly it should last for many, many years. (The stucco on my 1950's house is darn-near bullet-proof.)
This could give your backyard a sophisticated-looking and durable backyard privacy fence. And it would look really good around a backyard with a pool.






18) Hang Privacy Screens or Curtains
This option is better suited for covering small areas like deck railings and balconies.
But it can provide a quick way to gain privacy in your outdoor space.
You thread zip ties through the screen's metal grommets and attach it to your existing fencing structure or deck railing.
The privacy screen shown below is made by 'Alion Home' and is available for sale on Amazon.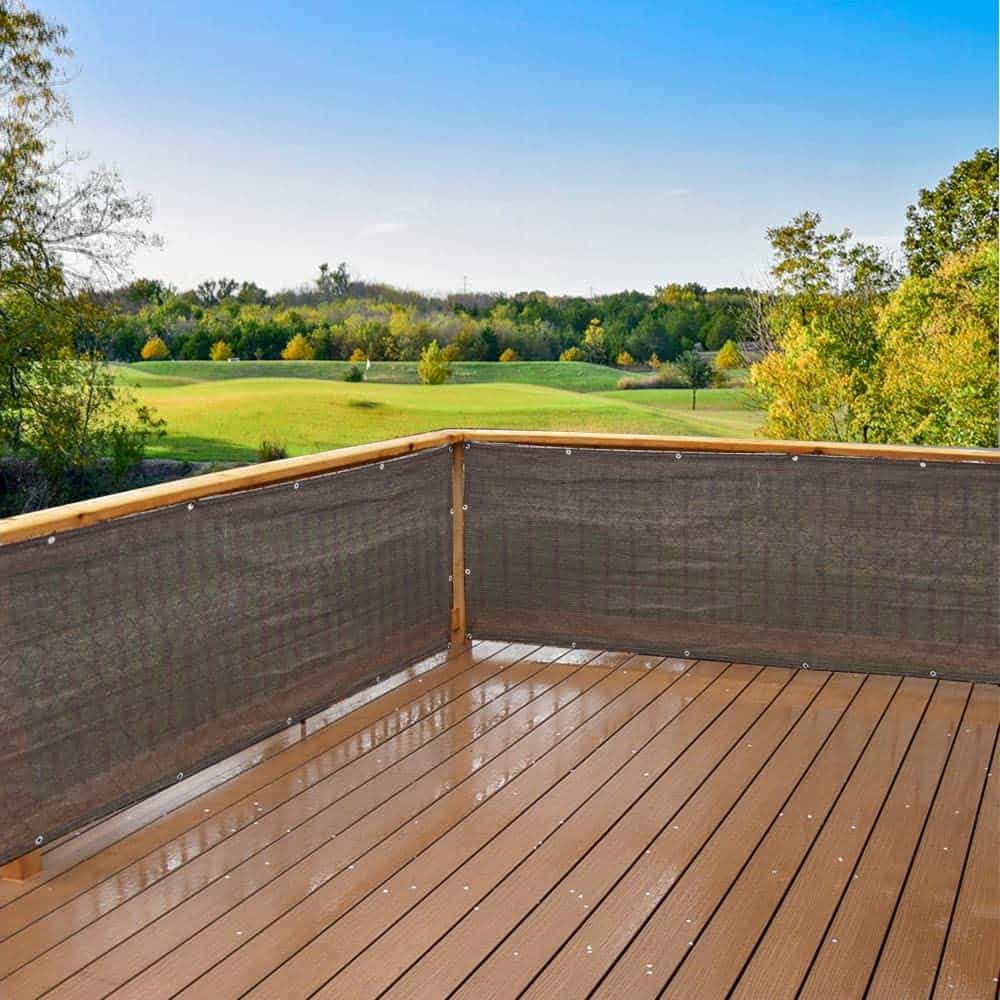 Here is a link to another popular screen on Amazon that you can get in various lengths.
If you have a raised deck, you may want to check out my article on how to add privacy to a raised deck for more options.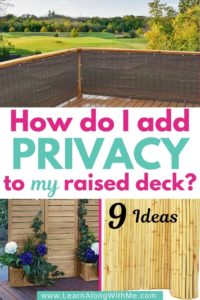 19) Combinations of Various Fencing Styles
We have already looked at some of the best privacy fence ideas that work well on their own. But there are lots of examples of people using combinations of various fencing styles to achieve their desired backyard privacy fence.
In several of the examples I've already given they have in fact already used a combination of fencing styles.
The rolls of bamboo and fake hedges need to be attached to an existing structure.
And the plastic slats and privacy fence tape for chain link fences obviously need to go on a chain link fence.
So there are lots of combinations out there.
Lets look at a couple.
Examples of Fencing Combinations to achieve a good privacy fence
Hedges with Chain Link fence or "deer fencing"
In the first picture of this article I showed a nice, fully developed row of hedges.
But did you notice what the owners also had? (I'll wait while you scroll back up 🙂 )
They had a wire fence on the outside of the hedges. This would work well to keep dogs and children in the yard.
Hedges with a Rock Wall
I like the combination of the smooth and round lines of the rocks, the solid lines of the concrete blocks and the natural curves of the hedge.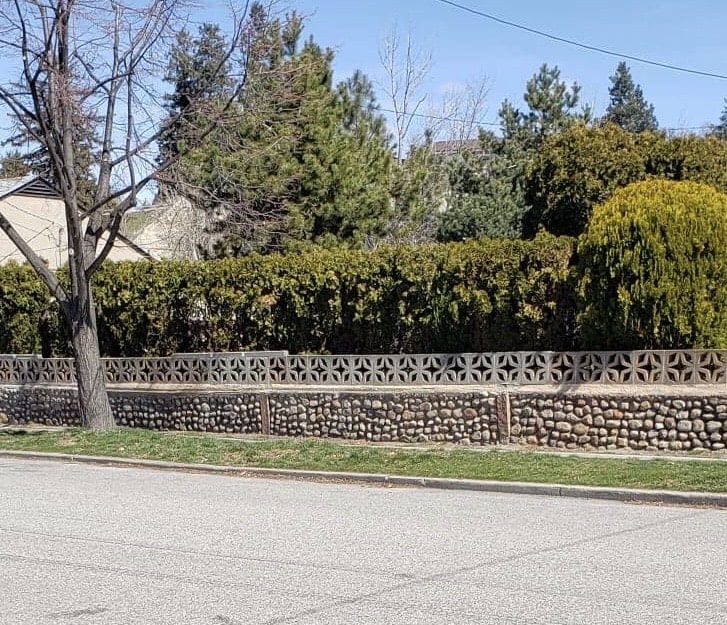 Below is another great example of a rock wall with shrubs. It is hard to get a sense of scale, but that rock wall was about 5.5-feet tall. It was an impressive privacy fence!
Espalier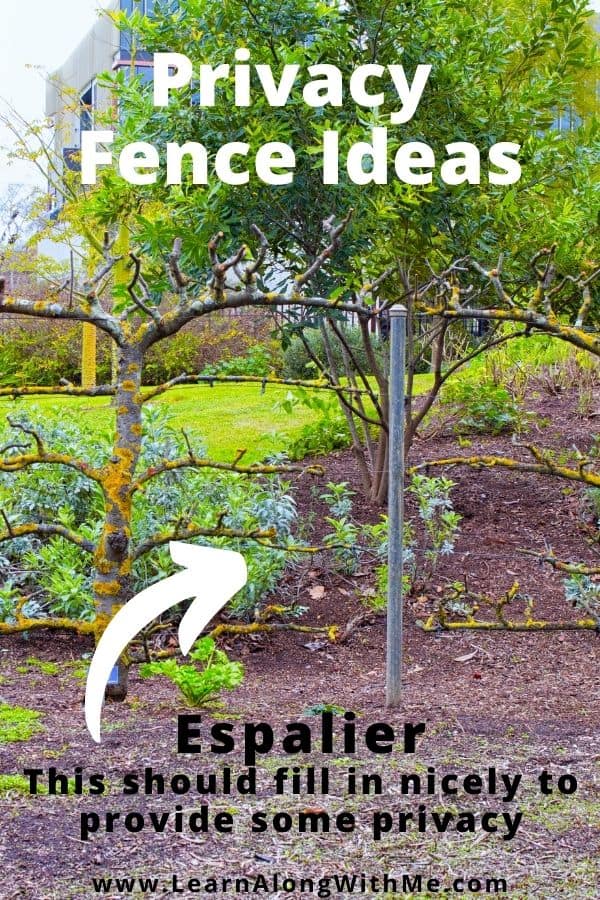 Espalier is when you train a tree (often a fruit tree) to grow flat against a wall or other framework.
If you want more information on espalier, check out this article from FineGardening.com
In the photo above you'll see trees being trained to grow along a wire frame.
In summary, we looked at some of the best privacy fence ideas for your backyard and how they can be combined together to achieve your desired level of privacy.
Which of the privacy fence ideas will work for you?
Did I miss any styles of privacy fence that should be added?
Up Next:
8 Sure-fire Ways to Cover Chain Link Fence for Privacy
How to remove rotten fence post from concrete (You need strong posts for your privacy fence)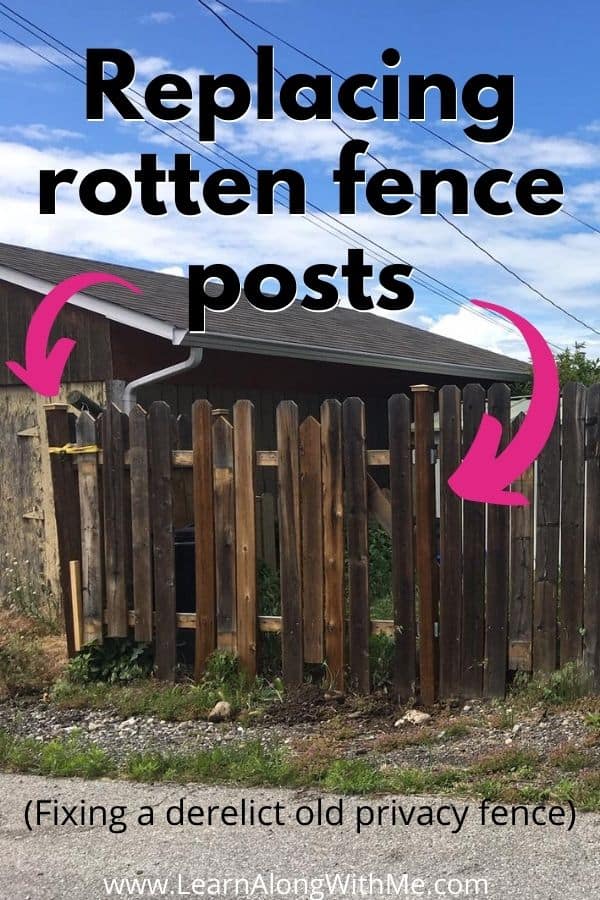 Reusing Wooden Fence Posts (save money when you fix a wobbly fence)
How to add privacy to a raised deck (some great ways to accomplish this)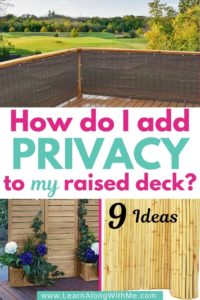 Thank you for your time and take care.
Tim from LearnAlongWithMe.com