A daybed is a great dual-purpose piece of furniture – seating during the day and bed at night. But if you need one bigger than the standard twin or full-size daybeds, you may need a Queen daybed.
In this article we'll have a concise look at 13 lovely Queen daybed options.
This article contains affiliate links. If you click a link and buy something I may receive a small commission at no extra cost to you. As an Amazon Associate I earn from qualifying purchases. For more information please see the Disclosure page.
Note: This article contains some publicly-uploaded Instagram photos by companies. If one of your company's photos was featured and you do not want the free publicity, please let me know and I'll remove it. Thank you.
Can you get a Queen size daybed?
It is true that most daybeds have twin size mattresses, or even full-size mattresses. But there are some manufacturers that make a Queen size daybed.
Those daybeds that fit a Queen size mattress is what we'll be focusing on in this article.
And to be honest, they aren't as common as other daybed sizes because most people that are buying a daybed are short on space…so a queen size bed won't fit in their rooms.
But if you have the space, and you want some seating by day and bed by night, you'll love these options.
When I list two options to check the price of a particular daybed, I suggest you check out both online retailers to compare their prices. The price may be quite different between the stores.
What is a daybed?
A daybed is a piece of furniture that provides seating like a couch during the day, and can be used as a bed at night. A daybed generally consists of the frame and the bed mattress – not seating cushions like couches have. This article from House Beautiful brings up a good point about daybed frames. Unlike a regular bed, a daybed will usually have a frame on 3 sides of the bed. Not just one side like a headboard on a regular bed frame. These extra sides are so you can lay your arms over the "arms" of the daybed frame when you're using it as seating during the day.
And instead of having the "head" of the bed (narrow end of the mattress) against the wall, a daybed usually positions the mattress sideways with the long end of the mattress against the wall.
Let's start the list of queen size daybed options…




1) Gray Linen Queen Daybed with Metal Frame
Doesn't this look cool. This upholstered daybed from DHP has a metal frame and two elevated sides to lean against.
This could work well for laying back and watching a movie, and then rolling over and going to sleep.
Note: the mattress doesn't come with this product so you'll have to provide your own comfy mattress.
2) Queen Size Daybed with Mid Century Styling
Here is another great Queen daybed by DHP. This model called the Franklin, has 3 elevated sides and wood slat base to support a mattress. (Mattress not included.)
I really like the look of the wooden legs raising the bed off the ground. It looks like it would be easy to clean under there, and it'll give you some room for underbed storage.
3) Queen Daybed with Twin-sized Trundle (by Bowery-Hill)
The back of this daybed has a button-tufted design and silver nailhead trim running up the arms of the frame.
There is a roll out twin-sized trundle bed underneath…just in case you need the extra sleeping area.
Do you like the look of this Queen daybed?
4) Metal Framed Queen Size Daybed with Full-size Trundle
This is another daybed with trundle made by the company DHP. This is there Manila model.
It has a metal frame so it should last awhile. The top part will fit a Queen-size mattress and the pull-out trundle bed is for a full-size mattress.
The mattresses are not included.
(Hint…make sure you check both retailers I've listed because you may find a big difference in price.)
5) Light Beige Upholstered Queen size Daybed with Trundle (Eliza)
Most of the options we've looked at so far have been dark colors. Here is a light beiged upholstered daybed by Baxton Studio. This is there "Eliza" model.
It takes a queen size mattress up top and full-size mattress for the trundle bed.
Do you like the look of this one?

(If you like the look of this, but you'd prefer a darker color…see below.)


6) Grey Upholstered "Eliza" Queen Daybed with Trundle (Walmart)
I found the "Eliza" daybed in a grey color on Walmart.com
It has the tufted styling on the back part of the frame and sloping arms along the side.
If you prefer the Eliza daybed in this grey fabric…

You May like:
13 space-saving Small Bedroom Organization ideas
7) The Eliza Daybed WITHOUT the Trundle
Alright, you're going to feel mighty familiar with this bed by now…but this version of the Eliza doesn't have the trundle underneath. It is a wood framed daybed with room up top for a queen sized mattress.
8) Build your own BOHO Queen Daybed DIY
I came across this YouTube video below. In this video she makes a King-sized Boho daybed, but you could amend the measurements to create a Boho Queen size Daybed. I think the bed she made looks real good.
Is this something you could do?
9) Backless Queen Daybed with Full-size Trundle ("Sophia" by DHP)
The furniture company DHP has this queen daybed with trundle model called "Sophia."
It has retro-styled curved armrests coupled with modern colors to give it a bold, unique look.
The mattresses are supported by a wood slat frame: you don't need a box spring. But you will need to provide your own mattresses since they aren't include with this daybed frame.
I like the look of this one.
Will this work at your place?
10) Expandable Daybed
This daybed is different than the other options we've seen so far.
That is because this extending daybed can actually be adjusted to fit a twin size mattress up to a King-size mattress if you wanted.
It may be hard to visualize that just by explaining it so I've included a picture below to show what I mean.
So if you wanted to use this as a Queen daybed, you'd just need to extend the bed frame until it fits your queen mattress, then plop your mattress down on top of the slatted frame.
CLICK HERE to see more details…
11) Build your own Pallet Daybed
Pallet beds are very popular: at least on Pinterest and Instagram… If you want to try and make your own pallet Queen daybed, it is definitely doable.
I couldn't find a picture online of a completed pallet daybed that is queen-sized, but check out the picture below and then just imagine the pallets on one or two more sides to form the "arms" and back of the daybed. Is this something you'd be able to make?
You'd have to make sure you sand the pallet boards that comprise the back and sides of the daybed. Since you'll be touching and leaning against these bed parts regularly, you'll need to make sure they're smooth.
Nobody likes slivers.
12) Get a Custom Queen Daybed made for you
I didn't even know this was possible until I came across this picture on Instagram. This Canadian company – Ideal Sofa – makes beautiful looking furniture for its customers. If you are in the market for a custom-made queen daybed, check them out.
13) Freda Queen Daybed by Baxton Studio
You've probably noticed this company's name – Baxton Studio – in this article. They have a variety of queen daybeds including this model called Freda. It has a wood frame, padded with foam, and covered with a velvety upholstery.
I think the tufted design gives it an old-fashioned look. It's not my favorite look…
But do you like it?
I hope you've found a queen size daybed that suits your style and fits your space.
Just remember that you'll need to have your own mattress with these options. The mattresses are not included with the daybed frames.
Up Next:
Do you like double-duty furniture? Check out these 11 stylish Square Storage Ottoman options.
13 awesome Daybed with Storage Options (Twin size daybeds and Full size daybeds included)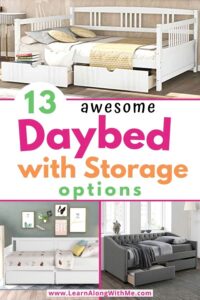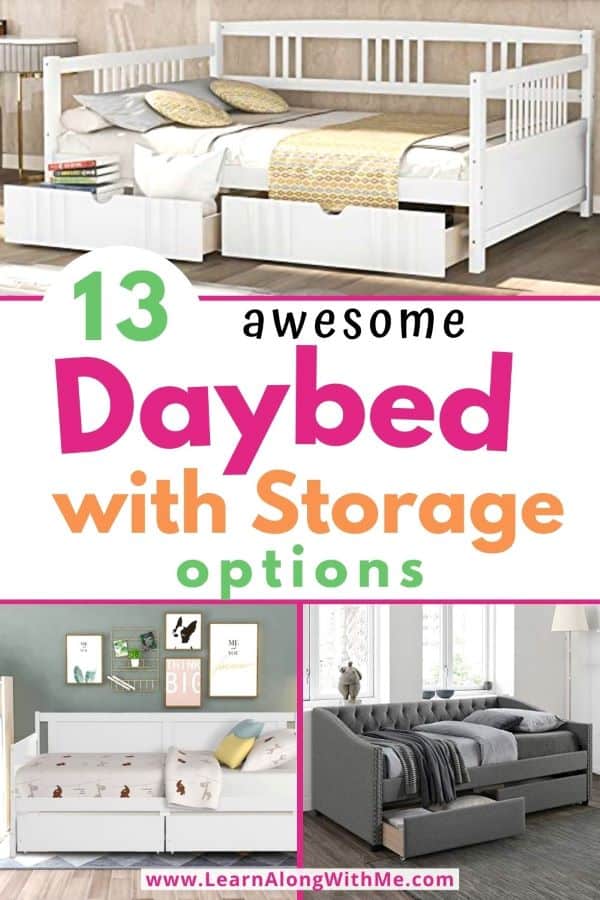 9 well-rated Bedroom Storage Chest Options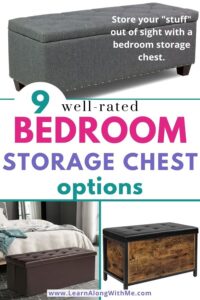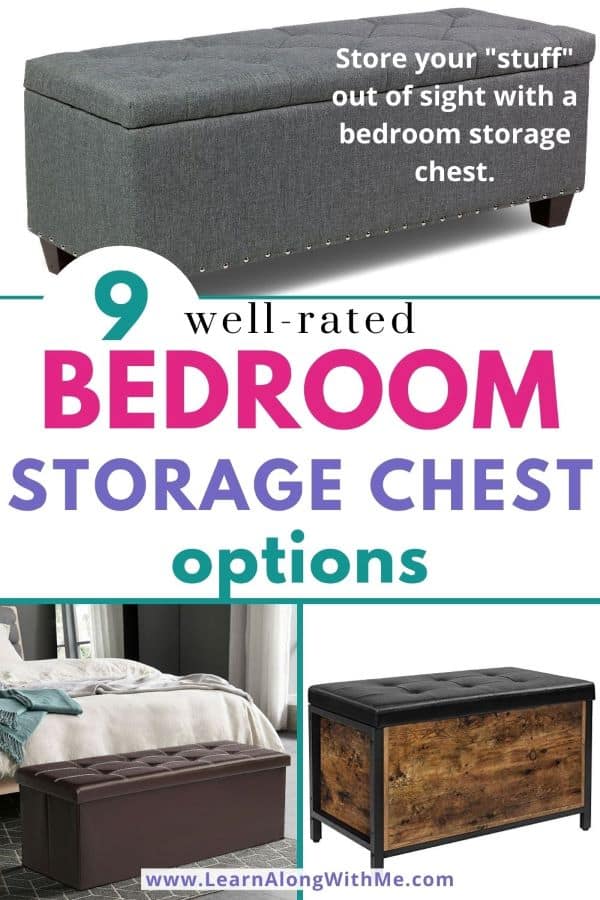 13 handy Over Bed Storage Ideas