Mason jars are incredibly versatile food storage jars that can be repurposed in many creative ways. In this article we'll look at 23 ways to repurpose mason jars.
This article contains affiliate links. If you click a link and buy something I may receive a small commission at no extra cost to you. As an Amazon Associate I earn from qualifying purchases. For more information please see the Disclosure page.

What to do with old mason jars? – List of Ways to Repurpose Mason Jars
Below is a variety of clever ways to repurpose mason jars.
Not all of these ideas will work for you. You may not be able to use all these ideas.
But hopefully at least one of the ideas will be perfect for reusing those old mason jars you've got around your house.
Scroll through them all to see what'll work for you.
1) Mason Jars as Flower Vases
One of the most popular ways to repurpose mason jars is to use them as flower vases.
Mason jars are a charming and rustic way to display flowers. I think they look equally good holding dried flowers as they do holding fresh-cut flowers.
By repurposing Mason jars as flower vases, you can create a charming and eco-friendly decoration that is both practical and stylish.
Want something more than just a plain jar? Well, to add your own decorative flare to the jars, you can paint the jars, add ribbons, lace or even add twine for a farmhouse look.
Mason jar flower vases are ideal for placing on the tables of weddings or parties, and they add a touch of natural beauty to your home.
Plus, they also make great gifts for friends and family.
2) Mason jars for Bathroom Storage
Since mason jars come in various sizes they are a great storage option for bathrooms.
They can work well in the bathroom to help store small items like cotton balls, cotton swabs, Q-tips, makeup brushes, and other small items.
Plus, they can also be used to hold lotion or soaps. (More on that below.)
Make sure you properly clean the jars prior to using them for storage and to label the jars if the contents are not obvious.
3) Mini Windowsill Herb Gardens
Mason jars are an excellent option for growing herbs in a small space.
They are versatile, affordable, and easily repurposed into stylish and functional planters.
To grow herbs in a mason jar, start by adding a layer of rocks or pebbles at the bottom for drainage so the roots won't be sitting in a pool of water. (Alternatively, you could carefully drill a hole in the bottom of the jar if you have the skills, tools, and safety protection to do so.)
Then, fill the jar with potting soil and add seeds or plants.
Herbs that do well in mason jars include basil, thyme, cilantro, and parsley.
Make sure they have enough sunlight, but direct sunlight may heat the roots so keep an eye on them. Plus, keep an eye on the moisture level of the soil.
Here is a link to an article that goes into more detail about growing plants in mason jars.
4) Use Mason Jars as Drinking Glasses
Using mason jars as drinking glasses is another popular way to repurpose mason jars.
It can add a warm, rustic charm to your gatherings when you serve up your favorite beverages in mason jars.
5) Use Mason Jars as snack containers
If you're trying to cut down on plastic use, you can start using mason jars as snack containers.
Mason jars are an eco-friendly, convenient and portable option for storing snacks.
With their airtight lids and durable glass construction, they make for an excellent snack container that can easily fit into your purse, backpack, or gym bag.
And if you want added protection against breakage, you can get protective silicone sleeves that go around the jar to protect the glass. (Or crochet your own mason jar cozy.)
6) Turn your mason jar into a spray cleaner bottle
The company reCAP makes these spray lids that thread onto regular mouth mason jars.
This is a great option for someone that makes their own household cleaners.
Just mix up your homemade cleaner in a mason jar, screw this lid on, and you're ready to get to work. Super cool.
7) Use Mason Jars as Candle Holders
You can use old mason jars to hold candles such as tea lights.
Or you can use the mason jar to hold a floating candle as seen in the picture above.
You may need to use a long-stemmed BBQ lighter to light candles that are at the bottom of the mason jar. You don't want to burn your hands.
8) Use as Desk Organizers
Mason jars work great as pen and pencil holders!
You can organize and store your pen collection with a plain mason jar, or you can paint it, add some ribbon or twine, or even glue paper to it and decorate it like this one I got as a gift from my kids.
9) Mason Jars as Soap Dispensers
You can get an incredible variety of lids for mason jars including a pump soap dispenser lid.
Fill the mason jar with your favorite liquid soap, screw on the pump lid and you've got yourself a eye-catching, conversation-starting soap dispenser.
RELATED ARTICLE:
Unique Mason Jar Lids and Accessories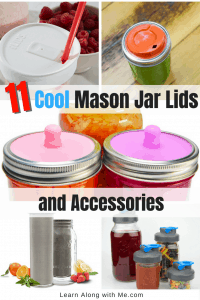 10) Outdoor Lighting – Mason Jar Solar Light Lids
Putting string lights or fairy lights inside of a mason jar can add some rustic charm to your backyard or outdoor space.
You could DIY your own solution, or you can buy solar lids like the ones above.
The lights go inside your jar, and there is a small solar panel on the top of the lid. This lid harnesses the sun's energy to charge a rechargeable battery so you can have beautiful LED fairy lights at nighttime.
More ways to repurpose mason jars below…
Related Article:
Solar Fence Lights that'll make your backyard look awesome
11) Sewing kit storage
Do you need a handy kit to store your sewing supplies.
You can consider using a mason jar to store sewing supplies like needles, thread, and buttons.
And if you want to kick it up a notch you can glue a pin cushion to the lid, or you can buy a mason jar sewing kit like the one above that already has the pin cushion lid.
12) Piggy bank
You're saving money repurposing mason jars instead of buying other things, so save that extra cash in a mason jar!
You can DIY it by cutting a slot in the top of the lid and use the jar to collect your spare change. (Careful of sharp metal edges.)
Or you can buy a dedicated mason jar piggy bank lid like the one shown in the picture above.
13) Bird feeder
You can buy these wild bird feeders bases that screw onto regular-mouth mason jars to create unique tray-style bird feeders.
You can click here for details on this particular feeder. Or I found a DIY option you may appreciate.
On the Boy Scouts website they have a tutorial on how you can use a mason jar to create a bird feeder. This option does require some basic woodwork, but it looks like a fun project.
14) Cocktail shaker
Let your inner James Bond run free by enjoying your cocktails shaken, and not stirred.
You can get mason jar cocktail shaker lids especially designed to help you make your favorite cocktails in your old mason jars. The one in the photo above is a cocktail shaker lid by Jarware designed for wide mouth mason jars. (They also make a version for regular mouthed jars.)
15) Wall Planters
I came across this clever way to repurpose mason jars while researching this article and I thought you'd love to see it too.
Stacey from the website NotJustaHouseWife.net used hose clamps to attach mason jars to a piece of wood. The result is so unique and charming. Note, these are house plants and not herbs. If you want to see more information on her DIY project, click here to see her updated article on this project.
16) Mason Jar Hydroponics
You can buy special net pots that screw onto wide mouth mason jars that provide a growing space for plants. The roots grow through the net pots down into the water.
(Or you can do what I've done below with spider plants.)
17) Propagate spider plant in water
It is super easy to propagate a spider plant in water. At its simplest, you just put a baby spider plant (a spiderette) into a mason jar with some water. Make sure the bottom nub of the spiderette is covered with water.
In time, the baby spider plant will grow white roots. You can eventually transplant the rooted spider plant into soil.
Or you can do what I did in the picture above, which is pretty much forget about the plant and it will survive despite the neglect. All I've done with this spider plant is to add new water when the water level drops. (The roots are rootbound but so far it appears to still be doing well.)
Spider plants are one of my favorite house plants because they are just so darn easy and low maintenance.
18) Mason Jars as DIY Snow Globes
Mason jars can be transformed into beautiful and unique snow globes with just a few simple materials.
Some people choose to use water and glyercin as the liquid in the jar, while others add some clear glue to help suspend and slow down the falling "snow"…which is usually a type of glitter.
Above is a YouTube video where the YouTuber walks you through the steps she took to make a cute mason jar snow globe.
DIY snow globes make wonderful holiday decorations and thoughtful gifts for family and friends.
You can also make great-looking snow globes that are dry: no liquid inside them. You can use artificial snow inside the jars to give the look of a wintery wonderland.
19) Mason Jar Gnome Crafts
Do you want to create a super-cute craft gnome? You can use a mason jar as its "body" and add decorative touches.
The YouTube video above shows you how to make this Christmas gnome…and you don't even need to sew anything.
Check it out.
20) Use your Mason Jar as a Seed Sprouter
I have never seen this in person, but it looks interesting. I came across these lids made by MasonTops that allow you to convert your wide-mouth mason jars into a seed sprouting container.
Do you want to grow your own freshly-sprouted seeds at home?
If so, click here to see more details.
21) Use a Mason Jar as a to-go cup
With a lid like this, a mason jar becomes a to-go cup for cold drinks.
We have a flip-top pour lid made by the company reCAP that fits on wide-mouth mason jars.
It works well if you want to bring some water, iced coffee, or another cold drink with you.
Here is a link to a similar lid on Amazon. These are also made by reCAP but the new ones have a little carrying loop on the lid which mine don't have.
22) Mason Jar Dessert Cup
You can use mason jars to serve up some of your favorite desserts like ice cream, ice cream floats, puddings, and more.
And if you use small mason jars, it can help control portion size. (Unless you just go back and refill it several times…)
23) Turn a Mason Jar into a Terrarium
I came across this cool video on YouTube where the YouTuber made a great-looking terrarium out of a glass jar. He used an old pasta jar, but you can make it out of a mason jar too.
He didn't just dump everything in, he carefully placed the moss and twigs to create an aesthetically pleasing terrarium.
This could be fun for kids and adults.
Thank you very much for checking out these different ways to repurpose mason jars.
They sure are versatile!
Am I forgetting a great way to reuse mason jars? If so, comment below to share with others.
Before you Go
If you're a reuser, you'll appreciate these Egg Carton uses…great ways to reuse old egg cartons
You May Also Like:
Check out these other clever mason jar lids and accessories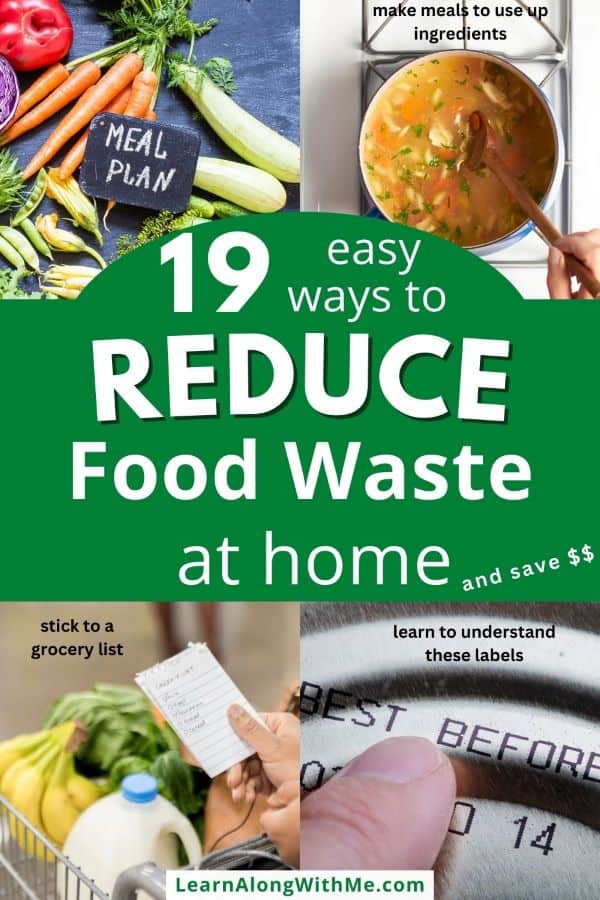 Help the environment and SAVE MONEY with these 19 easy ways to reduce food waste at home.
I appreciate you taking the time to read this.
Thank you.
Tim from LearnAlongWithMe.com