Are you struggling with a messy, cluttered RV bedroom? If so, I hope this list of RV bedroom organization ideas inspires you to "get it together."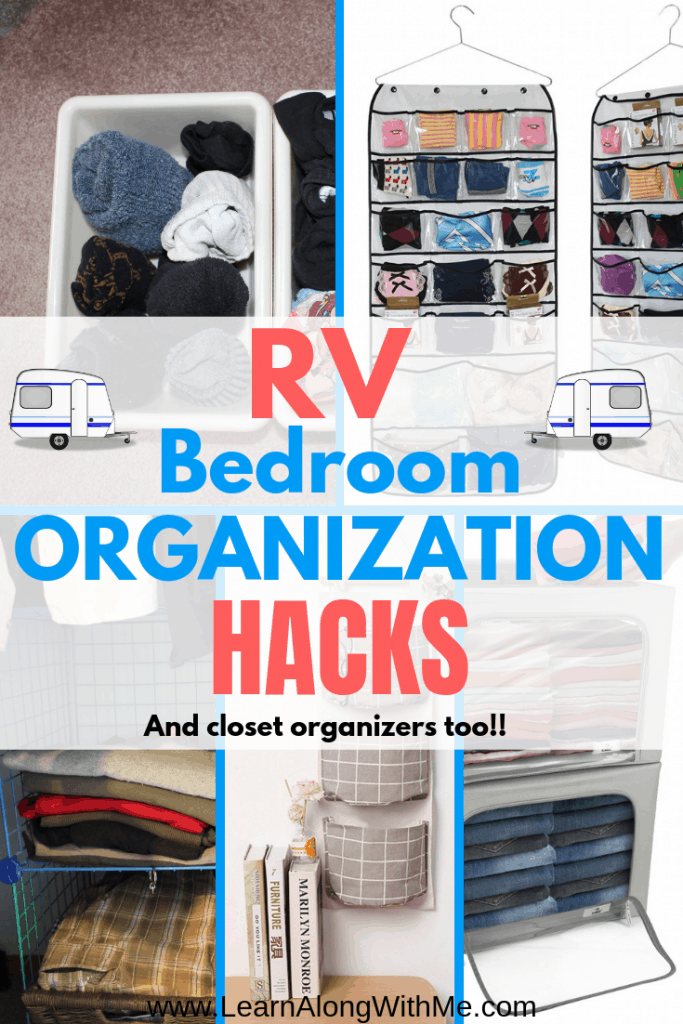 This article contains affiliate links. If you click a link and buy something I may receive a small commission at no extra cost to you. As an Amazon Associate I earn from qualifying purchases. For more information please see the Disclosure page.
In this post we'll list some RV bedroom organization ideas to maximize your small RV bedroom and closet.




Lets look at the closet first
Do you have too many clothes?
Do you wear all the clothes you've packed into your RV?
If not, then maybe its time to donate those unused clothes to charity.
RV Bedroom Closet Organization Ideas
If you've gone through your clothes and need everything you have here are some ideas on how you can organize your RV closet.
1)

Hanging Sweater organizer
This one is cool because it has smaller pockets along the side as well. These side pockets would work well for accessories like belts, scarves, or even socks.
And you should be able to find some fabric cubes to slide into the shelves to provide easy access to underwear, socks, t-shirts, etc…
It may be too long for some shorter closets though. (There are shorter hanging closet shelves out there though).

RV Closet Hack
If you're having issues with your clothes sliding out of the shelves during traveling you can try packing more clothes into one shelf. (Think sardines in a can. ) 🙂
If you tightly pack one shelf instead of distributing the same clothes over three shelves, there's a better chance of them staying put during travel days.
---
If you're frustrated with your cluttered RV, check out our super helpful planner and workbook: "Clutter Free RV" RV Organization Bundle.
If you want to try some FREE SAMPLE pages from the RV Organization Bundle, click here to check them out.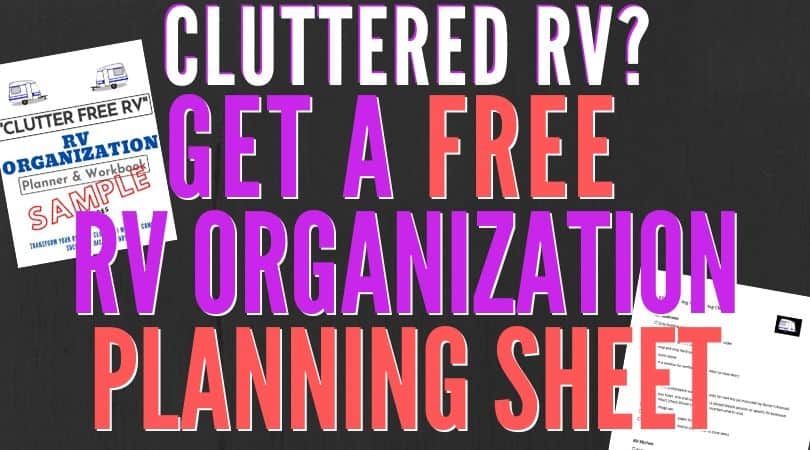 ---
2)

Hanging Dual-sided organizer
This item hangs from your closet rod (or a command hook if you wanted) and it has clear pockets on both sides allowing for more storage.
It has 21 pockets on each side.
It can be found on Amazon if you want to see more information.
I totally understand if you're wanting to get away from plastic though.
I found a couple fabric hanging organizers on Amazon, but I couldn't verify if they were plastic-free. Perhaps you could sew your own? (If you've done this I'd love to see the result.) 🙂
3)

Foldable Fabric Storage bags with view window
Do you need a storage idea for the bottom of your closet? Is it currently a jumbled mess?
The bottom of a closet is often wasted space (or a cluttered disaster) so you could measure your RV closet to see if organizers like this will fit.
These bags allow you to store clothes or extra blankets and then stack the boxes on top of each other.
CLICK HERE to see sizes and details on Amazon.
---
Hi folks, do you want a way to document your current trip and plan future trips? If so, click here or the picture below.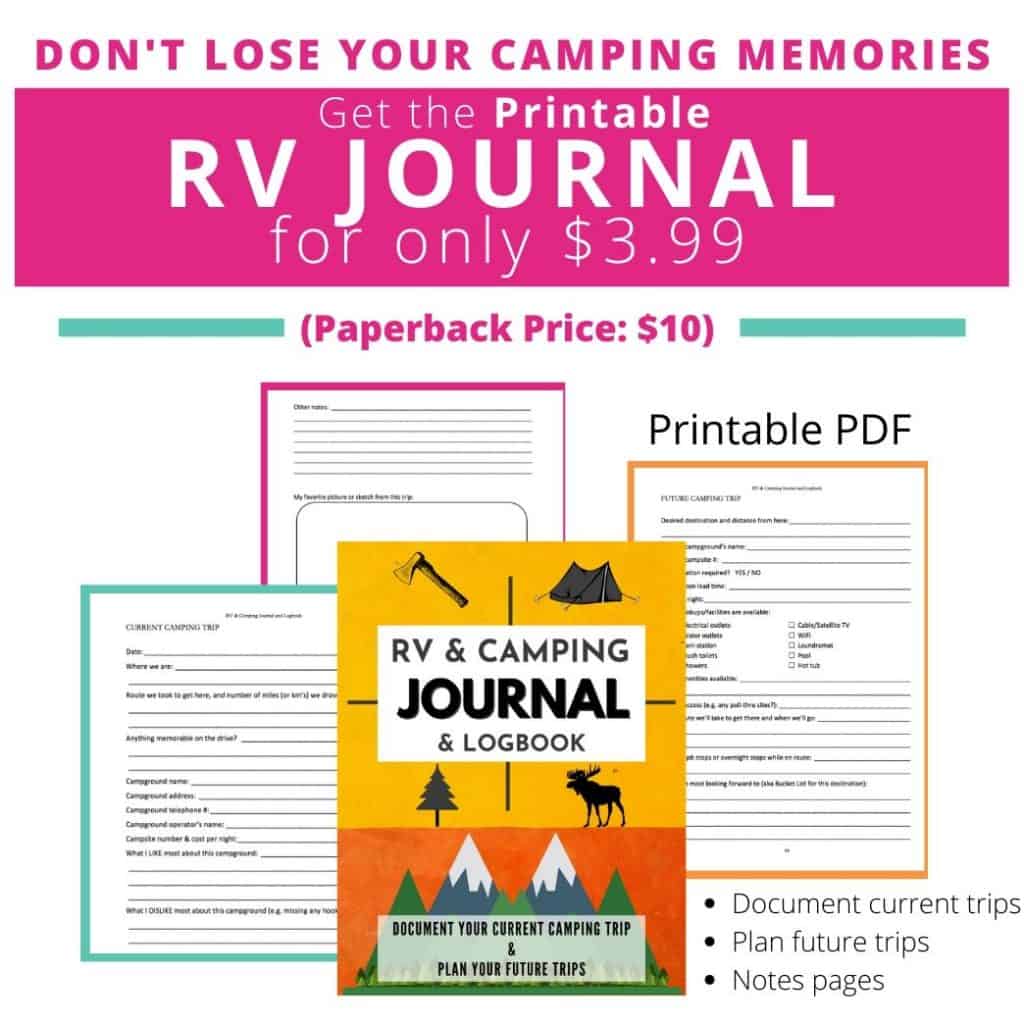 ---
4) More options for fabric storage bags
These quality storage bags shown above (made by Sorbus) have a large clear window in the front.
And it has two access zippers:
one on the front

and the other along the top.
So if you have a few stacked to top of each other, you can unzip the front zipper to access clothes from the bottom bag. (You don't have to "Jenga" your entire stack of bags to get somethign from the bottom.)
These ones are really popular on Amazon.
Foldable Plastic Shoe Crate
Perhaps you'd prefer these folding plastic crates at the bottom of your RV closet. They are marketed as "shoe crates" but you could store other items in here as well.
Click here to see more details of these popular organizers on Amazon.
5) Wire Mesh Cubes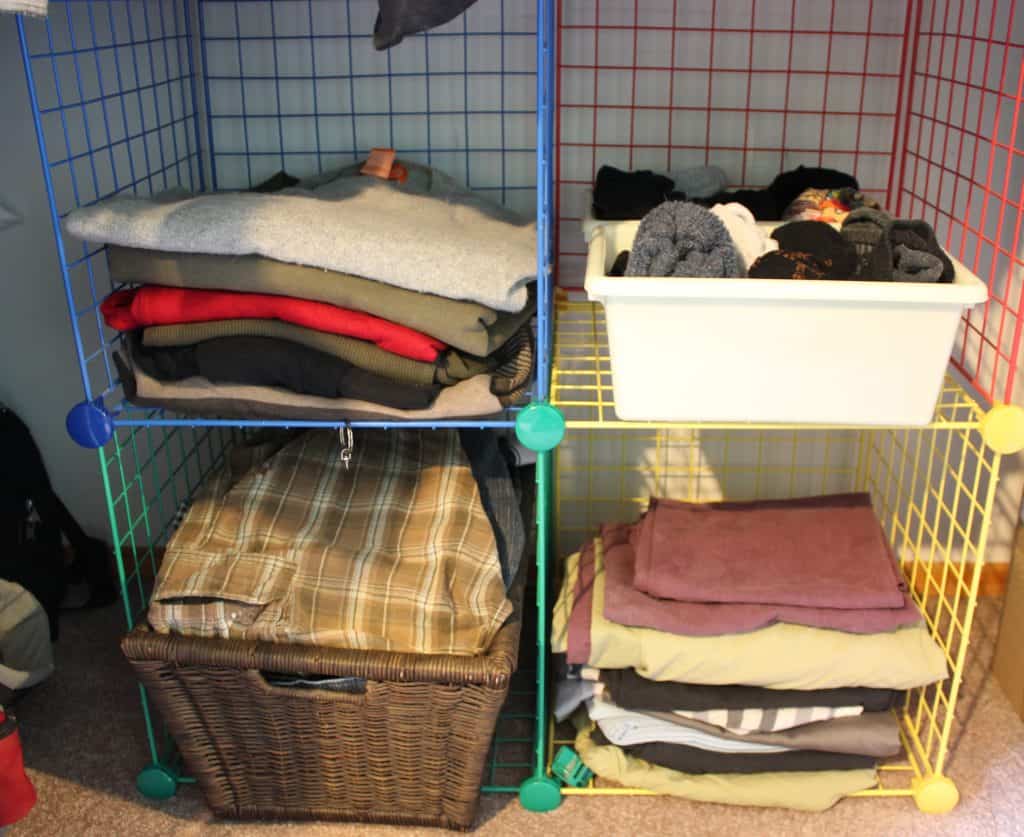 These types of wire mesh cubes are modular so you can build a variety of shapes to suit your needs.
The picture above shows them in a standard 2X2 cube shape, but you can also make them tall and skinny like a tower.
6) Baskets to Contain Clothes and Accessories
And you can use baskets to hold your smaller clothing items, such as socks and underwear.
It may require you to think about folding clothes in a different way.
Check out these rolled and vertically packed men's underwear and socks in plastic bins.
And if you want to get away from plastic you can use seagrass baskets, wooden baskets or fabric baskets.
There are a lot of plastic-free options out there, and since you'll be storing dry, clean clothes in them I don't foresee any issues concerning moisture.



Click here to see our article on RV organizing using plastic storage bins and baskets.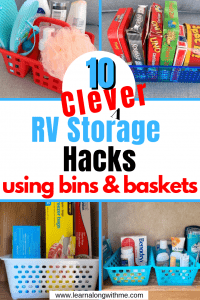 7) RV Closet Hacks to prevent slipping while traveling
Get velvet hangers so your clothes don't slip off
Or hang more clothes so they're tightly packed into your closet – this will prevent movement during travel
Or push all the clothes tight to one side of the closet and put a clamp on the closet rod so the clothes can't slide back
8) Other RV Hacks to Maximize Storage in a RV Closet
If you have the room you could add a second lower closet rod
Then you just need to change or improve your "clothes folding skills" – start folding clothes so they don't hang down so far
Get slim clothes hangers with anti-slip pads (like the ones shown below)
When we purchased our old house the previous owner left behind some closet organizers.
And for years I didn't bother using them, but I started using these vertical hangers and it helps minimize closet spread (when the clothes take up your whole closet rod).
Will these work in your RV?
If you're interested in an item like this I've provided a link to Amazon to check out popular ones made by IPOW.
You can check them out and see what you think.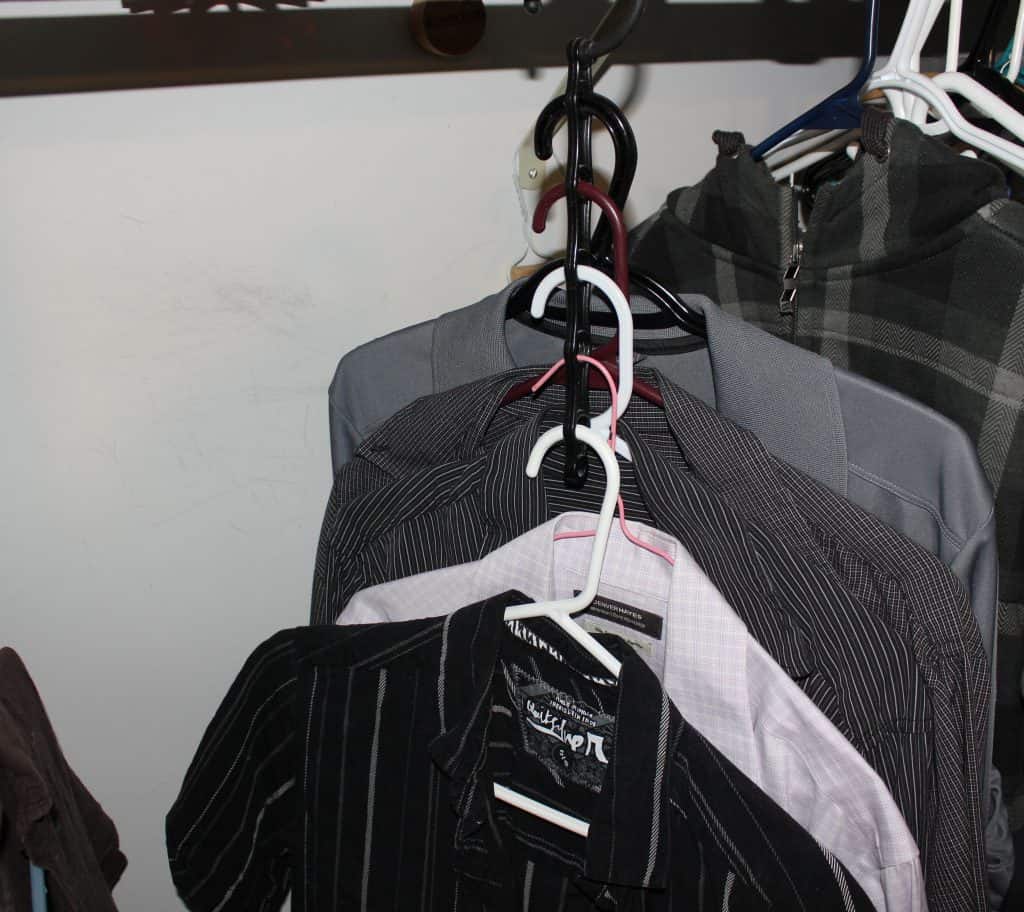 ---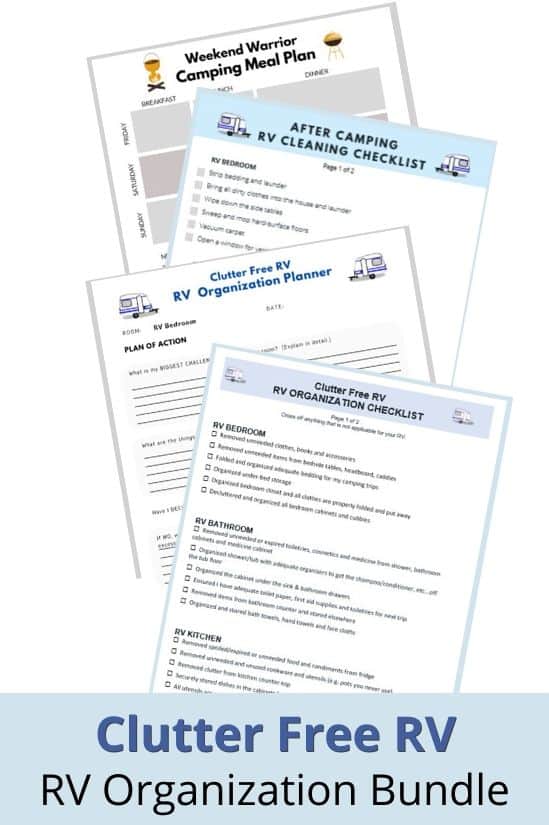 BUY THE BUNDLE FOR ONLY $5.99
---
RV Bedside Organization Ideas
If you are ever startled awake it's important to know where your glasses are or a flashlight.
Below I've provided some bedside organization ideas so you'll know where your "stuff" is.
9)

Bedside Caddy
This bedside caddy slips between the mattress and box spring and hangs along the side of the bed to provide easy access to your personal items.
This particular item has 1 large main pocket and 3 smaller mesh pockets.
The one downside that I read about this item though is that it may slip out from between the mattress.
You may need to attach Velcro straps to your box spring, then Velcro to this caddy and stick them together. (The Velcro is not included.)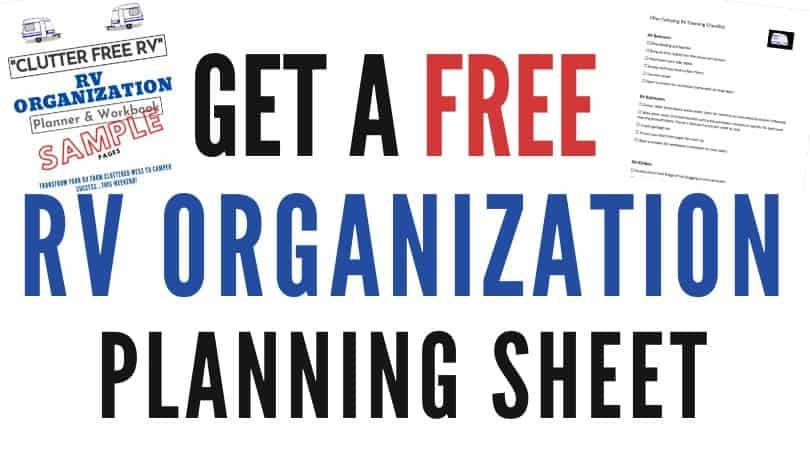 10) Headboard Caddy
I wasn't able to find a good royalty-free picture showing this bedroom organizer attached to a headboard, but that is what it is meant to do.
If you don't have a headboard, you can put a tension bar above the bed, tight to the wall.
Then hang an organizer like this from the tension bar.
Hanging it on the headboard will allow you and partner to be able to reach it.
Or better yet, this comes as a 2-pack so you can each have one.
Click here to see more details on Amazon.
Speaking of Beds…are you sick of getting a bad sleep?
Many RV's have heavy innerspring mattresses that can break down over the years, resulting in a crumby sleep.
You don't want to be crabby your entire trip due to poor sleep.
When people buy a used RV, often the first thing they do is replace the mattress.
But if you don't want to replace the entire mattress, you could look into a memory foam mattress topper (like the one shown below).
The short queen RV memory foam mattress topper shown above is available on Amazon.
Getting a mattress topper is usually a cheaper option than replacing the entire mattress.
Will this work for you?



If you want some more information BEFORE you buy a new RV mattress, check out this article discussing the 6 things you need to think about before you buy a new RV mattress.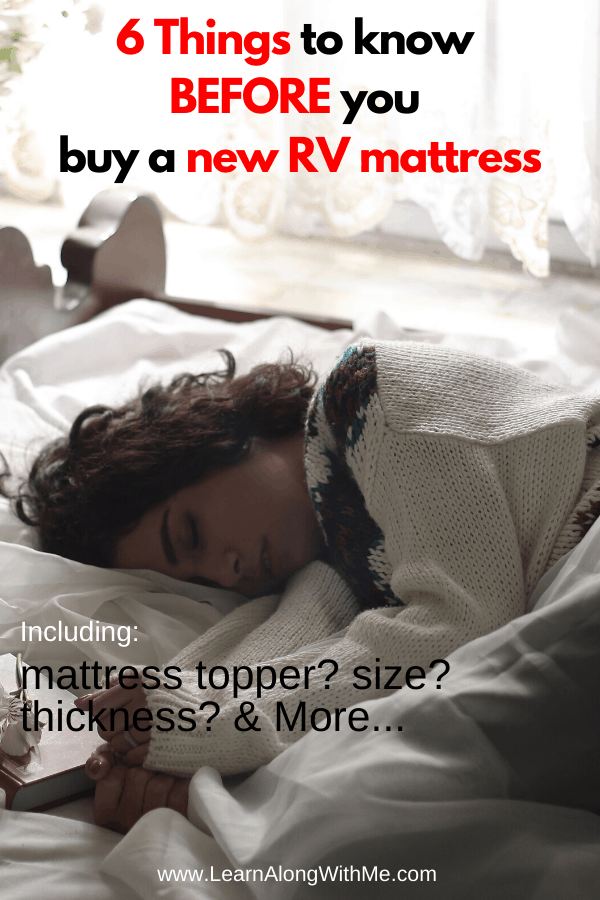 Need some new RV Mattress sheets?
Check out these microfiber bed sheets by Nestl that are sized to fit RV Short Queen mattresses. They are really popular on Amazon.
They're available in lots of different colors too, so there is sure to be something to suit your taste and decor.




Speaking of RV décor, check out 11 RV Decorating Ideas to make your RV feel like home
Wall Organizers
Making use of your vertical space is a great RV bedroom organization idea.
You've got the wall, so try and use it.
11) Fabric Wall Organizer Hanging Storage 
These are quite small, but if you have a realistic expectation of their size they make a good RV bedroom organizer.
Yes, they're rather small but they're good to fit your remote controls, reading glasses, tissues, etc… not your hardcover encyclopedias.
You could attach it the wall using Command Hooks if you are reluctant to screw into the wall or cabinets.

12) Other RV Hacks – Wall Organization Ideas
Can you put some shelves above the bedroom door?
Would an over-the-door hanging coat rack work for inside the bedroom door? (you could hang your robes on here)
If you don't want to screw anything into the walls could you make use of command hooks?
Bedside Shelf (adhesive)
This beside shelf has an adhesive on the back for your to stick it on the wall near your bed. It has a smaller shelf up top for glasses or small items, and a larger pocket-shelf down below for your phone.
If you want an little shelf near your RV bed, and you don't want to screw into the wall, check this out. (Click here for more details on Amazon.)
13) Wall-Mounted Plastic Baskets using Command Hooks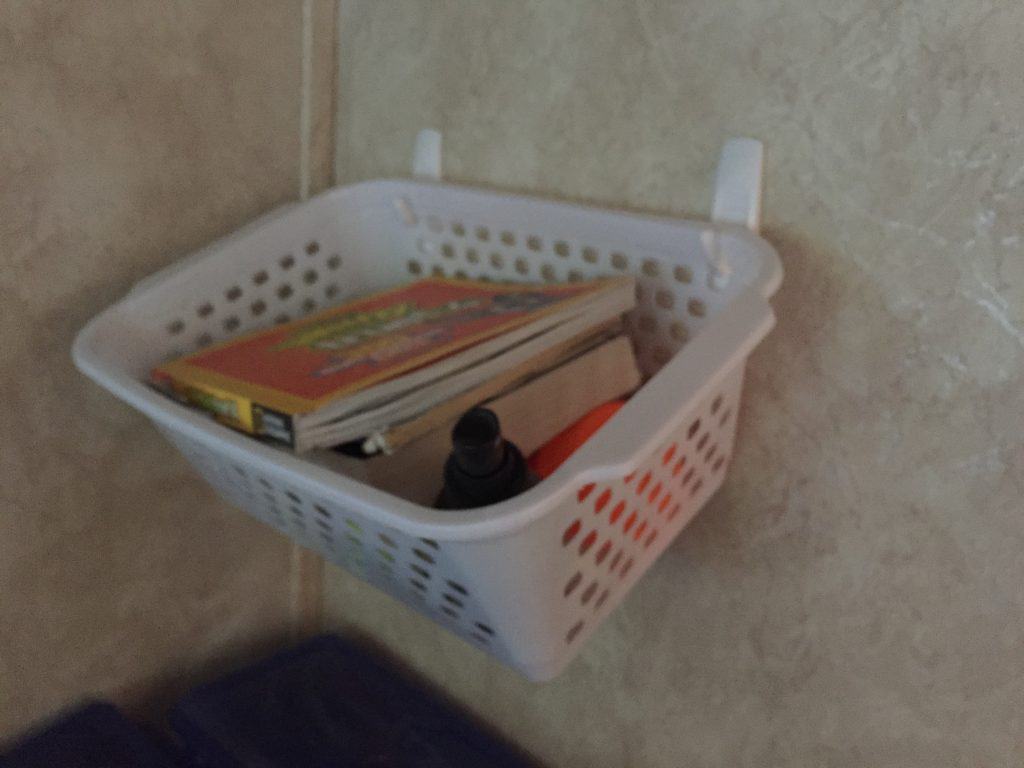 My family member put some command hooks on the wall and then hung a plastic basket from the hooks.
It acts an organizer for her son's books and bedroom knick-knacks.
Sorry the picture is a bit blurry but I think you get the idea. It's a great organization hack (and no tools required).
And yes it does "stay put." It has been hanging there for a couple years.
Tired of having a cluttered RV?
RV Bedroom Reading Light with USB port (LED)
You don't have to settle for poor reading lights in your RV. You can get a replacement like this one which has a long-lasting LED light and a USB charging port. It is wired, so you'd remove your current light and replace with this one. (Just read manufacturer's instructions carefully first.)

I hope you've found some inspiring ideas to declutter and organize your RV bedroom today.
I'm sure there is over a thousand ideas i've MISSED.
So please share your favorite RV bedroom organization idea so other readers can benefit from your genius.
If you want inspiration for other RV organization ideas, check out these posts:
Thank you. I appreciate your time. 🙂
Tim from LearnAlongWithMe.com