Is your RV basement area cluttered by a tangled mess of RV power cords? If so, check out these 8 RV power cord storage ideas to help prevent this annoying problem.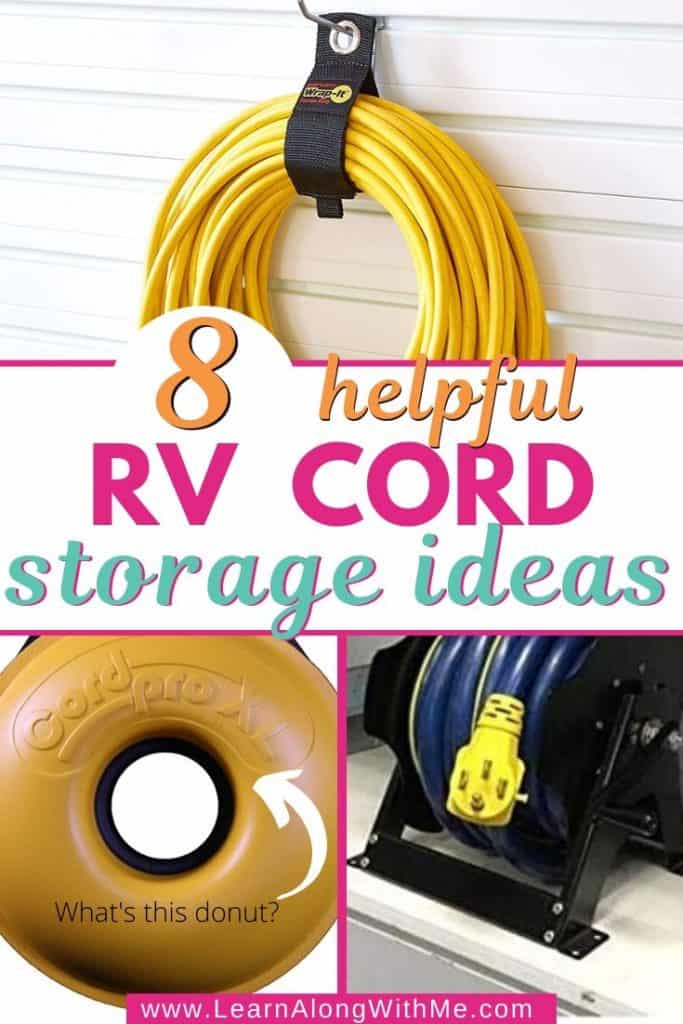 This article contains some affiliate links. This means if you click a link and buy a product I may receive a small commission at no extra cost to you. As an Amazon Associate I earn from qualifying purchases. Please see the Disclosure page for more information.
List of RV Power Cord Storage Ideas
Hose and Cord Caddy by Stromberg Carlson
This carrying and storage caddy from Stromberg Carlson works well to store your RV power cords or water hoses (and accessories).
It is a popular accessory and is available on Amazon.
RV Cord Storage Bag by Camco
Camco is a leader in RV accessories, and they make a convenient RV equipment storage bag that works well for cords and hoses. It features a drawstring top, a carrying handle, and it comes with labels for easy recognition.
It is
available at many local retailers and on Amazon.
Extra Large Extension Cord Organizer (looks like a donut)
This donut-looking extension cord organizer by CordPro is a quality product. It states it will hold up to 50-feet of a 30-amp RV power cord. It has a metal grommet at the top if you wanted to hang it in your RV pass-through area.
Click here if you want to see more details on Amazon.
RV Cord Storage Straps by Wrap-It
The company "Wrap-It Storage" makes these heavy-duty velcro straps to help you organize RV cords and hoses. They are available in different sizes to meet different needs. They claim the large size (as shown in picture) is good for power cords that are 25 to 75-feet long.
You can buy a 6-pack of them on Amazon by clicking here.
These are a very popular extension cord organizer.
RV Power Cord Strap with carrying handle
Here is another cord strap, but this one from Camco has a carrying handle and a clip closure (not velcro).
If you want more details you can see it on Amazon.
Some campers say it doesn't cinch tight around the cord…there is some slack… but I think this is mostly an issue with shorter cords.
You'll also like…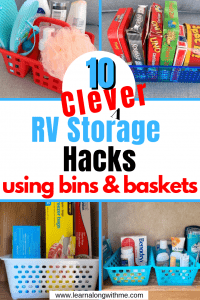 10 clever RV Storage Hacks using bins & baskets
RV Power Cord Reel with Manual Crank
Sorry this isn't the greatest picture, but hopefully you'll get the idea. This RV power cord reel mounts to the floor of your RV basement area and the small hand crank of the side allows you to easily reel your cord back in. You can mount it so the crank is on either the right side or the left side.
Click here to see this RV cord reel on Amazon.
Manual Extension Cord Reel from Alert Stamping
Here is another manually-cranked cord reel that would work well for your RV power cord. This one is from Alert Stamping. They claim it is contractor grade, but some campers say it is a little lightweight. But if it was mounted to something – like your RV basement area or a wood block – it would work even better.
Click here to see details on Amazon.
Zippered Cable Bag by Rugged Tools
Rugged Tools makes a quality cord bag with a zipper closure and carrying handle. They primarily market it for jumper cables and EV charging cables, but folks use it for smaller RV cords as well.
Click here if you want to check out its size on Amazon.
I hope one of these RV power cord storage ideas can help you avoid a mess like this one from the holiday classic "National Lampoon's Christmas Vacation." (I love that scene…and I feel for the kid Rusty.)
Up Next:
10 proven RV Stabilizers to stop your RV from Rocking
If you want some RV kitchen organization ideas, click here.
Need some help with your RV bathroom? Check out these 27 Simple RV bathroom storage ideas.
You may also like this article on how to store your RV dishes.
Thank you,
Tim from LearnAlongWithMe.com