Getting out and enjoying nature is one of the greatest pleasures of camping. But if you're an avid fisher, you may run into the issue of 'where to store a fishing rod in an RV.' Check out these 11 RV fishing rod storage ideas.
Hopefully one of them will work for you and your RV.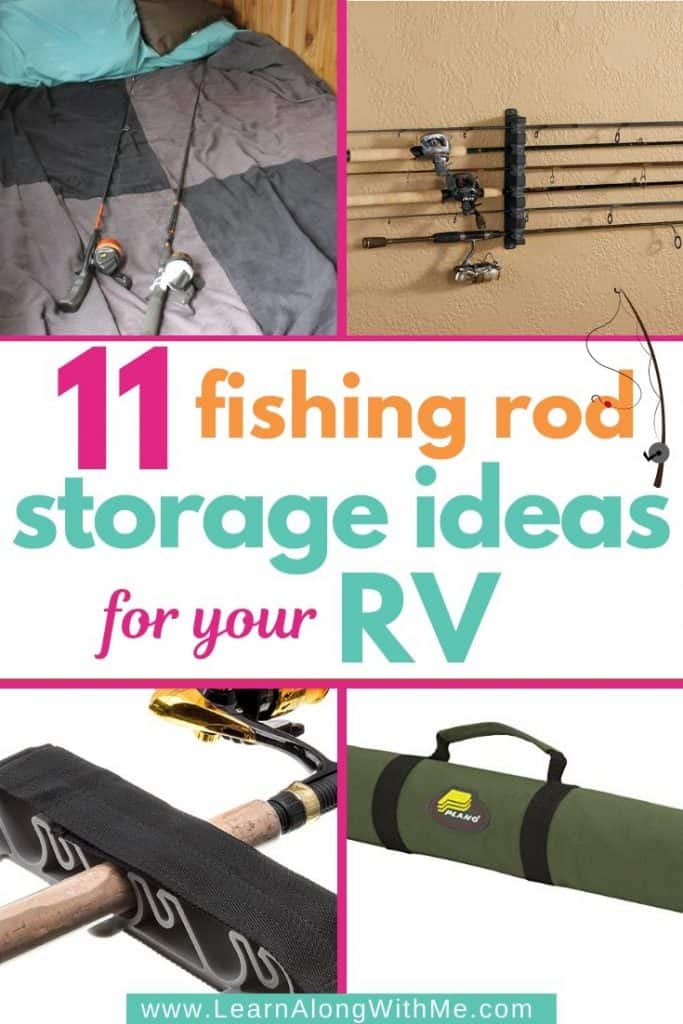 This article contains affiliate links. If you click a link and buy something I may receive a small commission at no extra cost to you. As an Amazon Associate I earn from qualifying purchases. For more information please see the Disclosure page.
Where to store a fishing rod in an RV?
Some of the ideas in this article are commercial products intended for fishing rod storage, and some of them are clever DIY ideas devised by RV'ers like you.
1) Store in the Shower
A lot of people in the Facebook groups I'm in say they store their fishing rods in their shower. They just prop them upright against the shower wall.
2) Lay on the Bed
This is another easy option for storing your fishing rod. I read a man's comment in an online group where he said that his fishing rod was too expensive to store anywhere else. 🙂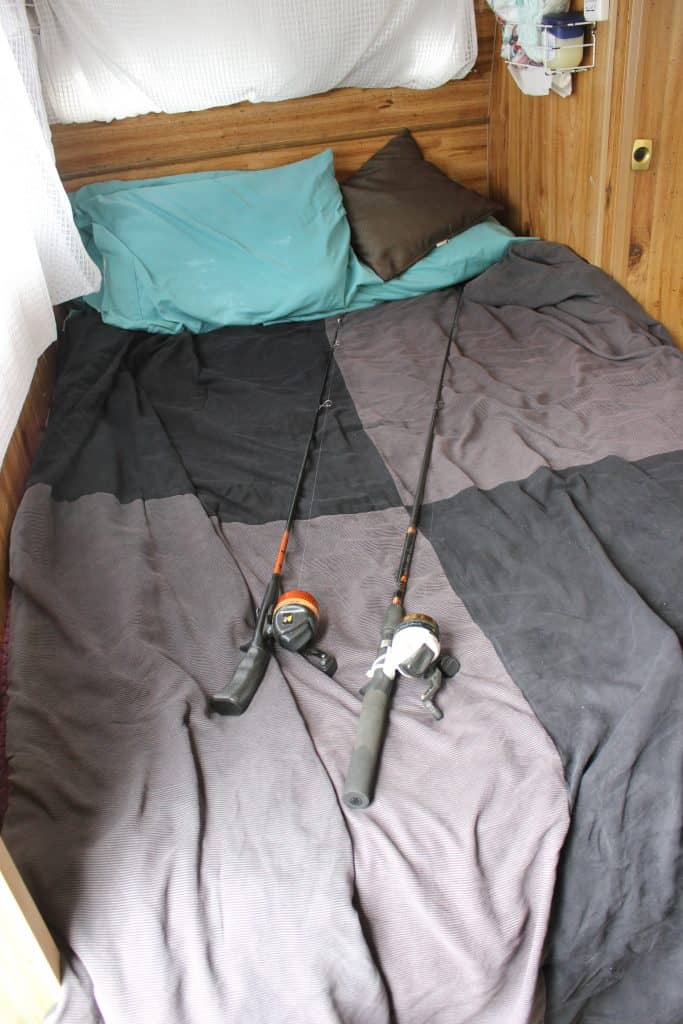 3) Store your fishing rod in zippered rod bags…
There are tons of fishing rod storage bags out there. (My telescoping rod came with its own storage bag.)
The above fishing rod storage bag is just one of several I found on Amazon. It is available in 2 different sizes depending on your needs.
It is available in a 130cm size (just over 51-inches), and a 150cm size (59-inches).
If you have minimal fishing gear a compact case like this could double as your tackle box too. It has 3 main interior compartments, and 2 pockets on the outside for extra tackle and gear.
4) Fly Fishing Rod Storage Tubes
This fly fishing rod storage tube has a simple tube design with a zippered end.
This tube comes in two size. It is intended to hold a 9-foot long fly fishing rod, but which storage tube you buy will depend on your particular rod.
Does your fly fishing rod separate into 3 pieces or 4 pieces? (Some rods break down into 2,3,4 and more pieces!)
The company Clear Creek makes this in a version to store a 3-piece fishing rod, and they make a version that holds a 4-piece fly fishing pole.
It is a popular option for storing your fly fishing rod.
5) Inside a PVC tube mounted in RV basement
DIY PVC RV hacks are everywhere on the internet. And using a PVC pipe to store a fishing rod is just another way to use this plumbing material.


Mount the PVC pipe in your RV basement (AKA the pass-through…or storage area), and then insert your fishing rod into the tube. You may have to remove the reel depending on the diameter of the pipe, or you could cut a notch in the pipe to accommodate the reel.
6) Inside your RV Bumper or Bumper Storage Tube
If your RV already has a hollow bumper for storage, you could potentially store your rod in there. You may to have to remove the reel and just put the fishing rods inside the bumper. (Many people already have their blackwater hose in here though.)
If your RV doesn't have a storage bumper, the company Valterra makes the above adjustable storage tube that you mount to the bumper of your RV. It is intended for RV sewer hoses, but you could use for fishing rods too.
Because your rods will bounce around inside these tubes or bumpers, you should wrap your rods in cloth or foam or prevent damage during travel days.
7) Berkeley Fishing Rod Holders (horizontal or vertical storage)
Lots of RV'ers use these in their trailers. But do you travel over really rough roads?
The product shown above is the horizontal 6-rod holder by Berkley. You can get creative with these and mount them as it suits your particular RV.
Some people mount them to the walls of their storage area (the pass-through compartment)
You could try mounting these to the "ceiling" of the RV basement area (pass-through) to prevent them from getting damaged on the floor by tools or other equipment.
You could potentially even mount them to a wall inside your RV
They also make a vertical fishing rod holder that you can find on Amazon. (It is shown below.)
8) Mount a Broom and Mop Holder to the wall of RV basement
This is a DIY idea that mimics what you can accomplish with the Berkley fishing rod holder shown above.
But instead of a dedicated fishing rod holder you use a broom holder mounted to the wall.
Place the handle of the rods into the broom-holder clips, and on the other end use hooks to hold up the tips. (So the rod is suspended horizontally along the length of the wall.)
9) Fishing rod holder with straps
Once again this is similar to the RV fishing rod storage ideas I just mentioned but this one has the benefit of a strap to help keep your rods in place. This may be especially helpful if you traverse really bumpy roads in your pursuit of catching the big one.
It is made by attwood. It comes as a set of two. You mount them on the wall so one holder will hold the handle of the rods, and the other holder will hold the tips.
You can click here to check out more details on Amazon.
10) Wall-mounted, or ceiling-mounted Wooden Fishing Rod holder
The company "Old Cedar Outfitters" makes this attractive fishing rod holder. You can mount it to your ceiling (as shown above), or on a wall.
It wouldn't be great for travel days, but it would work well for once you're set up at your campsite.
Just grab your fishing rod off the rack and you're ready to go.
On travel days you could tie your rods into place, or lay them on your bed like we saw earlier in this article.
If you're handy with wood, you could create your own wooden fishing rod holder. Creating a wooden DIY solution like this (with slight modification) could also give you a spot to hang a broom, fire pokers and wiener-roasting sticks. But you'll probably want to have some eye-hooks on the ends of the wood so you can use a bungee cord to strap your fishing rods in place.
11) Hang your Fishing Rods Using Fabric Straps
This could be a good RV fishing rod storage idea for people that don't want to screw into their walls.
You could use a strong Command Hooks to hold the metal D-hooks on this fishing rod storage webbing.
Such a cool idea. But would it work for your RV?
This version shown is the 6-rod holder, but they also make a 9-rod holder if you go fishing with a large family.
If you were handy you could make something similar using a stapler and nylon strapping (like the packaging that comes around appliances). Staple the strapping to a piece of wood leaving pockets to hold your fishing rod.







I hope one of these RV fishing rod storage ideas will help you on your next camping adventure.
One thing I want to point out is that NOT every idea will work for every RV'er.
You'll need to analyze your needs and find one that works for you. Find an option that suits your RV and the dimensions of your fishing rod too!




Up Next:
How to Store Clothes in an RV (13 ideas)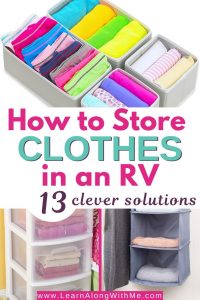 RV Dish Storage Ideas to help you organize camper cabinets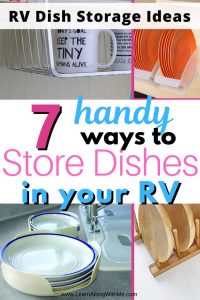 RV Towel Storage Ideas (answers how do you store towels in an RV)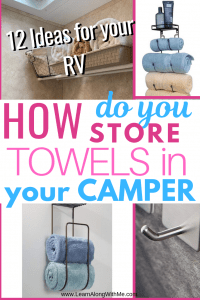 17 Ways to Keep your RV Cool (Beat the Heat)
75 Clever RV Organization Accessories (get organized today)