Keeping your RV's interior clean will go a long way to maintaining its value, and boosting your camping enjoyment. We'll look at tips and products to clean your RV interior.
Not all household cleaning tools and appliances fit in an RV though, so luckily there are some dedicated RV cleaning products available.

This article contains affiliate links. If you click a link and buy something I may receive a small commission at no extra cost to you. As an Amazon Associate I earn from qualifying purchases. For more information please see the Disclosure page.




In this article we'll look at how to clean your RV carpets, highlight some RV-sized cleaning tools, and look at ways to get bad smells out or your RV (blackwater tank stink and musty smells).
Vacuuming your RV
Your RV can get real dirty while camping and I don't know many people who carry around full-size 120 Volt vacuum cleaners in their RVs.
But there are convenient, light weight cleaning options for Your RV.
Vacuuming is important to remove food crumbs. And this is a crucial step in avoiding rodent invasions.
About 15 years ago I bought a handheld cordless vacuum for my home to help clean up cat litter: the run time was only about eight minutes. (It was a Dust-Buster.)
Thanks to lithium ion batteries the run time for newer models is a lot longer.
Cordless lithium ion battery vacuum cleaners
This cordless, rechargeable vacuum made by MOOSOO claims it has a 24 minute run time. That is 3 times as long as my old DustBuster. The lithium ion battery allows longer run time.
If you want more details you can see this little cordless vacuum on Amazon.
The one potential downside I can see with a little vacuum like this, is that the nozzle is very small. This would be awesome for small detailed cleaning, but if you have carpet in your RV, that is a lot of passes to vacuum it all.
If you're looking for a slightly larger cordless vacuum this one by Dibea (click to see on Amazon) has an attachment so you can stand upright and vacuum, or use it as a handheld for spot cleaning. It claims to have strong suction but still be lightweight (about 10 pounds).
It claims to have a 45 minute run-time once charged. So you could charge at home before your camping trip, bring it with you and, depending on the length of your trip, get you through until you get home.
Check out the Dibea on Amazon.
Carpet Cleaning – Spot Treatment
Before researching this article I didn't even know there was a "Carpet and Rug Institute" but there is! And they give carpet-related products a "Seal of Approval."
Before researching this article I didn't even know there was a "Carpet and Rug Institute" but there is! And they give carpet-related products a "Seal of Approval."
An example of a Carpet spot cleaner that has received the Seal of Approval is the Shaw Total Care Carpet Stain and Soil Remover Green Formula (click here to see it on Amazon). It is a Green Certified Cleaning Solution according to the Carpet and Rug Institute.
If you want to check out other carpet spot removers that received a Seal of Approval click here.
Upholstery and Furniture Fabric
RV materials have changed over time, and RV upholstery has definitely changed over time. (You every seen the scratchy woven upholstery in 70's campers?)
Usually a carpet cleaning product will work on upholstery too, but if you're in doubt, check your RV owner's manual or ask your manufacturer.
Remember to spot test any new cleaning product on a small area that is not visible before you clean all over.
Slipcover to prevent your RV Upholstery from Getting Dirty
If you don't want to scrub the upholstery of your RV furniture and chairs, it is a good idea to get slipcovers as a precaution.
That way, if a spill occurs, you can simply take the cover off, and put it in the washing machine.
Prevent Dirty Floors in the First Place
Another way to help keep an RV clean is to prevent it from getting dirty in the first place.
This tip from a reader about placing a laundry basket outside the door for dirty shoes will prevent your floors from getting muddy in the first place.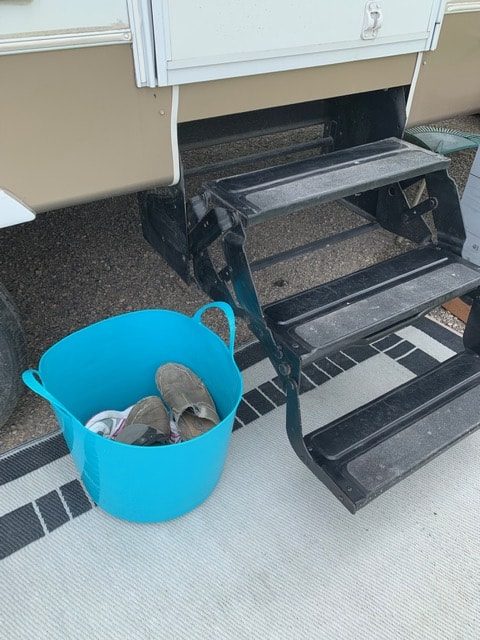 And having a good door mat will help keep the dirt outside where it belongs.
If you want a cool personalized door mat, check out the one below available on Etsy. (Opens in a new window)
Multipurpose Cleaners (reduce # of cleaning products)
Another way to maximize space in an RV is to use multipurpose cleaners. That way you aren't packing around several different bottles of cleaning supplies. Get one good spray cleaner and use it.
I first heard about a product called "Voom! RV Cleaner" in an issue of "Motorhome" Magazine (March 2019 edition). They said it will do the trick for most counter tops and other RV surfaces. If you do want to check out it on Amazon click here.
Just remember, don't use abrasive cleaners or cleaning pads on surfaces like fiberglass: they'll scratch it.
Many people going the natural route will just have a bottle of vinegar in a spray bottle to wipe down counter-tops and other surfaces. Or they'll just use water, dish soap and a cotton rag.
Just make sure to check with your RV manufacturer to see if they there are any cleaning products or agents that they DON'T recommend.
Compact cleaning tools
Many people don't have the room in an RV for full sized cleaning tools like brooms and mops.
Luckily there are compact options available that will fit better into the cramped space of your RV.
(If you do want to go with full-sized brooms and mops, try storing them in the bathroom shower or tub.)
Compact Broom
Camco makes an RV broom that has a full-size bristle head, but the handle is telescoping. So it contracts down to 2-feet long for storage, and extends to just over 4-feet when you want to sweep.
It is available on Amazon and may be available at your local retailers. The Camco company is a leader in RV accessories and they make good products. Click here to check it out on Amazon.
If you're looking for a microfiber mop with a telescoping handle, I found a popular one on Amazon. What's cool is that you can machine-wash the microfiber pads if they get real dirty.
Compact Toilet Brush
I don't know anybody that likes to clean a toilet at home or in their RV but there is an RV sized toilet brush to help clean the throne.
It is a compact size so it will fit in as your tiny RV bathroom. It is a product made by OXO Good Grips. (Click here to see it on Amazon.)
Getting the Smell out of your RV
How to get the smell out of your RV depends on what is causing the smell.
Stinky Blackwater Tank
Feces and toilet paper can cause stinky deposits on the inside of your black water tank (toilet waste tank).
In another article I highlighted the Camco Swivel Stik that you attach to a garden hose, stick down into your toilet and then blast off the yucky scum. If you want to see this powerful cleaning tool on Amazon, click here.
Periodic cleaning of your tank will help prevent excessive build-up.
Black water Tank Deodorizer
If you need some additional "smell-control" for your toilet tank you can look into getting a blackwater tank deodorizer. This is a popular one called the Porta-Pak and made by Walex. It is available on Amazon if you want to see more details.
If you want an organic RV holding tank treatment, that says it has no chemical smell, you may want to check out this one called Happy Campers (available on Amazon).
Get rid of Musty smells
If your RV get wet inside it may start to smell musty.
You need to make sure you address the cause of the water problem!

Water damage is one of the quickest ways to destroy the value of your motorhome. And it provides a prime environment for mold.
Get a Dehumidifier
A dehumidifier will help remove excess moisture from your RV and help you get rid of that musty smell. You can get an electronic dehumidifier machine to pull moisture out of the air. (Such as the ones made by Pro Breeze…it is a popular one on Amazon.)
Or you can absorb the moisture out of the air using desiccants like DampRid. I first heard of DampRid in the March 2019 issue of Motorhome magazine.
DampRid is also available on Amazon…just click here to see more details.
Also check out:
11 ways to stop RV windows from Sweating (dealing with moisture in an RV)

What is your favorite RV cleaning tip or trick?
If you have one that'll benefit our other readers, please comment below.
Thank you.
Plus, check out:

9 easy RV Shoe Storage Ideas (get your RV organized today)
75 clever RV Organization Accessories