Frustrated with your small RV kitchen? This post contains 21 great RV Kitchen Organization Hacks and RV Kitchen Storage ideas…so you can actually find something you're looking for!
So if you want to maximize your tiny RV kitchen then these should help.
Some of them you may already own, but others may be totally new to you.
UPDATED – This post has been improved and updated with more great RV storage ideas added.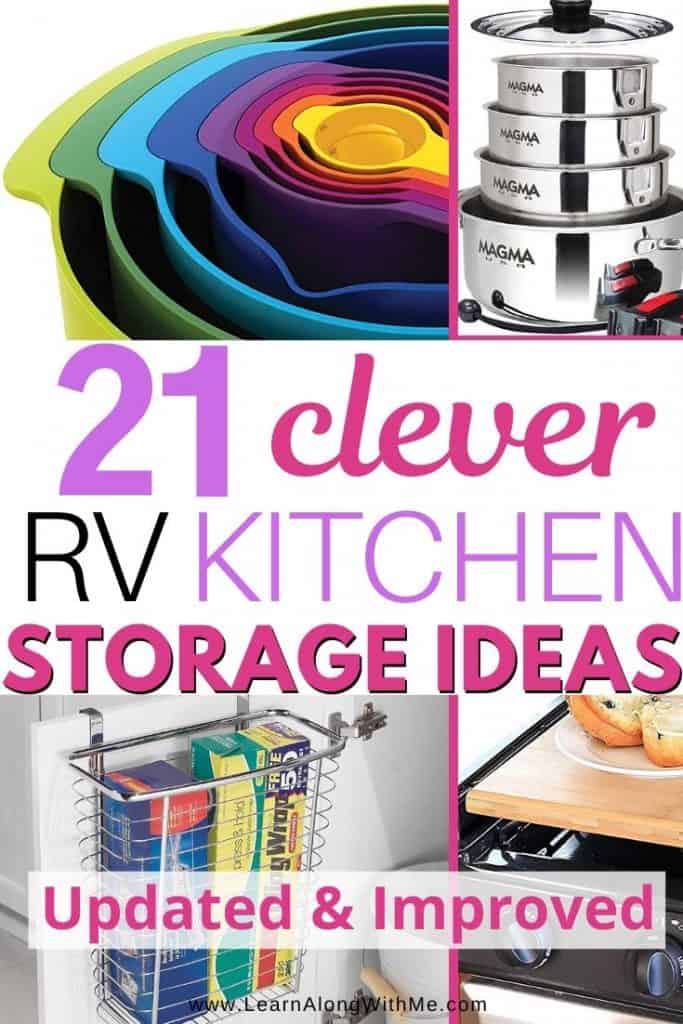 Click here to follow me on Pinterest.
This article contains affiliate links. If you click a link and buy something I may receive a small commission at no extra cost to you. As an Amazon Associate I earn from qualifying purchases. For more information please see the Disclosure page.
Want to check out the video of this Blog post?? Here it is.
1) Adjustable Cutlery Tray
This little adjustable tray allows you keep your cutlery drawer nicely organized.
Although you don't see this tucked inside your drawer it allows you to decrease counter-top clutter by stashing everything away. This RV cutlery tray adjusts from 9″ to 13″ wide.
This cutlery tray is available on Amazon if you want to see more details.
---
Are you frustrated and struggling with a cluttered RV despite your previous attempts to organize it? If so, check out our "Clutter Free RV" RV Organization Bundle.
If you'd rather test it out before you buy, you can click the picture below to get some FREE SAMPLE pages from the Bundle.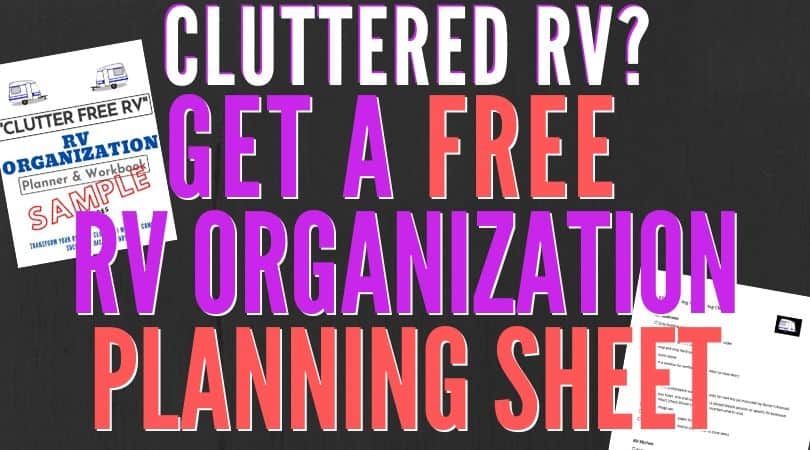 2) Small Dish Drying Rack
This compact drying rack will fit in most RV sinks, or you can set it on the counter-top atop its drain tray, and let it drip into the sink.
This is a better idea than just throwing a tea towel down on the counter and putting the wet dishes on it.
I realize its only temporary while the dishes are drying, and you may not think of a dish drying rack as an RV kitchen storage idea, but getting those dishes off the counter is huge!
Even this temporary storage will improve the functionality of your RV kitchen.

Will this help you?
Click here to see more details on Amazon.






Learn from your mistakes….don't stay at that terrible campsite again…write it down! Check out this RV Journal and Camping Logbook.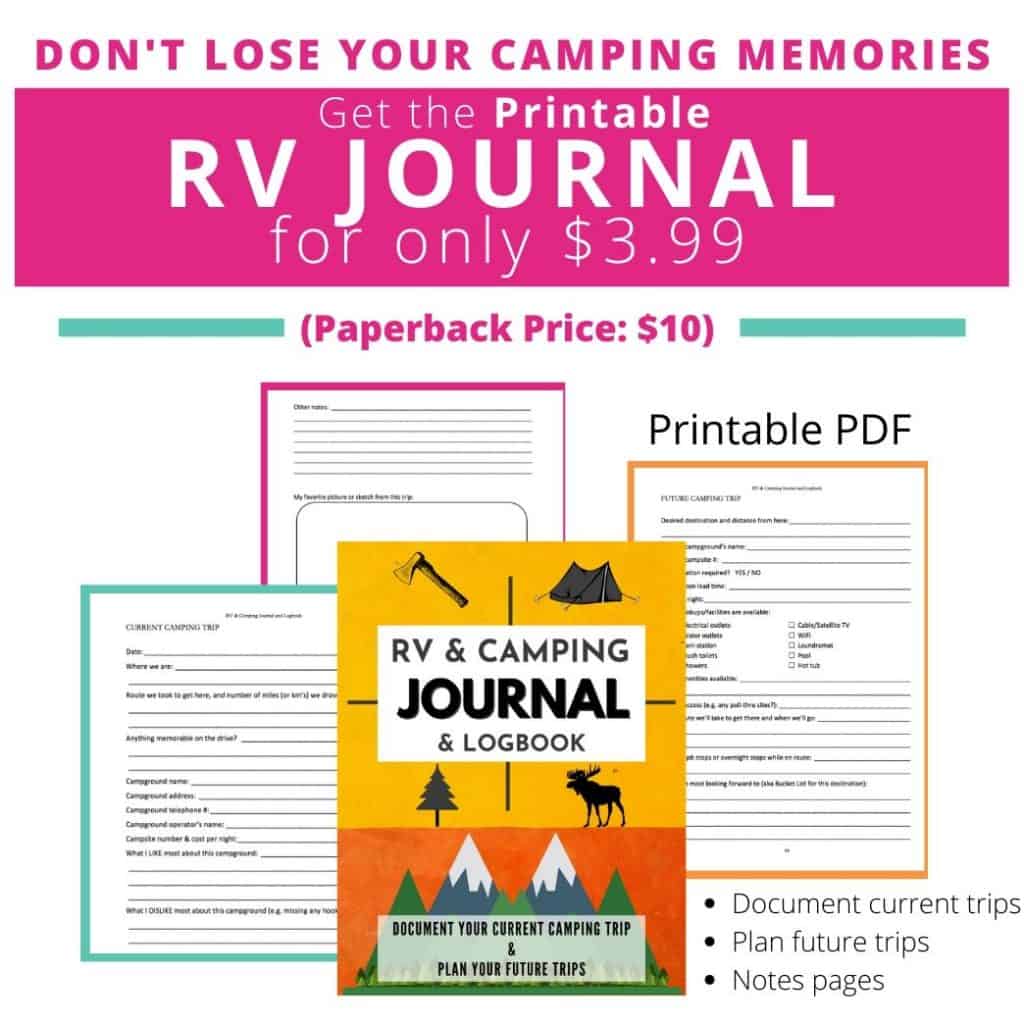 3) Instant Pot Multi-use Cooker…an RV Kitchen Organization idea (?)
I was skeptical on the Instant Pot. I really was.
So much hype about this thing! But we eventually got one last Christmas.
For our home we got the 6-quart version and it is still pretty small. The one shown in the picture below is the even smaller 3-quart version.
These things put the "Pot" in potential!
There are so many recipes you can make.
I've made everything from delicious butter chicken to bone broth to steamed broccoli and beef. Extremely versatile device.
Click here to see more details about the Instant Pot on Amazon.


You can see on the pre-programmed buttons there are tons of cooking options on this convenient appliance.
We use the Saute function regularly to cook onions and garlic before adding the beef or other meat.
If you are worried you won't know what to make, don't worry: there are lots of good recipe books. Here are a couple popular ones.

And this one from Gina Homolka is darn good too.
I realize that an Instant Pot isn't exactly an RV kitchen storage idea or "organization" idea…but honestly having this handy device will replace a lot of other kitchen items that clutter up your RV.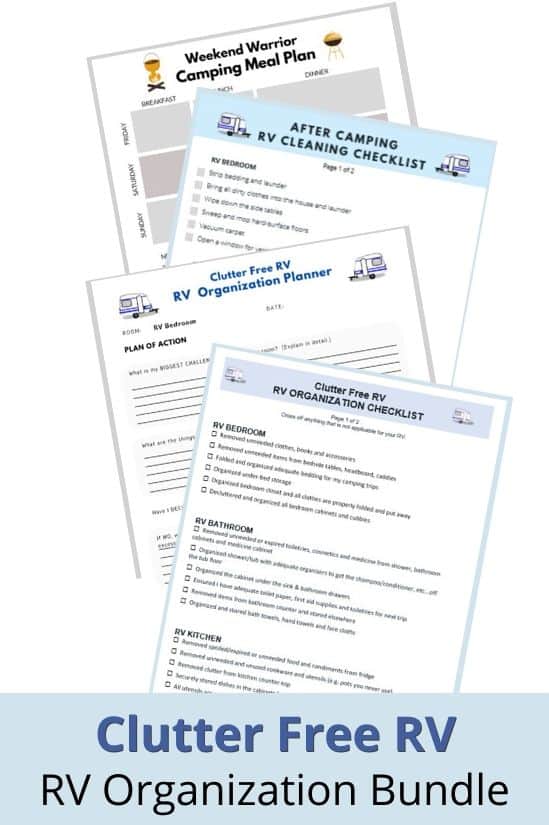 4) Nesting Bowls with Colander Set…a space-saving RV kitchen organization idea
In a small kitchen like your RV kitchen, you don't have unlimited cabinet space.
You have to be maximize the small space you have.
And that is exactly what nesting bowl sets like this one do.
The more things you can have stacked inside each other means the less bulky items taking up your limited cupboard space.
CLICK here to see more details of these Joseph Joseph nesting bowls on Amazon.


If you're not into the rainbow colors of the set you can also buy it in "Sky" colors on Amazon.



5) Nesting Cookware Set (for Stove-top and Oven use)
Here is another great RV kitchen storage idea to maximize the small amount of storage space in an RV.
It is a 10 piece stainless-steel Nesting cookware set made by Magma.
I just mentioned nesting bowls, so why not have nesting cookware too!
It has 3 pots (they call them saucepans), 1 saute pan, and one 5-quart stock pot. Plus, it has 2 lids: one that fits the pots, and one that fits the pan and the stockpot.
There is also two removable handles and a bungee cord to keep it all together.
In the picture above, the left side shows how they nest together, and the picture on the right shows them bundled together and strapped shut.
It is not magnetic, so it doesn't work on induction cooktops. (But a reader let me know that Magma does make a magnetic set for induction cooktops.)
Click here to get more information.
6) Wall-mounted Knife Holder (A clever Rv storage idea for your blades)
Keeping your knives out of drawers and off the counter will not only improve safety but also reduce clutter.
How do you attach it to the wall or inside a cabinet door?
Well you can either use double sided tape or screws. Personally I'd rather screw it to ensure it's secure.
This product from Camco (leaders in RV products) is available on Amazon and it is quite popular.
7) Kitchen Utensil Nesting Set (by Joseph Joseph)
How cool is this nesting utensil set…each utensil sticks together by the magnetic handle and they stand upright in their cradle.
You could toss the set in a drawer on travel days then pull them out at the campsite.

Will these work for you?
If you think they might, click here to see more details on Amazon.




---
If you need something to help keep your RV organization progress on track, check out this free offer…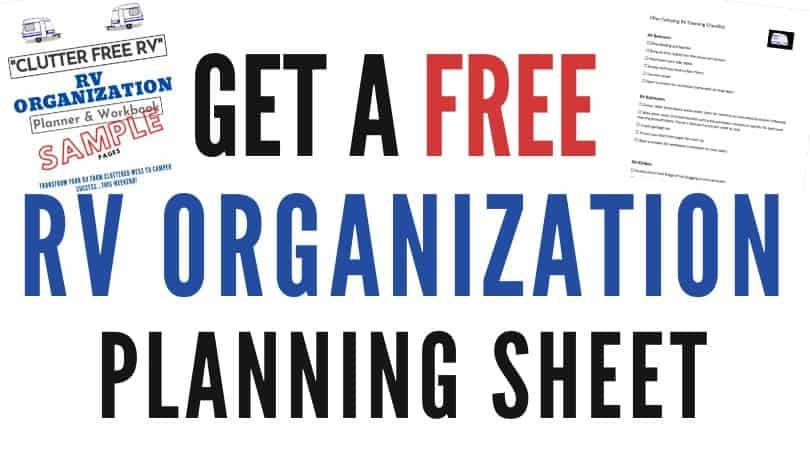 ---
8) Sliding Pantry Shelves for RV (RV Kitchen Organization Idea #8)
These sliding shelves could work well inside your RV pantry or inside a different RV kitchen cabinet.
Just make sure you have room inside a cabinet (i.e. measure), but if you have the room a sliding drawer unit like the one shown below can really help maximize this space.
It allows the opportunity to use the vertical space that is often wasted inside a cabinet.
You should attach the shelving unit inside the cabinet so it doesn't slide around.

Simple Under-Sink Storage Idea
My friends have a rather simple solution for under-sink storage: they use plastic bins.
You can find these type of bins at most dollar stores or home stores.
They're a great way to store cleaners, rags, and cleaning sponges.
(Click here to see my article on RV storage ideas using plastic bins.)
9) Fry Pan and Cookware Vertical Organizer (RV Kitchen Organization Idea #9)
Is your cookware cabinet a jumbled mess? (Do I even need to ask? 🙂 )
A vertical organizer like this one will keep your pans and casserole dishes aligned for easy storage and easy access. It's one of the simplest RV kitchen storage ideas.
Another vertical pan and lid organizer is the one shown below is also made by YouCopia. It has non-slip feet so it should stay put during traveling.
And it comes with 10 of the wire dividers that you can move to suit your needs.
The wire dividers are shaped like a capital "M" and the handle of your lids fits right down the center.
10) Over the Cabinet Door Organizer
This RV kitchen organization idea has a plastic hanger that hooks over the cabinet door and suspends the metal framed holder inside the cabinet space.
The product details show it being used to hold plastic wraps and bags, but you could hold cleaning sponges, small dish soap bottles, or ???
This is a clever RV storage idea where you can put things out of sight yet still have them easily accessible.
Click here to see more details on Amazon… will this fit in your RV?
A full-metal over the door cabinet organizer basket
Below is another clever RV kitchen storage idea.
It's another over-the-door organizer basket but is made of metal. And it has a foam backing so it won't scratch your cabinets.
You can also use these organizers as garbage cans.
It is available on Amazon if you want to check out dimensions.
11) Over the Sink Shelving Unit
These shelving units allow you to better use the vertical space above the kitchen sink.
But make sure you measure the height and width of your sink. I have a feeling that this unit might bump into the bottom of your upper kitchen cabinets. So double-check.
If this unit it too big don't worry because there are shorter units on Amazon.
This would be better suited for allowing your dishes to dry or if you have your camper parked for a prolonged period of time. I don't suggest driving around with your dishes just sitting on top of this shelf. (Stick them in organizers like I've shown further below.)
Click here to check out the size dimensions of this on Amazon.


12) Plate Stackers
The plate stacker shown below is made by Camco (one of the leaders in RV products).
It may not necessarily increase RV storage space, but it should help keep your plates stacked and organized (even when traveling).
I know there are a lot of people out there looking for RV dish storage, and here is a good option.

If you want more RV Dishes Storage Ideas click here to check out the article I wrote on this.



---
Click the image below to get your free RV Organization PLANNING SHEET and Cleaning CHECKLIST.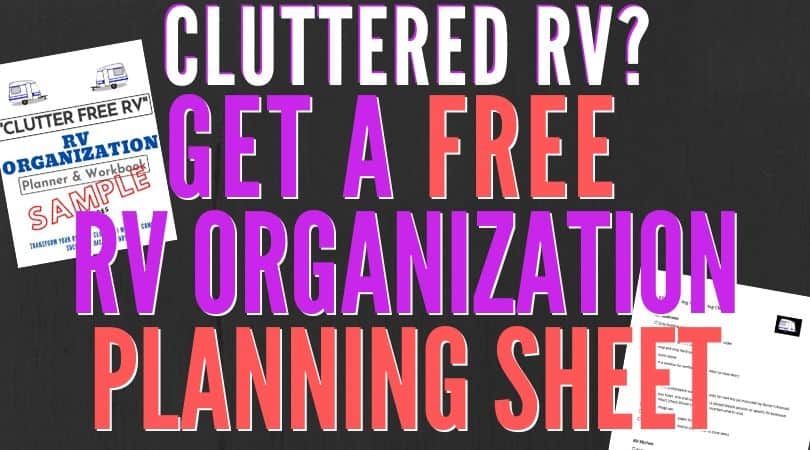 ---
13) RV Fridge Double Bar – stop your food & drinks from shifting around
This double fridge bar shown below helps keep your fridge items in place and organized during travel.
It is made by Camco and is available on Amazon. (You may be able to find it at local retailers too.)
14) Stove-top Covers
What is the most common complaint in an RV kitchen? –> Not enough counter space, right.
A stove-top cover like the one shown below helps you use the space above your stovetop range.
It comes with a flexible cutting mat that you can lay down upon the wood and it allows you to cut your veggies and prep your recipes then simply remove the cutting board to complete the cooking.
Some people even use it to help silence a rattly stove top while traveling.

Curious if this will fit your RV stove? Click here to see dimensions on Amazon.





Bamboo Stove Top Cover
If you don't want a "Bordeaux" version of the stove top cover… Camco also makes a bamboo stove-top cover shown below.
It is also quite popular on Amazon.
15) Increase counter space by using a sink cover/cutting board
This cutting board is also made by Camco and this one goes over top of your RV sink.
It has a space in the counter where you can push the food scraps into the sink for later clean-up.
If you want to see more details of this RV sink cover cutting board on Amazon, click here.
Below is a picture of a trailer with a cutting board that spans both sinks.
16) Stackable Mini Pantry Can organizer shelf (An interesting RV kitchen organization idea)
This shelf looks so cool. It will convert your cabinet into a mini pantry.
(I believe most people who buy it are using the shelf at home though. But will this work in your RV?)
So if you're using in your RV you may want to swivel it and push it against the side wall of the cabinet so the cans can't roll off if you hit bumps: they'll only roll against the side of the cabinet.
It's a cool RV storage idea for your canned goods if it'll fit in your camper.
Click here to see the size of this unit on Amazon (and then you can check if it'll work in your RV).


Another Cabinet shelf organizer
Below is a picture submitted by one of our readers.
It shows the wire rack shelf that she uses to store goods in her RV pantry.

It isn't the same one, but I I found a similar item on Amazon, that you can see by below.
You can also get some with a flat top – not a wire top.
17) Pantry Spice Organizer (Lazy Susan Spinner)
This is another cool pantry organization idea.
It is a spinning spice rack and cabinet organizer.
It's cool because the whole unit spins, and the circular inner section spins independently when needed.
There is a video on the Amazon page that shows this in action.
Could this work in your RV?
18) Bamboo Utensil Caddy and Organizer
This utensil holder would be a great way to organize campsite picnics. 
Just grab it and head outside to enjoy beautiful picnics with fellow campers.
If you want to see other RV ideas for outside and around your campsite check out this article.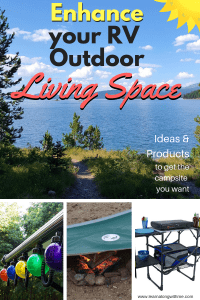 19) Simple Hooks (Screw-in or adhesive)
You can screw hooks into the underside of your wood kitchen cabinets so you can hang organizers from the hooks. (Like in the picture below.)
You could also hang your favorite coffee mugs (take down before driving though).
And the 3M company makes an entire line of Command Hooks that you can stick to a variety of surfaces.
RV Bacon Station using a Command Hook
Here is a bacon station.
A silicone splatter guard and some tongs to flip the bacon.
This is all conveniently hung from a Command Hook mounted on the side on the fridge.

There are a lot of Command Hooks for sale on Amazon and at your local stores. Check them and see how could help you.









20) Tension Rod Ideas
While I was taking pictures of my friend's trailer I saw a great opportunity. They had the perfect set up for a tension bar.
It fit well between the wall and the edge of their oven fan.
Now the paper towel is off the counter, and the surface cleaner is within easy reach.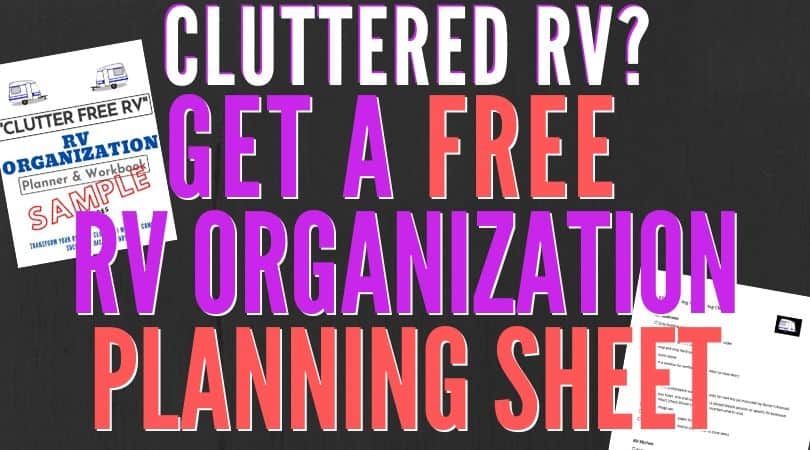 Tension Cupboard Bars
Here are some spring-loaded cupboard tension bars made by SIQUK and are available on Amazon.
Tension bars placed along the front of your RV cabinets will help keep your food items from tumbling out after a day of traveling.
They can extend from almost 16-inches to 28-inches.
Do you have opportunities for tension bars in your RV or small kitchen?
For more tension bar ideas click here.
21) Mounted Wall Baskets
Wall baskets – like these ones by Spectrum Diversified – are a great way to get items off your kitchen counters.
It does require screwing into a surface.
But most RV owners screw them into the wooden side panels of their RV kitchen cabinets.
If you screw them in here you won't damage the walls of your RV and they'll be secure. (As long as you're not storing your workout dumbbells in there.)
The photo below is a stock product photo showing it storing cooking oils and stuff, but you can store a huge variety of stuff in these baskets.
Some people use them as fruit baskets or even spice racks.
They come in different sizes too…click here to see the different sizes on Amazon.






Up Next:
27 Simple RV Bathroom Storage Ideas (to finally get that small bathroom organized)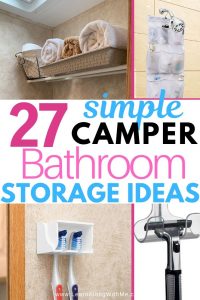 13 Great RV Bedroom Organization Ideas (is your camper bedroom already organized as well as it could be?)
Massive List of 75 Clever RV Organization Accessories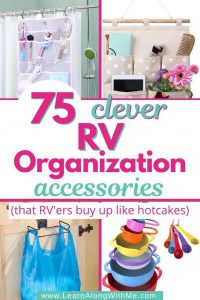 Thank you for taking the time out of your busy day to read these RV kitchen storage ideas. Hopefully at least one of them will help you get your RV more organized.
by Tim from LearnAlongWithMe.com
Plus, check out: