Are you thinking of buying a new mattress for your RV? Are you wanting a better night's sleep? Before you buy a new RV mattress there are some things you need to consider.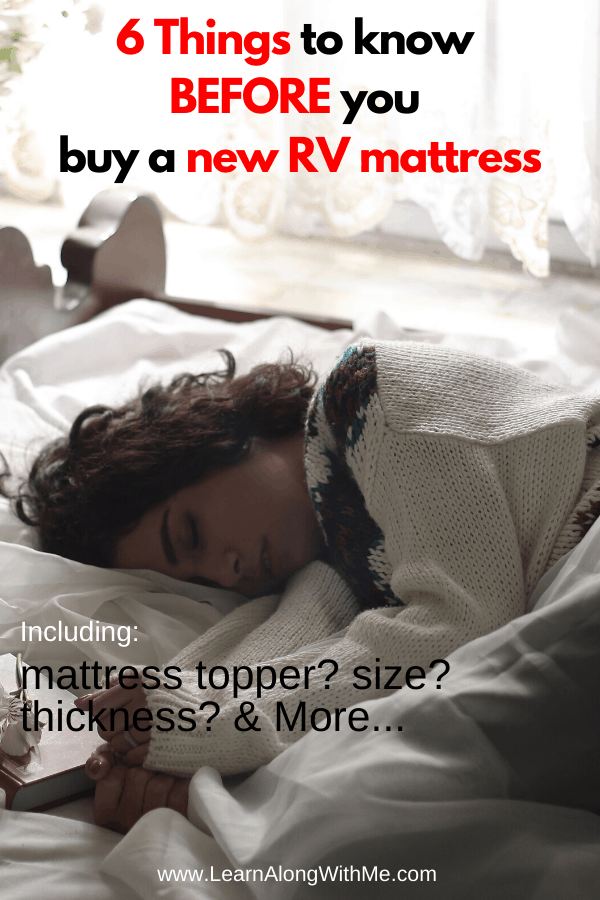 This article contains affiliate links. If you click a link and buy something I may receive a small commission at no extra cost to you. As an Amazon Associate I earn from qualifying purchases. For more information please see the Disclosure page.
First Consider: Will a Mattress Topper be enough?
One thing to consider is, do you need to replace your current RV mattress or could it be improved by getting a memory foam mattress topper?
Buying a new RV mattress can be quite expensive. If your mattress is in good shape but is a little too firm for you, perhaps a softer mattress topper will do the trick.
The gel memory foam mattress topper shown below is available in the "Short Queen" size on Amazon.
What to consider when buying a new RV mattress
If you are buying a new mattress there are some incredible RV mattresses out there.
Just keep a few things in mind first before you buy.
Number 1: RV Mattress Sizes
Many RV bedrooms have a mattress size called a Short Queen, or also called an RV Short Queen.
The RV short queen mattress size is 60-inches wide by 74 to 75-inches long. So as the name suggests the RV short queen mattress is the same width as a Queen size (60″ wide), but it is shorter than a Standard Queen. A Queen bed you'd find in your home is 80″ long.
A Short Queen for your RV is only 74-75″ long.
Can you put a regular queen mattress in an RV?
If you put a regular queen mattress into your RV it is very likely that the mattress will hang over the end of the mattress frame by about 5-inches because a household Queen is 80-inches long versus an RV short queen mattress which is only about 75-inches long. Since most RV's are equipped to only have a RV short queen mattress, your regular queen mattress will hang over the end of your mattress frame.
Measure your RV mattress frame
But don't assume your RV is equipped for short queen because some truck campers and pop-up campers do have full-length mattresses. And in your RV, don't just measure your current mattress: measure the mattress frame.
This is because your current mattress may have expanded or contracted over time.
You want to measure where the mattress will actually be sitting on.
And if it is 60″ wide (5-feet wide) and 75″ long, then you've got a Short Queen.
See the handy chart below for more RV mattress sizes.
Number 2: RV Mattress Thickness
Look at your RV and see if you have any height restrictions from the mattress frame to the bedroom ceiling.
Many older Fifth-wheel trailers do not have an extra elevated space above the truck bed: they have a flat roofline.
You don't want to have a super thick mattress if its going to cause you to bonk your head against the ceiling!
On some of the mattresses the difference in the thickness may be attributed to the height of the base foam.
For instance, a 9 inch memory foam mattress may have a 3 inches of memory foam layer, and a 13 inch mattress we also have just a 3-inch layer of memory foam.
But the difference could be what they call the base foam.
Number 3: Material
Some mattresses can have a terrible smell, and off-gassing.
Look for a manufacturers that use low to no VOC's and organic cotton.
Check to see if they have CertiPUR-US certifications.
This means the foam mattresses meet certain criteria. It means the foam mattresses are:
Made without ozone depleters
Made without PBDEs, TDCPP or TCEP ("Tris") flame retardants
Made without mercury, lead, and other heavy metals
Made without formaldehyde
Made without phthalates regulated by the Consumer Product Safety Commission
Low VOC (Volatile Organic Compound) emissions for indoor air quality (less than 0.5 parts per million)
(The above bullet list was taken directly from the non-profit organization CertiPUR-US.)
Number 4: Is there a removable cover for the RV mattress?
Some manufacturers wrap the memory foam in an organic cotton cover that can be removed and washed in the washing machine.
This is extremely convenient.
If you have a spill then you can remove the cover and machine wash it.
If your new RV mattress doesn't have this, you should invest in a good mattress protector.
Number 5: Firmness
What are your needs for mattress firmness?
If you want to check out the differences on the mattress firmness scale, click here.
They point out that most people regardless of their sleeping position do well on a medium firm mattress.
And a medium-firm mattress is often best for couples that have different sleeping sleeping positions and preferences.
Note…once you receive your new foam mattress
And if you order a mattress online, read the instructions once you receive the product.
I know that sounds stupid, "Why do I have to read instructions for a mattress?"
But because they ship the products in condensed boxes, once opened the mattresses often need to sit undisturbed for a certain period of time (usually 1-2 days) before you can sleep on them.
This allows the foam mattresses to plush up.
Are there custom RV Mattress makers?
A manufacturer that really knows their stuff when it comes to RV mattresses is Mattress Insider. (By clicking this link you'll get a 5% discount code.)
They have a variety of RV mattresses including an 8″ Gel Foam Mattress with Organic cotton.
If you want some more information on Mattress Insider, check out the video below.
I like when the founder of the company says, "Custom means better, not slower." Because that is what most of us think when we hear custom…'oh this'll take forever.'
And they have a crazy 121 day money back guarantee.
Once again, if you want to receive a 5% discount code, and to see the cool RV mattress they make click here.
Are there RV Mattresses on Amazon?
There sure are.
We just recently bought a tri-fold foam mattress for our house.
We bought it on Amazon. (Our air mattress for guests kept deflating on them in the middle of the night.)
So yes, we know first hand that you can order mattresses from Amazon.
Ours is a residential Queen size (so not a Short Queen), and it came rolled up into a box that was about 12″ x 12″ and about 5-feet long.
Once we received it we have to pull it out of the box and let it lay on the floor undisturbed for at least 24 hours. It "plumps" up to its usual size.
And there are Short Queen Mattresses for sale on Amazon too.
Yes, there are RV Short Queen mattresses on Amazon. One popular Short Queen RV Mattress that I saw on Amazon is the 8″ foam mattress below made by Zinus.
It has 2-inches of memory foam, a 4-inch base foam layer, and a 2-inches of what they call "pressure relieving comfort foam."
The one issue I had with the product description is they don't clearly state whether it is firm, medium or soft.
It is CertiPUR-US certified.

Medium-Firm RV Short Queen Mattress Memory Foam Mattress
At least this product description clearly states the firmness of the mattress. This is a mattress from 'Live and Sleep' . It is a medium-firm 10″ memory foam mattress.
It is CertiPUR-US certified.
This popular memory foam mattress is available on Amazon if you want to see more details.
And check out their diagram for the Firmness Guide. Made me laugh…check out the comparison to a bucket of sand. 🙂

Because it is 10″ high you may run into height limitations on some RV's, so be careful of that.
There are lots of other Short Queen RV mattresses for sale on Amazon. Click here to check out some of the other listed options.
Summary
So if you are looking to get a better night sleep in your RV or camper, you may want to look at your options for new RV mattresses.
Just keeping a few things in mind.
Some things to consider before you buy a new RV mattress is:
Will a mattress topper for your current RV mattress do the trick?
Measure the size of your mattress foundation because RV mattress sizes differ
Check for thickness limitations…how thick of a mattress can you get into your space?
Materials: If its a memory foam mattress, is it CertiPUR-US certified (non-toxic)?
Is there a removable cover? (If not buy a good mattress protector)
Select the proper firmness for you to get your best sleep

I hope you've enjoyed this article on RV mattresses.
If you have found a RV mattress that you absolutely love, please share with the other readers (they'll make for better camping neighbours if they slept better 🙂 )
Up Next:
What size of bedding for my RV mattress?
11 RV Decorating Ideas to make it look more like home
16 RV Safety and RV Security Tips and Ideas
9 easy RV Shoe Storage Ideas