Are you looking for some great RV organization ideas and RV accessories to improve your RV experience? If so, you'll love this BIG list of RV organization accessories and ideas.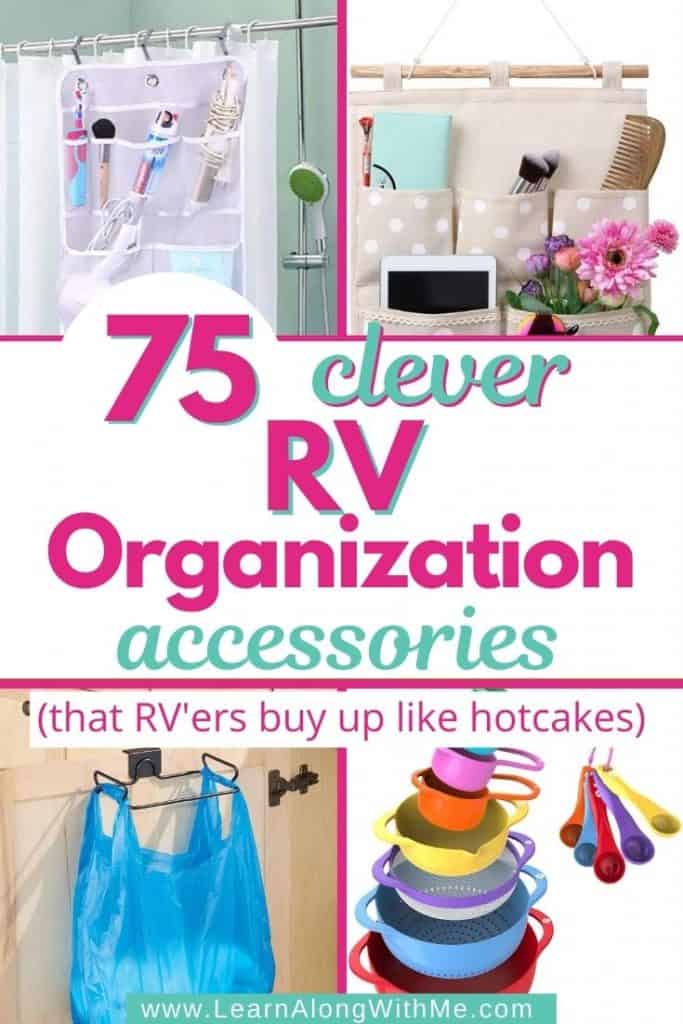 This article contains affiliate links. If you click a link and buy something I may receive a small commission at no extra cost to you. As an Amazon Associate I earn from qualifying purchases. For more information please see the Disclosure page.
Not all of these RV accessories or ideas will work for you. But if you scroll through them all, you'll hopefully find something in this large list that will help you organize your RV.
(I understand that people use their RV's in different ways. Some people travel on really bumpy, rugged backroads while some people live in their RV and it never moves.)

I've talked to several RV owners to discuss what RV organization accessories they like, and which ones RV'ers snatch up like hotcakes.
These are products that others have found helpful, and I hope you will too.
RV Bathroom Organization Accessories
In this section you'll find popular RV bathroom organization ideas and accessories.
Counter space and cabinet space is limited in an RV bathroom, so most of these ideas are ways to maximize storage in a small RV bathroom.
Hanging Pocket Organizer by Misslo
A hanging pocket organizer like this one from Misslo is extremely versatile. You can use it to store so many different items in your RV. And because it is made from mesh, you can hang it on the dry side of your shower (to hold stuff like a blow dryer and electric razor), or you can hang it on the wetof your shower door to hold shampoo bottles and soap.
Click here to see more pictures of this popular organizer.
5-Pocket Hanging Mesh Organizer (also by Misslo)
Here is another hanging pocket organizer by Misslo that is snapped up by RV'ers. It has 5 pockets, and it hangs using one hook (like a clothes hook). It can hang from a shower head.
But the cool features is that it rolls up easily so you can bring it to the showers at the campground.
Want a RV Journal to preserve your memories?
Get toothbrushes off the counter by using a wall-mounted Toothbrush holder (by iHave)
Counter space is at a premium in a RV bathroom. So having a wall-mounted toothbrush holder like this colorful one from iHave can really help reduce counter-top clutter. And you don't have to screw it into your wall: it uses an adhesive strip to stick to the wall.
Smaller wall-mounted Toothbrush Holder
If it's just you (or you and your partner) then you may not need a large toothbrush holder like the one shown above. This smaller toothbrush holder can hold 2 toothbrushes and sticks to the wall using double-sided tape.
Wall-mounted Razor Holder by Command
Here is another RV bathroom organizer that RV'ers love. It is made by Command so it sticks to the wall using an adhesive (no drilling or screwing). It can help keep razors off the counters and off the shower floor.
If you need a razor holder for your shower, check this one out…
Don't settle for a messy RV. Check out the RV Organization Bundle today.
Stainless Steel Razor Holder by BRYUBR
These sleek, stainless steel razor holders by BRYUBR are really popular on Amazon.
They adhere to your wall and are waterproof. It is another good way to keep razors off the shower floor. (The razors aren't included.)

3 Chamber Soap and Shampoo Dispenser Model 71355 (by Better Living Products)
Are you annoyed by shampoo bottles rolling around at your feet in the shower?
This wall-mounted soap and shampoo dispenser is made to solve this. It sticks to shower walls using a waterproof silicone glue.
CHECK CURRENT PRICE:

Shower Basket Shelf by KINCMAX (uses an adhesive)
This wall-mounted shower basket is popular on Amazon.
It uses an adhesive to stick it to your shower wall.
Wall-mounted Shower Caddy by Command
Campers love the "no screws required" appeal of Command Hooks. This shower basket claims it can hold up to 6.5 pounds. (Well the packaging claims it…it didn't personally tell me this. 🙂

Get the Current Price:

2-pronged Towel Holder by Command
A lot of campers wonder how they can store towels in their RV. Here is a popular option from Command. It has 2 towel hooks (and only 2) so it would best for a couple campers or a solo camper.
Wall-mounted Towel Storage Rack
If you have a larger family (or use a lot of towels) then the Command Hook towel holder we saw earlier may not be adequate.
A larger alternative is this towel organizer with a top shelf. You can screw it into the wall, or behind a door (if there is room in your RV). And what is cool about this one, is it separates into two separate, smaller towel racks.
A clever alternative way to hang it is by buying several Command Hooks and strategically placing them on the wall so they'll hold the weight of this rack and towels.
Click here to see more pictures of this cool towel rack.
Over-the-Door Hanging Towel Hooks
HFHome makes these stylish hooks that hang over doors or over cabinet doors. This makes them great for hanging robes and towels from the back of your bathroom door, or you can hang it over bathroom cabinets to create a great place to hang hand towels.
For more ways to store towels in your RV, click here.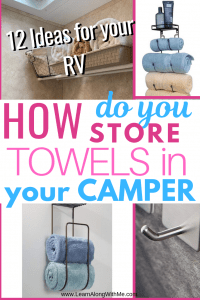 Wall-mounted Toilet Paper Holder by YIGII
This sleek-looking toilet paper holder mounts to the wall using an adhesive pad and helps keep "TP" off the floor. You can mount it horizontally or vertically.
Plus, you could likely use it to hang up towels too.
Check Current Price:

Skinny, Sleek & Stylish Garbage Can by Umbra
Many RV'ers are looking for RV trash can ideas.
It can be difficult to find the space for a garbage can in an RV bathroom. There isn't much room next to the toilet. Luckily Umbra makes a "skinny" trash can. These are very popular options for RV'ers.
Click to see the different available colors.
Add 'over the toilet' storage with this adjustable tension shelving system
This cool over the toilet shelving system uses tension poles to support the shelves: no drilling or screwing required.
And the shelves not only adjust up and down,
but they also adjust their width too.
If this system will fit in your RV, it could provide a lot of extra storage space. (Just pull down the baskets of toiletries on travel days.)
Start keeping track of your camping trip details and memories with this RV Journal.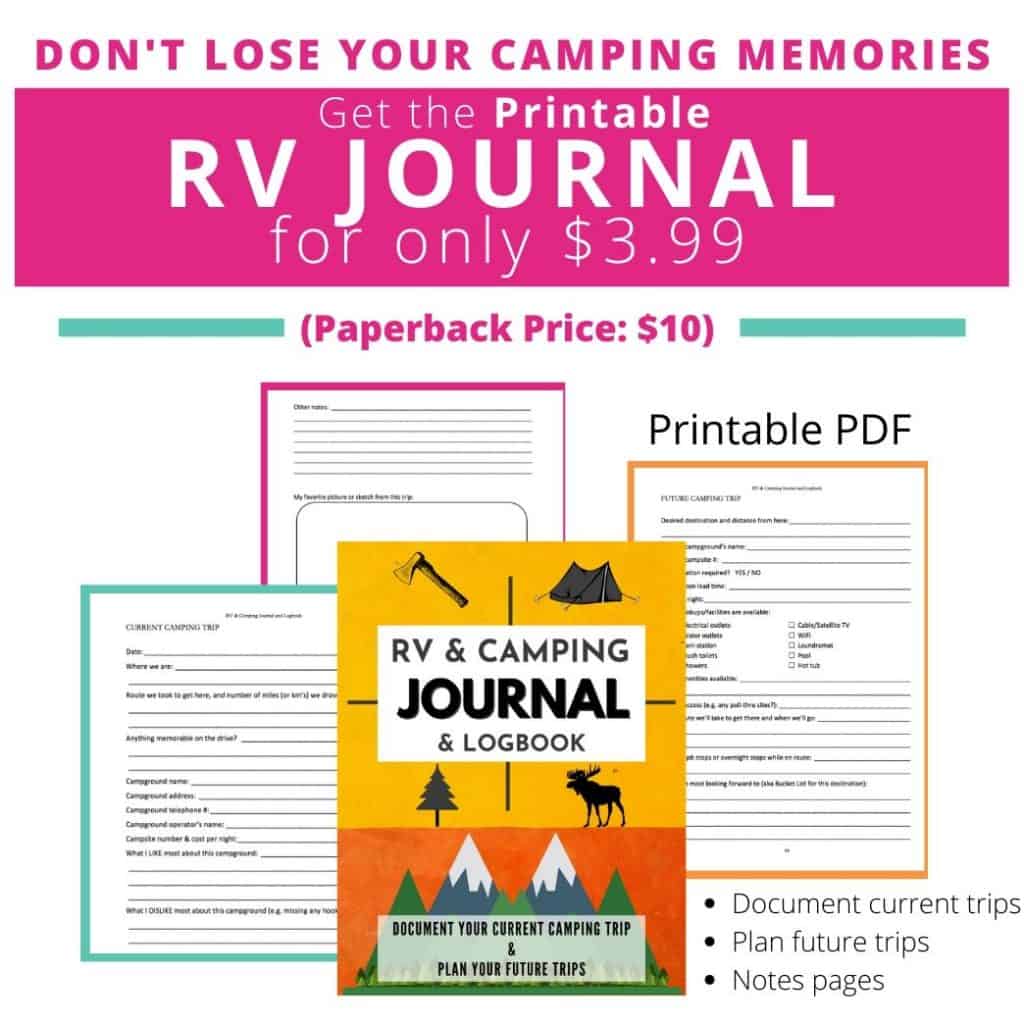 Reduce Cabinet Clutter by getting a small travel-sized blow dryer
If saving space inside bathroom cabinets is our goal, then a small travel-sized blow dryer like this one from BaBylissPRO can help. It is a small, well-regarded hair dryer with a folding handle so it is nice and compact and it'll fit under your bathroom vanity, or inside a hanging pocket organizer.
(Before you jump up and shout about how camping isn't about stylish hair, remember that some people live in their RV's and hence they have to go to work and school and "normal life.")
RV Kitchen Accessories to Improve Organization and Storage
The following RV organization accessories are clever ways to improve organization and storage in your small RV kitchen.
Double RV Refrigerator Bar by Camco
This tension bar for RV fridges helps prevent your food from sliding around during travel days.
It gets snatched up like hotcakes by campers. Click here to see better pictures of this RV accessory.
RV Fridge Brace by Camco (Model 44033)
This 2 pack of blue plastic fridge braces attaches to wire fridge shelves to help keep food and drinks in place and prevent shifting while driving.
Fridge Organization Bin Set (6 Fridge and Freezer Bins by Sorbus)
A fridge organization set like this popular set from Sorbus helps keep your fridge tidy and organized.
But will it work for you?
Reduce Counter Top Clutter by Using a Wall-mounted Paper Towel Holder
Here is another clever RV organization idea from Camco. It is a wall-mounted paper towel holder that can pop off and be carried to the picnic or outdoor kitchen. That's why they call it the Pop-A-Towel (Model 57111). Because you can pop it off and bring it with you.
Sleek paper towel holder that mounts under the kitchen cabinets
This is a popular paper towel holder by Prodyne. RV'ers love it because it helps eliminate more "stuff" from the kitchen counters. It is good way to reduce counter top clutter.
You screw it to the underside of your upper kitchen cabinets
or inside a cabinet door (if you have room).
Hanging Paper Towel Holder (if you prefer it to be out of sight)
Here is a paper towel holder from Spectrum Diversified for folks that don't like a lot of things to be visible in and around their kitchen. It is designed to hang on the inside of cabinet door. And if you need it regularly while cooking just turn it around and face it on the outside of the door until you're finished.
Will this work for you?
Want more paper towel holder ideas??
Check out 13 handy Paper Towel Holder ideas for your RV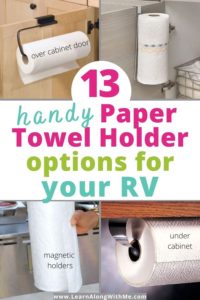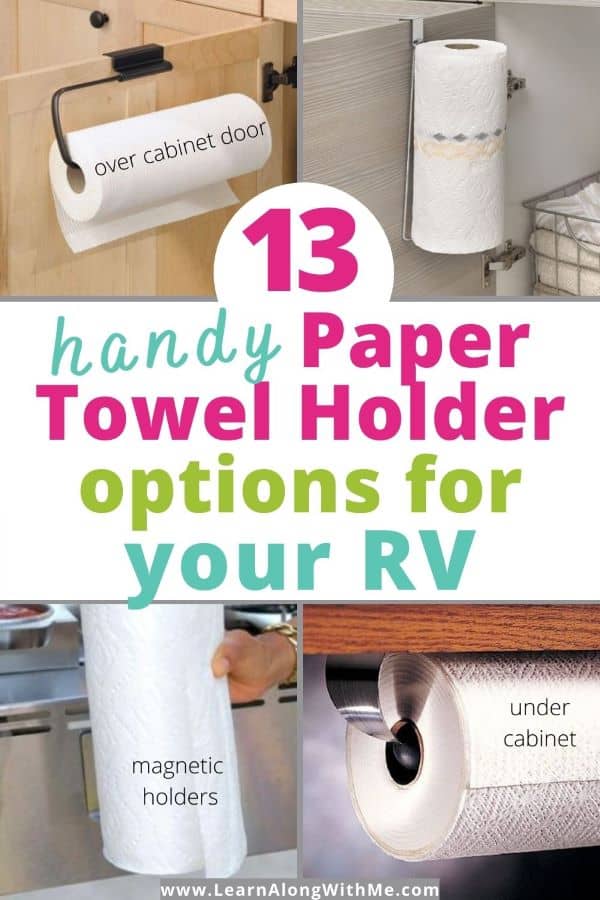 Store your Knives on the Wall using the Knife Safe
If you don't want a knife block sitting on your kitchen counter, and you don't have enough room in your drawers, you should check out this wall-mounted knife safe. It does require you to screw it in, but many campers mount it inside wood cabinets so they don't have to screw into their walls.
Not into beige? Don't worry, there are other colors available.
Clip Spices to the wall using Spice Gripper Clip Strips by Bellemain
Spices can be a tricky thing to store and organize in a small RV kitchen. These plastic spice gripper strips from Bellemain can be trimmed to fit your needs and they don't require screwing: they stick to the cabinet (or wall) using an adhesive strip.
Another spice gripper set that gets a lot of attention from RV'ers is this one from SimpleHouseware. It can hold up to 20 spice jars. It also adheres to a wall, but this product comes with screws if you want to add some screws for extra strength.
Click here to see this spice gripper clip strip on Amazon.
Add more counter space by covering your stove using the Universal Stove-top Cover by Camco (Model 43521)
If you get frustrated by the lack of counter space in your RV you should check this out. This wood stove top cover from Camco can provide you with much-needed extra counter top space.
It is not a cutting board…at least not directly onto the glossy wooden surface…but it does come with a cutting mat to put on the board.
Do you need extra counter space to work on? Will this work for you?
Add Counter Space by covering the Sink
Camco also makes a sink cover. By covering your sink when you don't need it, you gain some counter-top space and more prep space for your meals.
Your RV may already have a sink cover, but if you don't this will help you gain more working surface.
Sink Top Cutting Board (Sink Mate Cutting Board by Camco, Model 43857)
Here is another good way to make the most out of the limited amount of counter-top space in your RV. There is a hole in the corner portion of the cutting board so you can put unwanted peelings and cuttings into the sink and clean it up later. Very convenient. Many new RV's already come with sink covers, but if yours doesn't, check this out.
RV Folding Countertop Extension
It is important to reduce counter-top clutter because counter space is already so limited in an RV. And the above organizers (sink covers and stove-top covers) can help give you more space, but if you want even more counter-top, check out this swing-up and fold-down counter extension from Camco.
It may not work with the configuration of your camper kitchen, but if it does, then it could add 12-inches of extra space. This RV folding countertop extension is treasured by campers.
Get a slim Coffee Maker that takes up minimal counter space (Keurig K-Mini Plus Coffee Maker)
This single serve coffee maker won't hog counter-top space: it is only about 5-inches wide.
If you want a new, small coffee maker, maybe this little coffee maker will work for you. It is generally best for RV's that are hooked up to shore power since this runs on 120volt AC power.

A Great Little Coffee Maker for camping – Melitta Pour Over Coffee Cone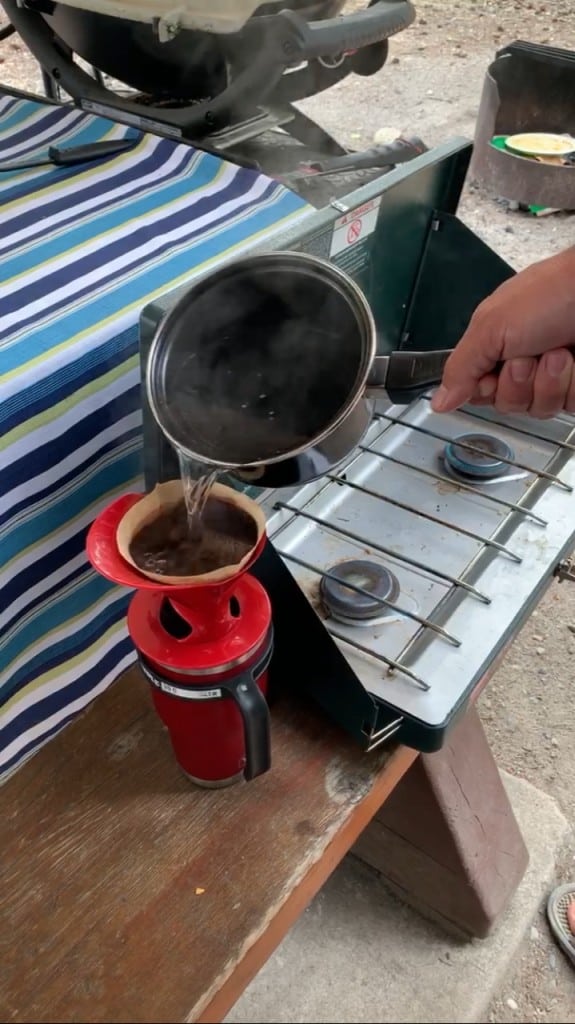 This is my brother-in-laws set up. He boils water over a campfire or his Coleman propane stove and then pours the hot water through this Melitta "Pour Over Coffee Cone." He said it makes good coffee and you can make it without using electricity.
If you want to read more about it, click here.
Yeti Tumbler – the only mug/cup you'll need camping
My brother-in-law makes his coffee directly into the Yeti tumber (with handle) using the above Melitta device, and my sister uses hers for tea in the morning, and then pop or juice in the afternoon. She said that the ice remains the whole time at the beach, and that if she leaves a drink with some ice overnight, there'll still be ice in the morning.
Adjustable Cutlery Tray Drawer Divider by Camco (Model 43503)
This cutlery tray is meant for small kitchens like in your RV. It can adjust from 9-inches to 13-inches wide. It can be a good start to organizing your RV kitchen drawers.
Click here to see more details of this popular RV organizer.
A new twist on Cutlery Drawer organization
I think this looks pretty cool. If your cutlery drawer would fit this organizer by Joseph Joseph it could provide a new twist on drawer organization. But…your kitchen drawers need to be at least 3.25-inches deep.
Tiny Kitchen Gadgets that take up less drawer space (by Portofino)
This handy 5-piece set from Portofino is designed with small kitchens in mind.
They are nesting so they snuggle up together.
Storing RV Dishes – use a Stack-a-Plate Dish Organizer
This cool dish organizer helps you stack – and contain – your plates: great for travel days because it has non-slip bottom on it. It comes as a 2 pack. One for large plates (up to 10.25-inches) and one for smaller plates (up to 7.25-inches).
Click here to see more details of this RV accessory on Amazon.
Vertical Plate Organizer
A different way to store dishes in your RV is a vertical organizer like this one from Home-X. A lot of campers like this option…but it's usually RV's that park for prolonged periods at a time.
It comes in two sizes:




If you want to explore more ways to store dishes in your RV kitchen, you should check this article out.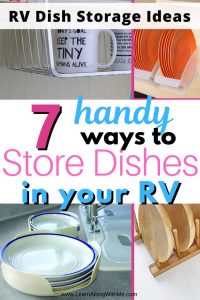 Increase Cabinet Space by using a Cabinet Shelf (expandable cabinet shelf by DecoBros)
Another way to store dishes in your RV, and to improve cabinet space is to use little shelves like these ones from DecoBros. They are stackable and expandable. Be careful on travel days (or use plastic dishes) just in case things slide around a bit.
Vertical Cutting Board, Pan or Lid Holder by Seville Classics
Here is good way to improve kitchen cabinet organization. You can put cutting boards, drying racks, pans and lids in this vertical organizer to help keep your cabinets tidy, and things within reach.
Want to see it with stuff in it? Click here.
Sliding Cabinet Basket Organizer by SimpleHouseware
If it'll fit inside your RV kitchen cabinets, this organizer can be a great way to improve cabinet organization. Because the baskets slide, it allows you reach items easier than having to bend down and shuffle the items just to reach something. (And it is available in a few different colors.)
Click here to see the size of this unit.
Improve cabinet usability with a Slide-out Cabinet Shelf by Lynk Professional
If you hate crouching down to get something out of the back of a cabinet you should check out this sliding cabinet organizer.
Lynk Professional makes quality products. If this it'll fit in your RV cabinets, it could be a great RV kitchen organization accessory.
Click here to see more pictures and sizes of this sliding shelf.
Organize your RV pantry with a Stackable Can Rack Organizer by SimpleHouseware
Organizing an RV pantry can be challenging.
If you have enough space in your RV pantry, you should check out this can rack. It is a convenient shelving system to store soup cans and other food cans.
Plastic Bin set to organize your RV pantry (by mDesign)
Plastic bins like these can be helpful in organizing your RV pantry. They help you sort "like with like." So you can keep all your tea bags in one bin, side dishes in another, and so on… This is a popular 8-pack made by mDesign.
Click here to see the different available sizes.
Stackable Plastic Bins for your RV pantry (by mDesign)
These are similar to the ones above and made by the same company mDesign, but these offer removable lids.. They are about 6.5" wide, 5-inches tall, and 10-inches deep.
Will these help you finally get your RV pantry organized?
Over-the-Door Storage Basket and Organizer by iDesign
This metal hanging organizer by iDesign is intended to hang inside a cabinet.
You can use it for:
garbage
as a recycle bin
or to store kitchen items like dish soap or food wraps.
Another popular Over the Cabinet Door Organizer
Simple Houseware makes this organizer that can be hung from a cabinet door (as shown above)…or it can be wall-mounted if you prefer. (As shown below.)
Want to see more pictures? Click here.
Hang garbage bag from cabinet door
This unique product from iDesign allows you to hang your plastic garbage bag from your cabinet door so it can save space on the floor inside your cabinet.
Mini Dish Drying Rack
This handy dish drainer can be placed inside most RV kitchen sinks, or thanks to its plastic drain tray it can be placed on the counter-top and drain into the sink.
Will this work for your RV sink? (We have one for our pop up camper and so far we really like it. It is lightweight and easy to bring with us to the dishwashing station if the campground has one.)
Collapsible Dish Drainer by SAMMART
This is like the mini dish drainer shown above but this one has the added feature of being collapsible. After you're done drying the dishes you can fold it down and store it under the kitchen sink.
They have a cool video on their Amazon product page showing how it works.
Get a roll-up dish drying rack
A roll-up dish drying rack like this one from Surpahs is a clever way to dry your dishes without taking up counter space. When you're done, roll it up and put it away.
Nesting Bowls with Measuring Cups and Collander (by Joseph Joseph)
This 9-piece nesting set from Joseph Joseph contains bowls, a sieve, a colander, and measuring cups. Because they nest inside each other they can help you organize your small RV kitchen cabinets. (Note they don't have lids…if you want some with lids check out the option below.)
Below is a picture showing what you get in this popular set.
Nesting Bowls with Lids (by Camp Casual)
These camper-themed melamine nesting bowls take up less area and will help reduce "cabinet sprawl."
Plus, with their cool looks they'll get plenty of attention at your next picnic or campground cookout. And they have lids. So if you didn't finish all the food or snacks, simply snap on the lid and store until tomorrow. (Note: Melamine shouldn't go in the microwave though.)
Collapsible Prep Bowls with Lids
These bowls are similar to nesting bowls, but they have the added benefit of being collapsible.
They come in a set of 3.
If you think you'd like these, click here to see their price.
Nesting Bowl Set with Measuring cups AND measuring Spoons
I think I see a pattern here…campers really like nesting bowl sets. This one by Vremi is similar to the set by Joseph Joseph (mentioned earlier), but this set comes with measuring spoons as well.
Collapsible Food Storage Containers
This popular, and well-rated set of 4 silicone food storage containers conveniently fold down when empty and the lids allow you to store leftovers in your RV fridge. Pretty cool. (And they look good too.)
Compact Ovenware Set by Nordic Ware
This 5 piece set by Nordic Ware is designed to fit camp stoves and RV stoves. You could store these in your kitchen cabinets, or a lot of campers store their ovenware inside their oven and then remove it prior to turning on the oven.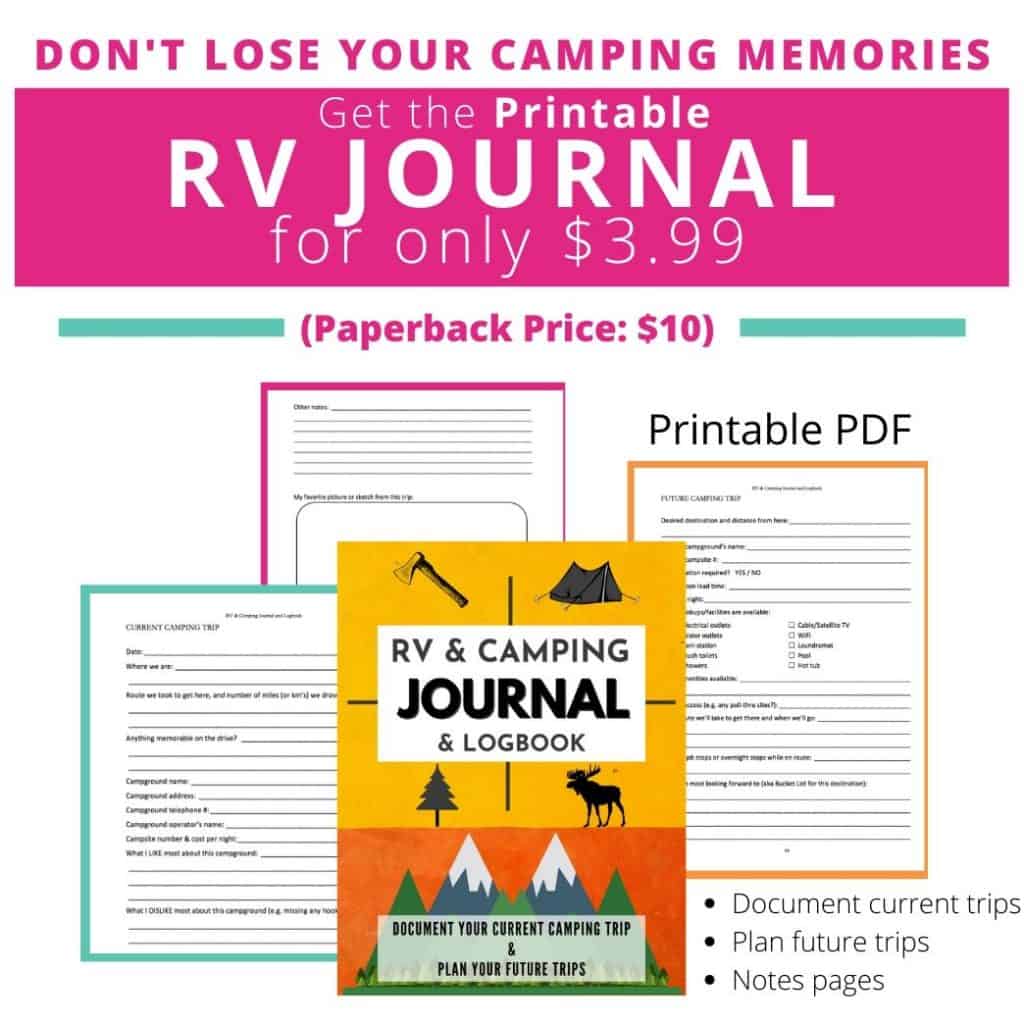 Instant Pot Duo Mini 7-in-1 Electric Pressure Cooker
What? How is this an organization accessory? Well campers love the Instant Pot because this one little device can replace the need for a lot of other kitchen gadgets.
It acts as a:
Pressure cooker
Slow cooker
Rice cooker
Steamer
You can Saute with it
Yogurt Maker
Warmer
(Even though it can do all these things I have still only used mine as pressure cooker and for saute'ing food before making a soup in the Instant Pot.)
We have the 6-quart for our home, but I know a lot of campers buy the smaller 3-quart (the mini) for their RV.
Bedroom RV Organization Accessories and Storage Ideas
The following are some of the RV bedroom storage ideas and organizers that RV'ers use to help organize their RV.
Will they work for you? Will they fit your RV and suit your RV'ing style?
6-Pocket Hanging Bedside Caddy by Zafit
It is designed to slide under your mattress and then dangle down beside your bed. It has 5 pockets in total so it should be able to store your bedroom essentials nicely in one tidy place.
Beautiful Vintage-looking Wall Baskets (by Spectrum diversified)
Wall-mounted baskets like these can be a good way to reduce surface clutter in your RV. Some campers use these in their bathrooms to store extra toiletries, some mount it in their RV kitchens to hold fruit or spices, and some put it in their RV bedrooms to hold a book, glasses, etc…
It does require screwing, but you could screw it into the side of a wooden cabinets. (If you were selective you could find a place in your RV where you WOULDN'T have to screw into wall.)
Click here to see the different available sizes.
Hanging Shoe Organizer (2 pack by Anizer)
Hanging shoe organizers like this are so versatile…they can be used for so much more than just shoes. They hang over the door so you can make use of "wasted space" such as behind your RV bedroom door. And some campers use Command Hooks to hold up the organizers on a wall.
This is a 2-pack from Anizer that features 6 large pockets.
Longer Hanging Pocket Organizer
If you have the room for it, then a longer hanging pocket organizer like this one from SimpleHouseware can be a great way to store pantry items, clothing (like socks and underwear), and even personal care items like deodorant, shave cream and more…
And the clear pockets means you'll be able to quickly find what you're looking for. These are super versatile RV organizers!
You may also like:
7 Clever Uses of Hanging Shoe Organizers
Cute Cloth Hanging Organizer
Homecube makes this cute 5-pocket cloth hanging organizer. It isn't very big, but it'd work well to store remote controls, tissues, glasses, etc… Is it too small for your needs?
Use hanging organizer in "dead space"
This 4-pocket hanging organizer gets bought up by RV'ers because it allows you to use the space behind doors. And it has clear windows so you can see what is in each pocket.
Check out the different colors it is available in.
Pop Up Mesh Laundry Hamper
We often concentrate on how to store clean clothes in an RV, and we forget about dirty clothes. But a reinforced folding laundry hamper like this one works well to stash dirty clothes.
Clothes and Blankets Storage Bags (clear viewing area and zipper top)
Want something to contain extra blankets, towels or clothes? Check out these zipper top fabric bags.
They have a clear window on the front so you can see what is in there. It comes as a 3-pack.
Clothes Storage Bags by Sorbus
Here is a similar idea to the bags shown above, but these ones from Sorbus have a zipper on the top and on the front for easy access.
So if you have a bunch of bags stacked on top of each other you can reach stuff from the middle bag without having to remove the top bags.
OTHER RV Organization Accessories
These RV organization accessories are so versatile and hard to classify or isolate to just one room in an RV, so they go under this broad category.
Large Silver Command Hooks
Most campers love Command Hooks because they hate screwing into their walls and Command Hooks provide a good, strong adhesive alternative. You can find these at most retailers, but you can click here to see this on Amazon.
Swinging Under the Table Organizer
This cool organizer clamps to RV tables or desks and can swing in or out. It can make a good "drop spot" for keys, coins and other things that would otherwise clutter up the surfaces.
Click here to see more details.
Another great way to reduce RV table top clutter – under table organizer
These little sliding drawers are marketed as desk organizers, but lots of campers use them to minimize clutter on their table tops. It adheres to the bottom of a table and then the drawer slides out. (But it may not work if your table has a lip on the bottom, or if you regularly drop the table to use as a bed. )
Click here for more pictures and to see the size.
Cupboard Tension Bars – a versatile RV Organization Accessory
Tension bars can be used in various ways to help organize your RV.
You can use them to keep items from shifting in your cabinets during travel, you can buy some "S-hooks" and hang light items from them, or you can use them to make RV tension bar shelves and place plastic baskets atop them. These particular tension bars adjust from 11.8-inches to 20-inches wide. (But you can get other sizes.)
Wall-mounted Adhesive Remote Control Holder
Sometimes it seems like remote controls have a mind of their own and they try to run away. But this remote holder is like a corral for those pesky remotes: you'll know where to find them. You may only have one remote in your RV, but you can stash your phone in here too.
Click here to see this remote holder – by Total Mount – on Amazon.
Adjustable broom and dustpan by Camco
This isn't really an RV organization accessory, but what's the sense of having an organized RV if it is filthy? This clever space-saving broom extends from 24-inches to 52-inches long.
Wall-mounted Broom and Mop Holder by Command
Do you need a spot to store your broom or mop? Perhaps you just bought the adjustable broom and you want to mount it to the wall. Well here is a nice sticky option from Command. (It comes as a 2-pack.)
Get a Travel Clothes Line
How is this an RV organization accessory? Well too often your RV bathroom and shower rod can get filled with wet towels and clothes. A travel clothes line like this one from Nasdom can help you bring some of those wet items outside to dry. You may not need a fancy RV clothes drying rack if a simple clothesline will do.




Hanging clothes outside to dry is just one of the things you can do to prevent your RV windows from sweating with condensation. For more ideas check out:
11 WAYS TO KEEP RV WINDOWS FROM SWEATING
Use suction cups to keep light items off the counters
Suction cups can work well to keep light items – like whisks, face clothes and keys – off the counter. Above is a photo of a 16-pack that you can buy on Amazon.
Hang up your keys with an adhesive key holder (by iDesign)
This key holder sticks to the wall using an adhesive and it is a great way to help reduce counter-top clutter. Just hang up the boat keys, trailer keys and truck keys instead of tossing them on the counter or table.
You can also get it in chrome.
I hope you've found some helpful products in this big list of RV organization accessories.

We looked at RV kitchen accessories, some cool camper gadgets and other storage ideas for RV interiors.


If you want some RV organization ideas specific to individual rooms in your RV, check these out:
11 RV Fishing Rod Storage Ideas
9 Simple Ways to Enhance your Outdoor Living RV Space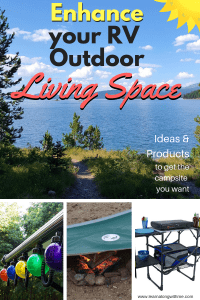 17 Funny RV Shirts (make your camping neighbors chuckle)
If you're still struggling with a messy, cluttered RV, check out the RV Organization Bundle shown below.