This article contains over 25 different RV organization hacks and storage ideas to help destroy the clutter in your RV.
This article contains some affiliate links. That means if you click a link at buy something, I may receive a small commission at no extra cost to you. As an Amazon Associate I earn from qualifying purchases. For more information on my Disclosure page.
RV Organization Hacks and RV Storage Ideas
Living in, or travelling extensively in your RV can be very enticing!  But the practical side of dealing with the small space can be a headache! These RV storage ideas should help.
I have separated them into sections for your RV kitchen, RV bedroom, RV bathroom and outside your RV too.
RV Kitchen Organizers and Small Kitchen Storage Ideas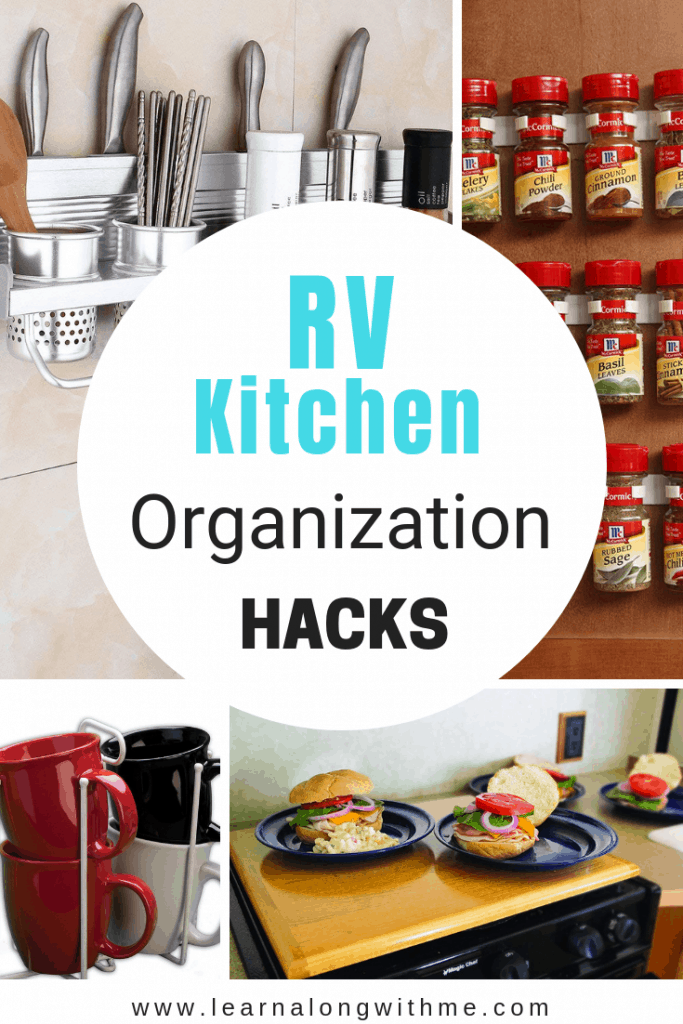 Do you love Pinterest?

Stove-top Cover for Extra Space
A stove top cover can give you some much-needed extra surface area. Then once you've prepped all your favorite camping recipes you can remove the wooden top and use your stove. Great idea to help make the most out of tiny RV kitchens.
Click here to see this popular product on Amazon.
Struggling with a cluttered RV? Check out our "Clutter Free RV" RV Organization Bundle.
Or if you'd rather take it for a "test drive" check out these FREE SAMPLE pages from the Bundle.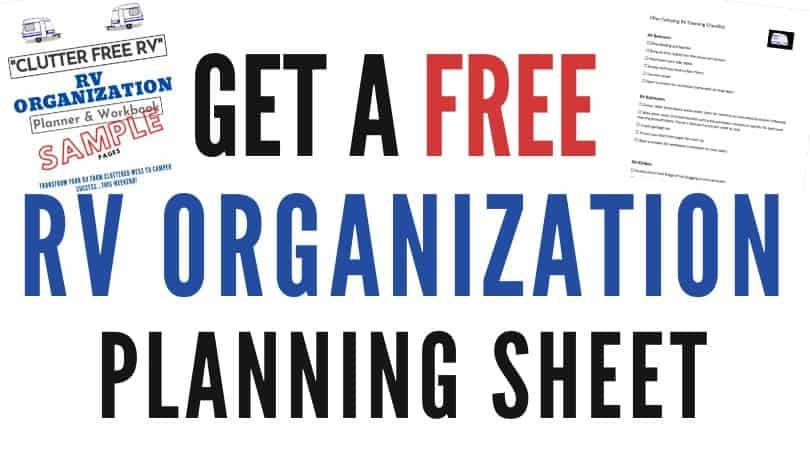 RV Sink Covers – to increase working space
Camco and several other companies make sink covers so you can utilize that space for cooking, chopping, or storing items.
The wooden one displayed above is available Amazon. Looks real good doesn't it. It is available in different finishes too – such as bamboo – if that suits your RV better.
Camco also makes a plastic one called the Camco Sink Mate Cutting Board that you may be interested. (Here is the Amazon link to the plastic one.)
Fold-up/Fold-down Counter-top Extender
This extendable counter-top extender is made by Camco. 
If you want a little extra countertop, this may be the product for you. You can check it out on Amazon by clicking here.
RV Kitchen Cabinet Organizer
This wire rack allows you to vertically organize flat items like cookie sheets, cutting boards or cooling racks. You could also use it to organize your books or magazines too.

Kitchen Plate Stacker (Organizer)
These three-sided plate organizers keep your plates nicely stacked while traveling, or just daily living.
These organizers from Camco may be available at your local retailers, and if you can't find them, you can click here to see more information on Amazon. (Camco is a leader in making great RV accessories.)
Other Plate Stacker / Organizers
This wire organizer can help keep your plates nicely stacked (and safe). If you want to get your dishes organized (and help stop rattling) then check out these organizers today.
Click here to see more details on Amazon.

Keep track of where you've been, and plan your next camping trip with this RV journal.

Coffee Cup Holder (could use to organize your cabinets)
These coffee cup organizers help solve the problem of loose cups and mugs in your RV. This popular RV organizer is available on Amazon.
And as you can see by the picture above, you can also use it to carry full cups of coffee to your guests.
If you're putting it in your RV cabinets you could try sticking it to the base using double-sided tape.
Will this work for you?
(Note: I used to have a wire coffee cup stacker on here, but I've decided to list the cool coffee holder shown above.)




Spice Gripper Cupboard Organizer
These organizing gripper strips are intended to hold spice bottles inside the cupboard door.
Straight necked spice bottle may slide down through these grips, but you could put a thin strip of wood under the bottles to keep them in place.
If you want to view the Amazon listing you can view it here.
If you want to see more Spice Rack Ideas, check out our Spice storage article.

Nesting Bowls with Camper Design!
Are you kidding me? Look at how cool these things are!
Nesting bowls are a great way to maximize storage in a tight space, and these ones with the camper designs are perfect for your RV, or as a gift for fellow campers.
I'm not sure if you can find these cool bowls at your local retailer, but if you can't, here is a link to Amazon.
Collapsible Bowls with Lids
The bowls below are cool because they collapse down for easy storage, but they also have lids so you can preserve and protect your food for longer. If you think this could help you organize you RV, you can see more details on Amazon.

More RV Kitchen Wall Organizers
This wall organization unit has hooks to hold larger utensils, baskets, and a little shelf.
It does require some screwing though, so if you aren't good with tools (or don't have any) then maybe you'll want to look for a "sticky" option.



(Note: I used to have a wall organizer listed here that was silver, but I can't find that one on Amazon anymore so I've added this similar black one..)



If you're frustrated by your messy, cluttered RV and you can't find anything! Then check out our "Clutter Free RV" RV Organization Bundle and start organizing your RV today (with proper planning!).
If you want to try some FREE SAMPLE pages from the above Bundle, click the picture below and get started organizing your RV today.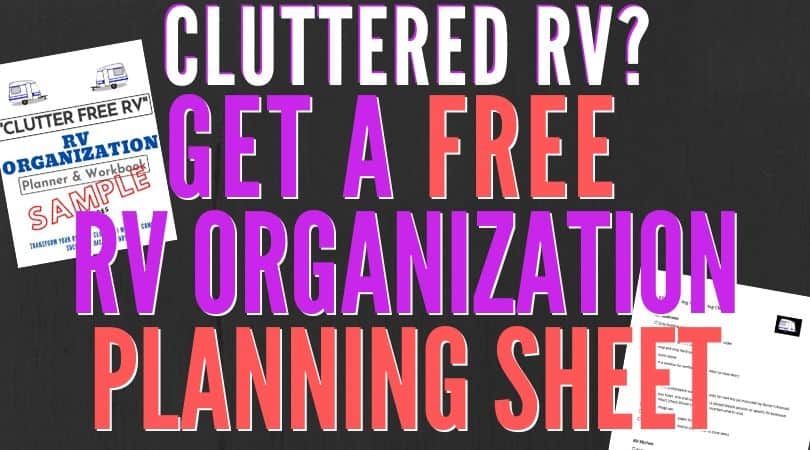 RV Fridge Organizers – Fridge Bars
These spring-loaded, adjustable bars help keep your fridge items contained and organized.
It would suck if the milk spilled during a travel day. These fridge bars are intended to prevent this.
If you want to learn more about these, click here to see more details.
RV Fridge Shelf Brace –> Keeps Food Items from Shifting
I didn't even know these things existed. But they are such a smart idea. They secure to your fridge shelves to help keep spill-able items in place during traveling.
The one shown above are by a company called Camco.
Do you want some more RV Kitchen Organization Ideas? Click here.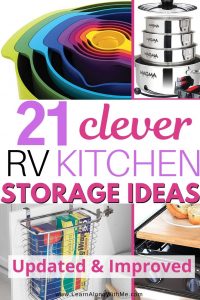 RV Bedroom Organization and Storage
Here is a section of RV organization ideas that may help you get your RV bedroom more organized (like your clothes, blankets and bedding).
Storage Bags for Clothes and Blankets
These zippered storage bags can hold your blankets or clothes and its see-through window allows you to recognize what is in there immediately: no need to haul everything to see if your favorite Broncos shirt is in there!
Click here to see more details on Amazon.
**And do you need to new sheets for your RV bedroom? These sheets from Mellanni (brushed microfibre shown below) are Crazy popular!!
Hanging Shoe Organizer
Even though these are called hanging shoe organizers, they can be used to store many different items.
So get ahead and get creative and see how you can make the most out of your unused space.






And click here if you want to see 9 RV SHOE STORAGE IDEAS

RV Bathroom Organization and Storage Products
Here are some RV organization ideas that should help you get your RV bathroom neat and tidy.
Maximize wall space (think vertical) with this toiletry holder
This wall organizer by iHave claims that it can be mounted without nailing or screwing.
It will help keep your toiletries off the sink counter ( we all know how tight the space is there).
You can check out the product on Amazon by clicking here.
Is this what you need for your RV bathroom?
Chrome Wall Toothbrush holder
Not everyone likes white plastic.
The holder above is a chrome toothbrush holder that sticks to your wall using an adhesive hanger. And what is cool is that you can actually use it on the counter-top instead… if you prefer that option instead.
Check out the Amazon listing here if you like the look of this RV bathroom organizer.
Increase your Shower Space by using a new Shower Rod
A new curved shower rod, like the one shown above, can help increase the size of your shower space and give you some much needed "elbow room."
There are a few different ones on the market, but the one above (by Stromber) is marketed for the RV'ing crowd.
Will this give you more room in your RV shower?
Click here to see this space-enhancing shower rod on Amazon.

You may also like –> 11 intriguing RV Shower Curtain options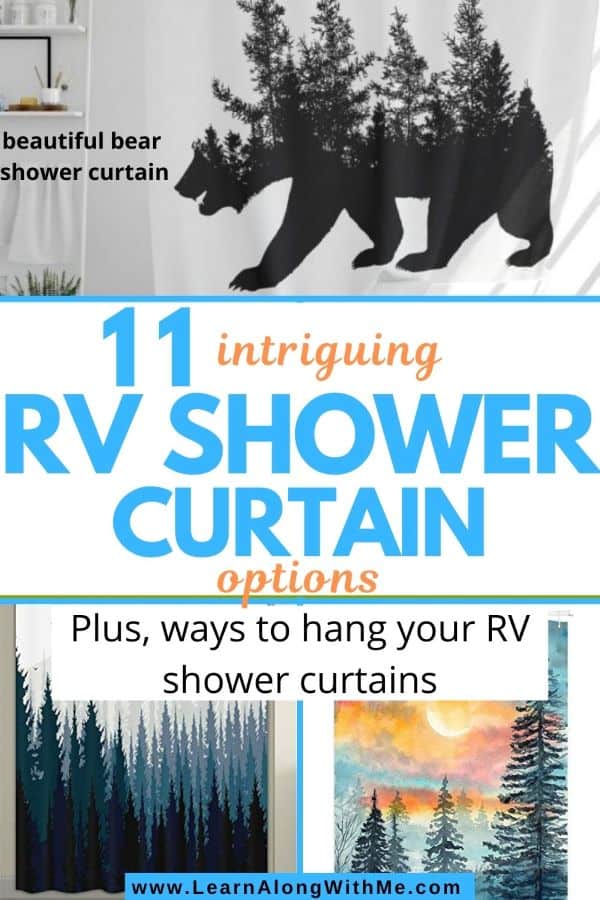 Bathroom Organizer – Hangs on dry side of Shower Curtain
This mesh organizer hangs from your shower curtain and helps you make the most out of the vertical space in your bathroom.
You don't need to clutter up your bathroom sink counter-top anymore.
If you think this might help you organize your RV bathroom, click here to see more details on Amazon.
Travel Size Accessories for your RV
It is estimated that 1 million Americans live in their RV. Their needs will be different compared to a weekend camper. So people that spend lots of time in their RV could benefit from travel-sized tools like this lightweight, folding hair dryer by BaBylissPRO. It'll take up less space in your cabinets or in your hanging organizers.
RV Cleaning and Tidying Products
Once you organize your RV, you'll want to keep it clean. These products should help with that.


Compact Broom for your RV
Some people just don't have space in their RV or trailer to have a full size broom.
That is why Camco has created this compact broom to not only clean, but also store it in tight spaces.

---
Handheld, Cordless Vacuum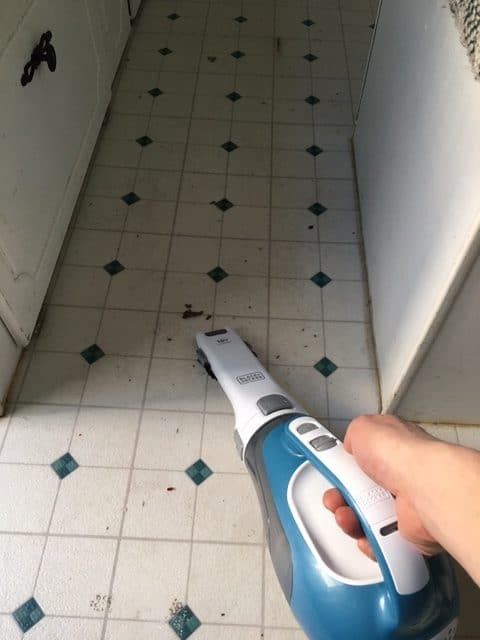 We have this cordless vacuum from Black & Decker and it works well. It is great for little piles of dirt or hair.
In this picture I'm using it in our pop up camper.
It charges uses 120V outlet so you may want to take that into consideration.
It is quite popular on Amazon and we've been happy with our purchase.

RV Outdoor Space
When the weather is beautiful we want to spend more time outside. Make the most of space outside your RV by using the following products or ideas.
Outdoor Mat (with Carrying Bag)
Ok, technically this isn't an RV organization hack or storage tip, but having a mat like this can really help set up your outdoor area. If you like this one above you can check out this mat's Amazon listing by clicking here.
Plus, having a mat like this will help keep the dirt outside and not inside your beautiful RV.

If you need to help secure the mat to the ground, below are some ground pegs to get the job done.
Do you want another outdoor mat option or don't like they styling of the above mat? Then check this one out. It sums up RV'ers perfectly!
Click here to this welcoming outdoor RV mat on Amazon.
This mat shown below isn't a storage idea, but it'll sure add "curb appeal" to your RV.
It's such a cute outdoor mat. It is from Etsy and you can personalize it to put your family name on there.

Check out these 9 proven Outdoor camping mats for your RV (help protect your investment)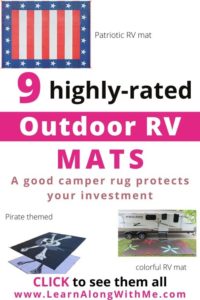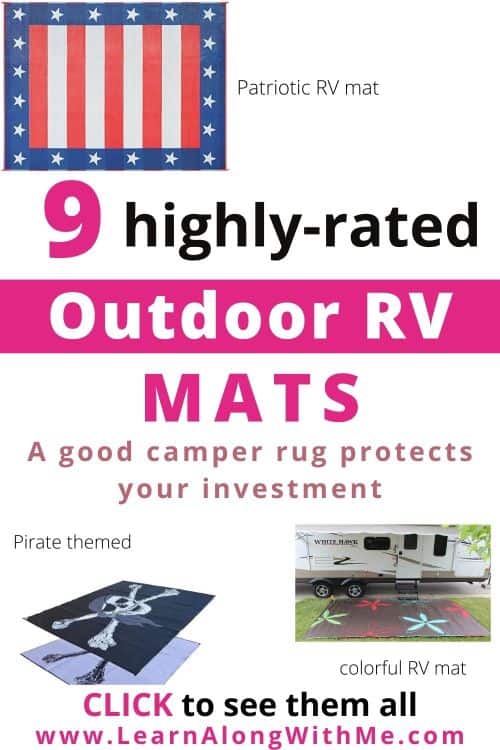 RV Picnic Table Cloth
How cute is this thing?
Imagine your camping parties hanging out around the campfire and serving up your favorite food on this cool picnic table cloth.
Once again, this isn't directly an RV storage or organization idea, but having an easy to use table cloth will allow you to enjoy the great Outdoors and make better use of your outdoor space. I generally try to minimize plastic usage, but this PVC table cover is easily wipeable so it should hold up to lots of picnics and beer spills.
Click here to see more details on Amazon.
Do you want to keep your table cloth in place??
Need a Table to Put your new Table Cloth on?
When my parents had their RV they had a folding table similar to the one shown below.
When they moved on to the next campsite they would simply fold it up and store it inside.
You can find folding tables at many retailers, but if you can't find the one you want, you can check this one out on Amazon. (They claim it's suitable for inside or outdoor use.)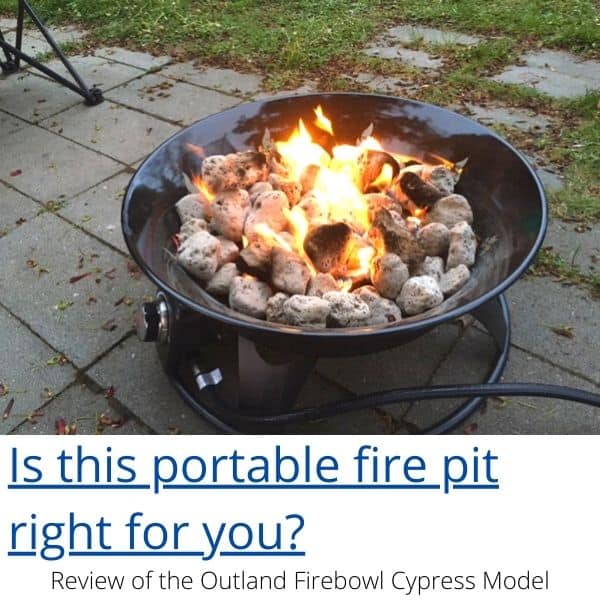 Picnic Blanket / Camping Quilt
There is nothing quite like having a beautiful picnic on a warm and sunny day. This super-big camping quilt from Sorison makes a good picnic blanket because it is easy to clean and water repellent.
And if you're lucky enough to camp near a sandy beach, you can shake the sand off the blanket without it sticking. And in the evening when the temperature dips, you can wrap it around yourself (and your partner) to stay extra warm.
Click here to check it out on Amazon.
Trunk Organizer (used in the RV "basement")
I know this is listed as a trunk organizer, and intended for cars and SUV's, but I think it would work well in an under-RV storage compartment. You could slide it in and out to access your tools, sporting goods or picnic supplies.
See this popular organizer on Amazon.
RV Sewer Hose Support
It may not be something we like to talk about or do, but cleaning out the waste water holding tanks of an RV is very important. This support hose simplifies the process, and it folds up small for easy storage.
If you want some support for your RV sewer hose, check this Camco Sidewinder on Amazon
Sani-Dump Portable Tank ( aka

Honey Pot

)
How many fights have you had with your spouse when you're backing up the trailer or setting up camp?
Then when the waste tank gets full you gotta pull out, drive to the sani-dump and then set up camp all over again.
It can be a total hassle.
That was the situation my sister was in – well maybe not the arguing with her husband – but they'd paid for a campsite for the season and got it all set up. But they didn't want to pack everything in to go dump the waste.
That's when she discovered these things. I think calling these things honey pots is the worst nickname ever…but anyway. They are convenient.
The one shown above is the popular, portable sani-dump from Camco.
It can actually hook up to a truck or golf cart, or you manually move it yourself to the sanidump.
If you want to try something like this – instead of having to pack up camp each time – you can click here to see more information on its Amazon product page.

Laundry Basket or Plastic Bin under the Awning for Dirty Shoes
I learned this RV organization hack from my sister.
When her kids were younger they would get their muddy footprints inside the RV.
And even if they took their shoes off at the door the space inside the doorway definitely became a "mud room."
To avoid this mess she started putting a plastic basket under the RV right next to the door. The kids could kick off their shoes on the step and toss them into the basket.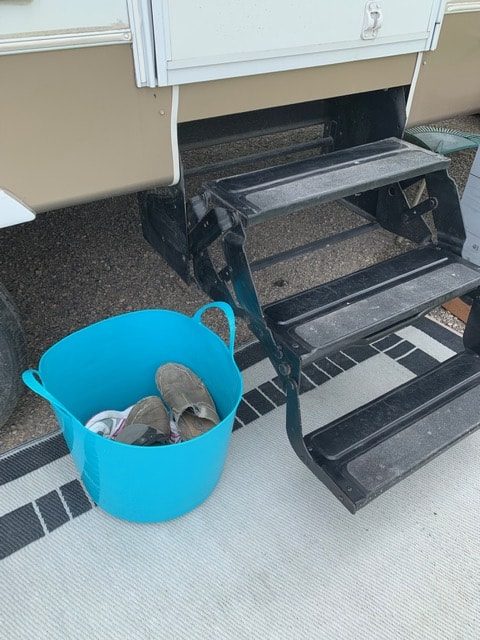 You may also like these other RV Shoe Storage Ideas
If you want more RV Storage Solutions check out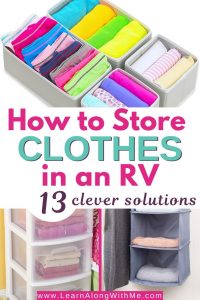 If you want tips on improving your RV Life check out
If you need some help planning the RV organization process, you'll want to check out our RV Organization Bundle: "Clutter Free RV."
---
I hope you've got some benefit from these RV storage ideas.
Are we missing something that you think should be on the list of RV organization hacks? If so, please let us know by commenting below.
Thank you.



And if you love Pinterest…