Finding a place to store your RV sewer hose can be a challenge. But hopefully one of these 9 RV sewer hose storage ideas will work for you. It includes some DIY solutions as well as aftermarket add-ons.
Plus, at the end of the article we mention some extra accessories that are good to have when dumping the waste tanks.
This article contains affiliate links. If you click a link and buy something I may receive a small commission at no extra cost to you. As an Amazon Associate I earn from qualifying purchases. For more information please see the Disclosure page.
9 RV Sewer Hose Storage Ideas
Many RV owners used to store their 3-inch sewer hoses inside their RV rear bumper. They'd simply slide the sewer hose inside the RV's bumper and put on the end caps.
But the fittings and adapters on the end of your sewer hose – like your sewer connection fittings – usually won't fit inside the bumper.
So you may be looking for another RV sewer hose storage solution.
Below are 9 solutions that range from super simple to more complex DIY solutions.
Is there one that'll work for you?
1) Valterra Hose Carrier (the adjustable EZ Hose Carrier)
The RV accessories company Valterra makes this dedicated sewer hose carrier.
You use self-tapping screws to mount it in a place that is suitable for your RV. Most people install it on the undercarriage near the rear of their RV.
And since you can adjust its length from 50-inches wide to 94-inches wide, you should be able to find a spot on your rig that'll work.
It has vented end caps so moisture can escape. The inside diameter of the pipe is 4.45-inches…so less than 4 & 1/2 inches.
You can get this at many RV dealerships and RV parts stores. For your convenience, you can click the button below to check the price on Amazon for comparison.
Valterra also makes adjustable mounting brackets with hose clamps if you want to install an extra support bracket. You can click here to see it on their website.
2) Sewer Hose Storage Tubes
Valterra isn't the only one that makes sewer hose holders. Above is the adjustable carrier from RecPro.
It has a 4 and 5/8-inch inside diameter. (Which is slightly larger than the Valterra hose carrier which is just under 4.5-inches in diameter.)
The company claims it'll hold all 3-inch sewer hoses including the RhinoFlex 15ft with its fittings.
Just note that this doesn't come with mounting hardware. So you'll need to buy these separately. Some self-tapping screws should work, but you may need to get creative.
Want to know more about the RV Gray water tank?
3) Plastic Storage Bin
Many RV owners have opted to keep their sewer hose inside a plastic bag, and then put the whole thing inside a plastic storage bin or tote.
Then they can store the bin inside their RV's basement storage compartment, storage bay, or in their truck bed (if they have a travel trailer).
Plus, you can store your dedicated black water hose in the tote as well.
(A black water hose is the water hose that you use only for rinsing out the sewer hose after flushing your black tank and gray tank. You can connect the male and female ends of the hose together to avoid dripping water into the tote. This "black" water hose can actually be a different color such as orange like this one made by Camco.)
4) PVC Tube – DIY Sewer Hose Holder
Some RV'ers choose to create their own sewer hose holder by using a 5-inch diameter PVC pipe cut to length.
If you're handy and have some basic tools, you could go down to your local hardware store, like a Home Depot or Lowes, and pick up the supplies to create your own sewer hose holder.
You can even mount 2 tubes under your RV if you carry an extra RV sewer hose. (Which is a good idea the sewage connection is in a hard to reach place.)
Other RV articles you may enjoy:
5) Use a Conduit Carrier as an RV Sewer Hose Holder
The company "Buyers Products" makes this hardware that converts a regular piece of PVC pipe into an awesome sewer hose storage tube.
It is marketed as being an electrical conduit carrier for trades people to mount to the top of their work vehicles. But some clever RVers have used this to hold their RV sewer hose. Note, it doesn't come with the pipe. You have to provide the 6-inch diameter PVC pipe.
One of the common complaints about many commercially available sewer hose storage tubes is that their end caps are not durable enough. This has that covered with a metal fixed end cap on one end, and a swiveling cap with latch on the other end.
You may want to drill some ventilation holes in the PVC pipe so you don't trap moisture and stinky odors inside the tube.
6) RV Bumper Cargo Attachments
Some RV owners choose to add a cargo tray to their RV bumper. Then they strap their sewer hose to the cargo rack, or store it inside a tote attached to the cargo tray.
In this picture above you can see my family member uses a bungee cord to secure the sewer hose to the bumper cargo rack of his 5th wheel trailer. (I'd probably use another bungee cord just to make sure it stays put, but it has worked for him.)
This is a good option if you want easy access to the sewer hose. No need to dig it out from inside the basement storage area. It's also a good option for RVs that don't have much extra storage space.
Attaching a cargo rack to the rear bumper of an RV can be an option for motorhomes, 5th wheels, and camper vans.
But should generally be avoided with tongue-pulled trailers like travel trailers and pop up campers.
This is because excess weight on the rear end of these trailers decreases tongue weight of the trailer and can lead to dangerous sway.
(I realize a sewer hose isn't too heavy, and should be fine on a rear cargo tray: just avoid the temptation to overload the rear of a trailer.)
Check out these other RV Bumper Storage Ideas
7) Plastic Fence Post mounted under the RV
This is a clever idea that I came across researching this article.
You take the 5-inch square plastic fence posts that are used on vinyl fences, and attach them under your RV (often behind the rear wheels) or against the rear bumper.
Slide your sewer hose inside and then put the fence post caps onto the posts to secure your hose inside.
To see a sleek looking version of this check out the YouTube video below. I like how he cut a bottom section of the fence post off in order to fit in his 90-degree sewer connection fitting. Very clever.
And for added convenience, you can cut a rain gutter so that it slides into your hollow fence post and acts as a slide-out tray like this YouTuber did.
8) Plastic Garbage Bag in the Back of the Truck
If you pull a trailer with a truck a simple option for you is to put your sewer hose inside a heavy duty plastic garbage bag and put it in the back of your truck.
It isn't elegant or sophisticated, but if it works for you, that's what counts.
9) Magnetic Caps for your RV Bumper (detach bulky fittings if necessary)
Storing your RV sewer hose inside your RV's bumper is still a very common way to store the waste dump hose.
The 3″ hose will slide inside a standard 4″ square RV bumper. But the fittings likely won't. So you may have to keep the fittings in a separate plastic storage container or plastic bag.
Instead of using solid rubber bumpers caps that can lock in moisture, Camco makes a smart alternative.
They make a magnetic cap that has small ventilation holes to allow odors and moisture to escape.
And another cool thing about these caps is that they have tabs that work with Camco's bayonet-style hose. So you can hook your hose to the cap. When you pull off the cap, it'll slide the hose out with it. (Save you from digging around in your bumper to remove the flexible hose.)
Other things to have
Have a set of vinyl gloves or nitrile gloves available when you're handling the sewer hose.
Some RV'ers choose to bring along an extra sewer hose just in case the sewer connection is in a weird spot that one hose can't reach.
It's wise to have soap to wash your hands afterwards or hand sanitizer at a minimum.


Below you'll find more things and ideas that may help you out.
Rinsing out your RV Sewer Hose (Camco Model 22999)
When you're at the sani dump station and you've dumped and rinsed your black water tank then gray water holding tanks, you'll want to rinse out the sewer waste hose more thoroughly so it isn't quite so gross. (They call it a stinky slinky for a reason.)
You should have a dedicated garden hose of a different color to rinse out your sewer hose so you don't contaminate your white drinking water hose. Use your white water hose only for potable water, and use your other colored hose for rinsing out the sewer hose.
If you have a 3-inch bayonet fitting on the end of your RV sewer hose, Camco makes a sewer hose rinsing kit with a bright orange hose for this purpose.
Bag to Hold your Rinsing Hose
You can get RV hose bags like this one to store your black water rinsing hose. It won't be big enough to store your actual sewer hose, but it'll work for your rinsing hose. (The hose that is a different color from your fresh water hose so you don't get confused.)
If you dedicate the bag to your RV blackwater hose, then you affix the "Black" label (for blackwater") and then only use the bag for that purpose.
You could toss the bag in your RV's "basement" storage compartment, another exterior storage compartment, or in the bed of your tow truck.
RV Sewer Hose Support (Camco Sidewinder Model 43051)
Many RV parks require you to use sewer hose supports when you have your sewer hose attached to their sewage connection at your campsite.
This means you've got to pack around a hose support too. Camco makes this sewer hose support called the Sidewinder. It comes with a handle that keeps the supports compressed (like a slinky) and has a handle to carry it around.
The plastic ridges of the supports get progressively shorter so that your sewer hose has a gentle downward slope toward the sewer connection.
You can usually find this at local RV parts store. And I've provided some links below to online retailers too.
I hope one of these RV sewer hose storage ideas will work for you.
There are some clever DIY sewer hose mods that you can do, but there are also some commercially available products if you don't want to make your own.
And if your RV is a trailer that you pull with your truck you can also put "stinky slinky" in the back of your pick up truck.
Up Next:
61 smart RV Storage Ideas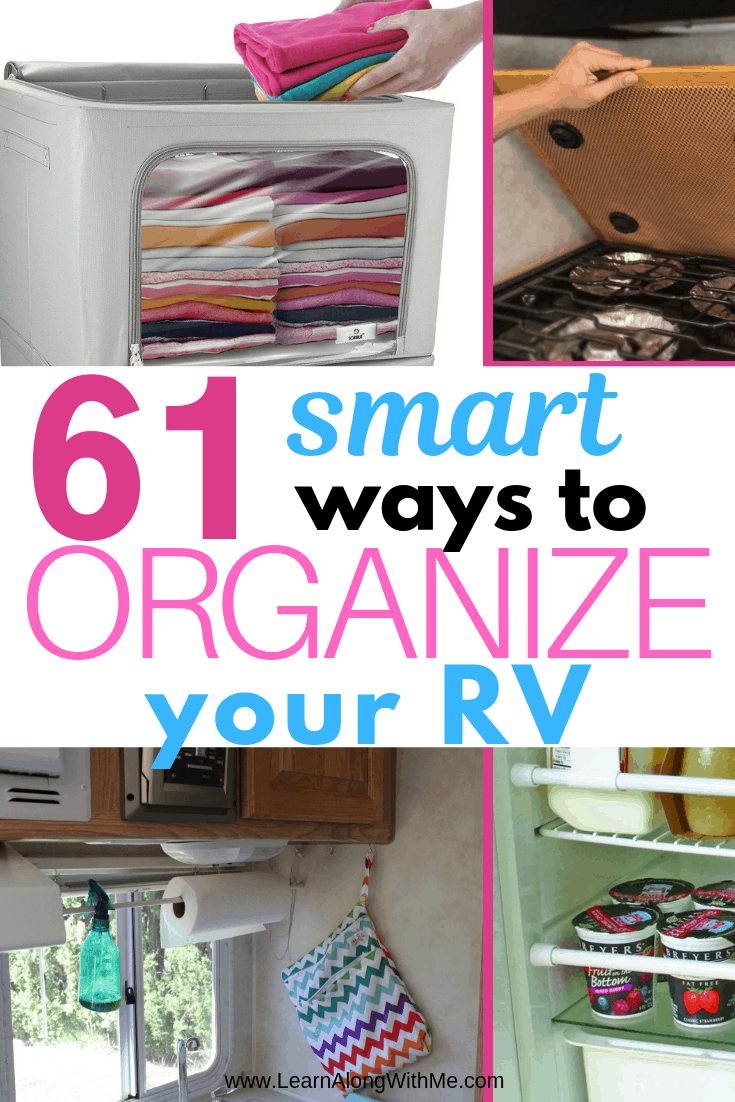 RV Black Water Tank – Definition and meaning
RV Gray Water Tank – defined
11 helpful RV Bumper Storage Ideas
Check out these 9 simple RV Patio Ideas to enhance your outdoor camping area