You don't want to spend your entire camping trip inside your RV, yet you don't want to bake in the hot sun. How can you get some shade for your campsite? In this article we'll share some RV shade ideas to get some refreshing shade for your outdoor space. 
Some of these shade ideas could work for tent campers too, but they may not have the storage capacity in their vehicle to bring along some of these products.
This article contains affiliate links. If you click a link and buy something I may receive a small commission at no extra cost to you. As an Amazon Associate I earn from qualifying purchases. For more information please see the Disclosure page.

Throw some shade on your campsite – List of RV Shade Ideas
In this article we'll look at shade ideas for outside your RV. We'll answer how to get some shade on your campsite so you can enjoy your outdoor space.
Most of these options are portable and lightweight so you can bring them on camping trips.
​
If you want some ideas on how to get more shade inside, and how to keep your RV cool, check out our article dedicated to that.
One thing to keep in mind with these shade ideas is that many of them won't stand up to high wind. So plan to take them down if the weather forecast is calling for strong winds or if you're leaving your campsite unattended for a long period of time.
1) Add an RV awning sun shade
Extending your RV's retractable awnings can provide some good shade next to your RV.
But depending on where your RV is parked and the time of day, the patch of shade thrown by your awning may be small.
You could huddle right next to your RV and make the most of that little bit of shade, or you could get an awning sun shade like this one.
It is UV-blocking fabric that connects to your awning rail and hangs down to create a gauzy wall.
Keep in mind, you may need a step stool to effectively reach your awning rail to install this product so pack accordingly.
You can bungee cord the bottom to ground stakes to help keep it in place.
I've read that some campers will temporarily roll up their awning with the sun shade still attached but only if they're putting it away at night or if it's windy. 
If you're packing up your campsite for a travel day, then you need to slide the sun shade off your awning rail, and fold it up until next time.
It comes in different sizes so make sure you order the right size to match your RV's awning.
Click here to see the available sizes.
2) Get a side shade for your awning
The same company that makes the front sun shade also makes a side sun shade for RV awnings.
You could install this to help block the sun and provide more shade at different times of the day.
3) Install an awning extender
An awning extender like this one from Redwood Outfitters can be added to your existing RV awning to increase its coverage area.
Yes, it is very similar the front sun shade shown earlier, but it has some added advantages.
Some people don't like the enclosed screen room feeling that a sun shade creates. They prefer a more open and airy feel.
Well this one can do double duty. You can attach the bottom to the ground (like the others), or you can use its included poles to elevate the bottom off the ground and basically just make a way bigger awning.
Click here for more information.
4) Screen Room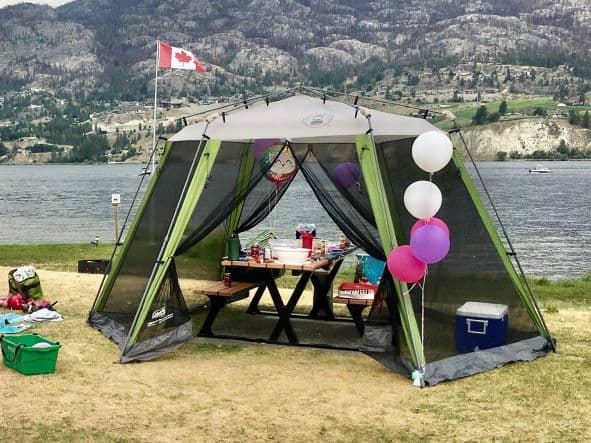 A screen room is a fantastic option for RV owners who want to enjoy the outdoors while staying protected from bugs and insects.
We have a pop-up Coleman screen room that has mesh walls. This allow fresh air to circulate while keeping out unwanted pests.
We put it over top of the campsite's picnic table so we can eat without getting annoyed by mosquitoes and wasps.
This particular screen room has mesh walls on all 6 sides. Coleman claims the material provides a UPF 50 sun protection, but for more solid shade you could drape a sheet along the sunny wall and clip it in place with clothes pin. (May not be the most elegant solution but it works.)
You can click here to see how much this screen room costs on Amazon.
5) Shade Sails
Shade sails are a popular option for adding shade to backyards and patios. But smaller shade sails like this 6'x7′ rectangular shade sail, can also be brought camping as a portable shade solution.
The questionable part is whether you'll have something to attach it to.
You'll need anchor points to tie it to.
You may be able to tie to poles or trees nearby, but check with the campground managers just in case they don't allow this.
If you have several spots to tie it to, then they can be adjusted or repositioned easily throughout the day to block the sun from different angles.
But you may find that trying to climb up high and install the shade sail may not be worth your time and effort compared to some other shade solutions.
You could also string up a tarp for shade and just take it down if it gets windy.
6) Beach Tent
While not specifically designed for RVs, a beach tent like this can be a practical option for providing shade at campsites and beaches.
They're lightweight, easy to pack around, and simple to set up.
They're especially great if you're camping near a beach. Get shade while on the beach then set it up at the campsite.
Beach tents typically have an open front and sides – or mesh openings – to allow for airflow while providing protection from the sun.
But the downside is the height. This one is only 57-inches tall.
So most adults will not be able to stand up inside this tent.
But imagine setting up a couple of chairs and relaxing inside here out of the sun.
The advantage of this option is that it's easy to set up. It has a pop-up design. You can stake it into the ground and fill the fabric weigh-down pockets with rocks or stones (or sand if you're at the beach).
7) Canopies and Pop-up Gazebos
These things have sprouted up all over our local beaches.
But they are another option that can be used at a campsite too.
These portable structures are easy to set up, and provide a shaded area for various activities.
Canopies and gazebos come in different sizes and designs, allowing you to choose one that suits your needs.
The one above from Ozark Trail (available at Walmart) is their 6-foot x 6-foot model. Which is a good size for two people to relax under.
But they also sell a larger size too.
Just be careful you don't trip over the guy lines that secure the canopy to the ground. You may want to bring some bright ribbons to stick to the ropes to increase their visibility. (You don't want to spend your camping trip nursing wounds after a fall.)
8) Sun Ninja Sun Shelter
Doesn't this look interesting!
It is the Sun Ninja sun shelter. It is another shade idea that is most associated with the beach, but you can stake the feet into the ground instead of filling the sand bags.
It's cool because it allows you the option of propping up the fabric top using 4 poles – essentially making it into an open-air canopy…
Or you can just use 2 poles making a slanted sun tent…like a lean-to. (This option gives you more privacy at your campsite because the fabric acts as a privacy screen.)
The potential problem of using this while camping though is that your campsite may not be big enough for a proper set-up.
Because to set it up, you need to stretch the fabric top along the grassy ground, stake it, then prop the poles under the fabric to "raise the roof."
If you have a small campsite, you may not be able to fully stretch out the fabric. And if the top fabric isn't taut, the poles can lean over or fall.
It is popular, well-rated and versatile, but it's better suited for larger campsites.
9) Portable Shade Umbrellas
Beach umbrellas or patio umbrellas are a convenient and versatile shade option for RVers too.
Umbrellas are lightweight, collapsible, easy to transport and provide instant shade.
They usually come with a sturdy base or clamp attachment, allowing you to secure them to different surfaces, such as picnic tables.
Keep in mind, that though an umbrella is light, the base is usually heavy. But that isn't the case with this umbrella from Wondershade.
This umbrella has tripod base to help stabilize it. For added stability you could place some sandbags or other heavy items on the legs.
You can adjust the height up and down and tilt the umbrella up to 30-degrees to block the sun throughout the day. And you can move it around your campsite to follow the arc of the sun.
This is ideal for creating a shaded seating or dining area outdoors. Plop two chairs under it and you've got a great picnic spot. It even comes with drink holders attached to the pole.
But the downside to all umbrellas is they aren't great in the wind. Ensure the umbrella is securely anchored to prevent it from toppling over in windy conditions and fold up your umbrella if you're leaving the campsite.
Do you like the look of this umbrella?
​



10) Outdoor Curtains
​I'm sorry I don't have a picture of this "in action" so you'll have to use your imagination a bit.
Instead of visualizing these attached to a gazebo, imagine them strung up between two taut ropes at your campsite.
Stringing up some outdoor curtains at your campsite is way to achieve both shade and some campsite privacy.
These outdoor curtains have metal grommets at the top and three fabric loops at the bottom. So you can hang them between two parallel ropes or rods. The bottom rope is primarily to stop them from blowing up in the wind.
11) Get a camping chair with a canopy
If just need some shade while you sit down and relax then camping chair with a canopy may be right up your alley.
The overhead canopy will throw some shade so you could read a book or shade your face.
But it likely won't shade your entire body. And you'll have to rotate your chair throughout the day to block the sun.
And you won't be shaded while doing active things around your campsite like tidying up or cooking.
But if you just want some individual shade to get the glare off your book or tablet, check this out.
12) Portable Clamp-on Umbrella
If you already have some camping chairs that you really love, you can get a cool clamp-on umbrella like this one from Sport-brella.
It can clamp onto a variety of tubes and frames as long as they're less than 1.5-inches thick. (So it won't clamp to a thick wooden picnic table.)
It is lightweight and portable and can be used at the beach, while camping, attending outdoor sports events and more.
Just remember to take it down (or hold onto it) during strong winds and don't leave it up while unattended or your chair could blow over in the wind.
13) Park in the Shade
This one seems so obvious that I almost forgot to add it to the list.
But taking advantage of natural shade thrown by trees or other structures is a great way to help keep your campsite cool.
You may not be able to choose a shady campsite in a packed campground, but it is something to keep in mind.
How to get shade inside your RV
So far we've looked at some ways to create shade for outside our RV. Below are 3 ways to help get some shade and make the inside of your RV cooler.
Reflective Window Covers
Reflective window covers are an effective option for blocking sunlight and heat from entering your RV. These covers are made of reflective material that helps to reduce heat buildup inside the RV, keeping it cooler during hot weather.
This particular product is designed to cover the RV door's window.
But you can buy rolls of reflective material – like Reflectix – and cut it to cover different windows too.
Blackout Window Shades
Installing blackout blinds inside an RV is a popular way to block the sun and darken the interior of an RV.
RV Vent Insulator
You can get these vent insulators to block out the sunlight coming your from your RV skylight or RV vent.
Want to see more ways to help keep your RV cool?
Click here to see to our article for more ideas.
Thank you for checking out this article on RV shade ideas and ways to keep your campsite cooler.
The option you choose may depend on where you usually camp and the natural surrounds.
It's tricky because some of the shade ideas that you tie up – such as shade sails and outdoor curtains – require something to tie them to: like trees. So if there are already trees at your campsite then why not just enjoy the shade these trees throw?
That's a great point, but the trees or other structures near your campsite may not throw shade in the areas you want shaded.
Having some of these portable shade ideas in your camping gear is a good way to create shade in the places you desire it.
I hope this has helped you give you and will make your camping trips even more "cool".
Up Next: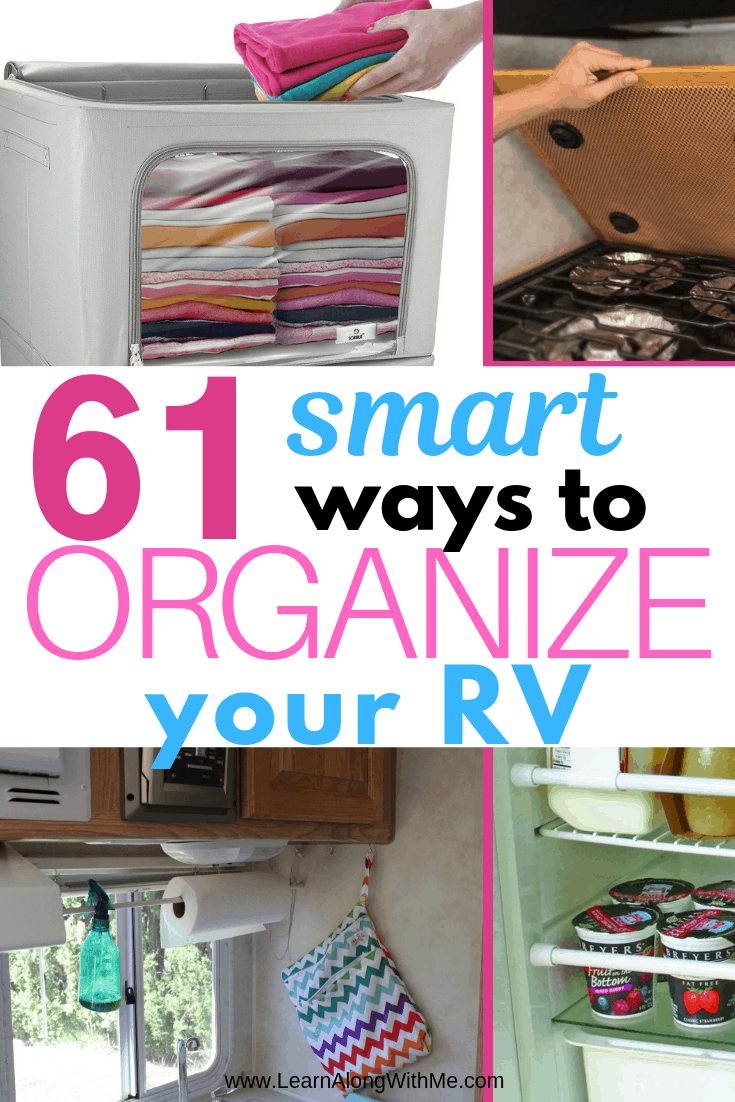 Get your RV organized with these smart RV storage ideas.
You'll appreciate these interesting RV bumper storage ideas.