Need some RV shoe storage ideas? How to store shoes in an RV is common question that campers ask. And in this article we'll look at 9 RV shoe storage solutions.
Which one will work for you?
This article contains affiliate links. If you click a link and buy something I may receive a small commission at no extra cost to you. As an Amazon Associate I earn from qualifying purchases. For more information please see the Disclosure page.




In order to get pictures for this article I brainstormed various camper shoe storage ideas that I'd seen on the internet, and then tried some of them in our pop up camper. So we don't use all these ideas in our camper, but hopefully they'll inspire you to find a shoe storage solution for your RV.
Scroll to the bottom to see which RV shoe organization idea will be right for you.
9 easy RV Shoe Storage Ideas
These 9 ideas will help answer how to store shoes in an RV. Each idea won't work for your RV – perhaps you'll need a different RV shoe rack – but these are all easy options that you can try without much effort.






1) Get Handy with Hooks and a Tension Bar
This won't work for all RV's, but if you have a spot near the door to spread a tension bar between cabinets or walls, you could try this method.
You can buy S-hooks from most hardware stores, and then hang your shoes from the hooks.
2) RV Shoe Storage Outside the RV in a plastic tub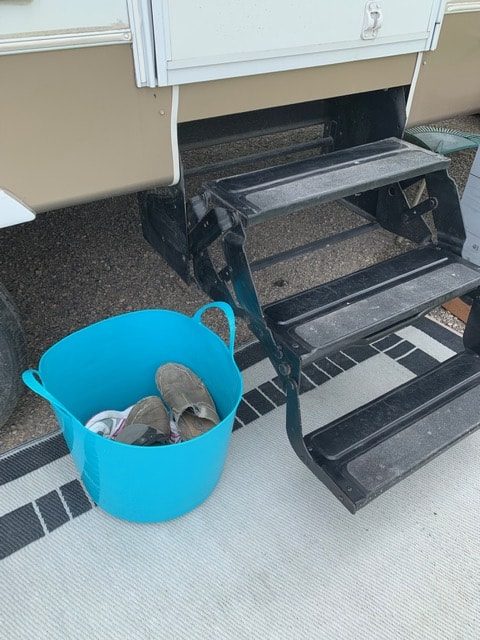 This is my sister's RV and her family uses a plastic bucket to store the dirty shoes outside the RV. And not only does it contain the shoes but it helps keep their RV clean too. WIN-WIN
3) Store shoes outside the RV in plastic tote with a lid
But if you live in an area with nasty bugs then you may want to get a plastic tote with a lid if you plan on keeping your shoes outside. You don't want the bugs to crawl into your shoes.
4) RV Shoe Storage Bungee Cord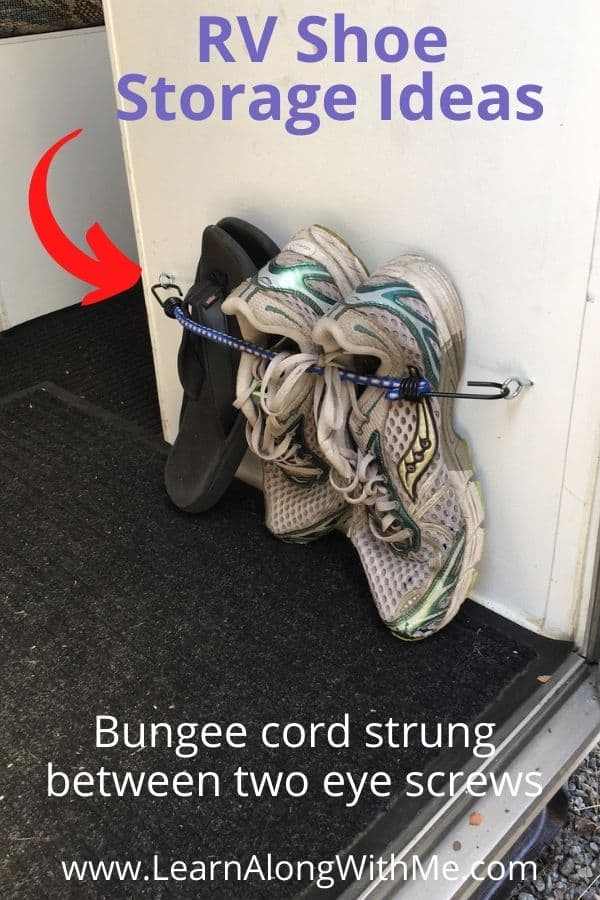 Bind 'em with a bungee!
Here is a clever DIY RV shoe storage solution that I first saw on Instagram and I was inspired to try it myself.
What I learned is you have to be careful what you screw in to. The wood sheet I screwed in to was very thin. Next time, I'd put a backing board on the inside of the cabinet to provide more support. The eye screws were bending under the stress of the bungee.
But your RV may have thicker cabinets and walls so you may not have to worry as much about the screws ripping out.
5) Store Shoes Inside Cupboards
Do you have room in a cupboard to store shoes in your RV? Some people have room in the cabinet under their TV. In our pop up camper we don't have much space, so this isn't a great option for us.
But do you have an under-used cabinet in your RV for shoe storage? (Preferably near the door.) If you do, this option helps keep the shoes out of sight.
6) Use a Hanging Shoe Pocket Organizer
Special thanks to the RigAroundCapozzis for allowing me to show their awesome RV shoe storage idea. I can't really tell from the photo but it looks like hanging shoe pockets are nailed to the wooden cabinet at the top. But you may be able to use command hooks or strong Velcro strips.

7) RV Shoe Storage using a hanging shoe organizer (tucked under the bed mattress)





Below is a picture of me lifting up the camper mattress showing how I simply laid a long hanging shoe organizer under the mattress, and left some pockets dangling down to store shoes in our pop up camper.
This easy method means you don't have to screw into anything, use adhesives, or even modify the shoe organizer in any way. You could take the shoe organizer back into your home after camping season and use it there.
This shoe storage solution won't work for everyone but if you don't want to cut, screw or modify, this idea may be right for you.
8) Use a Tension Bar to hold the shoes back
A tension bar can be used to hold shoes and sandals upright.
This will keeps them out of the way better than just tossed on the ground. This is a quick, temporary RV shoe storage idea because the bar can be easily removed and put back up.
9) Adhesive Shoe Rack
These may be an option if you have a spot on a wall near the door. They don't screw into the wall. Instead, they use an adhesive.
I personally haven't seen them "in action" but they look pretty cool.
Click here to get more details on Amazon.
I hope one of these RV shoe storage ideas helped you.
Which one will work for you?
What's nice about a lot of these ideas is you can try them, and if they don't fit your needs, then you can try something else. They are all fairly "low impact" options that don't require much work or money.
UP NEXT:
75 clever RV Organization Accessories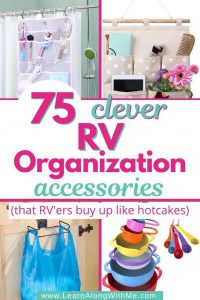 Plus, check out:
7 handy RV Dish Storage Ideas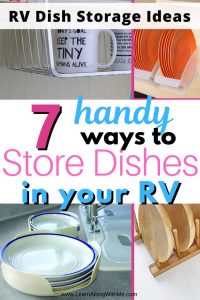 How to store towels in an RV (12 proven solutions)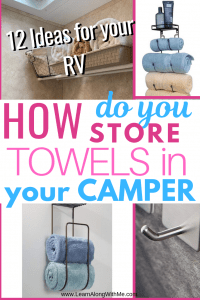 15 helpful RV Trash Can Ideas
Thank you, and I hope you've enjoyed Learning Along With Me.
Tim from LearnAlongWithMe.com