Are you looking to replace your RV shower curtain? Is your old shower curtain gross? Or are you ripping out the glass doors from your RV shower? If so, you'll want to read this entire article. (I save a clever shower curtain option for the end.)
In this article we'll look at:
ways to hang your shower curtain (RV shower curtain rods, curtain tracks, etc..)
how to measure to get the proper size RV shower curtain
11 great examples of RV shower curtains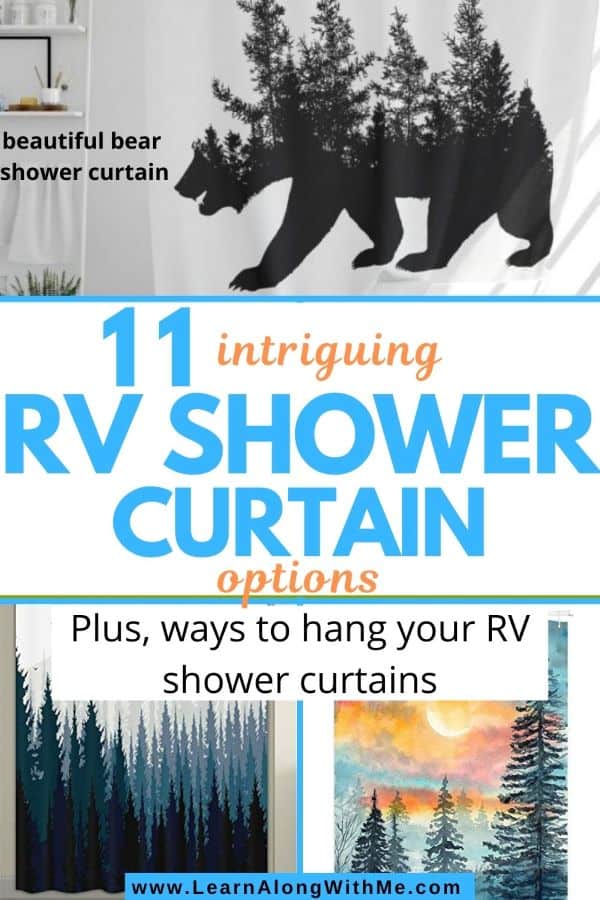 This article contains affiliate links. If you click a link and buy something I may receive a small commission at no extra cost to you. As an Amazon Associate I earn from qualifying purchases. For more information please see the Disclosure page.
How to Hang your RV shower curtain
Some RV's have shower curtain tracks screwed to the ceiling. And they attach to the shower curtain with little plastic clips.
Some of these units may require you to unscrew the entire track in order to remove the shower curtain.
If you can use your existing hardware, and you're happy with the way your shower curtain slides, then it makes sense to just use the curtain track or rod that you already have.
But if you don't like your current shower track or rod, you can get replacements.
Replacement Ceiling Mount Curtain Tracks
Do you have a factory-installed shower curtain track that just plain sucks?
Well, the Texas company Curtain-Tracks.com has a variety of replacement curtain tracks. They're sure to have something that'll work for your RV.
For instance, they sell a flexible 6-foot shower curtain kit.
It comes as a 6-foot strip but you can cut the strip with a hacksaw or miter saw. So you can get it perfectly sized for your RV shower.
You screw the track into the ceiling to get yourself a new, smooth-running shower curtain track.
Plus, the company has good customer support. During the research of this article I was wondering how you cut the curtain track. I contacted the company through their website and they were quick to answer my question. So thumbs up for support.
Curved Shower Tension Rod
A lot of RV owners don't want to screw into their walls. Thankfully some genius person invented tension rods.
And you can get curved tension rod shower bars like the one below.
So you'll get the benefit of a curved shower rod (more elbow room inside the shower) and you won't have to screw into your walls.
RV Shower Curtain Rod Replacement – 2 mounting options
This curved shower rod is cool because it has two mounting options.
You can screw it into the wall if you're comfortable doing that, or you can use its tension-mount feature.
It fits shower openings 32-inches to 40-inches wide.
Will this work as an RV shower curtain rod for your rig? Will it provide that extra elbow room you crave?

Curved RV Shower Curtain Rod (requires screws)
First off, I'll apologize for the blurry product photo. This is the photo they have on their Amazon product page.
The reason I'm including it on this list because during my research it is one of the only small curved shower curtain rods that I could find.
This curved shower rod mounts to the wall using screws. So if you're comfortable with that, this may work for you.
It is designed to fit small showers with openings 29-inches to 49-inches wide.
Having a curved design will give you some more elbow room in the shower.
It doesn't come with the shower curtain hooks, but you can buy these at most dollar stores real cheap.
CLICK HERE to see more details on Amazon.
Stromberg Carlson Extend-A-Shower Curved Rod (Model EXT-3542)
The company Stromberg Carlson makes a replacement RV shower curtain rod that'll give your shower some extra elbow room.
But it does requires screwing into the walls. You'll have to find wood backing to screw into.
Judging by how highly rated this product it, I think most RV owners have been successful at installing it.
They claim that out of the box it can adjust to fit showers 35" to 42" wide. And that if you have a narrower shower, you can cut this product to fit smaller showers.
Do you think this might work for you?

Straight Chrome-colored RV Shower Curtain Tension Rod
If you want just a straight shower tension rod, Amazon Basics makes this one that fits small showers that are 24-inches to 36-inches wide (So 2-feet to 3-feet wide.)
Tension shower rods are an easy, no-tools required option.
CLICK HERE to see this RV shower curtain rod on Amazon.
Straight, white-colored RV Shower Curtain tension Rod
Here is another straight tension rod that'll work in small showers with openings 26-inches to 42-inches wide.
This is made by iDesign. They make a lot of quality products and this highly-rated product is no different. It has non-slip ends so it should grip onto your RV shower walls without damaging them.
Click here to see more details on Amazon
L-Shaped Shower Curtain Rod (uses adhesive)
This is an interesting idea. It is an L-shaped shower rod. I've included it on this list because it uses an adhesive to stick the mounting brackets to tile shower walls.
Before you order this, you'll want to make sure you measure your shower – width and depth – to make sure this'll fit. And you can't glue it onto wall paper, or it'll just tear it, so make sure you have appropriate shower walls too.
CLICK HERE to see details and see if this is right for your RV
Adhesive Shower Curtain Rod Holder
If you don't want to screw into your walls, and you can't find a tension bar option that you like, there is another option.
You can buy these adhesive shower rod holders (the white holders in the picture above).
They'll stick to tile or painted walls.
This particular model will hold shower rods up to 1.5-inches in diameter.






In our shower at home we have a tension bar shower rod, AND I use holders like this to keep the tension bar from sliding around. So you can use both in your RV too: a tension rod shower curtain and adhesive holders like this.
Splash Guard Alternatives
What some RV owners do instead of installing a splash guard, is attaching one piece of Velcro to the shower wall, and the other piece to the shower curtain. To really stick the shower curtain to the wall.
RV Shower Curtains
It is important to install a shower curtain that fits your RV's shower.
A shower curtain that is too wide may bunch up, overlap, and will not dry out properly. This creates a favorable environment for mold. And no one likes a moldy shower curtain.
And a shower curtain that is too tall will slouch on the floor causing a tripping hazard and can also lead to mold growth.
This is why it's important to buy (or modify) a shower curtain to fit your particular shower.
Make sure to measure your shower opening and get a curtain that fits your particular RV's width and height.

Below are some tips on how to get the proper size shower curtain for your RV.
Measuring RV Shower Curtain Height
The standard shower curtain height for most homes is 72-inches tall.
This size may work for some newer, larger RV's, but RV's usually require short shower curtains.
For instance, in my sister's "Copper Canyon" 5th wheel, it is 68-inches from the floor to the top of the shower glass doors.
If she wanted to remove those glass doors and replace it with a shower curtain, she'd need a short shower curtain (or raise the replacement shower curtain rod closer to the roof).
You want your shower curtain (or liner) to extend down inside the tub to fully ensure the water is trapped in the shower, but you don't want the curtain so long that it bunches up at the bottom.
You don't want too much slack at the bottom of your shower curtain because this overlap of material will pool water. Pooled water leads to mold and mildew growth.
Measure from wherever your shower curtain will hang to the floor of your shower basin or tub. Reminder that where you measure from the top will depend on how you'll hang your shower curtain. You may hang it from a shower curtain rod, curtain track or shower curtain hooks, and all these will affect the length of the shower curtain.
Then once you have that measurement you can cut a regular-sized plastic shower curtain to fit, hem a fabric shower curtain, or buy a ready-made RV shower curtain.
Measuring RV Shower Curtain Width
The general guideline is to take your shower opening's width and add 12-inches to get the proper shower curtain size. This allows 6-inches of curtain overlap on each wall of the shower opening to make sure water doesn't splash out the sides.
For instance, if your RV shower is 36-inches wide, you add 12-inches to this to get 48-inches. You'll want to look for a shower curtain that is 48-inches wide…or close to it.
(Reference: https://mitovilla.com/blogs/news/shower-curtain-size-guide )
You'll notice that many replacement RV shower curtains are 47-inches wide. This size will work just fine for 36-inch wide shower openings.
Buy or Modify a RV Shower Curtain?
You can buy a dedicated RV shower curtain that is sized to fit the majority of RV showers. Or you can buy a standard shower curtain and customize it to fit your RV bathroom.
In this section below we'll show some examples of RV shower curtains that may work for your RV.

1) Plastic Shower Curtain liner for RV Shower Curtains
This is a basic WATERPROOF plastic shower curtain liner. It is made from polyethylene vinyl acetate, or PEVA for short.
It is a waterproof shower curtain that you can use on its own, or you can use it as a waterproof backing behind more decorative fabric shower curtains.
It is available in several different sizes. This particular model is the clear 47-inch wide by 64-inch high version.
This could be a good shower liner for many of the other camper shower curtains featured in this article.
(Or you could buy a cheap shower curtain from the dollar store and cut it to fit your RV. And use that as your shower curtain liner.)
2) Forest and Mountain Camper Shower Curtain
This camper shower curtain is 47-inches wide by 64-inches tall.
It features this beautiful forest landscape scene. So serene.
This would be a great for RV owners that seek adventure.
The company also makes this RV shower curtain in different sizes if this one won't work for you.
CLICK HERE to see more details (and other sizes)
You May Also Like:
11 RV Decorating Ideas to make your RV look like home
3) Happy Camper Shower Curtain (47″Wide x 64″ High)
This is a polyester fabric shower curtain. It intended to be used as a camper shower curtain. It is 47-inches wide but 64-inches high.
Most people will choose to use a plastic shower curtain liner on the inside of this.
Click here to see more details on Amazon.
4) Simple White Polyester Fabric Shower Curtain
This is a simple white shower curtain. It is available in several different sizes. This particular size is 47-inches wide by 64-inches tall.
It is made of polyester fabric, so it is a water repellant fabric. The water will bead off of it.
But once again, some people prefer to line fabric shower curtains with vinyl or other plastic shower curtain liners.
If you're looking for basic travel trailer shower curtains or for your motorhome…well, white is pretty basic. Maybe these'll work for you.
5) Beautiful Black Bear Camper Shower Curtain (Etsy)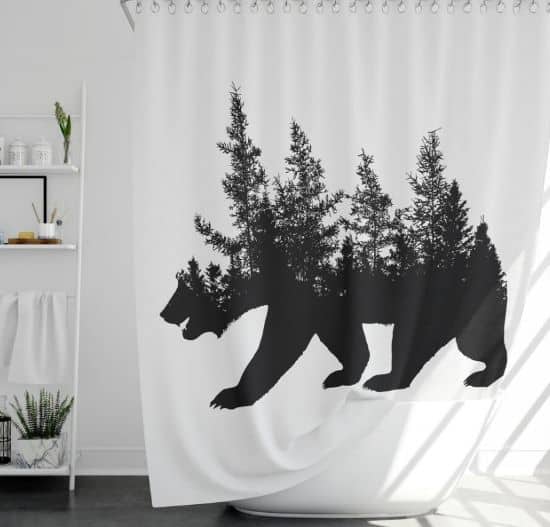 Doesn't this look awesome!
It is a polyester fabric shower curtain available on Etsy from the seller AllShowerCurtains.
It is available in a 47-inch wide by 70-inch tall size. This may be too tall for most RV showers, but perhaps you could hem it to fit your particular camper.
CLICK HERE to see this beautiful shower curtain on Etsy.
I think this is my favorite looking shower curtain on this list. Looks so good.
6) Life is Better at the Campsite – RV Shower Curtain
Here is another shower curtain that will add some nice "Campy" decor to your RV bathroom.
It is another polyester fabric shower curtain. You can machine wash it if it gets dirty. So after a long camping trip, you can bring it home and wash it. (Or wash it in your RV if you have onboard laundry.)

7) Forest Fairy Tales Shower Curtain (Etsy)
Woah, talk about an eye catching shower curtain!
This "Forest Fairy Tales" shower curtain made by JamesPrintsBackdrop on Etsy.com
You can get it in a 41-inch by 63-inch tall size for campers, or you can get it in the standard shower curtain height of 72-inches by a variety of widths.
CLICK HERE to see more details on Etsy.com
8) Compass and Arrows Camper Shower Curtain (Amazon)
This is another polyester shower curtain that is available in a 47-inch wide by 64-inches tall shower curtain.
It is machine washable, and comes with 12 plastic shower rings so you can hang it from your curtain rod.
These would make nice, simple travel trailer shower curtains for a minimalist look.
This is a well-rated product on Amazon. But will it work for your RV?
9) Watercolor Forest Scene RV Shower Curtain (Amazon)
Add some art to your RV bathroom with this watercolor forest scene shower curtain.
This colorful shower curtain is 47-inch wide by 64-inches tall, so it should fit a lot of RV showers that have openings up to 36-inches wide. (That way you'll have almost 6-inches of extra curtain on each wall to keep the water in.)

10) Partially Translucent Plastic Shower Curtain (36″x72″)
I've included this in the list because it is waterproof plastic and being translucent it'll allow light into your RV shower stall.
This is a good option if you don't want like a darkened shower and if you don't have or you've covered up your shower skylight.
It comes in a variety of sizes including a 36-inch wide by 72-inch tall size.
If you're interested a basic, waterproof, partially see-through shower curtain for your RV, check this one out.
11) RV Shower Curtain with Mesh Storage Pockets (awesome idea)
This is one of those things I wish I would have thought of! How smart.
It combines two necessities – a shower curtain and shower organizer – into one cool product.
You can get this white shower curtain in a variety of sizes such as the 36-inch x 72-inch version shown here, but you can also get it in 47″x64″ size and others.
CLICK HERE to see more details on Amazon. (Hint…it's very well-rated)
I hope you've found an RV shower curtain rod and camper shower curtain that'll work for your RV.
Just remember to measure your particular RV shower opening to order a properly sized shower curtain, or be prepared to modify a standard size shower curtain.
Up Next:
27 simple RV Bathroom Storage Ideas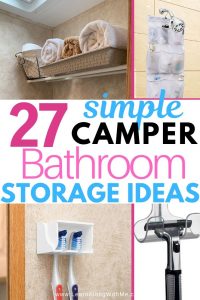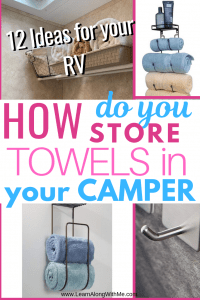 You May Also Like:
18 clever Shower Organization Ideas (some of these will work in an RV shower too)