If you're a Canadian RV'er and you're looking for some help organizing your RV, then you've come to the right article. The RV storage ideas and organizers you'll find on this post all have nearly perfect reviews on Amazon Canada (4.5 stars out of 5 or higher).

Hopefully something on this list will help you out. To check out any of these products on Amazon, just click on its picture.
This article contains some affiliate links. This means if you click a link and buy a product I may receive a small commission at no extra cost to you. For more please see the Disclosure page. Thank you.
Hanging Multi-pocket Shower Organizer by MISSLO
A hanging shower organizer like this from MISSLO can help you reduce counter-top clutter in your RV bathroom. You can hang it on the dry side of the shower, or hang it inside your shower because it is made of quick-dry mesh. It is currently rated 4.7 stars out of 5 on Amazon Canada with over 380 ratings.
Vintage wall-mounted Storage Baskets by Spectrum Diversified
These awesome wall-mounted baskets by Spectrum Diversified are very versatile and can be used throughout your RV. But it does require screwing into a wall. So what many RV'ers do instead is screw it into the side of wooden cabinet.
These baskets are very well rated and are currently rated 4.8 stars out of 5 with over 2,700 ratings!!
Sick of your RV always being messy and unorganized? Then check out this organization bundle (planner, worksheets and checklists).
Not ready to buy right now? Then you may want to check out some FREE Sample pages from the RV Organization Bundle. (Click the pic below.)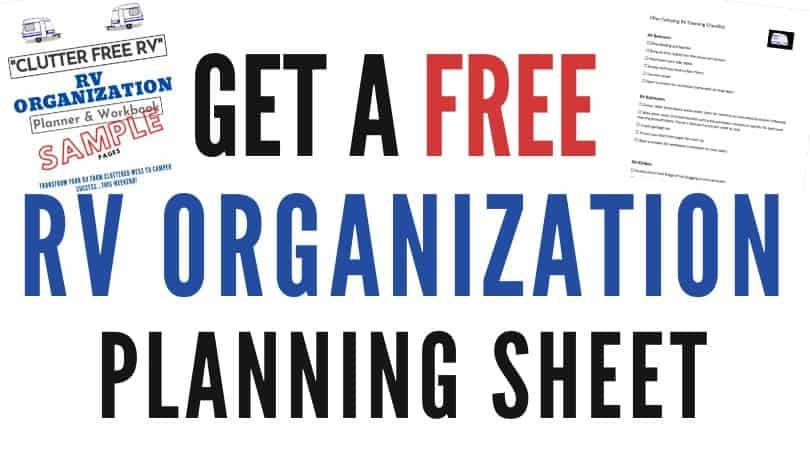 Clothes Organizer Baskets by Simple Houseware
"How to store clothes in an RV?" is a very common question for campers. A set of divider boxes like this can help you organize any drawers (if you have them), or help you organize the bottom of your RV closet. Finally you'll have a spot to put underwear and socks! This set is currently rated 4.7 stars out of 5 with over 2,600 ratings on Amazon Canada.
Hanging Closet Shelves by IsHealthy
Many RV'ers are looking for storage ideas for their RV closet. But most RV closets are not full height, so many of the hanging organizers with 5 shelves may be too long for a camper closet. But a well-rated 3 shelf unit like this one from IsHealthy may be just what you need to store sweaters, jackets, or even the clothes boxes mentioned above.
It is currently rated 4.6 stars out of 5 on Amazon.
Over-the-Door Organizer by Simple Houseware
A 6-pocket hanging organizer like this one by Simple Houseware offers lots of storage opportunities. In the product photo they show baby items, but if you have a solid bedroom door, this would work well for socks, underwear, rolled t-shirts, deodorant, makeup, first aid supplies, and lots more.
It is currently rated 4.7 stars out of 5 with over 560 ratings on Amazon Canada.
Wire Organizing Cubes (by AmazonBasics)
Wire cubes like this are great for storing and organizing a huge variety of household items. And they work well for RV's too. Many folks use a lightweight option like this instead of a dresser, and then use fabric baskets to hold their clothes. You can use them as laundry hampers, shoe dump bins, and lots more. It is currently rated 4.5 stars out of 5 on Amazon.
Double Refrigerator Tension Bar
This double tension bar from Camco can expand from 16-inches to 28-inches, and it helps keep your food in place during travel days. And the double bar helps prevent taller items (like milk jugs) from toppling over. It is currently rated 4.6 stars out of 5 on Amazon Canada with over 950 reviews.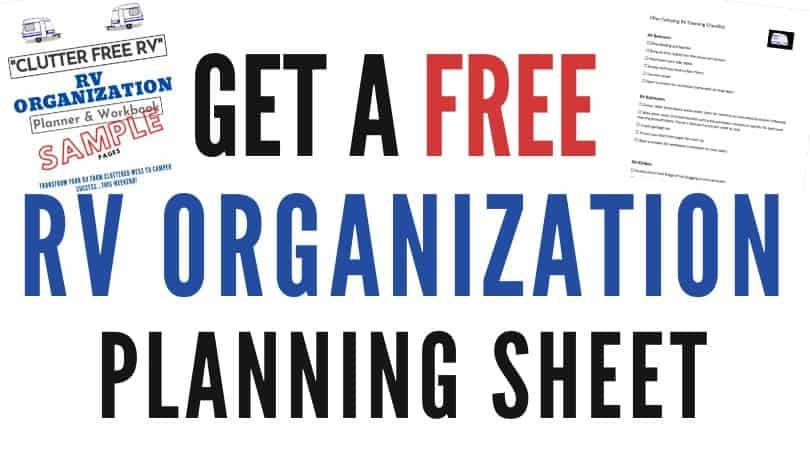 Adjustable Cutlery Tray by Camco
The leader in RV accessories – Camco – makes an adjustable cutlery tray that can expand from 9-inches wide to 13-inches wide to accommodate various kitchen drawer widths.
So if your cutlery drawer looks more like a junk drawer, check this out. It is currently rated 4.5 stars out of 5 with over 970 ratings on Amazon Canada.
Vertical Pan and Lid Organizer by YouCopia
This vertical pan and lid organizer will help you organize your RV kitchen cabinets. The wire separators are adjustable to fit a variety of pans, bakeware, lids, drying racks, cutting boards and more. If you think this will help you, click here to check it out on Amazon.
Mini Dish Drying Rack by Camco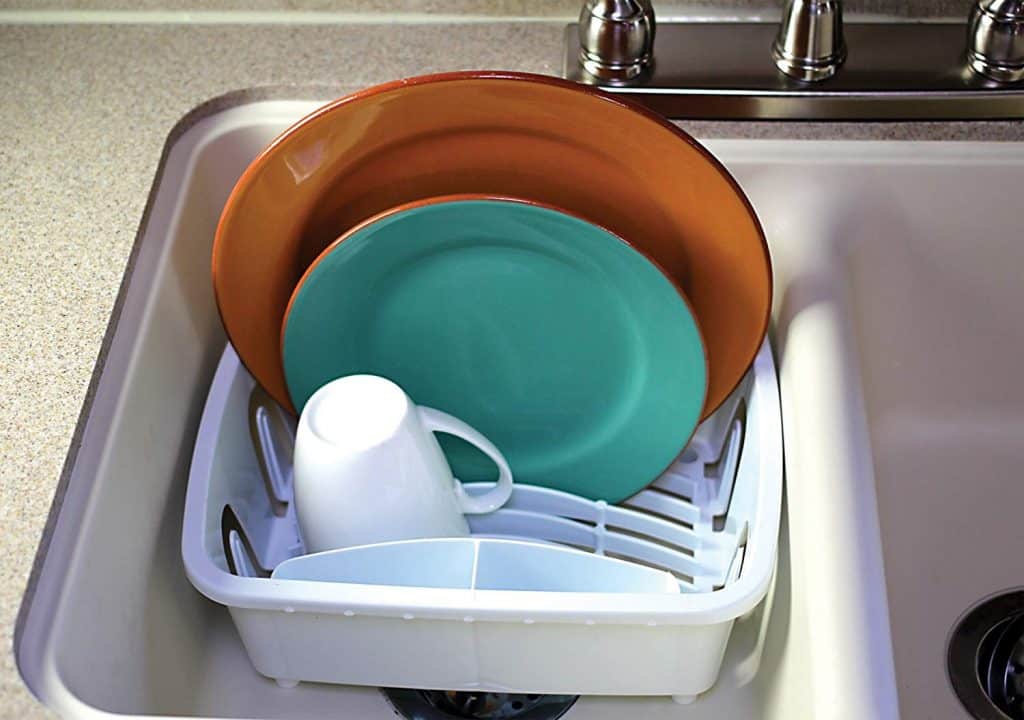 A small dish drying rack like this one by Camco helps keep your kitchen counters clean and free of excess dishes. It is currently rated 4.6 stars out of 5 with over 2,900 ratings! Click here to see more details on Amazon.
RV Pantry Organizer – Can Rack by Simple Houseware
Organizing an RV pantry can be a challenge. If your RV pantry cabinet is big enough, an organizing can rack like this one from Simple Houseware can really help you get organized. Just make sure it fits, and do you go over really bumpy roads on travel days?
Click here to check out the dimensions on Amazon.
I hope at least one of these RV storage ideas with nearly perfect reviews on Amazon Canada will help you get your RV organized.
If you want to see more RV kitchen organization ideas, click here.
Click here to see space-saving RV Bathroom organization ideas.
If you need RV bedroom organization inspiration click here.
And if you want to see a BIG list of 61 Smart RV storage ideas click here.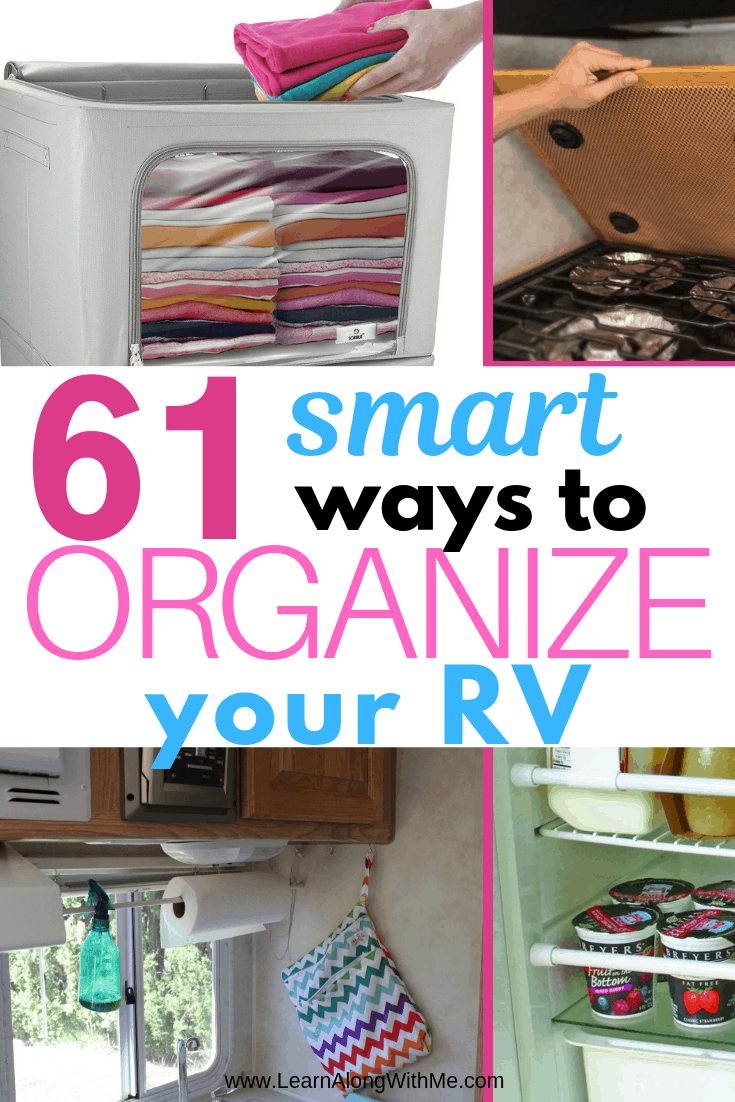 Thank you,
Tim from LearnAlongWithMe.com
And if you're a Canadian into tiny homes, check out this tiny homes Canada list of builders. (Mostly Western Canada builders right now, but I'm updating the list in an easterly direction.)