Do you find hair scrunchies all over your house? (With my three daughters this is something I'm very familiar with.) In this article we'll look at 23 scrunchie storage ideas so you can keep these hair accessories nicely organized and accessible.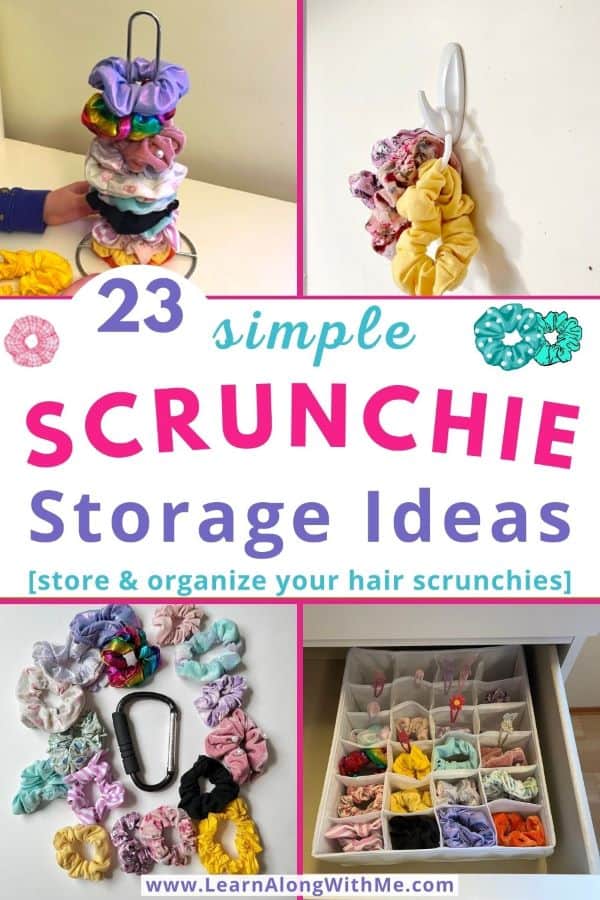 This article contains affiliate links. If you click a link and buy something I may receive a small commission at no extra cost to you. As an Amazon Associate I earn from qualifying purchases. For more information please see the Disclosure page.

How to store scrunchies – List of Scrunchie Storage Ideas
If you or your child is a scrunchie lover you probably have these special hair ties all over the place.
Well, hopefully one of the scrunchie holder ideas below will help you get your scrunchie collection organized.
Scroll through all the different storage solutions to find the one that is right for you.
1) Place them on a Scrunchie Wall Organizer
Doesn't this look awesome!
This cool wall-mounted scrunchie organizer is made by the Etsy seller TibsDesignCo.
Not only does it take advantage of vertical wall space, but it also makes it easy to see and get the scrunchie you want.
Will this work for you? (Is it within your budget?)
2) Get an acrylic scrunchie holder stand
The company BEENYX makes this clear acrylic scrunchie holder that stands 10-inches tall.
Doesn't this look cool.
But the downside to this style of holder is that if you want a scrunchie near the bottom, you have to take them all off to get at it. Thankfully, it only takes seconds to get them all back on though.
Below is another picture of it.
3) Slip them onto a wooden scrunchie organizer tree
This is another cool countertop scrunchie holder. It stands 14-inches high and features 6 wooden "arms" coming off the main stem.
The company that makes it – Ivyu – claims it holds around 30 scrunchies.
The good thing about this option is that since not all of the scrunchies are stacked on one central rod, you don't have to remove them all to get at the scrunchie you want. You'll just have to remove the scrunchies off the individual arm of the tree.
4) Stack them on a Chrome Paper Towel Holder
Sure these are marketed as countertop paper towel holders but they can work well to store scrunchies too.
The downside to this option is that if the right scrunchie for your outfit (or mood) is at the bottom of the stack, you have to remove all the scrunchies above it to get at it.
We found our chrome paper towel holder at a local second-hand store. If you can't find one in your area, here is a very similar one that is available on Amazon.
5) Wooden paper towel holders work too
If you prefer the look of wood over chrome, wooden countertop paper towel holders work to hold scrunchies too.
The one in the picture above has a removable wooden knob that screws onto the bolt at the top of the vertical rod. (It wasn't screwed on in the picture above.)
Check out our YouTube Shorts video about Scrunchie Storage Ideas (there is sound in it)
6) Hang your scrunchies on Command Hooks
This is a super simple way to store your scrunchies: place them on a Command Hook.
A small Command Hook may only hold one or two scrunchies but the company 3M now makes such a variety of hooks, you'll be able to find one that holds more.
Or just put up a row of small hooks to hang your scrunchies from.
This is a great way to utilize wall space and free up counter and drawer space.
7) Store them on a shower curtain ring
Here is a handy scrunchie storage solution that won't break the bank.
You can use an inexpensive, plastic shower curtain ring to hold your scrunchies then hang the ring from a Command Hook, cup hook or other wall hook.
What is nice about this option is that you don't have to take all the scrunchies off the ring to get the one you want. Just rotate the scrunchies around the ring until the one you want is near the opening and pull it out.
8) Clip a Binder ring or Carabiner around them then hang them
You can likely get binder rings and carabiners at your local dollar store.
Then clip these metal rings or carabiners around your scrunchies and hang them from a wall hook or suction cup hook.
Binder rings are not great option if you have a lot of scrunchies, but a large carabiner (like in the picture above) can work well to hold several scrunchies.
Just be careful that you don't snag your fabric scrunchies on the metal carabiner when you're putting them on and off.
9) Store your scrunchies inside a drawer organizer
A drawer organizer like this has lots of compartments, and is a great idea to store your scrunchies if you have the drawer space for it. (Or you could put the organizer on a shelf or counter.)
The good thing about using a drawer organizer and putting one scrunchie per slot is that you can:
easily see your scrunchies at a glance,
have easy access to the one you want to wear
and storing them in a drawer helps keep dust off of them
The downside to this option is that it takes up drawer space. (And this may not be an option if you have a small bathroom or a pedestal sink.)
10) DIY Scrunchie Holder
If you are even a little bit handy you could make a DIY scrunchie holder by using a wooden dowel glued and screwed to a wooden base.
You wouldn't even need power tools, but they would make the job quicker. This style emulates the vertical stand that you store paper towels on.
Place your scrunchies over the vertical dowel, and the wooden disc base will stabilize your DIY scrunchie tower.
You can paint or decorate the wood to reflect your personality or match your bathroom or bedroom décor.
11) Slip your scrunchies over an empty toilet paper roll or paper towel roll
Storing your scrunchies doesn't have to be complicated or fancy. There is an easy way, and it is probably in your recycle bin right now!
You can put your scrunchies over an empty toilet paper tube – or empty paper towel tube – and then place this on the bathroom counter.
When we tried this with our daughter's scrunchies, the scrunchies wrapped around the shorter toilet paper roll seemed to be more stable than the taller paper towel roll.
But obviously you can fit more scrunchies around the paper towel roll.
If you want them to look a little cuter, you can wrap and glue some colorful craft paper around the tube or decorate the tubes in other ways.
12) Hang your scrunchies on pegboard hooks
You may not have room for a pegboard wall in your bathroom, but perhaps you have room behind your bedroom or bathroom door?
Pegboards are super versatile organizers. There are a lot of different household items you can hang on a pegboard.
And something you may not have thought about before is hanging scrunchies, hair elastics, headbands, and more from a pegboard.
13) Hang your scrunchies from a Jewelry Tree Stand
Jewelry trees obviously work well to store bracelets and other jewelry, but they can also work well to store scrunchies and hair bands.
Sorry I don't have a picture of this option "in action" but imagine a jewelry tree (like the one above) holding your jewelry AND scrunchies.
14) Clear Plastic Scrunchie Jar (Etsy)
The Etsy seller TheGoldenOar sells these jars with a plastic lid that are a great way to store fabric hair ties. (Just make sure they're dry before tossing them in.)
The lid will help keep dust off the scrunchies, though if you look closely, you can see the side of the jar is open. This makes it easy to grab out scrunchies mid-pile.
Plus, you can get this scrunchies holder personalized with your name! Do you have a couple kids? Putting their names on different jars is a great way to keep their individual scrunchies separated.
This would make a good gift for a scrunchie lover.
15) Store them in a Clear Plastic Food Storage Container
You can repurpose some old Tupperware or other storage containers to become a scrunchie holder.
Ideally it'll be clear so you can see inside (and be reminded of what is in there).
But we don't want mold or mildew lurking inside, so make sure your scrunchies or other hair ties are dry before putting them in a closed container.
16) Store them in an Plastic Craft Organizer
Plastic organizers like this are often marketed as craft organizers or sewing organizers.
But they can work to hold your scrunchie collection too.
Just make sure your scrunchies are dry before putting them in here.
17) Hang them from curtain clips
Hanging your scrunchies from curtain clips allows you to see all your scrunchies at once.
Unclip the one you want, put up your hair and you're ready to go.
The other good thing about this option is that it frees up counter space…you're utilizing vertical space.
Perhaps you could put the curtain clips around a towel bar, or maybe put up a tension bar to hold the clips.
18) Hang them using Binder Clips
Binder clips taped to a rope or ribbon – or pinned to the wall – can work well to hold scrunchies.
What's good about this option is that it makes use of vertical space, and you can see all your scrunchies. It makes choosing the one you want to wear super easy. This is a good scrunchie holder for a small bedroom or bathroom.
The downside is that it takes slightly more time to clip and unclip your scrunchies compared to just dumping them in a bag.
19) Store them in the pockets of a Hanging Shoe Organizer
Sure these are commonly called hanging shoe organizers, but these multi-pocketed organizers can hold way more than just shoes.
If you have room behind your bathroom door you can place your scrunchies into the pockets. If you get a hanging organizer with lots of pockets you'll be able to store a bunch of scrunchies!
You'll likely still have other pockets left over to store toiletries and other hair accessories.
The good thing about this storage option is that it makes use of the "wasted" space at the back of a door. And if you don't have room behind your bathroom door, how about your bedroom door?
These are an excellent solution to storing little things in your bedroom such as socks, underwear, belts, and even jewelry.
20) Repurpose old makeup bags to become scrunchie bags
Do you have an old makeup bag – or even a pencil case – that you're not using anymore?
Instead of throwing them, use them to store your scrunchies.
Once again, make sure they're dry before you put them into the bag or else without air circulating around them they could stay wet and develop mildew.
21) Use Ziploc Bags (simple scrunchie storage solution)
Our young daughter started storing her scrunchies inside a plastic sandwich bag on her own accord.
It does keep them together, but you need to make sure they're dry before putting them into the plastic bag so you don't get mildew on the fabric.
The downside is it's a bit tricky trying to see all your scrunchies at once so you may have to pull several out to get at the one you want.
22) Wooden Scrunchie Holder Display Stand (for gymnasts…on Etsy)
Is your little girl a gymnast?
Even if they aren't they'll still probably love this wooden countertop scrunchie holder.
it is made by the Etsy seller AnLDisplays.
It comes unpainted (like shown in the picture above) but it is sanded and ready for paint if you want to decorate it or dress it up a bit.
Click here to see more details.
23) Hang scrunchies using a small bungee cord
Is this the prettiest option on here?
No, but it can work. And it doesn't take long to get it set up.
Screw two cup hooks into the wall. Insert the bungee cord through your scrunchies. Then hang the ends of the bungee cord onto the cup hooks.
Plus, you could use the cup hooks to hang necklaces, bracelets, or hair elastics too.
Thank you for checking out this big list of scrunchie storage ideas.
Most of the scrunchie storage ideas boil down into one of three categories:
countertop scrunchie holders (like using paper towel holders)
wall-mounted scrunchie holders (like hooks and clips)
storing scrunchies in a drawer (like drawer organizers, bags and containers)

Evaluate your available space to determine which idea will work for you. Do you have wall space and not much counterspace? Then use a hanging scrunchie storage option.
Do you have an empty drawer? Perhaps use the drawer to hold your scrunchies (contained with a bag, organizer or container).
Thank you once again for reading.
I hope one of these ideas will work for you!
You May Also Like:
Teen Girl Bedroom Storage Ideas and Organization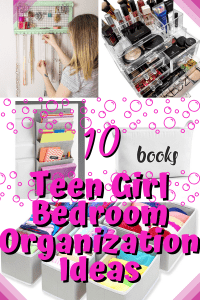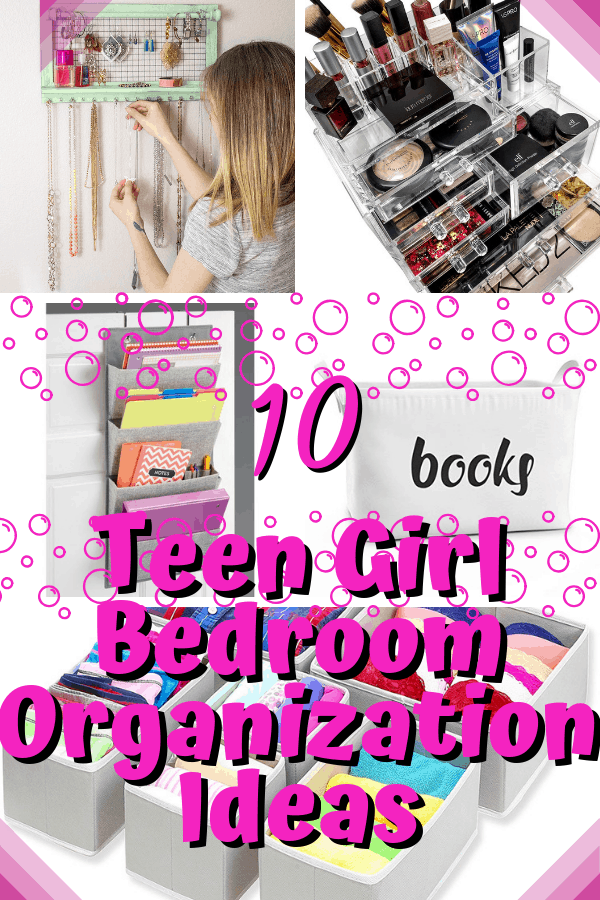 Organize your handbags with one of these storage ideas for Purses.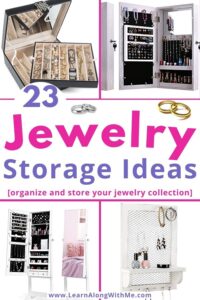 Check out these Jewelry Storage Ideas to help tidy up your jewelry collection