Are you struggling with a cluttered, messy shower? Are you sick of shampoo bottles all over the floor of the tub? If so, you'll love these shower organization ideas. Here are 18 helpful shower organizers to inspire you.
This article contains affiliate links. If you click a link and buy something I may receive a small commission at no extra cost to you. As an Amazon Associate I earn from qualifying purchases. For more information please see the Disclosure page.
Tension Pole / Tension Rod Shower Organization Ideas
The two tension pole shower organizers shown below are a great "no tools" way to add shelves to your bathtub.
Vertical Tension Pole Shower Organizer
Here is a cool shower organization idea from the company called "simplehuman".
It is a vertical tension pole that is spring-loaded to help keep itself in place.
And it has rubber feet on the top and bottom to prevent damage to your tub and ceiling, and to help keep secure it.
The three stainless steel shelves can slide up and down on the pole so you can adjust them to fit a variety of shampoo bottle sizes. And they have a couple storage hooks for razors or toothbrushes.
Plus, there is a towel rack to hang facecloths. loofahs or scrubbing brushes.
This popular shower organizer is available on Amazon.
Tension Pole Shower Organizer by ALLZONE
Here is another tension pole corner shower organizer.
This one is from a different company. It is made by ALLZONE.
Will this work for you?
Add a Second Shower Rod and some baskets
A clever DIY shower organization idea to help get shampoo bottles off the bottom of the tub is to put in a second shower rod or tension bar along the back wall.
As you can see in the picture below, the white tension bar was added close to the back shower wall.
Then you can use some dollar store baskets and S-hooks to hang your stuff from the rod.
Hanging Shower Caddies and Shower Organizers
In this section I'll highlight some hanging shower organizers that will help you get the shampoo bottles off the rim of the bathtub.
Shower Caddy with Angled Shelves
This design by the mDesign company immediately caught my eye.
The angled shelves look so cool.
There are 6 angled shelves and 2 flat shelves plus some hooks for hanging face clothes, razors, etc…
This popular shower organizer is available on Amazon.
Adjustable Shower Caddy by simplehuman
This rust-proof shower caddy by simplehuman comes with a 5 year warranty.
It has a clamp on the top that clamps to your shower head water outlet. And there are two suction cups at the bottom that stick to the shower wall.
You can adjust the height of the shelves up and down to accommodate different size of bottles. Plus, it claims you can adjust the shelves side-to-side as well.
Over the Shower Door Hanging Organizer
This is a cool idea!
It hangs from your glass shower doors and provides you 4 baskets to put your shampoo, conditioner, soap, etc…
And on the backside – the dry side – there are hooks to hang up your towels.
Very clever organizer.
But the manufacturer said the shower doors cannot be more than 2-inches wide.
It is intended for shower doors, but some people hang it over shower rods too.
This hanging shower organizer is available on Amazon.
Wire Hanging Shower Caddy (hangs from shower head)
This shower caddy by iDesign helps keep your smaller shower items off the lip of the tub.
I say small things because if you have big, round shampoo bottles I don't know if they'd fit. (It says it is only 4-inches deep.)
You can check out this popular organizer on Amazon .
Using a Mesh Bag to Hang Bath Toys from a Shower Caddy
My friends have a shower caddy similar to the one shown above.
They use mesh bags to hang their kids' bath toys.
Clever idea.
Expandable Hanging Shower Caddy
Here is another hanging shower caddy.
What's cool about this shower organizer from Zenna Home is that 4 shelves can slide sideways to accommodate for the hoses of handheld showers.
For more details click to see it on Amazon.
Simple Over-the-Door Hanging Shower Basket
My family member was struggling with shampoo bottles sliding around at her feet in her RV shower. (As shown in the photo below.)
And the solution was simple enough.
She bought a simple over-the-door shower basket to hang over her shower doors.
She bought this basket from a dollar store. (I looked to see if Dollar Tree had it, but I didn't see it on their website.)
It is simple and cheap solution, but it does the trick.






Mesh Pocket Hanging Shower Organizer (can use on wet or dry side of shower)
A hanging organizer with mesh pockets (like the one shown below) can be a great way to organize personal care items for multiple family members.
This one shown here by the MISSLO company has 8 mesh pockets.
What is cool about this organizer is that you can hang it on the WET or DRY side of the shower rod depending on your needs.
Because it is mesh and quick-drying you can put it inside the shower to hold shampoo and conditioner, and it'll dry after it gets wet.
Or you can hang it on the outside of the shower curtain (the dry side) and use it to store other toiletries if you don't have adequate bathroom drawers or cabinets. You can see more details on Amazon.
(Looking for help organizing bathroom drawers? Click here.)
Shower Wall Shelves and Shelving Systems
Many new bathtubs and showers have shelves and ledges built right in.
But if your shower doesn't, or if it isn't adequate, here are some shower wall shelves that may suit your needs.
I have separated into ones that use an adhesive to stick to the wall, and ones that use suction cups.
Classy wall shelf with hanging hooks (adhesive)
This is a classy-looking shower wall shelf that also has 4 hooks to hang small shower items from (like clothes, sponges, razors, etc…). It is made by a company called KINCMAX.
It is a "no tools required" installation.
It sticks to the wall using an adhesive paste.
Apparently it is pretty strong adhesive because the manufacturer claims it can hold up to 15 pounds.
You can see more details on Amazon.
2-Shelf Corner Caddy (adhesive)
This is a 2 shelf corner caddy made by Flowmist that sticks to the shower wall using adhesive pads.
The adhesive pads have a small hook on them, and then you hang the shelf system from the hooks.
The manufacturer has a helpful video on their Amazon description page.
3-Pack of Shower Wall Shelves (adhesive)
The company called Orimade makes these stainless steel shelves that stick to your shower wall using adhesive pads.
Check it out on Amazon and see if it'll work for your bathroom.
Corner Shower Shelves (adhesive)
Here is a cool shower organization idea. It is a 2-pack stainless steel shelf that fits into the 90-degree corners of your shower.
It is made by a company called SMARTAKE.
It sticks using an adhesive so you don't need to drill into tiles.
But because it is adhesive it means it'll only work on tiles, marble and tempered glass.
CLICK here to see these shower shelves on Amazon.







Shower Shelf Basket by KESOL (adhesive)
This 2-pack of shower shelf baskets is made by a company called KESOL.
It is made from stainless steel. You can get it in silver (like shown below), or in black.
It sticks to the wall using an adhesive patch. The patch has three hooks sticking out from it so you hang your baskets form the little hooks.
The manufacturer said it will stick to ceramic tiles, marble, metal, glass and mirrors.
And if you ever need to remove it, you heat it with a hair dryer and then peel off.
Click here to see these shower shelves on Amazon.








Shower Wall shelf with suction cups
Using organizers that have suction cups is another "no tools required" shower organization idea.
This waterproof bathroom wall shelf sticks to the shower wall using suction cups. No drilling required.
It's neat that it has the little hooks on the bottom to hang back scrubbers, soap on a rope, etc..
Suction Cup Wire Basket
Below is a product image of a wire basket with suction cups made by a company called Hasko Accessories.
For a suction cup, it is important that your wall is flat, smooth and non-porous.
And this company actually has an installation video on their Amazon page so I suggest you watch that. (It is more than just slapping it up against the wall.)
A DIY Shower Organization Idea
Toiletry Holder made from an old Milk Jug
This isn't the most elegant solution, but it can be functional and a great way to up-cycle old milk jugs.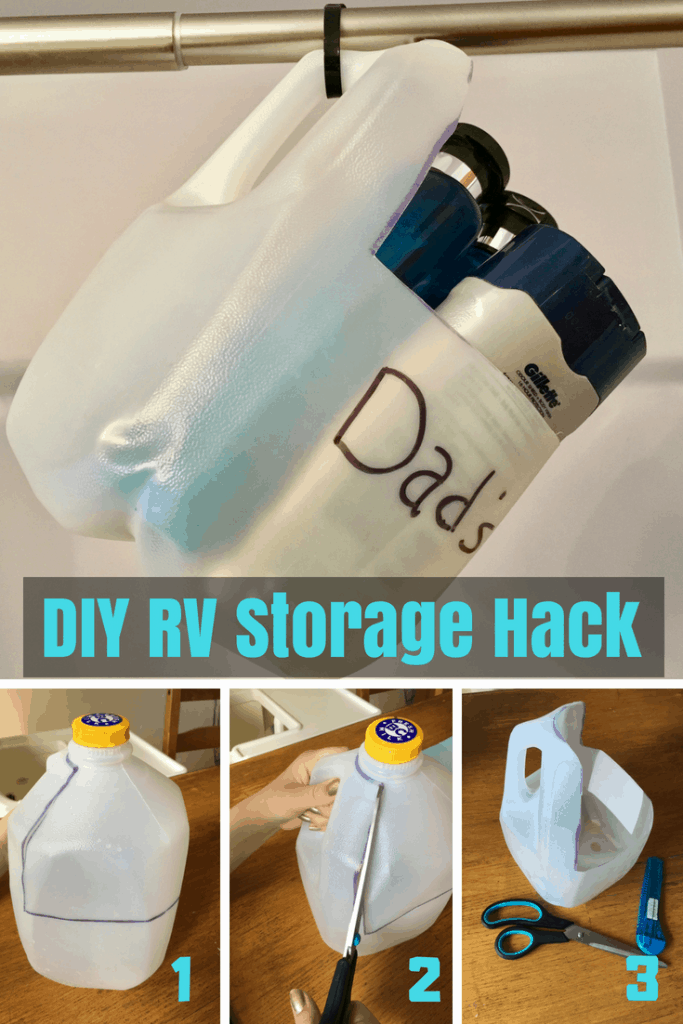 Conclusion
Did you find an inspiring organization idea in this list of Shower Organization Ideas?
Which one do you like best?
Did I miss a shower organizer that you think should be on this list? Or perhaps you have DIY solution?
If so, please comment below.
You may also find some inspiration in this bathroom drawer organization article.
11 inspiring Bathroom Over Toilet Shelves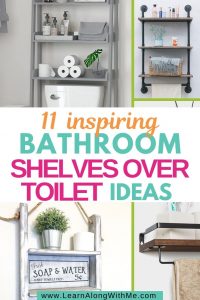 27 unique and intriguing Toilet Paper Holder Ideas (yes you read that right)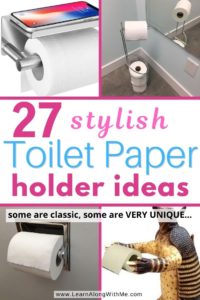 11 handy Bathroom Storage Cart Ideas
Thank you.
Tim from LearnAlongWithMe.com