Are your family's snacks scattered all over the place or stuffed into cabinets? In this article we'll look at 11 simple snack storage ideas to organize your snacks…AND you'll actually be able to see what snacks you have!
This article contains affiliate links. If you click a link and buy something I may receive a small commission at no extra cost to you. As an Amazon Associate I earn from qualifying purchases. For more information please see the Disclosure page.
How to Organize Snacks? 11 simple Snack Storage Ideas
Below we list some great ways to store snacks inside kitchen cabinets, in a kitchen pantry, inside kitchen drawers, and more.
All of the snack storage ideas can be a great way to store snacks, but they just may not be the best way for you.
The best way for you to organize your snacks will depend on what type of storage space you can dedicate to storing them.
So scroll through all the snack organization ideas to see what inspires you.
1) Create a Dedicated Snack Cabinet
This may not be an option for everyone – especially if you have a small kitchen – but dedicating a cabinet to your snacks helps keep them all contained in one place.
If they're all together you'll have no difficulty tracking down your favorite snacks when a snack attack hits.
If you can't spare a whole cabinet to snacks, then perhaps you can set aside one of your pantry shelves, or a section in one of your kitchen drawers for this purpose.
Below are ideas to help you organize your snack storage space.
2) Put your Snacks into Stackable Clear Bins
Many types of snacks come in original packaging that makes them difficult to store, and impossible to stack. (Good luck trying to balance a bunch of chip bags on top of each other.)
But that's where clear food storage containers can come in.
Clear plastic containers allow you to easily see what's inside them.
And stackable bins – like these from company Seseno – means you can stack them in your pantry, inside a kitchen cabinet, or even in the fridge for refrigerated snacks.
You can put your granola bars in one container, chip snack bags in another, and perhaps dedicate one container to healthy snacks. (That way if cravings happen you make it easy to find healthier options.)
If you are stacking them on a pantry shelf, just put taller snacks (like chip bags) and bulky items in the top bin.
Will this work for you?
3) Get some Clear Containers with Lids to store your snacks
Clear containers with lids are another great way to store snacks that allows you to see your snacks, and stack the bins on top of each other.
The downside to bins like this is you're somewhat limited to what snacks you can keep in here due to the size of the containers. But you can buy different sizes of clear containers so you'll be able to store a large variety of snacks.
This particular set of containers from the company mDesign is popular and really well-rated on Amazon.
Click here to see the other color choices.
4) Get a Pantry Organization Container Set
If your pantry needs some help – serious help – then you may want to get a set of airtight containers like these ones from Chef's Path.
You get 24 of the cannisters, lids, re-usable labels and a chalkboard pen. Imagine what you could accomplish with this.
This is a great pantry organization idea and best reserved for someone that needs help overhauling their entire pantry.
If you're ready to get serious about organizing your pantry or food cabinet, check out this set.
5) Over the Cabinet Door Wire Baskets to hold snacks
To take advantage of vertical space you can use an over the door organizer to store your snacks.
This is a good idea for someone that doesn't have the space to have a dedicated snack cabinet or shelf. Instead, they can hang these baskets over a cabinet door and still have their snacks within easy reach.
You'll just need to make sure you have room inside your cabinet to hang these AND still allow the door to close. They do extend about 5-inches from the door, so keep that in mind.
You can get these as a 3-pack of wire baskets, or as a 2-pack.
6) Use a Hanging Shoe Organizer to hold your snacks
Even though they are regularly called shoe organizers, they can be used for so much more than just shoes.
You could mount one to the wall, or hang it from your pantry door.
This is a 2-pack of hanging organizers by Simple Houseware and features 15 clear pockets in each organizer.
You can usually find similar products are you local dollar store, or click here to see these organizers on Amazon.
Below is a picture of a hanging shoe organizer being used to store snacks.
As you can see it works well to store a variety of different shaped snacks like baby snacks and small chip bags.
For more uses of hanging shoe organizers, click here to check out our article about these versatile organizers.
7) Store Loose Snacks in Mason Jars or other Glass Jars
Mason jars look cool, but they're also handy to store loose snacks such as nuts or chocolate chips. (Yes some people just snack on regular chocolate chips as a treat.)
You can place the mason jars inside your kitchen cabinets to keep them out of direct sunlight…and hopefully stop your chocolate from melting.
8) Get Chip Clips for your Chip Bags (OXO Good Grips Chip Clips)
If you're a big fan of chips you may already have a chip clip, but if not you should look into them.
Not only do they seal the top of the bag to keep your chips fresh, but if your chip clip has a hole at the top you can hang it on a screw or hook.
These clips from OXO have a hole AND they have a magnet.
If you happen to have a magnetic board, metal wall, or steel shelving in your pantry or kitchen then you could stick these magnets to them for vertical storage.
Or you can put the clips over a nail or hook to hang it from the hole.
Click here to see the other colors of chip clips available from OXO.
Do you want more ideas on how to store chips? Check out, 15 Potato Chip Storage Ideas
9) Put your snacks into clear plastic bins with dividers
Are you quite particular about how you want to organize your snacks? Do you want a certain flavor of a snack to all be together? Does the thought of having a bunch of snacks tossed together in one bin irritate you?
If this sounds like you, perhaps a snack bin with dividers like the ones shown above will help you get organized.
It comes as a 2-pack of bins and there are 4 compartments per bin.
The downside to this particular option from mDesign is the dividers are not movable.
If you think these will work for you…
10) Place your Snacks in a high-sided Lazy Susan
Many people consider lazy susans to be an easy way to help you get a tidy, organized pantry.
Placing your snacks inside a high-walled lazy susan can work well to keep all your goodies together.
And if you get one with compartments, your lazy susan essentially becomes a snack organizer.
This lazy susan by YouCopia is particularly cool because the three compartments are removable. It makes it easy to load them up with your favorite snacks and then place them back on the rotating turntable.
You can dedicate one section to granola bars, one to small packages of cookies or whatever snacks you may have.
And if you place it at eye level on a shelf, you can rotate the lazy susan to see what is inside it.
11) Store your Snacks in a Kitchen Drawer
I couldn't find a great picture of this option being used to store snacks, but I think the picture above gives you the general idea.
Storing your snacks in a drawer is a option for people that don't have the shelf space in their cabinets or pantry.
And a drawer organizer – whether it's used for kitchen utensils, dry goods or snacks – is a fantastic kitchen organization idea. It allows easy access to the items in that drawer.
Partitioning your kitchen drawer using dividers gives you an opportunity to store your snacks out of sight, yet still within easy reach.
Do you have an under-used kitchen drawer? Perhaps this option will work for you.
12) Empty Snacks into Sealable Plastic Bags and hang them
I realize this doesn't show these clips storing snacks, so you'll have to use your imagination a bit and visualize the possibilities.
See in the picture above where the clip is holding some face cleanser…that would work just as well to hold bags of chips or crackers.
To help take advantage of vertical space in your pantry you can empty your snacks into plastic bags (like Ziploc bags), clip the bags with clever clips like these ones and then hang the clips from a tension bar or rod mounted in your pantry or cabinet.
I hope you've enjoyed these snack storage ideas and hopefully at least one of them will work for you.
Thank you.
Another Kitchen Organization Idea you may like:
13 popular Rice Storage Container Options (get this kitchen staple organized)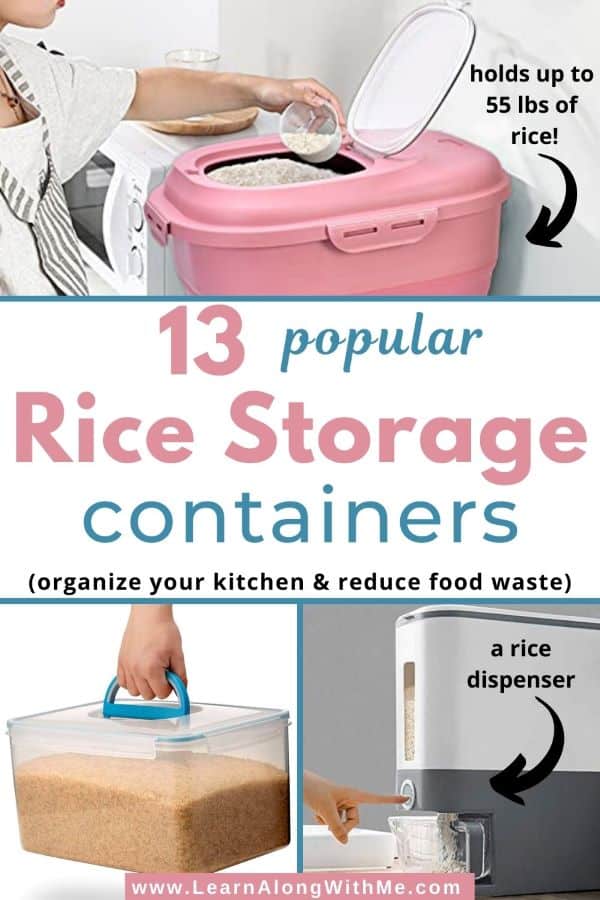 Plus, check out:
Tea Bag Storage Ideas (if you're a tea drinker you'll want to check this out)
17 awesome Spice Rack Ideas
35 proven Small Kitchen Organization Ideas
Get more kitchen storage space by getting a Microwave Cart with Storage