Are you curious about some different ways to store and organize your socks? Good. Because in this article we'll look at 13 simple sock storage ideas so you can get your socks nicely organized.
This article contains affiliate links. If you click a link and buy something I may receive a small commission at no extra cost to you. As an Amazon Associate I earn from qualifying purchases. For more information please see the Disclosure page.

This article is in our series of bedroom storage ideas and bedroom organization ideas. Once you're done this article, you may also like our underwear storage ideas article, 53 clever closet storage ideas article, or our helpful under bed storage ideas article.
How to store socks – 13 Sock Storage Ideas
Below you'll find several sock storage ideas to help you get your socks organized. There are ideas to organize your clean socks, but also ideas to keep track of missing socks too.
The ways to store your socks include: inside a dresser drawer, in baskets and bins, in hanging closet organizers and over-the-door pocket organizers.
Not all of these storage solutions will work for you, but hopefully one of them will inspire you.
Scroll through them all to find the one that'll help you.
1) Honeycomb Sock Drawer Organizers
A common way to store socks is in a sock drawer. But the socks often share this space with underwear.
This drawer can get messy in a hurry. Drawer dividers can help with this.
This honeycomb drawer organizer is a unique take on drawer organization.
Do you have a dresser drawer that needs better organizing? Perhaps this will work for you.
2) Fabric Sock Drawer Divider
These fabric drawer dividers have 24 compartments in each tray…and it comes as a 2-tray pack. So you'll be able to nicely store 48 pairs of socks. This would work well for underwear storage too.
Below is a picture of the sock organizer. (Socks not included 🙂
This is the product in gray. But you can get it in other colors like beige, light gray, black and even some patterns.
RELATED ARTICLE: Underwear storage ideas (even if you don't have a dresser)
3) Fold your Socks Smaller before Storage – the Marie Kondo method
Of the sock storage options we've seen so far, you might not be able to get many pairs of socks in there if you simply ball them up.
To effectively store more socks, you may have to learn to fold socks differently– such as the Konmari method.
Below is a video showing the Marie Kondo method of folding socks (aka Konmari method). Utilizing this sock folding technique you'll be able to get more socks into a drawer…and it'll look really cool too.
Plus, you could look into the military style of folding socks too.
4) Closet Sock Baskets
You don't have to keep your socks in dresser drawers. In fact, many people just don't have the drawer space to hold all their socks.
That's where a sock basket comes in. You can store these baskets on a closet shelf, on top of your dresser, or on the floor in your closet (if you have the floor space).
You're likely not going to need all three of the baskets for socks, but the company DIMJ sells them as a 3-pack or 6-pack.
What's cool about these particular baskets is the trapezoid shape: it allows you to see what's in the basket easier than a cube basket.
And these are only about 11.5-inches wide and deep – whereas many other closet baskets on the market are wider and would take up more closet space.
Will these popular and well-rated closet baskets work for you?
5) Dresser-top Storage Baskets for Socks
When my daughter was younger we used a wicker basket to hold her socks. We simply placed it on top of her dresser.
The socks were within easy reach for us and the basket held them well.
If you have room on top of your dresser perhaps you could find a basket you like to contain your socks.
6) Wall-mounted Wire Sock Baskets
If you have extra space along the back or side wall of your closet you could mount these handy wire baskets.
If you're comfortable screwing into the wall or closet system you can mount them with the included screws.
Or if you'd rather not screw them, they come with an adhesive wall plate with little hooks to hang the baskets from.
This is a good idea if you want to take advantage of vertical space...which is often underutilized in a bedroom.
Click here to see current price.
7) Use old shoe boxes to store your socks
If you have a shoe box kicking around you could use it to hold your socks instead of going out and buying a dedicated sock basket.
As long as the shoe boxes are in good condition they'll work well as storage bins.
This article may help you too…
13 helpful Belt Storage Ideas (to help you get your belts well organized)
8) Use a New, Clean Trash Can to Store your Socks
If you can't find a basket that fits your space, then perhaps you could find a trash basket that will.
They make plastic and metal trash cans in a variety of sizes (including slim trash cans designed to fit next to the toilet).
I'm not saying to toss your socks in the dirty garbage can…I'm saying you could buy a new one and dedicate it to holding your socks.
Just because it is marketed as a garbage can, doesn't mean you have to use it for that purpose.
Above is a Disney's Frozen II metal tin that we found at a local dollar store.
Below is a Charlotte Hornets tin I've been using to store my socks for decades…still works wonders.
If you have a sports fan in your life you could get them a team-themed bucket to store their socks.
And it's super fun tossing your socks into the bucket.
9) Over the Door Hanging Shoe Organizer…but use for socks
Using an over the door shoe organizer to hold your socks – instead of shoes – is a clever way to utilize vertical space.
You may even be able to hang the newly-minted sock organizer from the inside of your closet door.
If you have a small closet or a bifold closet door, perhaps you could hang the organizer from the back of your bedroom door.
This particular organizer is the 24 mesh-pocket organizer by MISSLO.
It is a popular and well-rated product.
Check out these 7 other ways to use hanging shoe organizers.
10) Dual-sided Multi-Pocket Hanging Organizer for a Closet Rod
This hanging organizer would be pretty sweet if it only had pockets on one side, but it's even cooler because it has 21 pockets on EACH side.
So you get a lot of storage space and it won't take up much room on your closet rod.
There are a variety of pocket sizes on this hanging organizer so you may be able to store your larger socks in the bigger pockets and smaller socks – like ankle socks – in the smaller pockets.
Will this work for you?
11) The SockDock – a unique storage idea and helps prevent missing socks
This thing is pretty interesting…it is intended to help you keep your socks paired together. Even in the wash!
Yes, you throw the whole thing into the wash and once completed you pull it out and your socks will still be matched with its pair.
No more missing socks. At least that's the premise.
It has spots to hold 9 pairs of socks. So you put clean socks into one of the SockDocks and hang it from your closet rod.
Then after your socks are dirty you put the socks together and slip them into a different SockDock dedicated to the dirty socks.
It does come as a pair of SockDocks, so you'll always have one for clean socks and one for dirty socks.
12) Keeping track of missing socks with this hilarious Laundry Room sign
It is still a mystery as to how a pair of socks gets tossed into the laundry basket, brought to the laundry room and yet only one sock emerges.
You can buy this clever sign with clips to store single socks that are patiently waiting for the return on their partner. This is a great way to keep track of orphan socks while you do a new load of laundry.
And hopefully the next load will have the missing socks.
I think this is a great idea. It keeps the socks in plain sight. If you toss everything into a deep basket it can be tricky to find matches.
Could you put this to good use?
13) Lost Socks wooden basket
Here is another good option to hold missing socks.
Just place this wooden "Lost Socks seeking sole mates" basket on top of your dryer or elsewhere in your laundry room to corral lost and lonely socks.
Click here to see size of this basket.
I've hoped you've enjoyed scanning through this list of sock storage ideas.
Which one will work for you? Do you have room in a dresser drawer for your socks?
I think the most popular options is having a sock drawer in a dresser, but you can still better organize that drawer by using drawer dividers or baskets. And if you don't have a dresser, don't worry, there are still lots of ways to store your socks: such as in the closet with a hanging pocket organizer.
Up Next – other bedroom storage ideas
Underwear Storage Ideas – 13 helpful options to store your undies
53 clever Closet Storage Ideas (get your closet organized today)
Organize your handbags with one of these Purse Storage Ideas
Tie Storage Ideas – 25 helpful options to help you organize and store your ties
9 well-rated Bedroom Storage Chest options (store your stuff out of sight)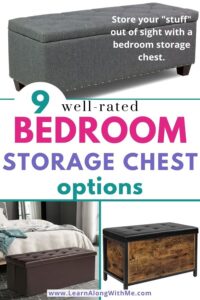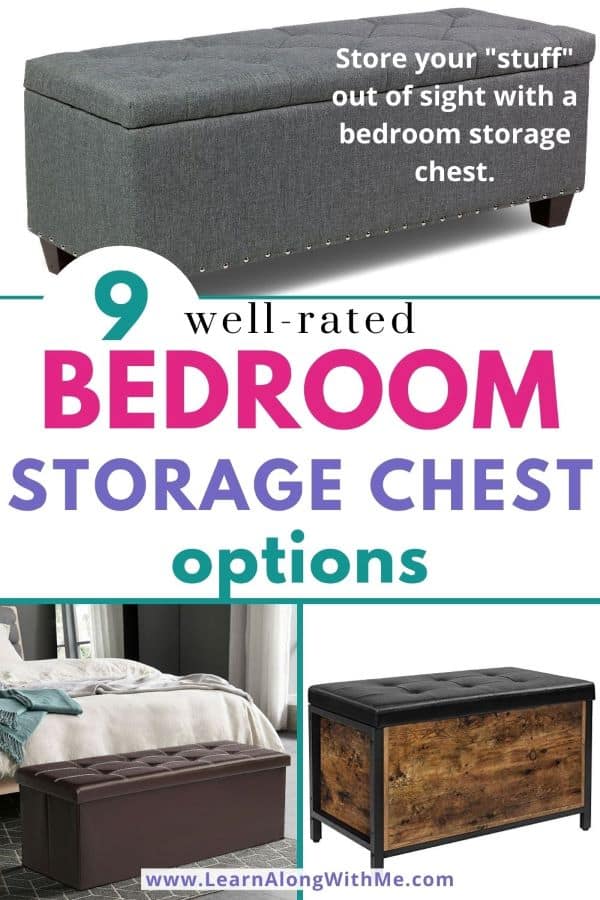 Super-useful Under Bed Storage Ideas (make the most out of your under-bed space)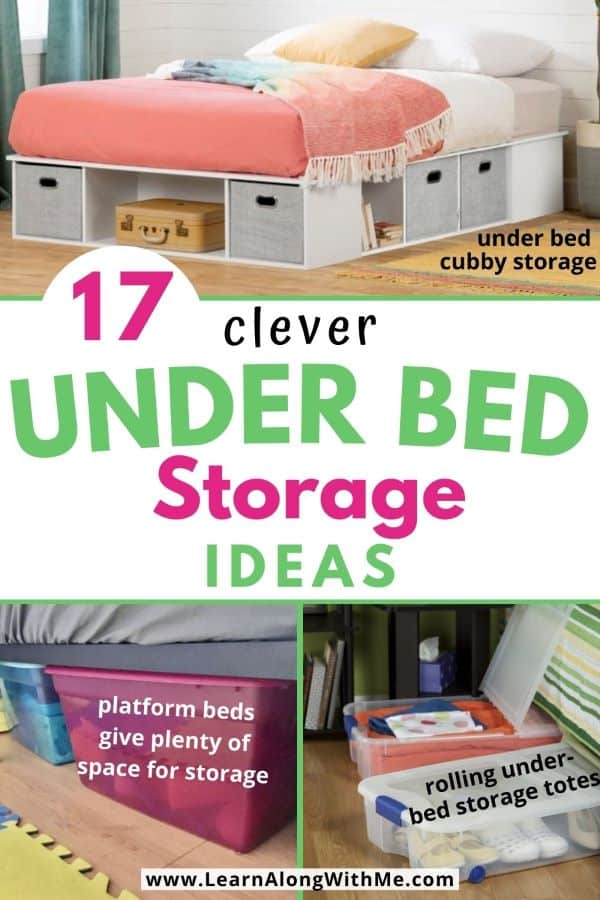 Belt Storage Ideas – 13 helpful options to organize and store your belts
Thank you.
Tim from LearnAlongWithMe.com
Tim worked in construction for a few years before going to university. Then he worked as a community pharmacist for 10 years and now works as a full-time writer and online publisher. He has experience in several different, far-reaching lines of work.
"I sincerely hope you find the articles helpful and informative."
Tim from LearnAlongWithMe.com