Do you want to change the nighttime ambience of your yard or to add some security? Solar fence lights can help. In this article we'll look at 15 solar fence light ideas to change your yard from glum to glittering.
This article contains affiliate links. If you click a link and buy something I may receive a small commission at no extra cost to you. As an Amazon Associate I earn from qualifying purchases. For more information please see the Disclosure page.
15 Solar Fence Lighting Ideas
Outdoor solar lights are great. No need to have a long cord strung around your yard to plug to reach your electrical outlet.
Just set them out to grab the sun's solar energy, it stores this energy in a rechargeable battery, and then illuminates your outdoor areas either continuously or just when activated by a motion sensor.
Because solar fence lighting is intended for outdoor use they are designed and built to withstand harsh weather conditions. But if you live in an area with a long winter, it's a good idea to bring them inside until spring to prolong their lifespan.
Before you go online shopping or to your local Home Depot to pick out solar lights, there are some important factors to consider.
You'll want to consider where you want to put the lights, whether you want them always on at night or motion-activated, the brightness of the lights (dim ambience or bright for safety), plus the quality of the lights.
Are they made of stainless steel or plastic? If they're made of plastic, is it cheap plastic or high-quality ABS material?
There is a wide price range for outdoor solar fence lights, and like most things, you usually get what you pay for.
In this list of solar fence lights I have separated them into where they're placed on the fence.
So there is a section for:
solar fence post lights,
solar lights for fence panels or rails,
hanging solar lights,
and solar string lights.
Whichever option you choose you can be assured that they'll add some charm, safety or security to your outdoor spaces.
Fence Post Lights
In this section we'll look at some fence post lights that'll help brighten your yard and turn your fence posts into lampposts.
Solar post cap lights are one of the best options for solar fence lighting because they're an easy installation and they look great. (You may not even need a ladder if you can reach the top of your fence.)
Flickering LED Flame Fence Post Lanterns
These are a very neat idea!
These classy caps are intended to simulate the flickering flame of a candle or lantern to give a charming "old-time" effect to your fence lighting (instead of just steady glow of other LED's).
Of course it isn't a real flame, it is just an LED light. You mount it to the top of a fence post with the included bracket.
This product photo doesn't really do it justice.
You should see the customer-submitted photos on the Amazon page… pretty cool.
Davinci Solar Fence Post Lights for Wooden Fence Posts
What is cool about these solar fence post lights is that they can be mounted to the top of different sizes of wooden fence posts. They'll fit 4"x4" posts, 5"x5" posts, and 6"x6" fence posts.
You screw the base into the top of the post and then set the top part of the light onto the base.
After watching the product video on the Amazon product page I think this would be best suited for 4×4 and 5×5 posts.
I say this because the base of the light completely covers and overhangs those post sizes thereby acting as a fence post cap too.
If you don't want black post lights, they make these in white too. And you can buy single lights, a 4-pack (as shown here), an 8-pack or a 12-pack of lights.
These are popular solar cap lights with lots of good reviews.
I noticed that Walmart sells a 2-pack of these post cap lights.
Solar Fence Post Lamp
These solar post caps are a nice way to add a decorative touch to your fence posts, and they'd look great on a deck post too.
Click here to see more details of these solar fence post lamps.
Fence Mounted Lights
In this section we'll look at some awesome fence mounted solar lights that either attach to the side of a fence post, panel or fence rail.
Color-changing LED Solar Fence Lights Walmart
I came across these awesome color-changing fence lights on Walmart.com
They are made by a company called Kanstar. With their unique design you can screw them into fence posts, panels, a deck railing or even the wall of a shed (flat surfaces).
Some reviewers say that it doesn't throw much light…it is more for ambience than illumination, but they sure look cool.
These decorative lights are a great choice if you want the option to use them as solar wall lights or for your fence.
GIGALUMI – 4 pack of Solar Fence Lights (Solar Fence lights Amazon option)
These solar fence lights have a unique half-globe shape with white plastic housing.
The solar panel is located on the top of the light. The manufacturer claims that if this light gets 6-8 hours of daylight it will shine for up to 7 hours at night.
Is this a long enough working time for you?
It is an automatic light meaning it turns on at night and off during the day to recharge.
Like what you see?
Six Pack of Dusk till Dawn LED Solar Fence Lights (Walmart)
Here is a 6-pack of LED solar fence lights that you can screw into your fence (posts or panels).
These ones shine for a long time. The manufacturer claims these fence lights will provide up to 12 hours of continuous light after a day of charging via sunlight.
So if these receive a full charge they should shine all night long.
These are a "cool white" color made by TORCHSTAR.
Will this work for your fence?
Solar Lights for the Top Rail of a Fence or Fence Stringers
Here is a really cool 6-pack set of solar LED fence lights.
And what's neat is that it has a color-changing option or you can keep it as a warm white color.
There are two screw holes near the top of the light. You could screw it into the top of your fence topper (if its flat) or you could screw it into the horizontal rail of your fence (fence stringers).
Click here to see more details of these popular solar fence lights on Amazon.
Decorative Solar Fence Lights (6-pack)
This picture shows these lights in their warm white option, but they also have a color-changing option so they'll change to 7 different colors!
So you could change things up for special occasions.
Screw some of these into your fence and you'll instantly add a warm ambience to your yard, or a festive ambience if you're in in the color-changing mode.
Click here to see more details.
Motion Activated BRIGHT Solar Fence Light (Walmart)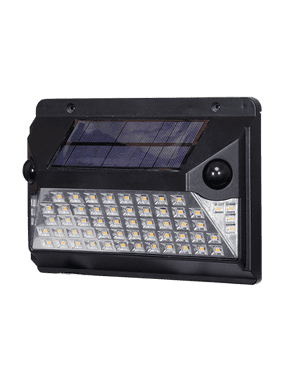 Do you want a bright light for your pathway, but don't want to hire someone to wire it?
This motion activated LED light may be just what you need.
It turns on when it senses movement and lights up with a 1000 lumen LED lights.
It is well-rated with lots of reviews on Walmart.com

Hanging Solar Fence Lights
Here are some great solar lights can be hung from your fence and add some charm to your yard.
Just make sure you hang them securely if you live in an area with strong winds or they could end up on the ground.




Hanging Solar Lanterns with a classic charm
I know this picture shows them hanging from a tree branch, but just imagine this hanging from your fence.
You can buy fence brackets that screw into wooden fence posts or panels and then you could hang these LED solar lanterns from the brackets.
You could illuminate your yard like a quaint Victorian garden.

Fence Brackets to hang a solar lantern
You can get beautiful fence hanging brackets like the one shown above to hang your solar lanterns.
If you like this Victorian fence hanging bracket, click here to see price on Amazon.
Hanging Mason Jar Fairy Lights – for a touch of whimsy
Don't these look awesome!
You get a 6-pack of mason jars that have a string of solar fairy lights inside them. The lid of the jar has the solar panel.
Get some fence hanging brackets, screw them into your fence and then hang these cute lights from the brackets.
You'll quickly and easily add a whimsical feel to your yard.
Hanging Solar Lantern WITH brackets
This well-rated solar lantern comes as a 2-pack of lanterns, and the hanging brackets come with it.
There are more photos on Amazon…if you want to have a closer look.

Solar String Lights
There are so many cool solar string lights out there nowadays with lots of different styles.
How you attach the string lights to your fence will depend on your particular fence.
If you have a picket style fence you could weave the lights along the top of the pickets.
If you have vinyl fence you could try waterproof suction cup hangers to hang the lights without damaging the fence.
If you have a different style of wooden fence you could screw hanging brackets (like Christmas light holders) to your fence.
Solar String of Globe Lights
How cool would these look strung from your fence?
They are solar-powered LED Edison bulbs. These particular solar powered lights are 48-feet long.
It comes with a small solar panel that can be mounted to a stake in the ground, or to a clip that you could attach to your fence.
Having the solar panel pointed at the direct sunlight will provide you with the best charge. (Same can be said for the other solar fence lights on this list.)

Solar String Fairy Lights
Here is a 2-pack of solar string fairy lights that are 33-feet long with 100 LED fairy lights per string.
Below is a product photo of these lights. It gives you a better sense of scale.
(I'm just not sure what that lady is doing…is she tangled? If so, why is she laughing?)
These solar fairy lights have lots of reviews on Amazon and can give a whimsical look to your outdoor area.
Remote Controlled Dimmable LED String Lights
This looks like a clever set of lights. With the remote control you can change the brightness to change the mood.
It comes as a 2-pack of string lights (each string 48-feet long with 15 shatter-proof LED bulbs per string), and it has a solar charger.
Having a cloudy day?
No problem. You can charge these lights using a USB cord.

I hope one of these 15 awesome options for solar fence lights will help you.
We saw great options for adding ambience, setting the mood for your yard, and even some safety options (like the bright motion-activated solar light).
Up Next:
15 ways to improve the look of an old wooden fence (without painting the whole thing)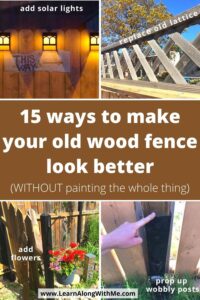 Thank you.
Tim from LearnAlongWithMe.com
Tim worked in construction for a few years before going to university. Then he worked as a community pharmacist for 10 years and now works as a full-time writer and online publisher. He has experience in several different, far-reaching lines of work.
"I sincerely hope you find the articles helpful and informative."
Tim from LearnAlongWithMe.com