If you're looking for a fresh way to organize the spices in your kitchen you'll love the 17 awesome spice rack ideas and spice storage ideas featured in this article.

This article contains affiliate links. If you click a link and buy something I may receive a small commission at no extra cost to you. As an Amazon Associate I earn from qualifying purchases. For more information please see the Disclosure page.
Spice Racks for Cabinets or Counters
Lynk Professional Slide-out Double Spice Rack
Lynk Professional makes quality home organizers and this double sliding spice rack is no different. If you have the room for this in your kitchen cabinets, I really think it would help get your spices under control.

iDesign Linus 3-tier spice rack
This 3-tiered spice rack from iDesign is popular on Amazon
What's nice about this spice rack is that you could put it inside your kitchen cabinets, or – because it is nice looking – you could leave it on your kitchen counter (if you have the space).

A Lazy Susan Spice Spinner
This 2-pack of quality lazy susan spice racks are 9-inches in diameter and they have raised edges so your spices won't fly off when you spin it. It may not hold all your spices though if you have a large spice collection.

AllSpice Wooden Spice Rack with 30 4-ounce jars
This is a beautiful counter-top spice organizer made by AllSpice, but I'm tempted to call it a "display" because it is so darn nice looking.
You can get it in 3 sizes: 12 jar, 30 jar (like this one), or a larger 60 jar version. And it comes with pre-printed spice labels (the black labels with white font).
It is popular on Amazon and people seem to like it.

DecoBros Spice Rack holder – 18 bottles with 48 labels
Here is another stylish counter-top spice rack. This chrome spice rack by DecoBros holds 18 glass bottles and comes with 48 spice labels.
These look pretty cool.

Bamboo Criss-Cross Patterned Spice Holder
Would this bamboo spice rack look good on your kitchen counter?
It has 18 slots for spice jars, but note the jars aren't included with this item.

Kamenstein Revolving Counter-top Spice Tower
Here is sleek stainless steel revolving spice tower from Kamenstein. It comes with 20 pre-filled bottles of spices. So you can start cooking up some spicy dishes right after you receive it.

Wall-mounted Spice Rack Ideas
Below are some wall-mounted spice racks and spice organization ideas.


Sorbus 4-tier Wall-mounted Spice Rack
If you want to free up some counter space you could get a wall-mounted spice rack like this "chicken wire" spice rack from Sorbus.
It has 4 shelves, but the spice jars are not included with this product. It could be a good addition to a farmhouse kitchen thanks to its rustic look.

Hang your Spices on a Rod using Curtain Clips
If you have space on your wall, or perhaps underneath an upper kitchen cabinet, you could mount a curtain rod and hang spice baggies using curtain clips.
This is an easy DIY spice rack idea.
Spice Gripper Clip Strips
You could mount these spice gripper clip strips directly to your kitchen wall, but many people mount them inside a kitchen cabinet door. (Nice and concealed.)

Wall Spice Rack made from Pallet Wood
If you are handy you may be able to make your own DIY spice rack from pallets. But if you don't have the skill (or the time) to do this then you could check out the above spice rack that is available on Etsy. This is one of coolest looking spice storage ideas featured in this article (IMO).
Mount a Magnetic Bar to the Wall and Use Metal Spice Tins
This is another DIY spice rack idea. You can mount a magnetic bar – or "knife rail" – on the kitchen wall and then keep your spices in metal tins. Then just grab it down when you need one and place it back once finished. This spice storage idea is nice because it helps reduce countertop clutter.
Modern Acrylic Spice Shelves
I like the look of these sleek, wall-mounted acrylic spice shelves. They a great-looking spice storage idea to help get the spices onto the wall and off the counter.
Would they look good in your kitchen?

2-Tier Spice Rack from Simple Trending
What's cool about these 2-tier spice racks from Simple Trending is that they can be wall-mounted, screwed into a cabinet door, or just placed on a counter.
This versatile organizer comes in a 2 pack.

Drawer Spice Rack Organization Ideas
The following are a few ideas on how you can organize spices inside a kitchen drawer.


Create your own Spices Bin
If you have a deep enough drawer you could create your own spices bin like this one shown in the picture.
You can buy circular sticker labels at most office supplies stores so you can create your own great looking spice labels.
Stuff them all – labels up – into a dedicated drawer.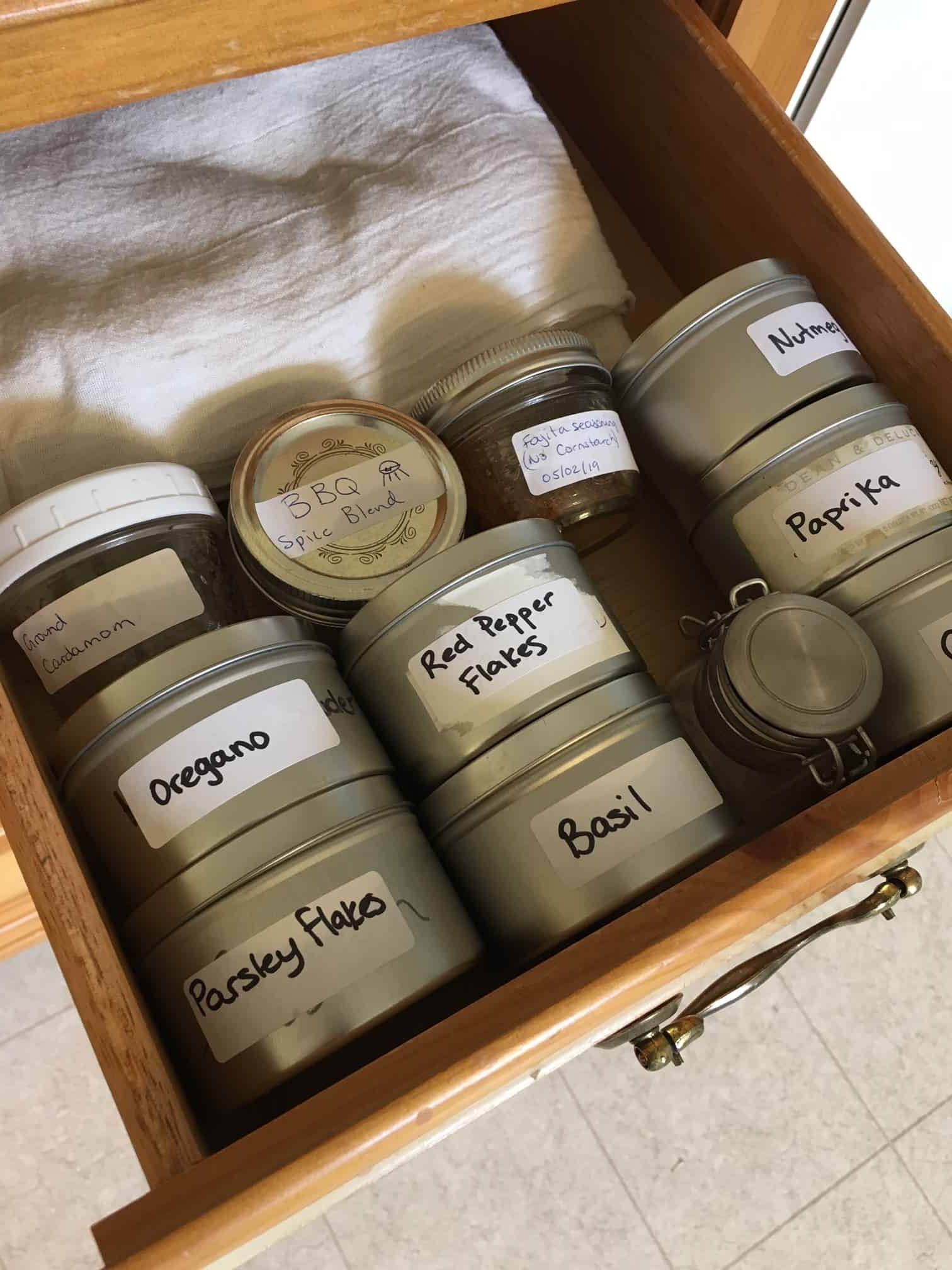 This option may not look too pretty, but if you can dedicate a drawer to spices you can get a lot of them in there…just make sure to place them with labels up so you can find what you're looking for. This is another of the spice storage ideas that will get the spices off your kitchen counter.
Get a Spice Organizer Drawer Insert
Admittedly this is way better looking than the DIY option of just tossing all the spices into a drawer.
And this particular insert shown – made by Lynk Professional – looks pretty useful and Lynk makes quality items.

I hope at least one of these spice rack ideas will help you organize your spices.
You'll need to decide which mounting style of spice rack is best for your particular kitchen.
Will a wall-mounted, counter-top or spice drawer work better for you?
If you have a small kitchen you may want to check out these 35 small kitchen organization ideas.
And if you want a clean kitchen check out this article on the 7 habits of people who always have a clean kitchen.
Thank you.