If you're looking for a fresh way to organize the spices in your kitchen you'll love the 17 awesome spice rack ideas and spice storage ideas featured in this article.
We'll look at some:
cabinet spice racks
countertop spice racks
wall spice racks
drawer spice holders
and more..
This article contains affiliate links. If you click a link and buy something I may receive a small commission at no extra cost to you. As an Amazon Associate I earn from qualifying purchases. For more information please see the Disclosure page.
How to Organize Spices? (Here are some great Spice Rack Ideas)
It's super annoying when you're trying to cook and you just can't find the spice you need.
Or when you open a cabinet and your spices come tumbling out (usually into what you're cooking).
Finding a place to store your spices can be tricky…especially for for small kitchens.
To help remedy that we'll look at some spice rack ideas and other spice storage ideas so you can get your spices tidy and organized.
Note: I've tried to provide links to different online retailers when I can so you can do some price comparisons if you find a spice rack you really love. (And I do suggest you check more than one place because price differences can exist.)
Spice Racks for Cabinets or Counters
There are lots of different ways to store spices inside cupboards or on the counter, so we'll look at some popular options now.
Lynk Professional Slide-out Double Spice Rack
Lynk Professional makes quality home organizers and this double sliding spice rack is no different.
This is their slimmer 4.25-inch wide spice organizer. It will fit two commonly-sized spice jars side by side.
And since it is only just over 10.25-inches deep, it should fit into most kitchen cabinets. (Just measure first if you have really shallow kitchen cabinets.)
Do you have room for this in an upper cabinet? If so, it will be a great storage solution for your spices and still have them close by when you need them.
iDesign Linus 3-tier spice rack
This 3-tiered spice rack from iDesign is cool because it has raised edges to help keep your spices from toppling off the sides.
What's nice about this spice rack is that you could put it inside your kitchen cabinets, or – because it is nice looking – you could put it on your kitchen counter (if you have the space).
These tiered shelves will hold about 6 spice jars per shelf – so 18 total – but less if you have wider spice containers.
Unique Test Tube Spice Rack (makes a great housewarming gift for science lovers)
You didn't think all the spice rack ideas would be boring did you?
Here is a cool countertop spice rack that is designed to look like a chemistry set.
It has 9 test tubes for spices, four Erlenmeyer flasks (3 for sugar, salt and pepper, plus a special one for oil), and it comes with the stainless steel base to hold everything.
Lazy Susan Spice Spinner
A lazy susan can be a great way to store your spices. But I suggest you label the top of your spice jars so you can easily find what you're looking for.
This 2-pack of quality lazy susan spice racks are 9-inches in diameter and they have raised edges so your spices won't fly off when you spin it.
These are super convenient but it may not be the perfect solution for you if you have a lot of spices.
But you could use these in combination with the other spice racks. Put your most commonly used spices in the lazy susan near your food prep area and store your seldom used spices elsewhere.
AllSpice Wooden Spice Rack with 30 4-ounce jars
This is a beautiful counter-top spice organizer made by AllSpice, but I'm tempted to call it a "display" because it's so darn nice looking.
You can get it in 2 sizes: the 30 jar model (like this one), or a larger 60 jar version. And it comes with pre-printed spice labels (the black labels with white font). It comes with over 500 labels so you'll be able to label your spice collection.
And if you have a spice that isn't included in the pre-printed labels, there are some blank labels for you to write on.
It is popular and highly-rated….people seem to like this one.
RELATED ARTICLE:
Store and protect your blades with one of these Kitchen Knife Storage Ideas
DecoBros Spice Storage Rack – 18 bottles with 48 labels
Here is another stylish counter-top spice rack. This chrome spice rack by DecoBros holds 18 glass bottles and comes with 48 spice labels.
With this chrome finish it reminds of a 50's diner (or how I imagine a 50's diner would look).
These look pretty cool.
Bamboo Criss-Cross Patterned Spice Holder
Would this bamboo spice rack look good on your kitchen counter?
It has 18 slots for spice jars, but note the jars aren't included with this item.
And there is no back on this rack, so you may want to slide the rack up flush against a wall so spices don't slide out the back.
Revolving Counter-top Spice Tower (by Kamenstein)
Here is sleek stainless steel rotating spice rack from Kamenstein. It comes with 20 pre-filled bottles of spices.
So you can start cooking up some spicy dishes right after you receive it.
This would spice holder would work well in on the kitchen counter or in a cupboard if it was close to eye level.
The downside to revolving holders like this is you can't see all the spice at once…you have to rotate it to see everything. Some cooks find this a bit annoying. Does it bother you?
Click here to see current price.
Wall-mounted Spice Rack Ideas
Below are some wall spice racks and hanging spice organizers.
Who is this a good option for?
Mounting a spice cabinet or rack to the wall is a great idea if you have limited cabinet space and you don't want your spice cabinet sitting on your countertop.
It helps make the most of vertical space and is a good option if you have a small kitche.




Sorbus 4-tier Wall-mounted Spice Rack
If you want to free up some counter space you could get a wall-mounted spice rack like this "chicken wire" spice rack from Sorbus.
It has 4 shelves, but the spice jars are not included with this product. It could be a good addition to a farmhouse kitchen thanks to its rustic look. Below is a picture of just the spice rack (what you'd get if it you ordered it.)
This is a great solution if you want to see all your spices at once and if you have the wall space to hang it.
Hang your Spices on a Rod using Curtain Clips (DIY Spice Rack)
If you have space on your wall, or perhaps underneath an upper kitchen cabinet, you could mount a curtain rod and hang spice baggies using curtain clips.
Or you could hang the curtain clips from a tension rod if you don't want to mount a curtain rod to your walls.
This is an easy DIY spice rack idea.
Spice Gripper Clip Strips
Do you have limited space in your kitchen?
If so, these may work for you. They utilize the "wasted space" inside your cabinets.
You could mount these spice gripper clip strips directly to your kitchen wall, but many people mount them inside a kitchen cupboard door. (Nice and concealed.)
And on you don't have to screw them in…they have an adhesive tape on the back to stick it to a surface. This makes it popular with RV owners, and renters too.
Click here to see current price of this 30-spice gripper set.
Wall Spice Rack made from Pallet Wood
If you are handy you may be able to make your own DIY spice rack from pallets.
But if you don't have the skill (or the time) to do this then you could check out the above wall shelves. It is available on Etsy. This is one of coolest looking spice storage ideas featured in this article (IMO).
Mount a Magnetic Strip to the Wall & Use Magnetic Spice Jars
This is a DIY spice rack idea.
You can mount a magnetic bar – or "knife rail" – on the kitchen wall and then keep your spices in metal tins stuck to the magnetic strip.
Then just grab it down when you need one and place it back once finished.
This spice storage idea is nice because it helps reduce countertop clutter.
Magnetic Spice Rack for the Refrigerator
Doesn't this look cool.
This is another great spice rack idea that uses magnetism.
But instead of having magnetic spice containers, the rack itself has a magnet that you stick to a metal surface (such as your fridge) or to a magnetic board.
Then you just put your regular spice jars onto the open shelves of this rack and you've got yourself a great little spice shelf within easy reach.
This particular set by Mystozer comes as a 4-pack as shown above.
Will this work for your kitchen?
Modern Acrylic Spice Shelves
I like the look of these sleek, wall-mounted acrylic spice shelves. They a great-looking spice storage idea to help get the spices onto the wall and off the counter.
They don't take up a lot of space and keep your spices in plain sight…especially if you mount them near eye level.
Will these look good in your kitchen?
2-Tier Spice Rack from Simple Trending
What's cool about these 2-tier spice racks from Simple Trending is that they can be wall-mounted, screwed into the inside of your cabinet doors, or just placed on a counter.
This versatile organizer comes in a 2 pack.
Do you have room for this highly-rated spice rack?
Spice Drawer Organization Ideas
Do you have a drawer in your kitchen that isn't being used effectively? Perhaps you can convert it into a spice drawer.
The good thing about storing your spices in a drawer is that you'll have easy access to them, and spices are best kept in dark places out of direct sunlight. Therefore a nicely organized drawer can be a great place to keep them.
The following are a few ideas on how you can organize spices inside a kitchen drawer.
If you've got the drawer space available, you'll want to see these.
Create your own Spices Bin using simple Plastic Containers
If you have a deep drawer you could create your own spices bin like this one shown in the picture.
You can keep them in their original container, or you could put your spices in things like baby food jars, Mason jars or other glass jars. And since they'll be inside the drawer, they'll be protected from sunlight.
You can buy circular sticker labels at most office supplies stores so you can create your own great looking spice labels.
The end result will be an inexpensive spice storage idea that suits your needs.
Put your Spices – labels up – into a dedicated drawer.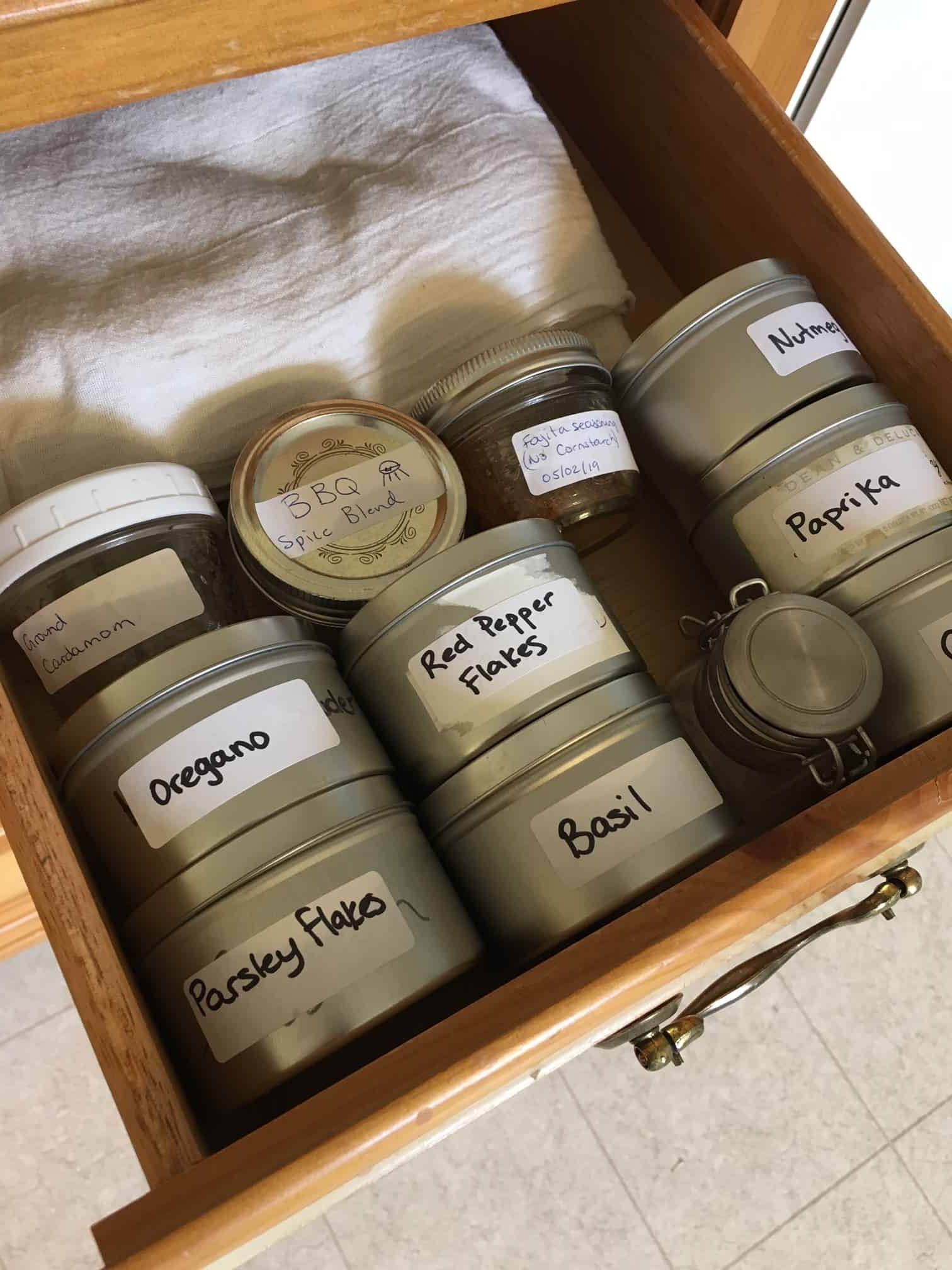 This option may not look too pretty, but if you can dedicate a drawer to spices you can get a lot of them in there…just make sure to place them with labels up so you can find what you're looking for.
This is another of the spice storage ideas that will get the spices off your kitchen counter.
Get a Spice Drawer Organizer Insert
Drawer inserts can be super helpful. And admittedly this is way better looking than the DIY option of just tossing all the spices into a drawer.
This is a 4-tier drawer insert made by Lynk Professional.
And what's cool about this one is that it expands from 13.25-inches wide to 26.5-inches wide.
It's a great option if you have a lot of spices and a nice wide drawer to put this in.
I hope at least one of these spice rack ideas will help you organize your spices.
You'll need to decide which mounting style of spice rack is best for your particular kitchen.
Will a wall-mounted, counter-top or spice drawer work better for you?
Up Next:
If you have a small kitchen you may want to check out these 35 small kitchen organization ideas.
13 popular Rice Container storage options (organize your pantry with a good rice container)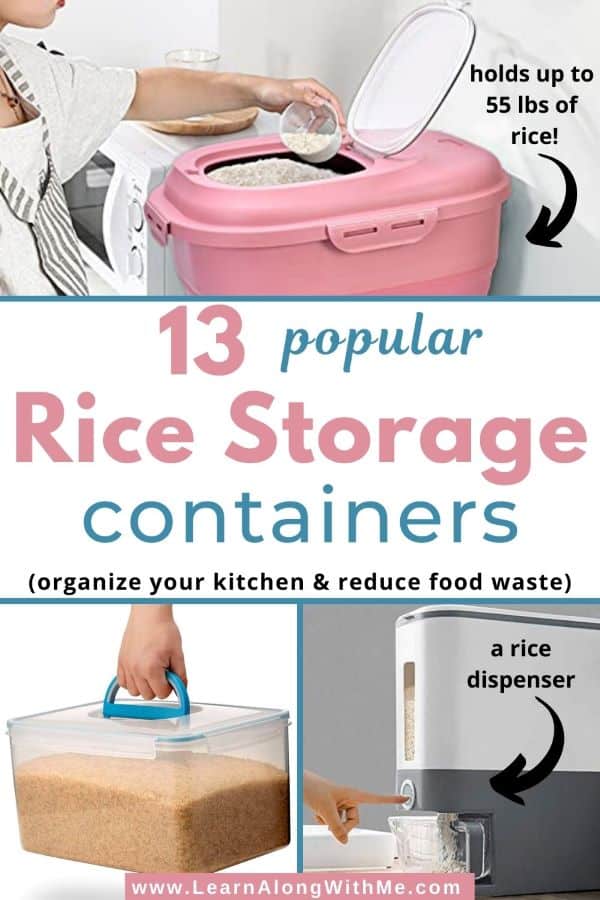 And if you want a clean kitchen check out this article on the 7 habits of people who always have a clean kitchen.
Plus check out:
15 great Microwave Cart with Storage options